HOTEL FOUQUET'S BARRIÈRE
ANNOUNCES A FRENCH REVOLUTION BY E-SOLEX
The Italians have the Vespa and the French have the Solex.  Hotel Fouquet's Barrière, doing its part for the environment (with style!) is providing a new mode of transportation to its guests with the introduction of the E-Solex, which runs on an electrical engine and produces no noise or pollution.  Now, guests can have fun exploring the streets of Paris in a chic and environmentally friendly way.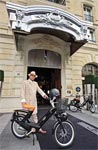 The first Solex mopeds appeared in France in the 1950s and were an immediate success - over 8,000,000 were sold.  The 21st-century E-Solex, designed by Pininfarina, reaches a maximum speed of 22 mph and has a removable, rechargeable battery.  The new E-Solex still has the original foldable pedals and, for those who have been living like a gourmand in Paris and wish to burn off a few calories, it can turn into a simple bicycle at any time.
 
About Hotel Fouquet's Barriere:
Located at the corner of the Champs Elysées and Avenue Georges V, Hotel Fouquet's Barrière opened its doors November 2006 and is the first "palace" style hotel - i.e. five star - to open in Paris in almost 80 years (the George V, unveiled in 1928, was the last).  A unique combination of modern-chic and fin-de-siécle grandeur, Fouquet's was designed by architect Edouard François in traditional Paris "Haussmann" style, with Jacques Garcia overseeing the interior design.   Decadent materials of velvet, mahogany, marble, silk and embroidered leather fuse beautifully with high tech digital equipment -- such as wall mirrors that amazingly turn into televisions -- and a special emphasis is put on service, with personal butlers being assigned to each guest upon arrival.

To learn more visit www.fouquets-barriere.com.
---
"Sleep on Us"
ORIENT-EXPRESS TRAINS & CRUISES
OFFERS FREE NIGHT AFTER TRAIN
AND BOAT JOURNEYS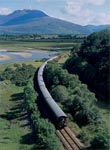 For a limited time, Orient-Express Trains & Cruises is offering a free night's stay at some of the world's best hotels before or after any of its overnight train or boat journeys, if travelers book before March 31, 2009.
Guests will receive a free night's accommodation at a world-class hotel in conjunction with their boat or train trip:
Venice Simplon Orient-Express

-- Start off or finish this legendary train journey with a night at Venice's famed and recently renovated Hotel Cipriani.

Eastern & Oriental Express

-- Asia's classic train is complemented by a night at Bangkok's Peninsula Hotel.

Road To Mandalay

-- The all-new Road To Mandalay returns to service in August 2009 following massive renovations and redesign.  Make the trip last longer with a night at The Governor's Residence in Yangon.

Afloat in France

-- Guests cruising on board the Afloat in France barge, Alouette, in the Canal du Midi can round off their voyage with a night at the castle-like Hotel de la Cité in Carcassonne.

The Royal Scotsman -- What better way to make your visit to Scotland even more perfect than adding a night at the Balmoral Hotel in Edinburgh before boarding or after disembarking from the elegant Royal Scotsman touring train?
For more information on Orient-Express Trains & Cruises, please visit www.orient-express.com.
Offer is subject to availability at time of booking.
---