Wheels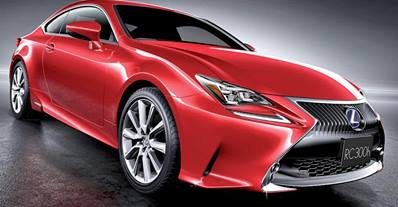 The Lexus RC coupe unveiled last week at the Tokyo Motor Show offers two drivetrain choices: souped-up at 314 hp or lean and green at 217 hp.
The car goes on sale next year, but Lexus did not say when. The nameplate is new.
The powerful version, the RC 350, gets a 3.5-liter V-6 gasoline engine and an eight-speed automatic transmission. It delivers 314 hp at 6,400 rpm.
Its environmentally conscious stablemate, the hybrid RC 300h, achieves 176 hp at 6,000 rpm, from a 2.5-liter four-cylinder engine teamed with a continuously variable transmission. The hybrid system's 105-kilowatt electric motor chips in extra oomph for total drivetrain output of 217 hp.
To increase rigidity and improve performance, engineers outfitted the RC with extra-thick rocker panels. Underbody aerodynamics also aid handling, Lexus said.
The RC uses a double wishbone front suspension and a multilink suspension at the rear.
Outside, there are styling cues from the LF-CC concept shown at the 2012 Paris auto show. The interior draws from the existing IS sedan.
The RC rides on the same platform as the GS sedan and is just as wide. But it is 1.1 inches wider than the IS, 1.4 inches lower and 2.7 inches shorter in wheelbase. c
 Hans Greimel
____________________________________________________________________
By Air & By Sea
airberlin 2014 Focus: Optimization of the network strategy
The optimization of airberlin's network strategy continues to be one of the priorities for the company in 2014. The second largest German airline continuously revises its global route network and focuses on increasing efficiency. The Berlin and Dusseldorf hubs are the focal points of this route expansion. airberlin is also strengthening the core market of the USA by offering additional flights to Berlin from New York (JFK) and Chicago. Thus this summer airberlin will operate ten weekly flights from John F. Kennedy Airport to each of its international hubs Berlin and Dusseldorf. In addition new connections from Berlin and Dusseldorf to Madrid as well as extra flights to Tel Aviv will be added to the airlines route network.
"Last year, we laid the foundation for what we will continue to pursue in 2014: Increased efficiency with a focus on cost-effectiveness, optimization of the route network and strengthening of our profile as a globally operating airline. This will also allow our guests to benefit this year from an optimized flight schedule on high demand routes, such as from New York. In addition, we will complete the renovation of our Business Class on the Airbus A330 long-haul fleet. In 2014, we will further strengthen the strategic partnership with Etihad Airways and the cooperation with the oneworld® alliance partners," said Wolfgang Prock-Schauer, CEO airberlin.
The tourist route network, one of the pillars of the airline's business model, will be further expanded in the coming summer schedule with new destinations and increased frequencies from Germany, Austria and Switzerland to selected destinations in Greece and on the Canary Islands. In addition, airberlin continues to focus on the popular holiday destination Mallorca which connects with airberlin's transatlantic service for example from New York (JFK). This summer, the airline will fly up to 442 times a week to the Balearic Island in the Mediterranean from a total of 25 departure airports in Germany, Austria and Switzerland.
More routes: USA remains a core market
The U.S. remains a strategic growth market for airberlin. The nonstop connection between Berlin and Chicago, operating since March 2013, will be increased to daily service with the addition of two additional flights per week this summer. Three additional flights will take off from New York (JFK) to Berlin commencing in May of this year. Thus, airberlin will fly nonstop ten times per week from New York (JFK) to the German capital and also ten times per week to Dusseldorf, the city on the Rhine. In addition, airberlin offers up to two connections per day from New York (JFK) to numerous destinations in Germany, Austria, and Switzerland via Berlin and Dusseldorf. Due to the increased frequency of flights, there will be new connecting flights for the first time via the Berlin hub to Bucharest, Graz, Kaliningrad, Madrid, Rome and Salzburg from New York (JFK).
This summer, the airline will operate nonstop from the U.S. to Germany from a total of five gateways: Chicago, Fort Myers, Los Angeles, Miami and New York (JFK). Through codeshares with its oneworld partner American Airlines, airberlin also offers numerous connecting flights from about 60 destinations in North America to its five U.S. gateways, thereby making almost every region in the USA accessible to airberlin flights. Thus, convenient connections to Germany are available through codeshare from cities including Denver, New Orleans or Seattle via Chicago i.e.
Route development in the European market
The European route network is also an important core market for airberlin in 2014 and will be further expanded. The good connections from the U.S. enable guests from North America to benefit from airberlin's wide European network. From April 2014, airberlin is expanding its flight schedule from Germany to Israel with five additional flights per week and will operate daily between Berlin and Tel Aviv, four times between Dusseldorf and Tel Aviv and three times a week between Munich and the Israeli capital.
With two additional flights per week from May, Madrid can be reached twice daily from Berlin. Adding five flights per week starting from the end of March, airberlin will fly to Stuttgart up to 53 times a week from Monday to Sunday. The airline will add five flights from Berlin and Dusseldorf to Vienna, flying from both cities to the Austrian capital up to 75 times a week all together.
Expansion of the strategic partnership with Etihad Airways
Strengthening the partnership with Etihad Airways plays a key role in the process of expanding the joint codeshare route network. In 2013 more than 560,000 guests flew with Etihad Airways and airberlin on the jointly operated route network. This allowed both airlines to double the number of guests within one year and generate more than 200 million Euros together in additional revenue.
Currently, airberlin and Etihad Airways offer 228 joint destinations in 84 countries. More routes will be added in 2014. For airberlin guests this creates especially attractive new travel opportunities on the long-haul routes. The codesharedestinations with Etihad Airways include the Middle East, Australia, Thailand, Japan, China or Vietnam.
Also since last year, airberlin has connected with Etihad Airways partners Air Seychelles, Virgin Australia and Air Serbia through a codeshare agreement.
airberlin is one of Europe's leading airlines and flies worldwide to 147 destinations. The second largest airline in Germany carried more than 31.5 million passengers in 2013. airberlin offers a global route network through its strategic partnership with Etihad Airways, which is a 29.21 per cent stakeholder, and membership in the oneworld® airline alliance. The airline with the award-winning service operates codeshare flights worldwide with 16 airlines. The fleet has an average age of five years and is among the most modern and eco-efficient in Europe.
____________________________________________________________________________

New Orleans, Tampa, Detroit 
Oh the Places You'll Go + Intro Prices
Our newest destinations have a little bit of everything for today's domestic explorer. Craving sun? Beginning this June, please welcome service to New Orleans, Tampa & Detroit.
---