GREEN CONSCIENCE VS. CHEAPER GAS PRICES
GOT YOU CONFUSED?
Check Out Two Happy Cars and One Really Happy Car
By Laurence Vittes
Okay, if you can afford it, go for one of the gas-guzzling Bentleys that seem to have taken over any space on the streets of Los Angles already not commandeered by the patrolling fleets of Prius. After all, gas now looks to be cheaper for the foreseeable future, which as it stands is the next two or three weeks.
Or get something in a hybrid model, like the Prius or similar (though not as frugal) models from Toyota, Honda, Chevy, Ford, et al. Or an amazing turbo diesel from the crew at Volkswagen.
Or hook up with something cheap and cheerful, with the emphasis on cheerful, like the Mazda3 or the Nissan Versa. Both offer a lot of practical features and value without being ridiculous about it. Both are guaranteed to put a smile on your face. And if President Obama can actually lead us to a land of really green cars, neither will bring down on you the wrath of your neighbors.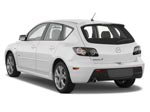 The Mazda3 is the most obvious choice. The 2009 Mazda3 S Grand Touring Hatchback, for example, with an MSRP below $21,000, 22-29 mpg mileage, surprising handling and European-type sophistication, is a car that could see you into a very extended future.
Not to forget that the Mazda3 line starts at less than $15,000. But I must admit that the week I spent with the Grand Touring Hatchback, equipped with a moonroof and Bose stereo package plus assorted niceties such as Xenon HID headlights, leather-trimmed seats, a larger engine, and a very pretty choice of colors, was what I'd personally yearn for.
In fact, I second what Automobile Magazine wrote, that "in its segment, the Mazda3 is the car we would find ourselves owning, and with a wide selection of power plants, body styles, and optional equipment, the latest little Mazda seems ready to suit any small car buyer's desires."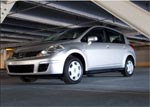 Not far behind the Mazda3 in driveability and value, although completely different, is Nissan's equally happy Versa, especially in its five-door SL hatchback form equipped with a very pleasant continuously variable transmission (CVT) plus power windows and door locks, keyless ignition and entry (really nice), a sunroof, satellite radio, iPod integration and upgraded speakers
Competing against the likes of the Mazda3, Ford's very excellent Focus, the wide range of Honda's Civic and Mitsubishi's surprisingly capable Lancer, the Versa excels by providing good fuel economy, a roomy interior including an adult-friendly backseat, a comfortable but surprisingly well-controlled ride, an airy cabin and a comfortable, roomy interior. For tooling around Southern California without getting too bent out of shape by the emotional ravages of fighting traffic and wondering where gas prices are headed, there's nothing quite like the Versa.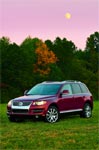 The "really happy car" referred to in the title of this article is the V10, twin turbo diesel-powered Touareg 2 by VW. Aside from its 15-20 mpg estimates, there's not much not to like about this sleekly sybaritic, almost carelessly brilliant people carrier. It holds a good-sized family with ease, and can pass a few Ferraris and Porsches if it stumbles onto a race track while on its way to a flea market up the coast.
It's relatively green, having been named "Meanest Vehicles for the Environment in 2007" by the American Council for an Energy Efficient Economy. And it provides good bar-chatter trivia: The Touareg is built in Bratislava, Slovakia at the same manufacturing plant that turns out Touareg's cousins, the Porsche Cayenne and the Audi Q7.
The most off-putting things about the Touareg are how to spell it and how to say it. Wikipedia claims that the official German pronunciation is Tou-a-reg, something like "too" plus a quick "ah" then the "reg". VW themselves produced several commercials to enable people to pronounce the name. Myself, I vote for "twah regg." Whatever.
Keep in mind that the "twah regg" as I drove it, with a Lux Plus and Technology packages, plus Adaptive Cruise Control (basically, the car will help you not bump into things ahead of you while the cruise control is on) and a few other optional features, lists at close to $80,000. So, if you can afford it (and don't mind the stares of green friends who are unaware that it is a greenest "Meanest Vehicle," go ahead and pronounce it any way you want.
---
GRAY LINE OF SEATTLE EARNS FIVE STAR RATING FROM KING COUNTY'S ENVIROSTARS PROGRAM
Top rating recognizes ongoing efforts for environmentally friendly business practices
Gray Line of Seattle has earned the highest green rating possible—five stars—fromKing County's EnviroStars program, earning it recognition for improving the environment and reducing hazardous waste.
Businesses certified by EnviroStars, which is sponsored by King County's Hazardous Waste Management Program, are given a two- to five-star rating based on their demonstrated commitment to reducing hazardous waste. The higher the star rating, the more proactive the business has been, and the more recognition they receive. The program also provides consumers with an objective way to identify environmentally sound businesses.
"We are proud to receive the coveted five-star rating from the EnviroStars Program," said Judy Sprute, Gray Line of Seattle's director of sales. "Gray Line of Seattle is actively working to protect and preserve the environment in the Pacific Northwest in many ways."
EnviroStars upgraded Gray Line of Seattle from a four-star rating to a five-star rating based on a number of recent initiatives undertaken by the company through its Go Green Campaign.  They include: using ultra-low sulfur fuel in coaches, having an energy review by Seattle City Light, replacing two-cycle engines with four-cycle engines, a radiant heating system that recycles waste oil and a neighborhood park cleanup effort.
"Gray Line has worked to become a more environmentally aware business since 1996, long before any of our competitors," said Sprute. "We've been working to reduce our impact on the environment in every part of our business, from engines to light bulbs. Our Go Green campaign has been very successful, and the five-star rating is an important recognition for us."
Gray Line now uses ultra-low sulfur fuel in its motor coaches, resulting in the most environmentally friendly large fleet in Washington State. The company employs a wash water recycler that reuses 92 percent of water used in the washing of motor coaches, a radiant heating system that recycles waste oil to heat the shop and wash bay floors, and water-oil separators that gather run-off water from the parking lot. Any incidental fuel spillage is prevented from reaching storm drains because storage tanks are located within containment areas. Spill kits are stationed in the refueling area, near oil storage tanks and in the shop for rapid cleanup and containment of any spill.
Gray Line also ensures all cleaning compounds it uses are environmentally friendly, recycles anti-freeze and incorporates the best management practices when finally disposing of anti-freeze, and recycles all paper, glass, plastic and aluminum in its administrative workspace.
The company recently underwent the largest private motor coach engine re-power program in North America replacing two-cycle engines with four-cycle engines which are more fuel-efficient and reduce CO2 emissions. Additionally, Gray Line requested a review by Seattle City Light to help reduce waste and save energy; subsequently it has replaced exit signs and shop lighting with efficient long-lasting bulbs, as well as included motion sensor lighting in its facility.
---
SOLDIER SERVING IN IRAQ WINS "MUSTANG
STORIES" CONTEST, TRIP TO L.A. SHOW,
NEW 2010 FORD MUSTANG
Kory Chesher of the 101st Airborne Division wins online voting contest for the best Mustang story.

Chesher describes his relationship with the Mustang as "20 years of love, addiction and obsession."

2010 Mustang to be revealed at the Los Angeles International Auto Show later this month.
Few things are more American than the Ford Mustang. And fittingly enough, the winner of the "Mustang Stories" online contest is U.S. Army Specialist Kory Chesher, a member of the 1st Brigade of the 101st Airborne Division serving in Iraq.
Online voters selected Chesher's story from the top 25, giving him the grand prize of a new 2010 Ford Mustang GT Coupe and a trip for two to Los Angeles for the reveal of the next generation of the classic American muscle car at the Los Angeles Auto Show on Nov. 19.
"Kory's story perfectly captures the passion and enthusiasm that Mustang has created for more than 40 years," said Mustang Brand Manager Fritz Wilke. "We're pleased to award him his first Mustang and hope it brings him many years of enjoyment. We also want to sincerely thank all the Mustang enthusiasts who submitted their stories and voted at www.the2010mustang.com to make this contest such a great success."
Chesher's entry was one of several thousand received for the "Mustang Stories" contest. Entries, which were limited to a maximum of 250 words, were submitted from Aug. 27-Oct. 15, with the top 25 stories posted Oct. 18. Online voting ran through Oct. 28.
"I want to thank everyone at Ford and everyone who voted for helping my dream of having my own Mustang come true," Chesher said via e-mail from Iraq. "I opened up my e-mail and saw the first bold message said, 'Congratulations: You are a Winner in the Mustang Stories Contest.' I couldn't read it fast enough. I'm just overwhelmed."
Chesher, who lives in Edgwater, Fla., just south of Daytona Beach, hopes to be at the unveiling at Los Angeles. His group is returning to the United States this month.
The 22-year-old Chesher developed his passion for Mustang during a traffic stop with his father while in Louisville, Ky.
"This Mustang was in the left turning lane and I was like, 'Wow, what kind of car is that?,' " Chesher recalled. "My dad said, 'Oh, that's a Mustang.' I was immediately hooked. That must have been sometime in the summer of 1991 or '92. I must have been about 6 or so."
Chesher submitted his story with a photo of him standing in front of an Army vehicle called an MRAP (Mine Resistant Ambush Protectant). A super-size Mustang Pony badge gallops proudly on the grille of the truck, which tranports soldiers and equipment across dangerous terrain.
Chesher's mother, Susan DuMond, says he had been saving money to buy a Mustang when he returned to the United States. "He's got Mustang blood – he eats, sleeps and breathes Mustang," DuMond said. "It's his dream car. Kory was saving as much money as possible to buy a Mustang. Now's he's won a Mustang. It doesn't get better than that."
DuMond said she received a phone call at work that Chesher won. "I was jumping up and down in the office and running around," she said. "I'm so happy for Kory. This is just fantastic!"
Chesher's 242-word essay, "A Life Obsession," follows:
It started when I was about 6 years old. I was in the truck with my father and we were at a stoplight. Across the road at the other light was this "car." It drew my attention away from everything else in the world. I asked my dad what it was and he simply said, "Oh, that's a Mustang."
I remember it like it was yesterday. I now know that it was a 1968 black Fastback. That was almost 20 years ago. Twenty years of love, addiction, obsession. Twenty years of longing and desire.
Now I'm a solider in the United States Army deployed to Iraq. I spend my spare time tearing through Mustang magazines that my family and total strangers are kindhearted enough to send to me. Every opportunity I get I'm online poring through forums and pictures; studying every little tidbit of knowledge I can get my hands on; meticulously memorizing seemingly insignificant trivia. Names, dates, specs, colors, paint codes, production numbers, costs, anything, everything.
A Mustang of my own wouldn't quell this life I live – it would supercharge it. The only thing greater than a life loving Mustangs is a life with a Mustang. With a Mustang to call my own I could finally experience the pride and freedom that I've only been watching from afar. It will ignite a passion like nothing I have ever experienced. Mustangs are my one true love.
---