62 GOING ON 63: BY MIATA TO OJAI
By Laurence Vittes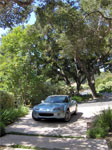 At 62, both me and the Ojai Music Festival are going strong. In fact, in some ways, we are better than ever. Since I only started going on an irregular basis in the mid 60s, I can't personally testify to each of the Festivals in the intervening years. All I know is that whenever I've come, I've enjoyed three things: the music, the opportunity to meet old friends and make new ones, and the chance to enjoy driving up to and around Ojai.
That has meant cars as different as a VW Beetle (priced new in the 60s at $1,600), a few Alfa Romeos, an exquisite by tragically asthmatic Bristol 608, and a sinfully comfortable pair of Peugeots. This year, my wife and I tooled up in a wonderfully fresh and sassy Mazda Miata (or MX-5, as they've started calling it) with a soft-top convertible. After having a succession of hard-top convertibles, which may be more convenient or something, it was delight to be able to whip it up or down with basically just a flick of the wrist.
And driving the Miata was so much. It's pretty light, around 2,500 pounds, with a spirited engine that allows you to have fun without going crazy. The two seats are very comfortable and the small but very easily accessible trunk makes you think twice about taking those extra suitcases, or pretty much any extra suitcases at all. And best of all, when you're headed for a music festival, listening to CDs or Satellite radio on the wonderful sound system Mazda always seems to include has you singing all the way, whether the top is up or down.
As you no doubt know, Ojai is a verdant fairy tale valley nesting ninety miles north of Los Angeles. Somehow, in 1947, a few enterprising souls who loved cutting-edge new music started up the Festival. At the time, there was a lot of talent to choose from, names like Stravinsky and Copland. In the years since, a succession of innovative music directors, beginning with the chain smoking Lawrence Morton (evil-smelling Gallois was his brand), fashioned creatively-themed programs of music chosen from a spectrum arcing between Medieval troping and Southern California punk. Wisely resisting the temptation to dress itself up like a Renaissance "pleasure" fair (don't get me started!), the Ojai Festival has mostly contented itself with a crafts exhibition at the entrance to Libbey Park, where the Festival's main concerts take place.   
Since this year's Festival, June 5 through 8, starred one-time drummer and now full-time composer Steve Reich and some (really fabulous) products of the electronic music factories in Paris, there wasn't much singing in the Mazda that was related to the Festival. No complaints from me, though. Jimmy Buffett alternating with Gilbert & Sullivan just hit the spot.
Next year, the Music Director will be an innovative ensemble called eighth blackbird (perhaps influenced by e.e. cummings). Oh yes, and the aging amphitheater is scheduled for renovation.
I don't know yet which car we'll be driving next year. Who knows? Considering where gas prices seem to be headed, we may even be taking the train.

---
BIG NEWS FROM SWITZERLAND
"The Rhaetian Railway (RhB) reaches UNESCO world heritage status"
On July 7, 2008, the World Heritage Committee of UNESCO added the Albula and Bernina line of the Rhaetian Railway to its world heritage list. This makes the Rhaetian Railway, serving the Canton of Graubunden in the south east part of Switzerland, only the third railway worldwide to be considered "universally outstanding" by UNESCO. The two unique railway lines blend harmoniously into the enchanting landscape with spectacular constructions such as spiral tunnels and viaducts. On the Bernina line (built in 1903) the railway crosses 52 bridges and 13 tunnels. The Albula line (built in 1910) leads even over as many as 144 bridges and through 42 tunnels.
---
MONZA ITALY 2008 GRAND PRIX
Formula 1 Race
Preview of Monza Italy F1 Citcuit
Visit: www.bookft.com or www.paragon-elite.com
Next race on Monza will be on 14 September 2008.
---
ECOVER DRIVES SUSTAINABILITY HOME
WITH NEW CAR WASH & WAX PRODUCT 
Ecological Car Wash & Wax and Car Glass & Interior Cleaner Debut at Retail in August
Green means go for new Ecover ecological Car Wash & Wax and Car Glass & Interior Cleaner launching to retail in August. The phosphate-free, low-foaming cleansers use the power of nature to clean and degrease any hot rod, land yacht or hybrid. New ecological Ecover Car Wash & Wax retails for a MSRP of $5.00, Ecover Car Glass & Interior Cleaner retails for $6.00.
"We're really revved up about our new Car Wash & Wax product and Car Glass & Interior Cleaner – hand washing your own car is a great way to celebrate the summer – ecologically," said Kipling Rutherford, Assistant Marketing Manager for Ecover. "With Ecover's new car washing products, users can demonstrate pride of ownership not just for their vehicle, but for their environment."
To naturally remove dirt, oil and grease, plant and mineral-based ingredients including surfactants derived from coconut, carnauba wax, and citric acid come factory standard in the new Ecover Car Wash & Wax and Car Glass & Interior Cleaner. Wash & Wax product leaves behind a protective plant-based wax coating.
And as with all Ecover products, Ecover Car Wash & Wax and Car Glass & Interior Cleaner quickly and completely biodegrade with minimum impact on aquatic environments.
Even Ecover bottles and labels leave a lighter carbon footprint and are made of polyethylene; cap of polypropylene. Polyethylene and polypropylene are 100 % recyclable and can be recycled together using a low energy process.
Ecover recommends the following hand-washing tips for ultimate ecology:
Wash your car, motorcycle or moped on the lawn to prevent runoff which can carry debris and oils from the road into our waterways and oceans.

Fill two buckets – one for washing and one for rinsing. Use a sponge instead of a hose to help conserve water.

When you're finished, irrigate plants or trees with the wastewater.
---