WHEELS   .   .   .
LIFT MAY DO RENTALS?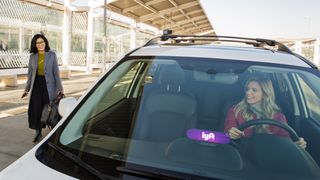 Lyft is just one of a whole fleet of companies hoping to change the way we get from A to B with ride-hailing, autonomous cars, bicycles and electric scooters, but now it's thinking long-distance by offering more traditional car rentals lasting several days.
As Engadget has discovered, Lyft is currently offering rentals to a small group of users in San Francisco, though it's not clear how many people are included in these early tests.
Pricing hasn't been finalized yet either, but people in the test group are being offered a sedan for $60 (about £45, AU$85) per day, or an SUV for $100 (about £75, AU$140) per day.
There are much cheaper options available in the city, but it looks like renters will also be able to claim Lyft credit, and add-ons like snow chains and bike racks will be thrown in at no extra cost.
____________________________________________________________________
BY AIR NEWS   .   .   .
help alliance Americas is first international sub-organization of help alliance worldwide
Official kick-off project at Broward Outreach Center in Hollywood, Florida
Today, the Lufthansa Group officially launched help alliance Americas as a sub-organization of its long-standing aid organization, help alliance worldwide. help alliance is the aid organization of the Lufthansa Group and their employees, and it forms the central pillar of the Group's activities in the area of Corporate Responsibility. Following in its parent organization's footsteps, the new help alliance Americas' mission is also steeped in social commitment projects. 
"We are very pleased that there is enthusiasm and excitement in The Americas region for what help alliance represents and achieves," said Andrea Pernkopf, Managing Director, help alliance. "As an employee initiative, which began 20 years ago in Germany, the goal is to become a movement that involves Lufthansa Group employees worldwide. help alliance offers assistance, aid and guidance to those in need, in order for them to achieve self-help through local development projects, focused on education, work and income."
As its official launch project, help alliance Americas will focus on the Broward Outreach Center in Hollywood, FL – a center that assists the area's homeless community regain access to common day life through counselling, food provisions and guidance in transitioning to an independent, sustainable life. Along with Vivian Spohr, patroness of help alliance, local Lufthansa Group employees and the help alliance Americas project team will work throughout the day conducting a variety of refurbishment projects throughout the center, power-washing, replanting plant beds, serving food and packing 1,000 hygiene care bags that will go directly to the center's clients.
"The Lufthansa Group has always prided itself on being a good corporate citizen, and in The Americas, many employees have volunteered, throughout the years, on a variety of aid projects that the company has encouraged," said Frank Naeve, Vice President Airline Sales, The Americas. "In a region where the Lufthansa Group has a long-standing aviation partnership, I am thrilled that this initiative is now being recognized in an official capacity with the creation of help alliance Americas."
help alliance Americas' goal is to create a structured apparatus in The Americas to foster corporate citizenship throughout the entire Lufthansa Group company. The organization's objective is for local employees to work together in order to make a greater impact on area communities in the regions.
About the help alliance
The help alliance is the aid organization of the Lufthansa Group and their employees, and forms the central pillar of the Group's activities in the area of social responsibility. As an internationally active company and member of the German and international community, the Lufthansa Group takes on responsibility beyond its regular business activities in dealing with the challenges currently facing society.

Founded in 1999 by a group of 13 Lufthansa employees, this non-profit making private limited company is currently overseeing 20 projects worldwide, which aim in particular to provide access to education for young people and to enable them to live a self-determined life. As well as the main area of focus, education, the organization also promotes entrepreneurship. Over the past few years, the help alliance has given support to around 140 projects. The content of the projects is in all cases in line with the strict standards of the UN Convention on the Rights of the Child and the UN's sustainable goals for 2030. The projects are financed exclusively by donations. For more information at please visit www.helpalliance.org.
___________________________________________________________________
__________________________________________________________________
CRUISE TRAVEL NEWS  .  .   .
Pirate attacks may seem like an outdated relic of sailing, but two cruise lineshave instituted preparation plans in case modern day pirates try to board one of the luxury ships.
According to CruiseRadio.net, Royal Caribbean's Spectrum of The Seas and Princess Cruises' Sun Princess have developed exercises to prepare passengers in case one of the ships is attacked while sailing through areas known for piracy.MORE CRUISE LINE & CRUISE SHIP
The Sun Princess warned travelers in advance they would be working on pirate drills that called for passengers to take shelter in the interior corridors while cruise line officials worked to avoid the sailing criminals. The precautions come as the ship is on a 99-day World Cruise.
As for the Spectrum of The Seas, officials from Royal Caribbean are conducting Safe Haven drills to help prepare passengers for the unlikely possibility that pirates attack the ship. Travelers are asked to move toward the center of the vessel and avoid windows and outside areas.
When the massive new ship was en route to China, it passed through the Gulf of Aden, and officials closed the Promenade Deck and asked passengers to close the curtains and turn off the lights in their staterooms to avoid drawing any extra attention.
In addition, Royal Caribbean added armed security officers to ensure the safety of passengers.
---