WHEELS   .   .   .


San Diego Auto Show to Feature DiMora Vicci 6.2
Investment Art on Wheels
Palm Springs, California – December 22, 2015 – DiMora Motorcar will be exhibiting one of the stylish, limited-edition DiMora Vicci 6.2 Emperor Convertibles at the San Diego International Auto Show Exotics Vault, December 31, 2015 through January 3, 2016. The distinctive 430-horse power rolling art on wheels is the result of a unique joint collaboration between automotive designer Sir Alfred J. DiMora and equally influential Totemic Energy Artist Master Lee Sun-Don of Taiwan.
"I love cars and I love art, so I set out to collaborate with world renowned artists to create the first true limited-edition production rolling art. Each artist that I am working with is hand-picked by me," said DiMora.
Upon purchase of each DiMora Vicci 6.2 Emperor Convertible, the buyer also receives the original one-of-a-kind painting by Zen Master Lee. Each large-scale painting in the Great Treasure Gate series pays artistic homage to the rare door knockers created during the Ming Dynasty (1368 to 1644) by incorporating an actual Ming Dynasty doorknocker into the painting. From that, the skilled artisans at DiMora Motorcar invest no less than 750 man-hours to reproduce the artwork onto the hood and side panels of the car, right down to hand laying 24-karat gold leaf as a final step.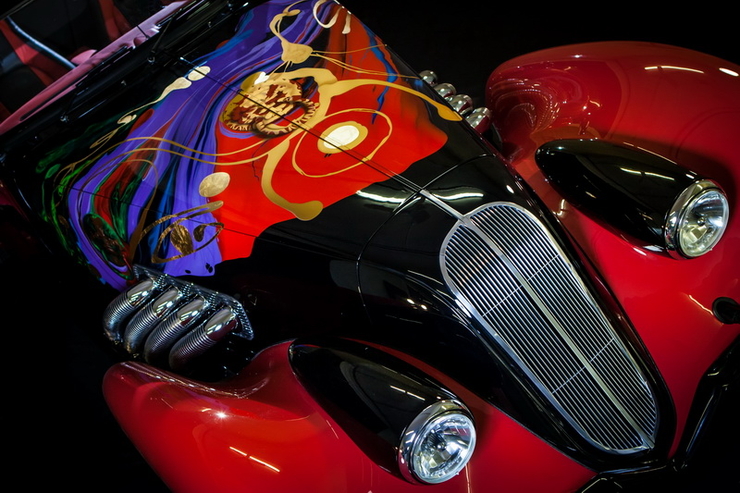 DiMora Vicci 6.2 Emperor Series Convertible
DiMora has been in the automotive business for nearly 40 years, having owned Clenet Coachworks. The Clenet was named the "American Rolls-Royce" by Fortune magazine, so there's no doubt that his equally stunning DiMora Vicci 6.2 is commanding the same level of respect.
"We have been very selective with every aspect of building the DiMora Vicci 6.2, so when it came time to choose the first artist series collaboration, not just any artist would do," shared DiMora. Master Lee Sun-Don's popularity worldwide continues to make him a highly sought-after artist. His artwork is currently showing in galleries around the world, including Beverly Hills, Hong Kong, Shanghai, and Taipei, to name but a few.
In an industry where quality and performance matter, the sporty and artistically stimulating DiMora Vicci 6.2 Emperor Series spares no expense with its distinctive hand-built craftsmanship and DiMora Motorcar's lightweight carbon DFD technology. The limited-edition Vicci 6.2 combines 1930's Art Deco style with 21st Century technology. Each 1.2 million dollar limited-edition production rolling art has aesthetically pleasing features that showcase the DiMora brand's originality, where creativity sees no limits and offers up a driving experience that is unmatched.
-____________________________________________________________
    SAVE THE DATE*
What:    Decorate the Shriners ROSE PARADE FLOAT
              Hosted by: "How2Girl" Courtney Sixx
              * Special Appearance by Fezzy
When:   Tuesday, December 29, 2015 - 4:00 pm to 6:00 pm
Where:  The Rose Palace, 835 So. Raymond, Pasadena, CA. 91105
​
We're seeking Food & Beverage brand sponsors.
Sponsor Benefits:
Brand mention in Event Press
Logos on Invites
Links to Event photos
Aligning with a good cause - Helping Shriners kids
Meet & greet with Celebrities, Media & Influencers
Learn a NEW SKILL - How to decorate a Float 🎉
____________________________________________________________________
                BY AIR .  .  .
Holiday cheer with airberlin
airberlin, Germany's second largest airline and member of oneworld©, invites you to experience the wonder and magic of the holidays with airberlin. This year airberlin celebrates the season in a variety of ways. Enjoy the season by visiting Germany's Christmas markets, with flights available from New York, Chicago, Miami and Ft. Myers you can easily access many of the premiere holiday markets throughout Germany, one of Europe's oldest traditions.
In keeping with the holiday spirit airberlin will serve mulled wine referred to as "Glühwein" on select flights within Germany. For some lucky travelers they will fly in a specially designed Christmas aircraft depicting airberlin's chocolatier Lindt's Hello Santa. And for those flying business class on transatlantic and most inter-European flights a special edition airberlin holiday chocolate heart will be distributed upon deplaning. airberlin is also offering free transport of Christmas trees for those traveling home for the holidays.
"The holidays are an important time of year for all of us at airberlin and we make an effort to make it a special time of year for our passengers as well. Guest experience has really put together a wonderful holiday offering, from special edition holiday chocolates, to mulled wine on select flights, and a special livery on one of our aircraft airberlin wants to make holiday travel a memorable one for all its guests." Roberto Cuesta, Vice-President of the Americas noted.
airberlin is spreading holiday cheer with fares for travel from as low as $756 nonstop to Berlin or Dusseldorf from New York or Miami and from $756 from Ft. Myers and Miami nonstop to Dusseldorf and $698 from Chicago nonstop to Berlin. And next year airberlin is expanding its route network to the United States, adding Boston, San Francisco and Dallas/Fort Worth to its flight plan in May 2016. airberlin will  fly four times a week from Boston and Dallas/Fort Worth, and five times from San Francisco to Dusseldorf, the airline's main long-haul hub. One additional weekly service from Los Angeles and New York (JFK) to Dusseldorf will also be added.
"There are over 2,500 Christmas markets in beautiful settings – such as historic market squares, castles, palaces and even airports - across Germany. Almost every village, town or city has its own Christmas market – in fact, Berlin, Germany's capital, has over 60! For a slightly different experience, head to one of the Medieval Christmas markets, such as the one of quaint Esslingen (near Stuttgart) or, if you're traveling with the whole family, the Kinderweihnacht (kids' Christmas market) in Nuremberg will be the perfect destination. "stated Ricarda Lindner, Regional Manager the Americas at the German National Tourist Office in New York
Also this year for those social media fans airberlin is hosting a contest, anyone who posts a photo of the airberlin Christmas aircraft on airberlin's social media channels with the hashtag #flyinghomeforchristmas may win a flight voucher.
 All fares are bookable through airberlin.com, the airline's service center (Tel: 866 266 5588, toll free) and travel agencies. 
____________________________________
NEW FLIGHT TO SONOMA WINE COUNTRY ANNOUNCED


Direct flights from Orange County into Sonoma Wine Country will begin on March 16, 2016, according to Alaska Airlines. 
Flights from Orange County will depart at 12:15 p.m. and arrive in Santa Rosa at 1:46 p.m. Flights from Santa Rosa will depart at 12:40 p.m. and arrive in Orange County at 2:11 p.m. John Wayne Airport will be the second airport that offers non-stop flights from the Los Angeles basin. The other is LAX. Other destinations are Portland, San Diego, and Seattle.
John Wayne Airport will be convenient for travelers from beach cities of Huntington Beach, Newport Beach and Laguna Beach, as well as the inland areas of Irvine, Orange, and Anaheim.
The new route will be served by Horizon Air's 76-seat Q400 aircraft, which it currently uses on all flights to Sonoma County.
Charles M. Schulz Sonoma County Airport (STS)
www.sonomacountyairport.org
707-565-7240
2290 Airport Blvd.
Santa Rosa, CA 95403
___________________________________________________________________
INVITATION TO GET A JUMP ON SPRING BREAK IN MERIDA!

WITH AMERICAN AIRLINES AND HACIENDA PETAC OFFER
In March 2016 it will be much easier to reach the beautiful Hacienda Petac.  American Airlines has just announced their new route from Dallas to Merida, Mexico…just in time to start planning for Spring Break.  To celebrate the new route, the hacienda is extending a special invitation.  

For bookings made before December 15 for travel between December 15 and June 30th, 2016 Hacienda Petac will offer a TAX FREE stay.  The standard 19% tax will be waived on the cost of the full reservation… a considerable savings of nearly $2000 for a week stay…a great opportunity for traveling family and friends who want to plan an extraordinary getaway. (Offer is also good for non-stops from other cities!)

Hacienda Petac rests on 250, extremely private acres in an ecological reserve just outside the little village of Petac.  There are seven spacious guest rooms which are located in four buildings surrounding the main house. Each room has soaring ceilings and beautiful native stone bathrooms with shower and tub.

The estate features lush, tropical gardens and lawns with fountains, waterfalls and a beautiful swimming pool. Also on the grounds is a stunning spa compound for massages with a Jacuzzi, nail salon and private gym. Additionally, the resort offers a media room, game room with pool table, ping pong and board games. The owners of this gracious, 17th-century, Spanish colonial estate have restored it exquisitely, respecting its historical and cultural legacy. The sweet and attentive Mayan staff adds to the feeling of a luxurious, private home.  

There are many excursions available for guests who wish to explore the diverse attractions of this region; several of the world's finest Mayan archeological sites, wildlife reserves, and underwater caves are within an hour.

Canadian offer includes all the same inclusions; meals, soft beverages, staff, excursions and airport transfers as per our web rates. (Alcohol is not included).  Four nights and a minimum of four guests is required.  19% percent tax is waived.  Package is not valid for the Holiday period and can be subject to availability.

Hacienda Petac is located approximately 30 minutes from Merida International Airport.

For reservations and information, call toll free (800) 783-6904 or 203-274-7375 outside of U.S.  Hacienda Petac's website is www.haciendapetac.com
____________________________________________________________________________
---