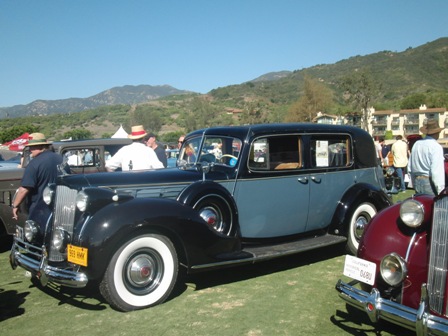 THIRD ANNUAL GREYSTONE MANSION CONCOURS D'ELEGANCE RETURNS TO BEVERLY HILLS MAY 6, 2012

One-Day Event Features More than 125 Classic and Exotic Vehicles, Lecture Programming, High-End Marketplace and Fine Food & Drink
The City of Beverly Hills third annual Greystone Mansion Concours d'Elegance returns to the historic former Doheny Family Estate on May 6, 2012. The show will feature more than 125 vintage, rare and unique automobiles and is fast becoming one of the most prestigious concours events in the United States. CLICK HERE for a complete press kit, vehicle highlights and images.

Designated as an official "Fédération Internationale des Véhicules Anciens" (FIVA) event, the Greystone Mansion Concours d'Elegance is one of only a handful of car shows in the United States that have received this distinction. Internationally renowned and respected for their precision and expertise, FIVA's endorsement of the 2012 Greystone Mansion Concours d'Elegance speaks volumes of the quality and excellence of the vehicles that will be on display.

A 1932 Alfa Romeo 8C 2300 Short Chassis Zagato Spyder will be among the 2012 show highlights. This extremely rare car is one of the only 2.3 Alfa Romeo's in existence with its original coachwork still intact. Additional highlights include a 1939 Bugatti Type 57C Coupe, believed by many to be the most original type 57 in the world today; a 1954 Alfa Romeo 1900 SS Zagato, one of 39 ever made; a 1972 Ferrari 365 GTB/4 'Daytona' originally owned by legendary American gun manufacturer William Ruger; a 1925 Hispano Suiza H6B and a 1930 Cadillac 452A. The 2012 Greystone Mansion Concours d'Elegance will feature 12 automobile categories including Ferrari, Porsche, Rolls Royce / Bentley, Pre & Post-War American, European & British.

The Greystone Mansion Concours d'Elegance will also feature lecture programming. Four lectures will take place beginning at 11:00 a.m. and continue one per hour at 12:00 p.m., 1:00 p.m. and 2:00 p.m. Speakers include Donald Osborne, Contributing Editor of Sports Car Market Magazine who will speak about the "Top 10 Reasons Not to Buy in the Current Market, & 10 Why You Must"; Carl Bomstead, Sr. Auction Analyst of Sports Car Market Magazine who will speak on the art of Automobilia, and Margaret Leslie Davis, author of Dark Side of Fortune, who will speak about the history of Greystone Mansion and the infamous Doheny family murder.

An awards presentation will take place at 3:00 p.m. and honor select vehicles. Hosted by KABC7 TV Automotive Specialist Dave Kunz, the ceremony will award prizes for Best in Show d' Elegance and Best of Show de Sport, FIVA Most Well Preserved Vehicle, Spirit of Greystone, Tiffany & Co. Elegance Award, Mayor's Choice, People's Choice, Meguiar's Outstanding Paint, Best of Class Awards, an award presented by BRM Watches, among other honors to be announced. Jesse Alexander, legendary motorsport photojournalist, will be judging and presenting an award in his honor for the Outstanding Sports Car in the concours field.

Ideal for car and motorcycle aficionados as well as lovers of luxury items, architecture and Southern California history, the Greystone Mansion Concours d'Elegance has something for everyone. A high-end marketplace located inside the mansion will feature fine art, jewelry, automobilia, and accessories. Tours of the Greystone Estate will take place throughout the day; and, food stations catered by Lawry's Restaurants as well as beer and wine gardens, margarita and espresso bars will be conveniently situated throughout the estate grounds.

A portion of proceeds from Greystone Mansion Concours d'Elegance ticket sales will benefit the non-profit Friends of Greystone, and their ongoing restoration efforts of the Estate. Tickets are $108 per person when purchased in advance and $133 at the door. Ticket sales are limited to 3000 and ticket purchase includes unlimited food and drink, program book and poster, access to the estate grounds and mansion, as well as a two for one admission to the Peterson Automotive Museum.

The Greystone Mansion Concours d'Elegance is sponsored by The City of Beverly Hills, The Friends of Greystone, FIVA, Gooding & Co.,The Petersen Automotive Museum, Auto Gallery, the Armand Hammer Foundation, Meguiar's, Tiffany & Co., Asombroso, Jaffe Estate Wines, Bouchon, Chubb Insurance, Lawry's Catering, and Stella Artois among many others. Media Sponsors include Angeleno Magazine, the Beverly Hills Conference & Visitor's Bureau, Sports Car Market Magazine, and So Cal CCCA.

The Greystone Concours d'Elegance takes place Sunday, May 6, 2012 from 10:00am-4:00pm at Greystone Estate, Beverly Hills, CA.

Free parking at Beverly Hills Parking Structure (Parking Structure is located at 450 N. Crescent Drive in Beverly Hills) Guests will be picked up at the parking structure and transported to and from Greystone Manion via shuttle. For more information or to purchase tickets, please visit www.greystoneconcours.org. For media inquiries, please contact Agnes Gomes-Koizumi at agnes@agkmedia.com or call 323-937-5488. For more information about The Friends of Greystone, please visit www.greystonemansion.org. Soaring Gas Prices Shine the Spotlight on Train Travel
The steady rise in fuel prices sweeping the country is making travelers rethink their summer travel plans as they begin to consider the increased expenditure to trips by air and car. But don't nix the summer vacation just yet. Turn the family road trip into the family rail trip!
"Many of America's most classic destinations are a train ride away," said Todd Powell, president of Chicago-based specialty travel company Vacations By Rail. Aboard one of the country's iconic long-distance trains, like Amtrak's Empire Builder, California Zephyr, or Southwest Chief, travelers can settle in, enjoy the passing scenery, and leave the driving to someone else en route to popular cities and natural attractions like the Grand Canyon, Glacier National Park, San Francisco, Yosemite National Park and Seattle.
"Your vacation begins the minute you step aboard the train," said Powell. "There is always something to do, whether meeting fellow travelers from around the world, admiring some of the country's most beautiful scenery from the panoramic lounge car, or sitting back with a good book and enjoying the silence. It is also an efficient way to travel, as dining, sleeping and entertainment options are located in one comfortable, constantly moving mode of transportation."
Packaged train travel incorporates all of the components necessary for the perfect vacation experience: comfortable transportation and onboard accommodations, centrally-located hotels, and sightseeing in desirable destinations. In addition to providing a unique vacation experience, rail vacations are attractively priced making it an affordable option for families, couples and single travelers alike.
Vacations By Rail offers a wide variety of independent and escorted rail vacations across America as well as packaged travel through Canada, Europe and beyond. View the complete collection of rail vacations at www.vacationsbyrail.com. To book a rail vacation and for information about rail-only tickets aboard Amtrak's long-distance trains, call a Vacations By Rail travel specialist at 877-929-7245.
About Vacations by Rail:
Vacations By Rail is the leading seller of rail travel and tours in North America and the trusted authority on rail vacations. Travelers can choose from the largest selection of independent rail vacations, escorted rail tours, and luxury rail journeys around the world. Vacations By Rail also provides virtually every European rail pass and ticket to meet customers' European travel needs. For more information on Vacations By Rail and the company's products, visit www.vacationsbyrail.com or call 1-877-929-7245.
---
CYCLING FANS GET RED-CARPET TREATMENT
Lodging Packages Include V.I.P. Tent Access and Other Perks at the Amgen Tour of California Stage 6 Finish Line in Big Bear Lake
Big Bear Lake Resort Association is rolling out the red carpet for cycling fans at this year's Amgen Tour of California Stage 6 Finish with V.I.P. Finish Line Experience Packages. The packages come with overnight accommodations at a Big Bear lodge, hotel or cabin bundled together with V.I.P. tent access situated next to the finish line that includes complimentary appetizers and refreshments, a cash bar, commemorative cow bells and free bike valet service.
"These V.I.P. packages make it all worthwhile for spectators who want to live it up next to the finish line!" said Big Bear Lake Resort Association President and CEO Rick Shoup. "The shaded tent area gives them an opportunity to relax and enjoy refreshments and access to a full cash bar. The climax of course, is they get to see cyclists make a mad dash to the finish line where all the action is!"
V.I.P. Finish Line Experience Packages are on sale now for Amgen Tour of California Stage 6 Finish in Big Bear Lake on Friday, May 18, 2012. The lodging portion of the package is good for a one or two night stay anytime from Thursday, May 17 through Sunday, May 20. The amount of V.I.P. tent passes issued per reservation is based on maximum capacity of the lodging accommodations. Some participating lodges offer discounts as part of the package. To learn more about V.I.P. Finish Line Experience Packages including discounted lodging or to reserve V.I.P. Finish Line Experience Pacakges visit www.bigbear.com or call 800-424-4232.
---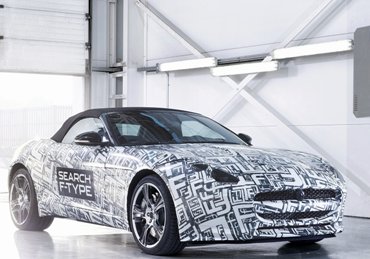 JAGUAR F-TYPE
Today Jaguar confirms that it will bring an all-new sports car to production; the F-TYPE.


Speaking at the New York auto show Adrian Hallmark, Global Brand Director, Jaguar Cars, confirmed: "We showed the C-X16 concept in September 2011, and the reaction to it has been so positive that we've accelerated our development of an all-new Jaguar sports car.
"That car will be called the F-TYPE, and it will be unveiled in production form later this year. The core appeal of Jaguar's cars is their sporting heart, and that heart will beat stronger than ever before in the F-TYPE. Its development is a vivid representation of the confidence and ambition of the Jaguar brand, and the desire amongst our engineers and design team to produce a world-leader in a market segment that we have been absent from for too long. But no longer -- the F-TYPE is coming."
Utilizing Jaguar's industry-leading knowledge of all-aluminum construction, the F-TYPE will launch as a convertible, and a strict two-seater with the focus uncompromisingly on delivering driver reward. A range of petrol engines will be available -- including a new power-plant family -- and all will deliver stunning sports car performance.
Today also marks the point that the F-TYPE's rigorous development schedule moves to final on-road testing, with engineering prototypes now leaving Jaguar's Castle Bromwich plant -- the same plant at which the production cars will be built.
Ian Hoban, Jaguar's Vehicle Line Director said: "The engineering development of the F-TYPE has focused on delivering a heightened level of dynamic driving reward. We are excited about our progress to date and are looking forward to soon being able to demonstrate what we have achieved."
Ian Callum, Director of Design, said: "A true sports car needs to be pure in both its purpose and its form; to have the opportunity to produce such a car for Jaguar has been a privilege both for myself and for my team. The C-type, D-type and E-type Jaguars were all sports cars that held true to this principle in their era, and the F-TYPE will hold true to that same principle in its time, a time that is soon to arrive."
The F-TYPE will join Jaguar's existing range of cars -- the XF saloon and Sportbrake, XJ saloon and XK coupe/convertible. Full F-TYPE technical and range details will be announced later in 2012.
It will go on sale in mid-2013.
---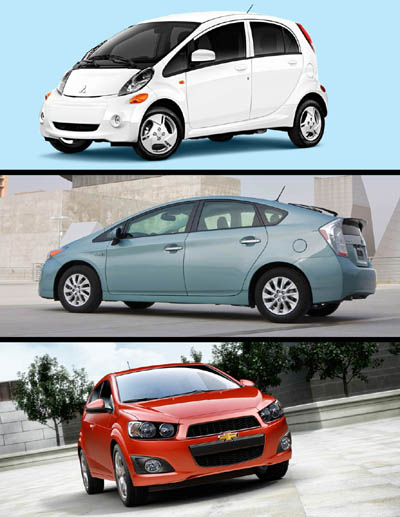 EarthTalk®
E - The Environmental Magazine


Dear EarthTalk: Which are the most fuel-efficient hybrid and/or all-electric cars available to consumers today (just the affordable ones, please!)?                          -- Jack Madison, Chicago, IL

Given increased environmental awareness, high gas prices and a continually slumping economy, it's no wonder that more fuel efficient cars are all the rage these days. The best deal going may be Honda's hybrid, the 42 miles-per-gallon (MPG) Insight ($18,350). Meanwhile, the newest version of Toyota's flagship hybrid, the Prius ($23,015), garners an impressive 50 MPG. Other solid choices include Toyota's 41-MPG Camry hybrid ($25,900), Ford's 39-MPG Fusion hybrid ($28,700), Lexus' 42-MPG CT 200h ($29,120) and Lincoln's 39-MPG MKZ Hybrid ($34,755).

For even greater efficiency and lower sticker prices, consider going electric, whereby you can charge your vehicle at ordinary electric outlets at home or work. Mitsubishi's new MiEV ($29,125) electric is the most fuel efficient car available to U.S. consumers in the 2012 model year, achieving 112 "MPG-equivalent" (the U.S. Environment Protection Agency's rating for electric vehicles that swaps in electricity for gas in its calculations) and a 62 mile range per full charge—not bad considering four adults can fit fairly comfortably inside. Another option is Smart's FourTwo Electric ($28,752), a two-seater with an 87 MPG-equivalent. And Nissan's all-electric Leaf ($35,200) achieves 99 MPG efficiency for a range up to 100 miles.

So-called "plug-in" hybrids also allow drivers to charge their vehicles' electric batteries via common power outlets, but also can use gasoline as needed for a longer range. Though pricey at $39,145, the Chevy Volt may save you money in the long run because it gets a whopping 94 MPG-equivalent in its preferred all-electric mode. An onboard gas generator produces more electricity as the vehicle is driven, extending the car's range with a full tank of gas to some 375 miles. Toyota released a plug-in version of its Prius ($32,760) this year, as well. It gets 87 MPG in electric mode (but this will only get you 15 miles without gas assistance) and a respectable 49 MPG in regular hybrid mode.

Another factor to consider when deciding which of these new uber-efficient vehicles may be right for you is the availability of additional incentives. Buyers of a new Volt, MiEV, FourTwo Electric or Leaf, for example, can cash in on a federal tax credit of $7,500—and some states may offer additional incentives—bringing the overall cost of these cars down to within the range of similarly sized traditional car models. The U.S. Department of Energy (DOE) posts all of the relevant federal tax incentives online at its Fuel Efficient Vehicle Tax Information Center website. For state-by-state incentives, check out the Database of State Incentives for Renewable Energy (DSIRE), a free online resources maintained by the North Carolina Solar Center and the Interstate Renewable Energy Council (IREC).

Of course, consumers don't have to go hybrid or electric to enjoy improved fuel efficiency these days. Scion's iQ ($15,265) and Honda's CR-Z ($19,545) each get 37 MPG out of sporty little gas-powered internal combustion engines. Kia, Toyota, Chevrolet, Hyundia and Nissan also make smaller traditional cars that get a respectable 33-34 MPG for sticker prices under $15,000.

CONTACTS: DOE's Fuel Efficient Vehicle Tax Information Center, www.fueleconomy.gov/feg/taxcenter.shtml; DSIRE, www.dsireusa.org; Edmunds' "Decoding Electric Car MPG," www.edmunds.com/fuel-economy/decoding-electric-car-mpg.html.
---
SAFETY COMES FIRST FOR CYCLING IN BIG BEAR
Big Bear Cycling Association Safety Initiatives Includes Share the Road Campaign,
Children's CycleFest 2012 and Lids on Kids Program
Today Big Bear Cycling Association (BBCA) announced its new safety programs for 2012, which are the club's main focus for this year. The new initiatives include a cycling safety awareness program called Share the Road campaign, a children's cycling festival on May 12 to demonstrate safety practices in a fun, interactive environment, and an ongoing program called Lids on Kids that gives kids living in Big Bear Valley free cycling helmet inspection and/or a new helmet.
"Cycling is a fabulous individual and group event for health, exercise and fellowship while taking in the spectacular scenery Big Bear Valley has to offer," said Craig Smith, president of BBCA. "However, cycling must be safe for both cyclists and motorists alike."
SHARE THE ROAD: BBCA's 2012 safety awareness campaign called "Share the Road" is named after CalTrans' local signage that encourages motorists and cyclists to share the roads and highways. Big Bear community leaders have agreed to do their part to ensure safety on Big Bear's roadways by displaying "Share the Road" stickers on all City of Big Bear Lake Public Work vehicles, Big Bear Disposal trash trucks and Mountain Area Regional Transit Association (MARTA) buses. Campaign stickers are available to the public at BBCA events and local Big Bear bike shops.
BIG BEAR CHILDREN'S CYCLEFEST 2012: BBCA hosts the first annual Big Bear Children's CycleFest 2012, a fun and interactive event for elementary school-aged children that includes a free bike and helmet inspection, safety discussions, a bike-handling skills clinic, and an obstacle course. Big Bear Children's CycleFest 2012 is Saturday, May 12, 2012. It is the official kick-off event for the Amgen Tour of California Stage 6 Finish in Big Bear (Friday, May 18, 2012).
"We'll be giving out many prizes including new helmets, stickers and a healthy lunch," added Smith. "Plus all participants at CycleFest 2012 will be entered into a drawing for a new mountain bike sponsored by the City of Big Bear Lake."
Big Bear Children's CycleFest 2012 is Saturday, May 12, 2012 from 11 a.m. to 1 p.m. at the Big Bear Sheriff Station located at 477 Summit Boulevard in Big Bear Lake. Parking is available at the Masonic Lodge located at 385 Summit Boulevard. Admission is free. Sponsors of the event include Big Bear Cycling Association, City of Big Bear Lake, Bear Valley Unified School District, San Bernardino County Sheriff, Chains Required Bike Shop and Bear Valley Bikes.
LIDS ON KIDS: BBCA has a long-term goal to provide every child in the Big Bear Valley (kindergarten through sixth grade) with a free cycling helmet inspection and/or a new helmet. The program, which is funded by BBCA's Tour de Big Bear cycling events, aims to get children trained and involved in safe cycling.
The Lids on Kids program officially began December 2011 in partnership with the Rotary Club of Big Bear Lake's "Santa Program" and Kiwanis Club of Big Bear Valley's "Gifts for Kids." Fifty bike helmets and 15 bicycles were given to families in the Big Bear Valley during these events. The goal for BBCA is to ensure Big Bear's 1,200 kids are properly fitted with a bike helmet.
---
LIFE IN THE FAST LANE
EXCLUSIVE MONACO GRAND PRIX PACKAGE AT HÔTEL SEZZ SAINT-TROPEZ
The Monaco Grand Prix is one of the mostly eagerly anticipated events in the racing calendar and Hôtel Sezz Saint-Tropez is busy revving up for the big weekend. From May 24 - 27 the Design Hotels™ member will be the epitome of Cote d'Azur glamour for adrenaline junkies and pleasure-seekers alike. Chartered yachts, flowing champagne and luxurious private villas – hotelier Shahé Kalaidjian has pulled out all the stops to ensure that guests at Hôtel Sezz Saint-Tropez will enjoy life in the fast lane during the Grand Prix weekend. www.designhotels.com/hotel_sezz_st_tropez
A sea-side view from a private yacht ensures not only a welcome escape from the hustle and bustle of the grandstands, but also the opportunity to watch the race like a true VIP. Guests staying at the Sezz Saint-Tropez will have a vast array of vessels at their disposal, from sailboats to motor yachts in sizes ranging from 42 - 105 feet. For the non-maritimers, getting to the race can be a smooth chauffeur driven affair or a short thrilling helicopter ride, the sky is most definitely the limit.
Far removed from the frantic activity of the racetrack, the Hôtel Sezz Saint-Tropez provides an oasis of calm for its guests. The Sezz experience starts the minute guests step through the doors of the spacious Christophe Pillet-designed reception area, where a personal assistant is waiting to fulfill every whim. Indulgence is the order of the day at the 35-room and two villas property, which is surrounded by lush tropical gardens. Whether in the Cocoon suite with a private terrace and garden, in one of the private pool villas, or at the Dom Perignon Champagne Bar, one thing is guaranteed – complete and utter relaxation.
This offer is also available for the Monaco Historic Grand Prix, which takes place from May 11 – 13. This prestigious bi-annual event typically occurs two weeks before the annual Formula One Grand Prix, and features classic racing cars from 1947 – 1984.
---