Dinner at Hearst Castle,
National Parks of the West
and
Byways of California and Oregon
Dinner at Hearst Castle, October 2013 
Experience what it was like to be an honored guest of William Randolph Hearst! These exclusive overnight getaways includes travel from Los Angeles to the region in vintage private railcar COLONIAL CRAFTS, a private catered dinner at Hearst Castle and special behind the
scenes tours personally conducted by the Museum Director. Also included is lodging in a deluxe ocean-front hotel in San Simeon, and a short wine-tasting tour prior to reboarding COLONIAL CRAFTS in Paso Robles. Aboard COLONIAL CRAFTS you'll be pampered by our professional staff who will provide luncheon, hors d'Oeurves and dinner prepared for you fresh in our kitchen, as well as our complimentary bar.
***This tour is limited to 20 guests***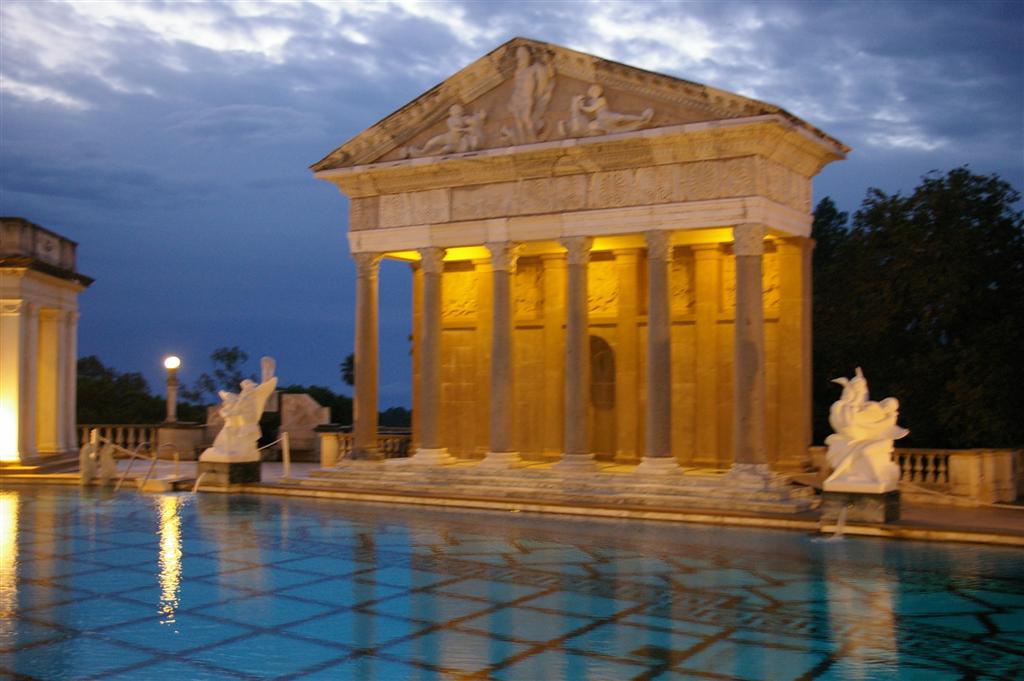 Itinerary
October 2013: Our steward will meet us in the main waiting room of Los Angeles Union Station and conduct us to private railcar Colonial Crafts waiting for us on the rear of the Amtrak's Coast Starlight departing at 10:25 AM. As the train leaves the depot, we enjoy a champagne toast to begin our journey to San Luis Obispo. Luncheon will be served around Noon following the sound of the dinner chimes.

As we sit down, the ongoing views of the Pacific shoreline provide a continually changing scene for our meal. The tables are set with crisp starched linens, fine china and glassware in the railroad tradition. Our meals are prepared fresh on board by our chef. Enjoy throughout the trip our complimentary bar including premium labels of beer, wines from the Central Coast and spirits.

After enjoying some mid-afternoon hors d'Oeuvres, we arrive in San Luis Obispo where we transfer to our waiting coach from Hearst Castle. Our coach brings us directly to the front door of the castle where we will be greeted by the Museum Director, and treated to a rare behind-the-scenes tour. As we tour the Castle, we notice that our group are the only guests. At the conclusion of the tour, we will sit down to a four-course dinner under the collonade of the Neptune pool with the surrounding mountains and the ocean far below.
We get a taste of what it must have been like as one of Mr. Hearst's guests as the Castle has been reserved for our exclusive use. The Hearst family is still involved with the Central Coast. Our meal features beef grown here on the Hearst Ranch and wines from grapes grown in the Hearst Vineyards.
After dinner, the Castle motorcoach will take us to our overnight accommodations at the Cavalier Ocean Front Resort.
2nd Day October 2013: After breakfast, we board our trolley coach for a trip over the Coast Range and down into the Paso Robles wine region. We will enjoy a tour and tasting at two wineries with a light lunch before we reboard Colonial Crafts at 1:38 PM. Heading south, we enjoy a glass of Central Coast wine as we head up and over Cuesta Pass. Hor d'Oeurves followed by dinner are served as we observe the golden sunset over the beach as we glide back to Los Angeles and a 9:00 PM arrival.
Part of the proceeds from this tour will be used to benefit Hearst CastleTours of Hearst Castle include climbing stairs. There are no elevators or ramps
For additional information and pricing
Download a Brochure
Contact Us

Contact COLONIAL CRAFTS for availablity and booking information of private railcar charters and stationary parties.
Email Address
ColonialCrafts@earthlink.net
Telephone (Toll Free)
(877)224-1150
Mailing Address
Colonial Crafts
9303 Crystal View Drive
Tujunga, CA 91042-3208
_________________________________________________________
CAR RENTAL UPDATE FROM AVIS
Avis Launches Vehicle Selection Service in Canada

Avis Car Rental today announced that Avis Preferred(R) Select & Go, the Company's vehicle selection service, is now available in Toronto.

With Select & Go, Avis Preferred members can (1) keep and drive away in
their pre-assigned rental vehicle; (2) exchange their car, at no
additional charge, by selecting another one from the designated area;
or (3) upgrade their vehicle for an additional charge by choosing a
specialty car or SUV from the designated area. Then, customers simply
drive their selected vehicle to the exit gate, present a valid driver's
license to the Avis representative and the rental check-out process is
completed.

"Select & Go enhances the rental experience by giving Avis Preferred
members the freedom to select the vehicle that best suits their needs,"
said Gina Bruzzichesi, senior vice president, customer experience, Avis
Budget Group. "We're proud to extend this empowering, time-saving
amenity to Avis Preferred travelers in Canada."

Avis Preferred Select & Go supports the Company's strategic initiative
to "putting the customer first." The service is also available at top
airport locations in the United States, including Albuquerque, Atlanta,
Austin, Baltimore, Charlotte, Chicago (O'Hare), Cleveland, Columbus,
Dallas (DFW and Love Field), Denver, Detroit, Fort Lauderdale, Fort
Myers, Hartford, Houston (Bush Intercontinental and Hobby),
Indianapolis, Kansas City, Las Vegas, Los Angeles, Maui, Miami,
Minneapolis, Nashville, Newark, New York (JFK and LaGuardia), Oakland,
Orlando, Phoenix, Portland, Raleigh-Durham, Seattle, San Antonio, San
Diego, San Francisco, San Jose, St. Louis, Washington D.C. (Dulles and
National) and West Palm Beach.

For more information on Avis Preferred Select & Go or to enroll in Avis
Preferred, visit www.avis.com/select&go.

About Avis

Avis Car Rental operates one of the world's best-known car rental
brands with approximately 5,200 locations in more than 165 countries.
Avis has a long history of innovation in the car rental industry and is
one of the world's top brands for customer loyalty. Avis is owned by
Avis Budget Group, Inc. (Nasdaq:CAR), which operates and licenses the
brand throughout the world. For more information, visit www.avis.com.


---