WHEELS   .   .   .
SHIPS, TRAINS, PLANES AND BUS ADVENTURES  .   .   .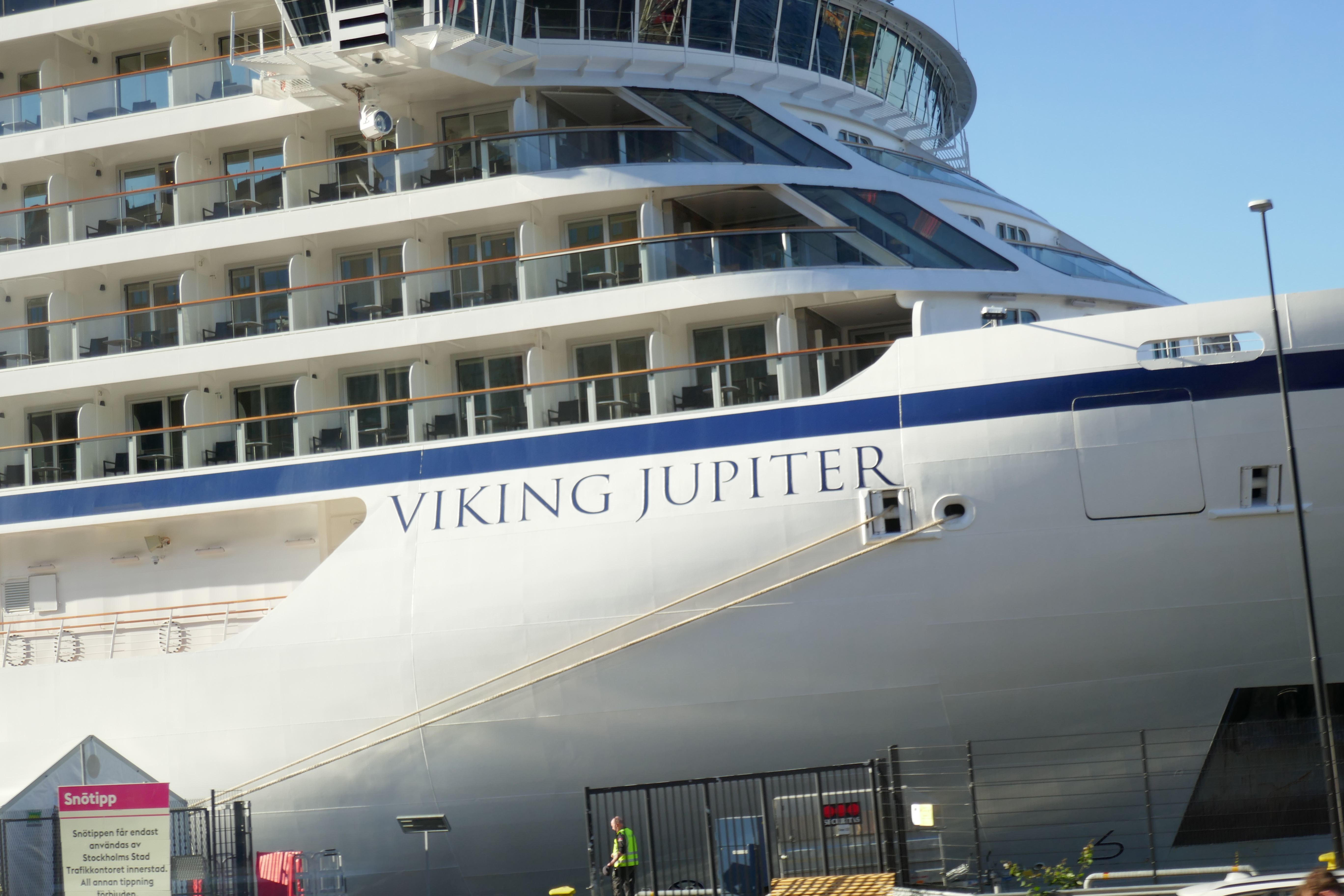 Viking Jupiter 2022 (photo: BCLBN)

DISCOVERING UNKNOWN TERRITORIES WHILE CRUISING ON THE VIKING JUPITER
by Bonnie Carroll                                                                            
Along with every other cruise company sailing the Baltic Sea to St. Petersburg this year Viking Cruise Lines has had to make changes in their sea routes to avoid the war in the Ukraine. Rerouting these cruises required a huge effort on the part of cruise companies traveling through these areas, as well as on the part of team members who schedule location and tour itineraries for Viking cruise guests.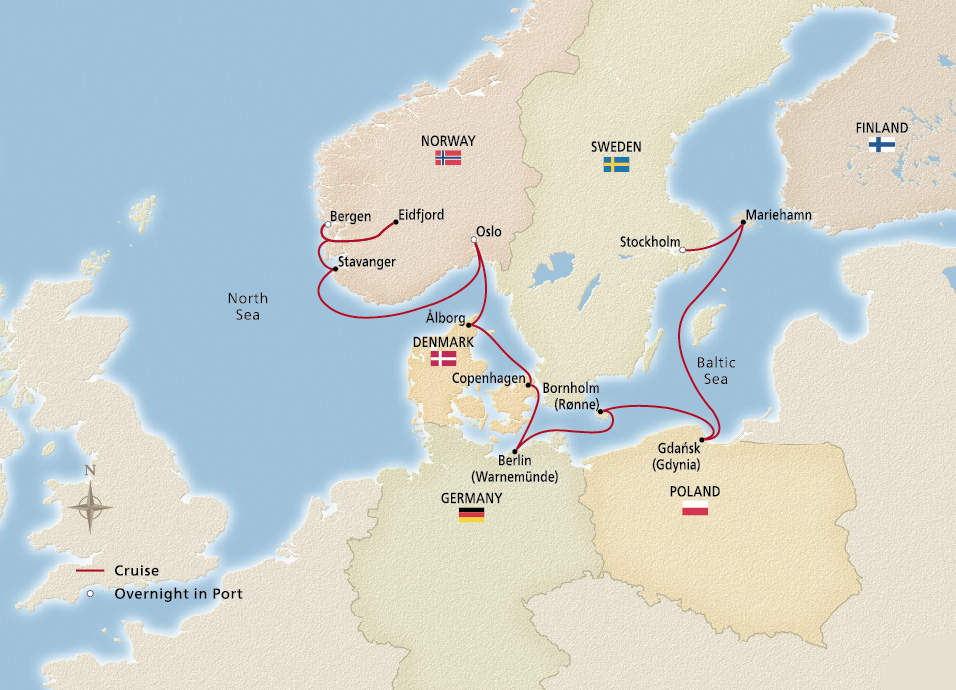 Map of Viking "Viking Homelands" Itinerary
I was traveling on the Viking Jupiter and along with many people on this cruise who had been waiting three years (made their reservations long before Covid happened) to see the treasures of St. Petersburg I was disappointed and concerned about inevitable changes to come. It was impressive and commendable what an exceptional job the Viking cruise planing staff did to reroute their ships to alternate safe destinations, and I found it very stimulating to be visiting unexpected destinations in Germany and Norway that would often not be included on this cruise agenda.
One of these unexpected destinations on my cruise was to Warnemunde, Germany, which is among the world's busiest cruise ports and was founded in about 1200. In the city of Rostock, it is located approximately two hours by train from Berlin, Germany.  For centuries it was a small fishing village but later became a major player in safeguarding the city of Rostock's access to the Baltic Sea. In the 19th century this seaside venue became an important resort destination. The once sleepy fishing industry area is now the Nordic Yards Warnemunde ship yard, the most important harbor for cruise ships in Germany, with an economy dependant on tourism, and home to a modern cruise line center built in 2005.
The arranged tour for guests on the Jupiter this day was to take a train ride to Berlin, Germany, however, I had been to Berlin many times and took an option to walk a few blocks from the ship to the community of Warnemunde, a totally charming tourist destination where I spent a lovely afternoon walking and happily photographing historic buildings and seascapes with my daughter.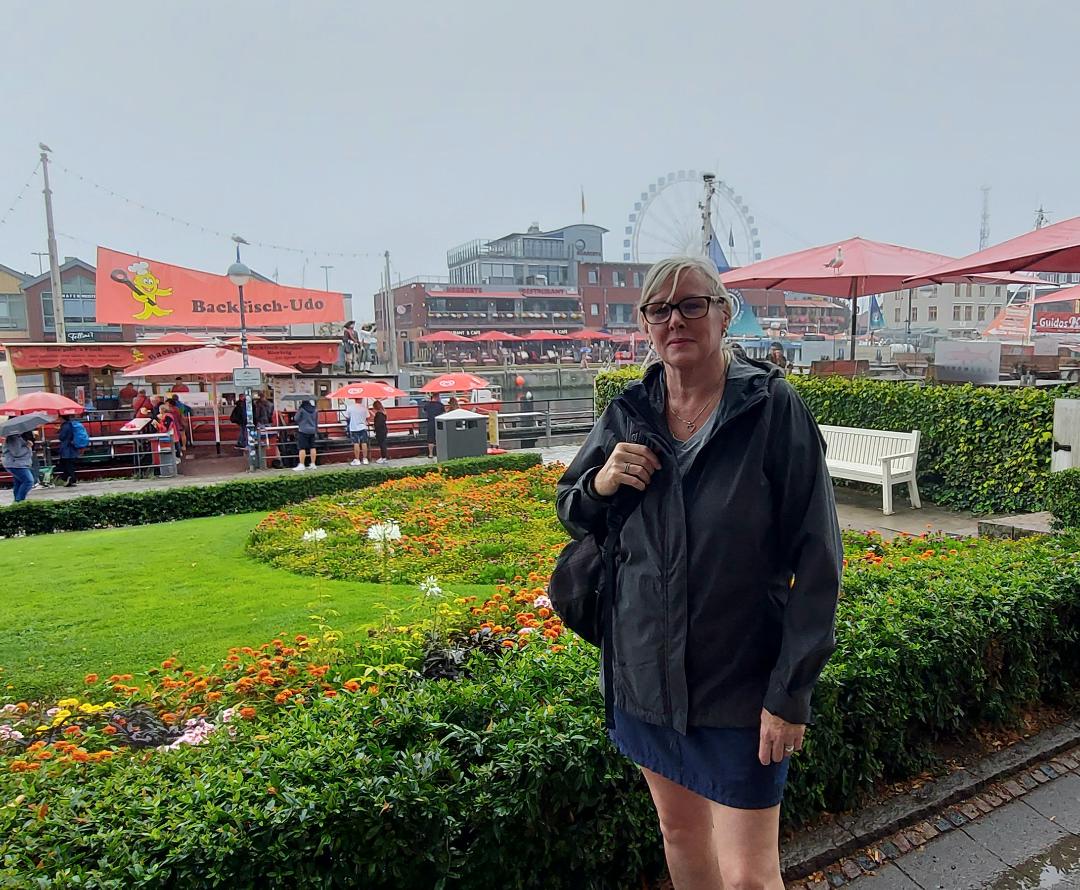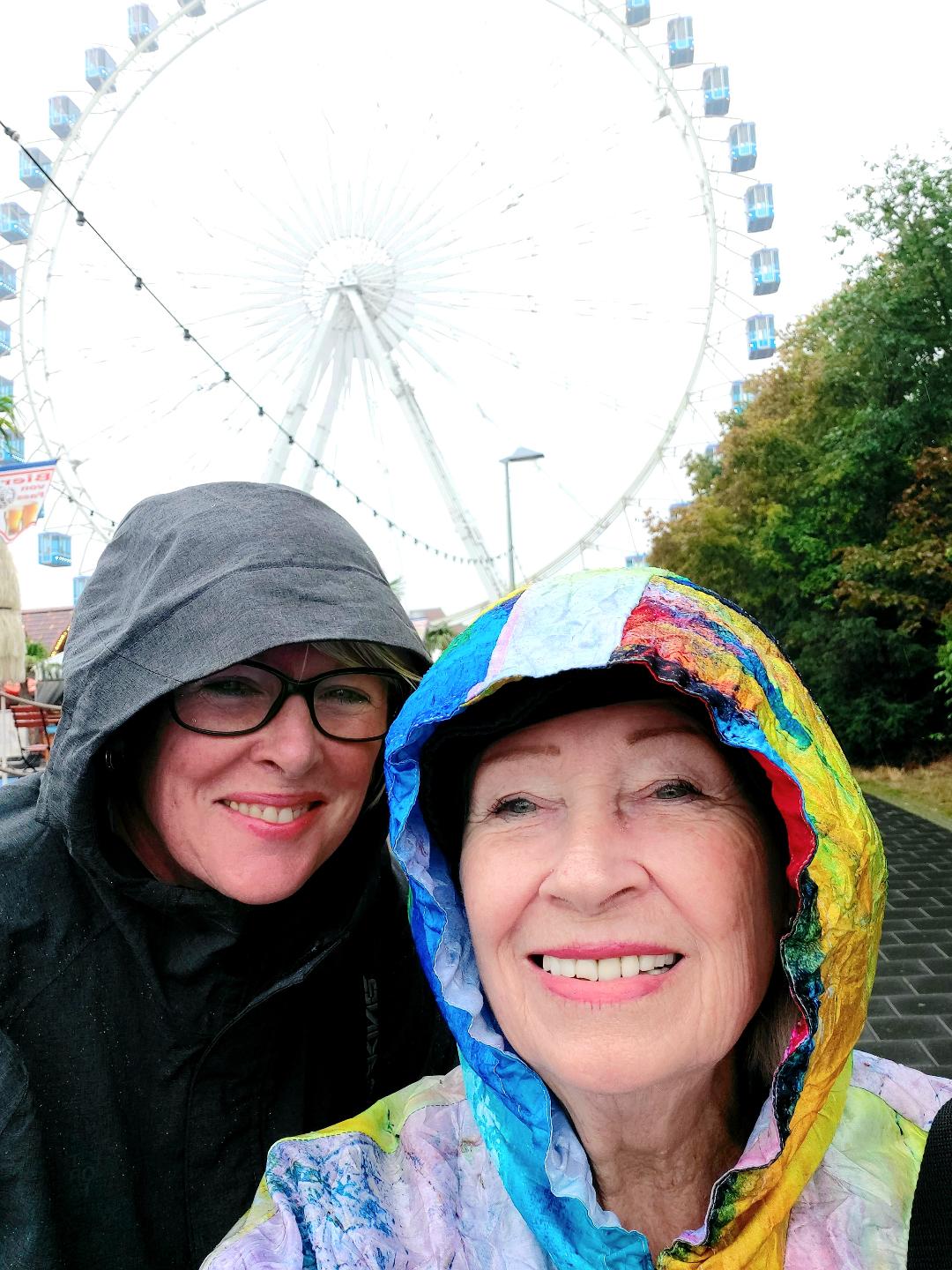 Entering Warnemunde Amusement Park & Alte Strom (photos: BCLBN)

It was raining as we entered Warnemunde by a walkway near our Viking Jupiter ship and found ourselves in a charming amusement park where everything was operating, music was playing, and despite the intermittant rain kids were rushing with their parents to get on their next ride.
The oldest building of renown we visited in this cruise line center resort area was the white glazed brick lighthouse, built in 1897,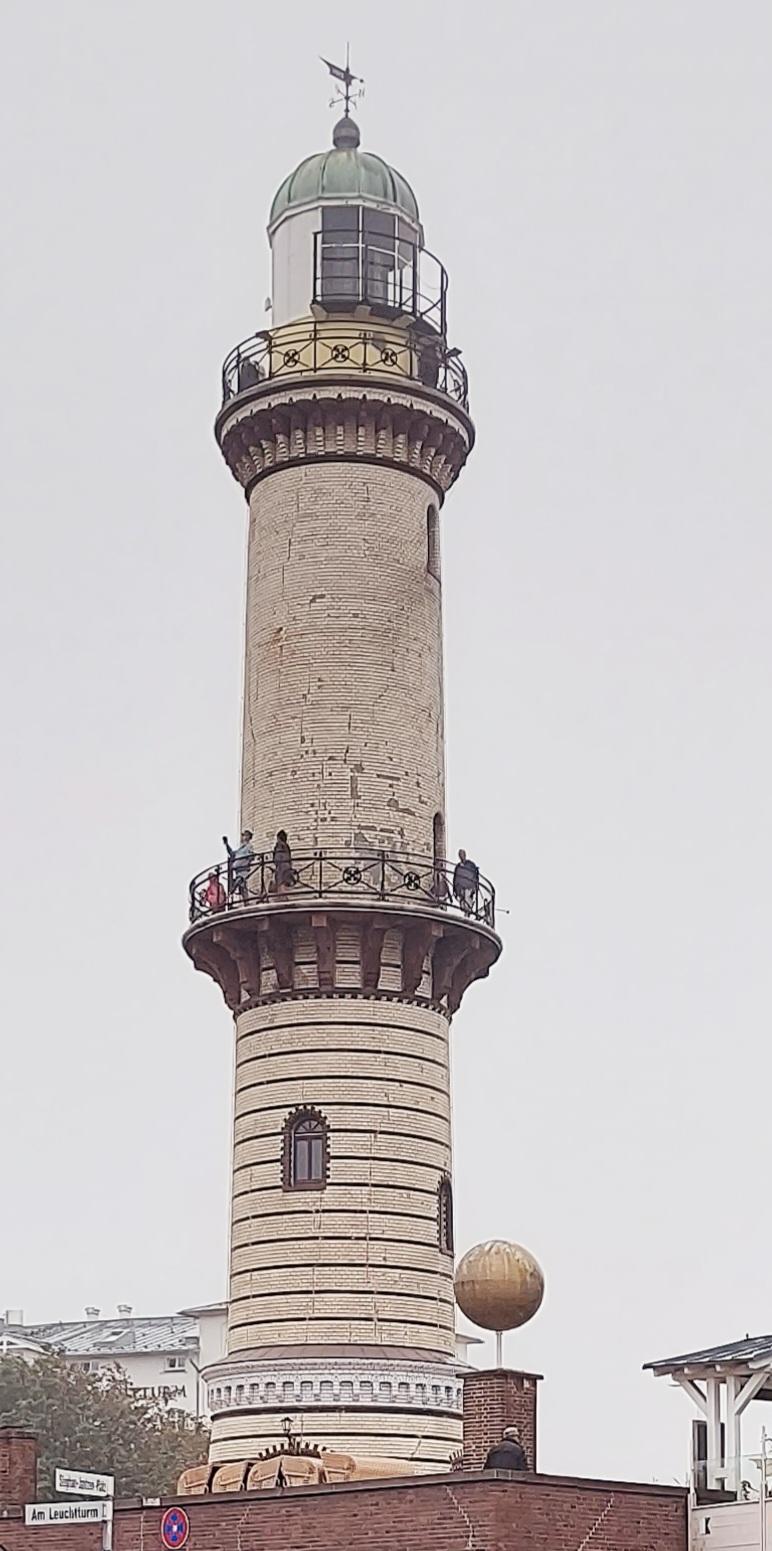 which is currently still in use. For two euros visitors are welcomed to climb to the top for an amazing look at the area and capture breath taking views of broadest beach on the German Baltic Sea coast that stretches out over a length of nearly two miles and features a planetarium with a true scale depiction of the planets at the appropriate distances of their orbits along a coastal walking trail that gives hikers an intuitive idea of the relative distances between the orbits of the planets and the sun.
The nearby Teepott building was constructed and opened in 1926, burned down during WWII, and was rebuilt and reopened again in the 1960s. The Teapott is today home to a bevy of inviting restaurants and gift shops filled with tourists. (photo: BCLBN).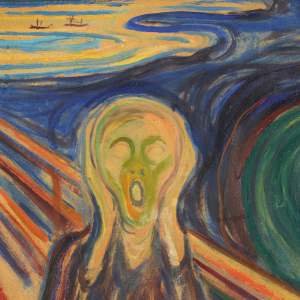 Walking along der Alte Strom (Old Channel),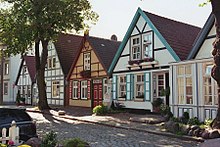 lined with old fisherman style cottages that are now chic shopping and dining destinations, viewing the Fischbrotchen boats that are lined up to sell every kind of delicious fresh fish sandwich or lunchtime seafood treat, we found ourselves passing the Edvard Munch House where the renowned Norwegian painter of The Scream lived in 1908. (photos: Warnemunde VB).

It is not unusual for visitors to rent a Strandkorb for the afternoon. These wicker covered structures were invented in 1925 by a German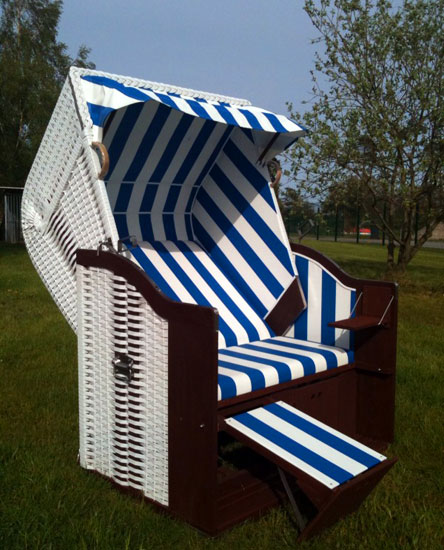 Master Weaver named Carl Martin Harder to protect beach lovers from sun exposure and the strong Baltic winds. Strandkorbs are available to rent at a cost of 7 Euros to 12 Euros near the Hotel Am Leuchtturm, a popular seaside hotel that serves breakfast and lunch daily. These strange little beach structures are very popular because you can sit in them, enjoy lunch in them, as well as lock up your valuables while you enjoy a swim in the Baltic Sea.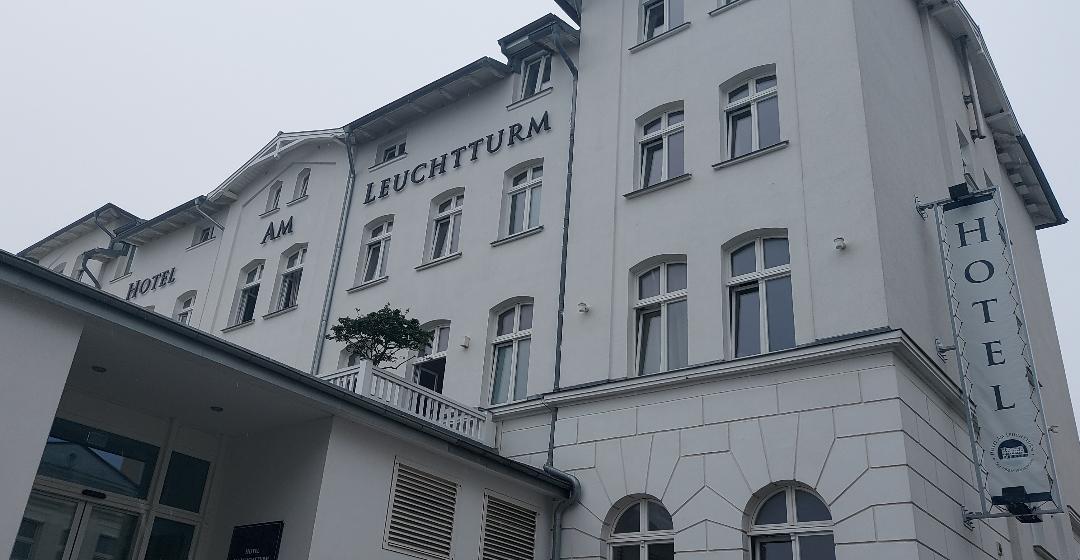 Hotel Am Leuchtturm at the Beach (photo: BCLBN)

Investigating room fees at boutique hotels like the seaside Hotel Am
Leuchtturm, listening to everyone around me speaking German while sipping delicious coffee and delving into yummy German pastries under a maze of red unbrella's at a historic bakery was a truely sinful ending to our fun reconissance visit to investigate the possibilities of this previously unknown resort area as a possible future family vacation destination. (photo: BCLBN)

I am not happy this Baltic Sea cruise had to be rerouted due to the ongoing war in the Ukraine, and not unlike my fellow travelers on the Viking Jupiter I had long dreamed of visiting the museums of St. Petersburg, but I commend Viking for providing such fine lectures, entertainment, culinary surprises, as well as researching to find interesting alternate locations for guests to experience on their Baltic Sea cruise from Stockholm to Bergen, including our personal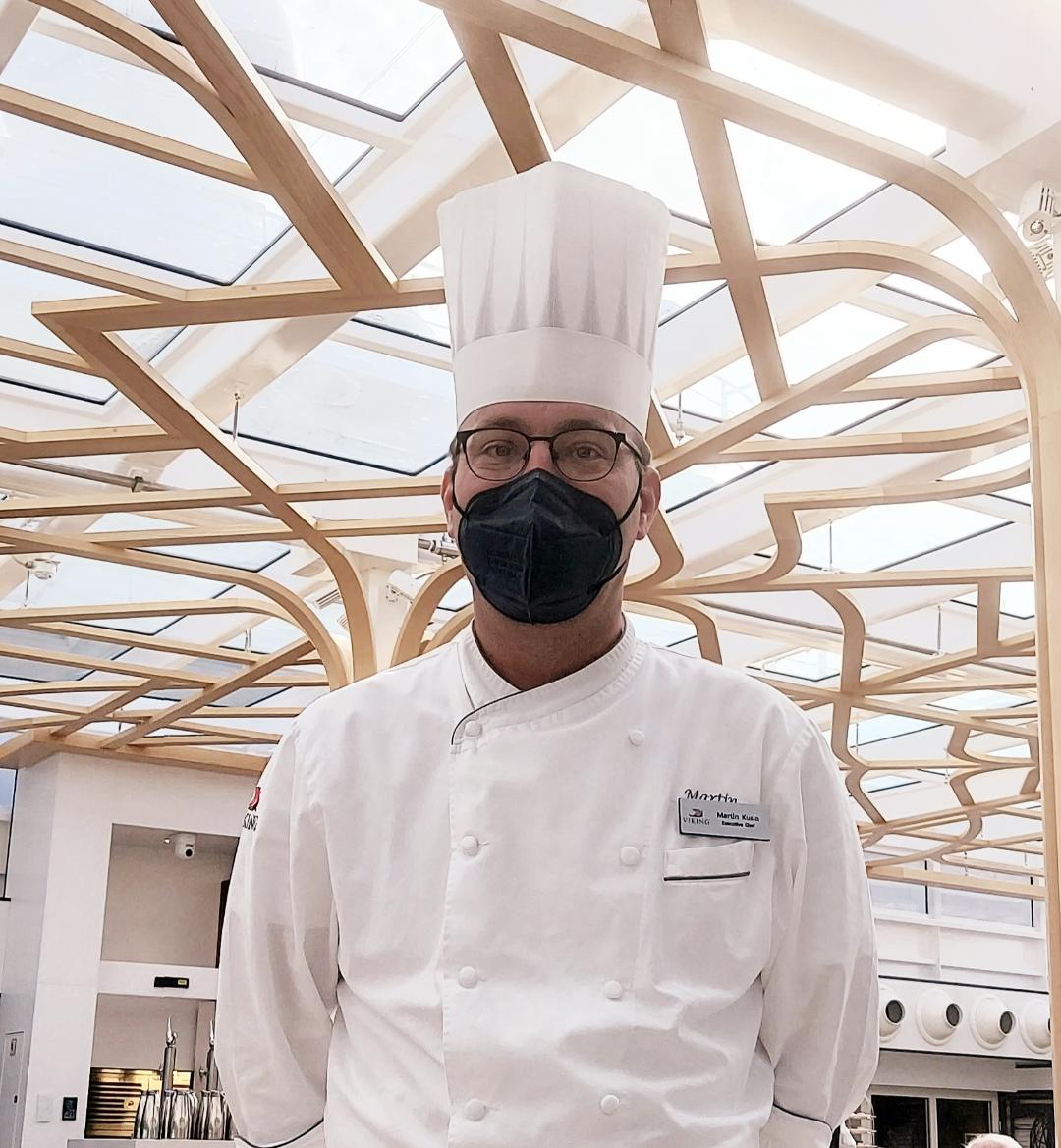 unexpected pleasure of savoring the customs and culture of people like those we met as we wandered through Warnemunde.
Upon our return to the ship we had a swim, and enjoyed some beautiful treats from the afternoon high tea service prepared by the Viking Jupiter Chef Martin and his able staff. This unexpected new travel agenda all worked perfectly for us, and I look forward to my next cruise with Viking secure in the knowledge that what ever happens it will be interesting, It will be safe and I can expect delicious unforgettable memories to enjoy forever! (photo: BCLBN) For Viking cruise information visit www.viking.com.
♦  ♦  ♦
Note: Bonnie Carroll, an Association of Women in Communication 2022 Clarion Award winner,  is a past public relations professional, worked as a journalist creating travel and food stories from Los Angeles to San Francisco as the Beverly Hills Bureau Chief for Food and Beverage International Magazine, founded her own online travel/food/lifestyle magazine Bonnie Carroll's Life Bites News in 2005, and in retirement continues to contribute to award-winning publications, news publications and magazines, is a guest for travel  interviews on local TV and Radio, as well as serves as a volunteer board member for the Santa Barbara/Puerto Vallarta Sister Cities Committee.
---