ORIENT-EXPRESS' ROYAL SCOTSMAN TO MAKE FIRST-EVER TRIP SOUTH OF THE BORDER

It has never left Scotland before. But next month, Orient-Express Trains and Cruises' Royal Scotsman will be making its first-ever trip across the border for a seven-day journey through Scotland, England and Wales. Highlights of the journey include England's Lake District, Chester, Portmeiron and Conway Castle in Wales, Bath, Oxford, Cambridge, Durham and York.
A journey aboard The Royal Scotsman is one of the world's grandest, most luxurious train experiences. From its opulent Edwardian-style décor to its elegant passenger cabins that accommodate no more than 36 guests, The Royal Scotsman offers a unique way of seeing the wonders of the British countryside.
In addition to seeing the sights of the cities the train visits and admiring a continuing vista of gorgeous countryside, passengers on

The Royal Scotsman

are treated to a variety of private off-the-train cocktail receptions, gala meals and experiences that illuminate their journey. The July 2010 Grand Tour of Great Britain will include:
a private clay pigeon shooting and wildlife walk near Rothiemurchus

a private, Highlander-guided tour of Culloden Battlefield

a historian-led walking tour of medieval Chester

guided tours of Bath, Oxford, the Nene Valley Railway, Cambridge, Durham and York

lunch at Orient-Express' award-winning Le Manoir aux Quat'Saisons near Oxford

a visit to Alnmouth in Northumberland for a private viewing of Alnwick Castle and an exclusive farewell dinner.

The Royal Scotsman's Grand Tour of Great Britain departs Edinburgh on July 9 and is priced at $12,800 per person double occupancy, and $20,480 for a single. All meals, wines, an open bar and sightseeing excursions are included in the fare.

For reservations or to find out more about The Royal Scotsman, call 1-800-524-2420 or visit www.RoyalScotsman.com.

---
DiMora Brings World's Only Tucker Convertible to Beverly Hills
Rodeo Drive Concours d'Elegance Featured Preston Tucker's Experimental Classic
On Father's Day, DiMora Motorcar brought the only Tucker Convertible ever built to the Rodeo Drive Concours d'Elegance in Beverly Hills, California.
Tucker Corporation produced 36 four-door Tucker sedans before the company folded on March 3, 1949. Using partially completed vehicles and parts from the factory, an additional 16 Tuckers were completed over the next several years.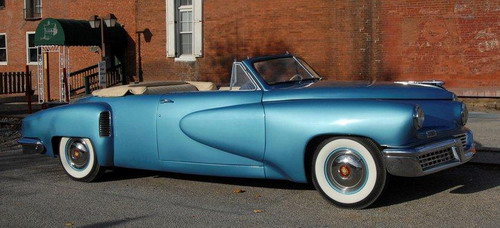 The Tucker Convertible
The experimental two-door Tucker Convertible was in development when the factory closed. In the past year, it was finally completed by Benchmark Classics of Middleton, Wisconsin. Speaking of the Rodeo Drive Concours d'Elegance, Benchmark President Justin Cole said, "I am thrilled to partner with Sir Alfred DiMora to present the Tucker Convertible alongside some of his beautiful custom motorcycles."
At the January 2010 Russo and Steele Auction in Scottsdale, Nevada, bidding on the Tucker Convertible stopped at $1.4 million, which did not reach the reserve price. The vehicle is now available for sale. Interested buyers are invited to contact Alfred DiMora.

The Rodeo Drive Concours d'Elegance ran from 10:00 AM to 4:00 PM on Sunday, June 20, on Rodeo Drive in Beverly Hills. The event was free and open to the public.
About DiMora Enterprises
Based in Palm Springs, California, the DiMora Enterprises, LLC family of companies excels in providing distinctive limited-edition transportation solutions. DiMora Motorcar is developing the $2 million V16, 1200-HP Natalia SLS 2 sport luxury sedan. It also distributes Hennessey Performance Engineering vehicles such as the Venom GT throughout the Middle East and India. DiMora Custom Bikes takes the passion for technological innovation and uncompromising quality that is the hallmark of the Natalia and brings it to motorcycles that are available worldwide through the growing DiMora dealer network.
Founder Sir Alfred J. DiMora's automotive innovations began in the 1970s, when he co-founded Sceptre Motorcar and later went on to own Clenet Coachworks, where he designed and built Clenet luxury cars. When President Reagan declared 1986 the Centennial Year of the Gasoline-Powered Automobile, the Clenet was selected as the Official Centennial Car, resulting in honors for DiMora and the Clenet at the Automotive Hall of Fame in Michigan. DiMora Enterprises continues to support Clenet owners worldwide through the Classic Clenet Club.
---
---