WHEELS   .   .   .
Artist Simon Bull creates the tribute to "Ford vs. Ferrari" at Pasadera.
World-renowned artist Simon Bull has captured the spirit of the 2020 Concours at Pasadera through his love of color — and cars. Poster prints will be available for $35 with proceeds donated to charity. The creation of this English-born artist can be viewed through a network of fine galleries around the world including Meuse Gallery on Ocean Avenue in Carmel. Guests to Concours at Pasadera will be able to view Bull's one-of-a-kind, colorfully painted Aston Martin on display.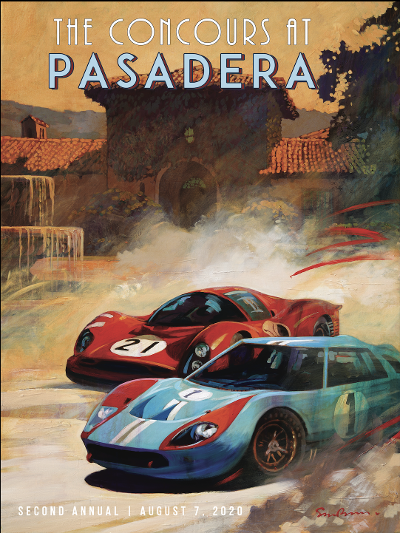 2nd annual Concours at Pasadera Car Week 2020
Features collector cars, motorcycles and Hot Wheels
1200 HP, 206 MPH, Drako GTE Hypercar will be exhibited
Featured theme: "Ford vs. Ferrari"
For those who couldn't attend last year's inaugural Concours at Pasadera, Carmel artist Simon Bull's artwork for the 2020 event poster tells the story of "Ford vs. Ferrari" and the spirit of the 2020 event through his love of color — and cars as vintage race cars roar past in the fading light of day.  The England-born artist has enjoyed international success for his vibrant artwork. The poster reflects a Car Week experience like no other with Bull's one-of-a-kind, colorfully painted Aston Martin on display.
Concours at Pasadera will provide a complete celebration, with Champagne and delectable hors d'oeuvres, along with cars competing in class awards from Tiffany & Co., and the backdrop of a luxurious private country club and Jack Nicklaus-designed Signature golf course. As one guest said about last year's event: "Fine cars, excellent cuisine in an atmosphere of casual elegance." While that may sound difficult to eclipse, members of The Club at Pasadera have every intention of doing just that at the second annual event on Friday, Aug. 7, from 2-6 p.m.
In recognition of exhibitors who have presented outstanding vehicles in prior years, both the Pebble Beach Concours d'Elegance and The Concours at Pasadera will encore previous award-winning automobiles, along with awarding new Class Winners, during their August 2020 events.
The concours will showcase a juried collection of modern, classic, competition, commercial and vintage automobiles, along with motorcycles gathered from club members and enthusiasts. Also featured will be an Alumni Arena, presenting 25 chosen exhibitors from five classes. Guests will experience a tribute to the famed "Ford vs. Ferrari" competitions held at Le Mans between 1966-69. Competition vehicles from both marques will be on display. In all, the exhibition encompasses more than 80 cars and motorcycles from North America, Europe and Asia.
Silicon Valley supercar manufacturer, Drako Motors, will exhibit it's 1200 hp, four passenger luxury electric hypercar, Drako GTE. With a fully electric quad motor architecture, Drako GTE generates 8,800 Nm of combined wheel torque for unrelenting acceleration up to a top speed of 206 mph. Drako GTE will be one out of three Halo Cars to be featured at the show.
The first-ever Hot Wheels Concours will be part of the Pasadera event, inviting both younger and older exhibitors to present their collections for awards. Guests also will enjoy an exceptional culinary experience, with the event benefiting countywide charitable causes.
'Ford vs Ferrari'
While the focus will be centered on Friday's festivities, Pasadera will host a pre-Concours party for exhibitors and sponsors on Thursday, Aug. 6, from 5-8 pm, highlighted by a private screening of scenes from the film Ford vs. Ferrari starring Christian Bale and Matt Damon.
The film follows a determined team of American engineers and designers, led by automotive visionary, Carroll Shelby (Damon), and his British driver, Ken Miles (Bale), who build a new racing car intended to defeat the perennially dominant Ferrari racing team at the 1966 24 Hours of Le Mans in France.
Bring your Hot Wheels
The famous toy from Mattel has become hugely collectible, with fans unearthing pieces that could belong in an investment portfolio. For the 2020 event, the Hot Wheels Concours will present scale-model cars (1967-2020) owned by exhibitors from around the world. Famed collector Bruce Pascal will exhibit a selection of his prized models, one of which will be the famous 1969 Beach Bomb valued at $175,000.
Life-sized Hot Wheels cars also will be a part of this incredible event. The Concours at Pasadera will include Vintage Hot Wheels (manufactured between 1968-1977 with red lines on the tires); Classics (1978-1994); Modern Classics (1995-2020, including the 1995 "Treasure Hunt" launch); Customized (manufacturing dates open); and Special Exhibition (rare examples accepted by the jury). A Best of Show will be awarded, chosen by attending guests by popular vote, given to the piece that best represents the spirit of the show and its exhibitor. Those interested in exhibiting their collection should register here.
See Randy Grubb's famous Volkstream conversion
Fans of the Emmy-winner TV show "Jay Leno's Garage" may recognize Grubb as the mastermind and metalsmith behind a series of epic vehicle transformations. Grubb's 1959 modified Volkswagen looks like a hippie love bus, but has a 2.5-liter Subaru powertrain for a much-needed boost in power.
Pasadera's Philanthropy
Proceeds from the 2020 Concours at Pasadera will benefit The Bridge Restoration Ministry and CASA of Monterey County (Court Appointed Special Advocates for Children).
The Bridge exists to provide a residential setting for those struggling with addictions, providing safety, structure, discipleship and supervision for the purpose of restoring them back to God, family, work and community. Referrals come from Salinas Valley Memorial Hospital and the Community Hospital of the Monterey Peninsula, families, local businesses and local and state correctional programs. Its current goal is to acquire a new facility, working with Pepperdine University to obtain a location in Pacific Grove.
CASA trains and supports community volunteers who advocate for abused or neglected children placed in foster care, upholding the children's rights while pursuing a safe and permanent home.
Tickets and More Information
Monterey Motorsports owner Rick Barnett is leading the organization for the event and will serve as Master of Ceremonies. Tiffany & Co. created the Class and Exhibitor Awards. Event information at pasaderaconcours.com.
 A 2020 Concours ticket includes:
Early-Bird Pricing (RSVP before July 10)
General admission adult (18+): $110, $195 per couple

General admission (under 18): $40

Children 5 and under are free
Standard Pricing (RSVP after July 10)
General admission adult (18+): $125, $225 per couple

General admission (under 18): $50

Children 5 and under are free
Club at Pasadera Member Early-Bird Pricing (RSVP before July 10)
Member general admission adult (18+): $95, $165 per couple

Member general admission (under 18): $30

Children 5 and under are free
Members of The Club at Pasadera interested in purchasing tickets should email admin@thelcubatpasadera.com. General admission tickets may be purchased at https://pasaderaconcours.com/tickets/
Exhibitors
The exhibition fee includes two event tickets, a Tiffany Exhibitor award, car plaque and photo shoot. To guarantee a review of entry by jury, each exhibitor must apply by July 6.
Applications may be found at https://pasaderaconcours.com/application. For information on sponsorship opportunities, contact Rick Barnett at rick@montereymotorsports.com.
The Club at Pasadera is at 100 Pasadera Drive in Monterey, between Monterey and Salinas off Highway 68.
____________________________________________________________
Post-Pandemic Auto World Changes
Plunged into sudden recession like everyone else when the world essentially shut down in the attempt to stop the spread of Coroavirus automakers are looking at immediate and wise waysfor the industry to survive in the 2020 – 2021 pandemic.Some changes have been immediate and practical; others are mind shifts that will reverberate through the industry for years to come, until the next tumultuous event forces another major zigzag.
Early View
As the coronavirus took hold globally  automakers stopped making vehicles and dealerships were forced to close their showrooms. Service departments remained open because they were an essential service for those still driving. The whole county was sheltered at home.
A new world developed with designers, engineers working out of home offices. Meetings were conducted by video and car sales went digital. Many disinfected and modified to create more space around workstations, etc. With extensive testing being done at these locations.
What's Next
"What happens on the other side of this pandemic? How are people going to react to this, coming out the other end?" asks Julian Thomson, design director for Jaguar and a man who has spent most of his career thinking about the future in automotive advanced design studios.
"There's one indicator to say that people are going to be increasingly concerned about health, air quality, pollution, traveling," Thomson says. "It's going to affect everything like that. Are people really going to want to get into some automated Uber pod, squeeze in there, and go down the street in this thing, or are they going to want their personal space in their own car now? I don't know.
"Will it make people more modest in their purchasing decisions? Will it make them think more about the whole rat race and their work-life balance? Or, on the other hand, will it just go nuts? Will they just suddenly say, 'Life's too short. Spend, spend, spend,' and they're going to go out there and grab it."
Sadly, it is clear things will not return to business as usual when an all-clear is given. "We're never going back to the way we were," says Sandy Schwartz, CEO of Cox Automotive.
"I've been very pleasantly shocked and surprised at just how well employees around the world embraced working remotely," FCA CEO Mike Manley said. "We've been forced to rethink our entire business model. These are unprecedented times, and we've learned a huge amount already." "I think we can return stronger."
Ongoing Expectations
Dealers were quick to adapt. They were forced to adopt online sales, virtual vehicle walkarounds, digital signatures, and home delivery of new vehicles.
"Everyone's reevaluating everything they've done," says Ernie Garcia, chairman and CEO of Carvana, an online used car retailer. Many consumers like it. Buyers like visiting a dealership to see, touch, and test drive a new car, but now prefer this new, more efficient way of selecting and purchasing a car.
"People want new and more efficient ways to do things," says Garcia. The current situation is pushing people to Carvana's business model—a web-based, contactless buyer and seller of used cars that can approve financing and trade-ins in minutes and delivers the vehicle to the customer when the sale is complete.
Many buyers have had an aversion to buying a vehicle online without seeing or driving it. There were fears it would not be delivered, or live up to its billing, and they would not be able to return it. But fear of the virus means online purchasing is seen as the safer alternative.
Fear of the virus is pushing other behavioral shifts, as well, Garcia says. He is seeing a growing preference for personal transportation in many cities, and growing demand for suitable vehicles.
Ride Sharing or Electric Vehicles
According to Doug Ekizian, managing director of PwC Consumer Finance Group ride sharing is now quite different. Data shows people who used it are getting back into dealerships.
"I'm not going to get into an Uber or Lyft for a while," Schwartz said. It is this current attitude that forced GM to close its Mavin ride option, but GM CEO Mary Barra says the company remains fully committed to Cruise, the self-driving startup it acquired, and is preparing to build the Cruise Origin six-passenger robo-taxi at the GM plant in Detroit-Hamtramck. Other automakers including Daimler and Ford have also gotten into the ride sharing space and all are working on specific new vehicles. Ford chief operating officer Jim Farley disagrees thinks the pandemic could promote more interest in autonomous vehicles in the future.
Escaping to your Car
People want to spend time in their cars. They miss their cars and driving. People are retreating to their massaging seats to sit back, crank up the volume, and sing along; pull out the tablet and binge watch; or take a nap.
The immediate shakeout will be dramatic, and some businesses, especially independent companies including dealerships won't make it. It could take big business years to make up for lost sales, and they will be forced to make hard decisions in prioritizing which programs get capital and which upgrades must be delayed. Clearly, it's a new day for the auto industry.
---