WHEELS   .   .   .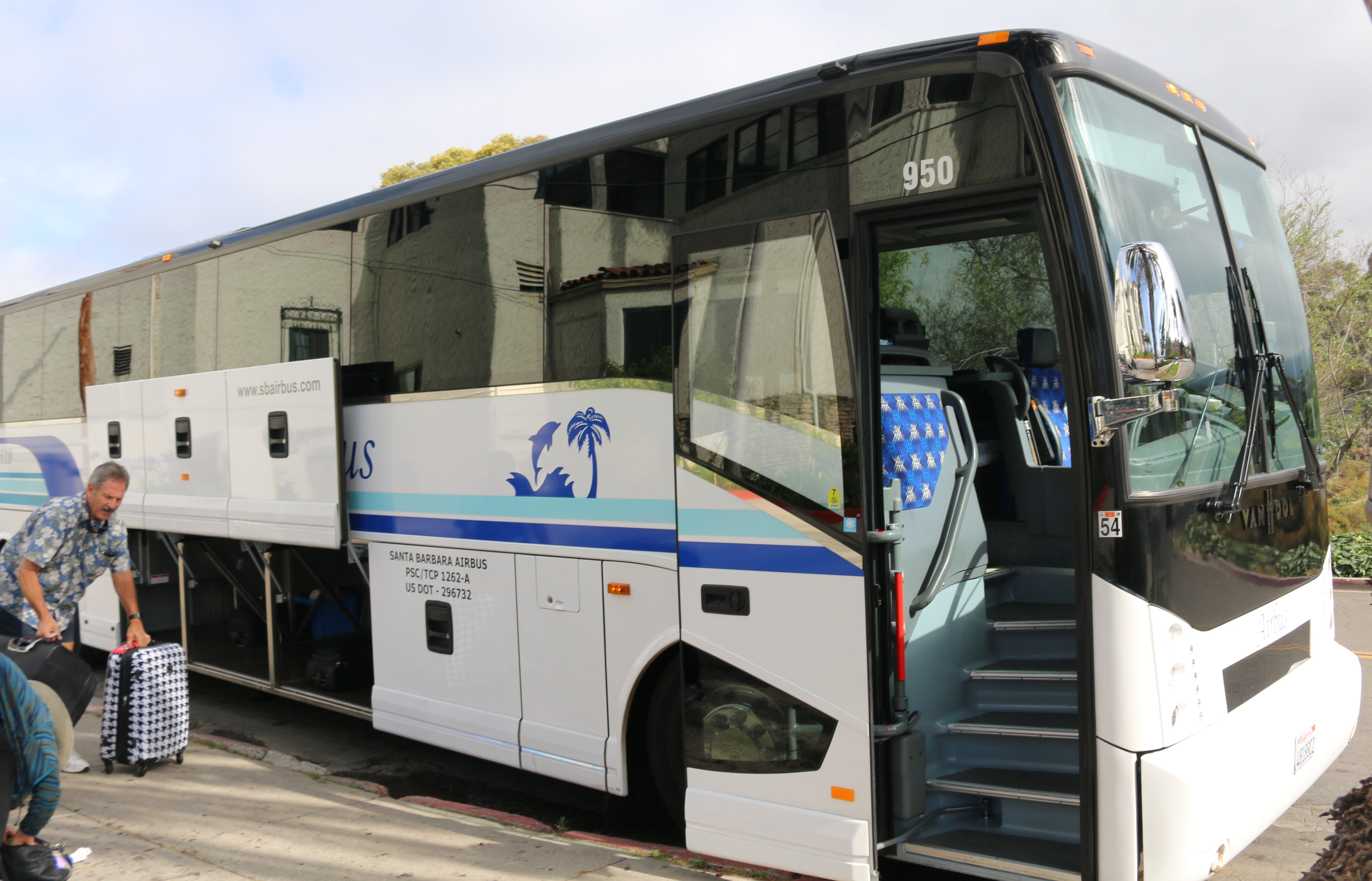 SANTA BARBARA AIRBUS IDEAL TRANSPORT FOR PEOPLE ON THE GO
Getting to and from the Airport Becomes A Joy Ride with Local Company
by Bonnie Carroll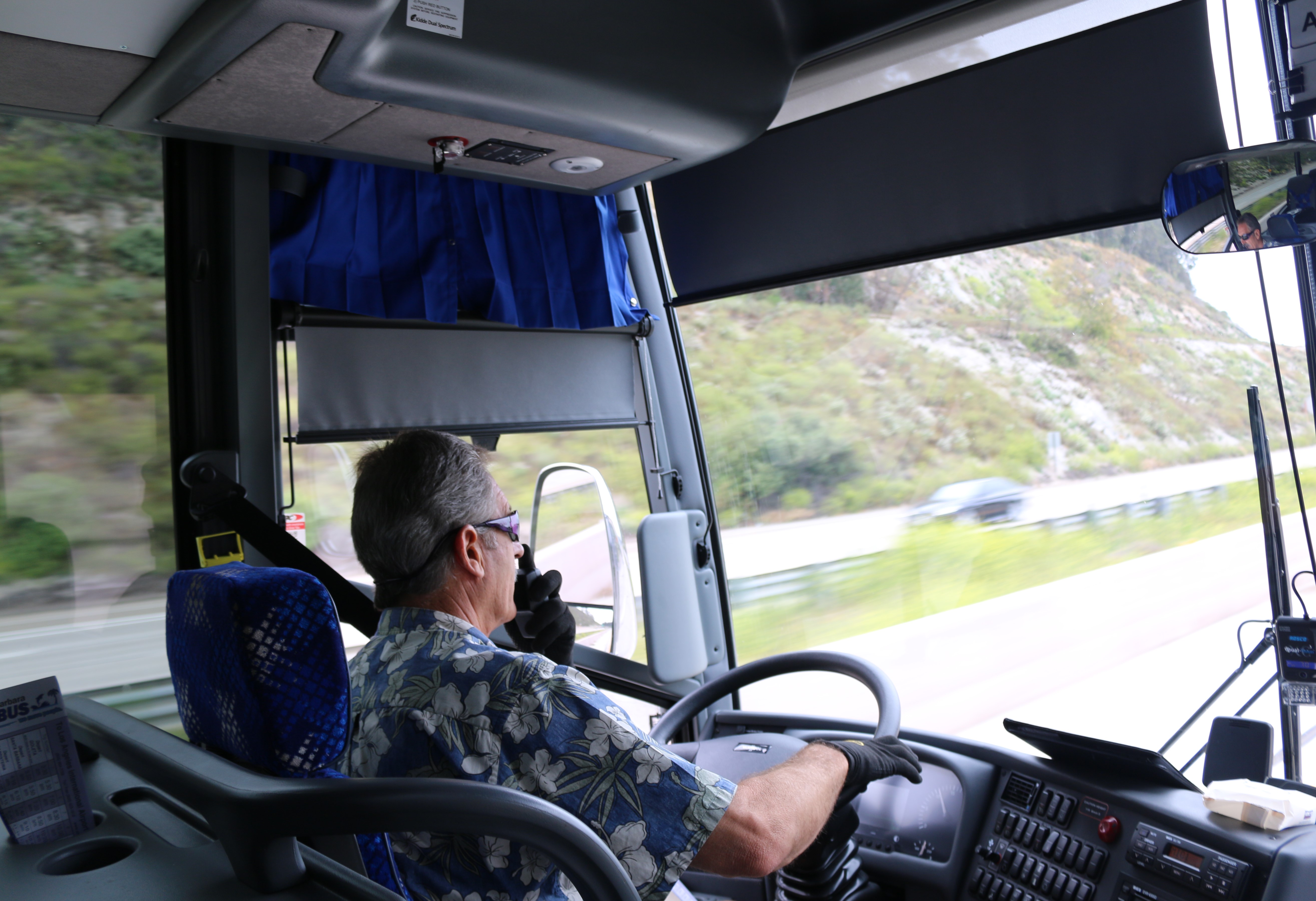 Seniors and millennials are in the majority of people traveling the world for business and for pleasure today, and they are always striving to find the most cost effective way to get to their destinations, which many times involves traveling to another city to board a flight. Couples have told me they saved over $300 a ticket by taking a train from Santa Barbara to San Diego to catch a direct flight to destinations like Maui. Renting a car or taking a bus to an airport often becomes a key part of their travel agenda, and Santa Barbara Airbus has been providing travel solutions to people on the go throughout Southern California since 1983.
Planning and implementing travel plans can be stressful, but if you have a reliable transport to and from the airport you have eliminated a major stress factor. As a travel and lifestyle writer for many years getting to LAX to catch an international flight on time is vitally important to me. In twelve years I have never had a mishap with this amazing bus company. They get me to the airport and get me home always without a wrinkle. Many communities throughout the country have bus companies offering similar services and using this mode of travel is highly recommended by this travel lady.
Santa Barbara Airbus is a locally owned and operated company in Goleta California. The ownership has remained the same since its inception and the commitment to the local community continues to grow. It is a customer-driven company, owned by local Goleta residents, with its primary focus on customer needs. Their business philosophy is to provide safe, efficient and affordable transportation in the bus transportation industry.
Convenient pick-up locations and state-of-the-art equipment ensures travel to and from the airport that is a pleasure. Travelers can be seen working on their computers, taking naps, or reading a good book while getting to the airport or their home destination. The bathroom is always clean and all their vehicles are meticulously maintained. They adhere to being a responsible business within the community by conserving energy, water, materials and other resources as well as implementing practices that prevent pollution and waste.
International cruises have become enormously popular with seniors and beyond travelers today, which usually includes round trip travel to and from the airport. On a recent Viking River Cruise I was delighted with my SB Airbus ride to LAX to catch my flight, as well as the ride home on my return trip to Santa Barbara. The new buses being used by Santa Barbara Airbus have everything for travel comfort. If you are starving following a flight they offer water, soda and snacks at a minimal fee to travelers, and the courtesy and care of the drivers is outstanding; the driver makes all the difference between a great trip or a problematic journey. From pick-up to delivery everything is easy, with computerized traffic information that enables driver's to take the fastest low traffic routes to your destination.
Local Cruise pick up and drop off from the Santa Barbara area to San Pedro and Long Beach Cruise Lines drop passengers within walking distance of the pier. The Long Beach stop is at the bus loading zone next to the multilevel parking structure near the Queen Mary and Carnival Cruise Lines. This location is approximately 1.5 miles walking distance to the Catalina Express at Catalina Landing. San Pedro Pick up and Drop off is at the Port of Los Angeles World Cruise Center in front of Pier 91, Pier 92 and Pier 93. (Varies depending on Ship). This appears to be a seamless way to enjoy a visit to Catalina or a Carnival Cruise.
Another fun adventure offered by Santa Barbara Airbus are the Day-trips which are the easiest way to get out and explore your world. In 2017 they will travel to Dodger Games, Musicals, NFL Games and the ever popular game show America's Got Talent! Trips typically include round-trip transportation and a ticket/entrance to the event being attended. Guests relax on the bus with friends while the driver's deal with the traffic and parking.
For additional information on airport travel with Santa Barbara Airbus, as well as special group trips please visit: www.sbairbus.com for details and prices. Enjoy the ride!
---