WHEELS   .   .   .
What's New in 2020?
America's rolling prairies, plains, and towering mountain peaks paint the picturesque backdrop for a USA train tour. Add to that landscape bustling metropolises, expansive national parks, and acclaimed historic sites and attractions, and it's easy to see why the United States is a perfect destination for a train trip.
The beauty of a rail travel is it begins the moment you step aboard the train. Settle into your cozy onboard accommodations and leave the driving to someone else as you travel deep into unspoiled natural beauty. Admire the passing scenery from your seat or the train's observation lounge. Enjoy a hot meal in the dining car or the café, read a book, or listen to music as the train crisscrosses the country. While many of our independent train tours and escorted train tours include overnight travel aboard an iconic long-distance train, there is a great selection that solely feature excursions aboard day trains that are just as historic including vintage trains like the Grand Canyon Railway as well as scenic tourist trains like Colorado's Durango & Silverton and New England's Cape Cod Central Railroad.
Each train vacation incorporates an iconic train journey into a well-planned itinerary that also includes visits to popular destinations, comprehensive sightseeing, and more. Choose from train trips in Alaska, popular Coast to Coast vacations, fall foliage tours, or visits to America's national parks by train. With more than 100 vacations in the United States alone, you're sure to find the perfect itinerary.
________________________________________________________________
CANADIAN TRAIN TRIPS
2020 Rocky Mountaineer Vacation packages, click 2020 Vacations.

NEW for 2020
First Passage to the West and Vancouver Island Package - this exciting new 9 night package combines the sights of the Canadian Rockies by sightseeing motorcoach and luxury rail with a journey by high speed catamaran from downtown Vancouver to the beautiful island city of Victoria, British Columbia's capital. This Vancouver Island add on also includes a round-trip motorcoach transfer tour to Butchart Gardens, and a convenient return Victoria Harbour to Vancouver Harbour scenic flight back by seaplane. This package, like all the packages on offer, is fully customizable to fit in with your preferences.
Holland America's Ms Koningsdam, 7 night Alaska Cruise - we are thrilled to announce that in 2020, the magnificent ms Koningsdam, the first of Holland America's Pinnacle Class ships (and currently their newest ship in the fleet) will be departing on Saturdays (replacing the ms Nieuw Amsterdam on this route). There is a lot of excitement surrounding this Pinnacle Class ship from Vancouver, which includes all of the latest Holland America features as well as Rudi's Sel de Mer, Rolling Stone Rock Room, G Gelato, the 180 degree World Stage, BLEND wine blending experience, NOTES dedicated whiskey bar and more. We have already seen a lot of interest in this welcome addition, and expect this 7 night round-trip Alaska cruise to be very popular.
___________________________________________________________________
Trips Daily from Goleta, Santa Barbara, Carpenteria to LAX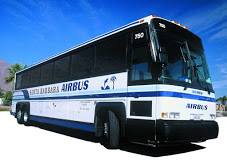 ---