WHAT MILEAGE ARE MCCAIN
AND OBAMA GETTING?
By Laurence Vittes
As the Presidential election moves into high gear, the mood of the voters will probably be reflected in their driving habits. Unless gas prices take a nose dive in the next two months, anyone who drives a car will have tough choices to make between now and Election Day.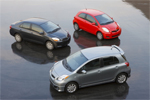 Unfortunately, most of the people driving gas guzzlers cannot just pick up and incinerate what they're currently driving. And if they don't incinerate it, someone else will just drive it and the environment will be no better off. There are also things called leases and payment books that have to be honored. And families with spouses and children will justifiably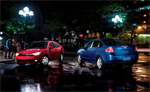 want to keep the SUVs or heavy duty sedans for the protection they provide.
People of means will have a greater range of options. They can drive gas guzzlers of whatever size they choose. But, and this is another reason I say that the car industry will be an indicator of the mood of the voters, many of these consumers may choose to drive a vehicle that is eco-friendly. Many people I k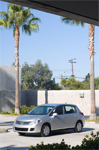 now have already done that, their car of choice most often being the Toyota Prius, probably because it not only gets the best mileage, and is such a versatile, comfy and fun to drive vehicle besides, but also because it is so obviously "green."
For those who are unconcerned with appearances, their eco-friendly car of choice could quite easily be one of the small types like Toyota's Yaris, Nissan's cuddly Versa and the responsible Altima hybrid, the wonderful Mini Coopers,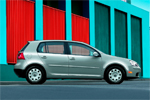 the glorious Mazdas. Ford's fabulous Focus and many of the models in Volkswagen's fleet (soon to include, again, some extremely tempting diesels)w. I have yet to drive any of the grown-up golf carts made by Smart, or Honda's increasingly large fleet of hybrids, but they have plenty of adherents.
So, as I said, the question comes down to whether you want to help the environment, both by using the least gas you reasonably can and by seriously adopting the many mileage-increasing stratagems such as trying to drive no faster than 55 on the freeway, avoiding jackrabbit starts like you were the tortoise, car-pooling, and just driving less.
To refresh your memory, here's a list of "Easy everyday gas saving tips" from the folks at gotmpg.com (who, by the way, are incongruously skeptical about the global warming thing):
A new air filter can improve fuel economy up to 10 percent

Correct tire air pressure can increase mpg by three percent, and prevent premature tire wear and failures or blowouts caused by over or under-inflated tires.

Excessive idling wastes fuel. If you're going to be sitting still for more than a couple of minutes shut the engine off.

Using cruise control whenever possible saves fuel because it keeps the vehicle at a constant speed.

Keeping the vehicle tuned up saves fuel. A poorly tuned engine can lower fuel economy by 10 to 20 percent.

Poor emissions and/or a faulty oxygen sensor can cause a 40 percent reduction in fuel economy. A 40 percent REDUCTION.

Following the recommended service and maintenance schedules will save you fuel.

Using the recommended grade of motor oil will increase fuel economy by one to two percent.

Not speeding and not rapidly accelerating reduces fuel economy anywhere from five to 33 percent depending on your individual driving habits.

Reducing unnecessary weight reduces fuel economy significantly.

Using the air conditioner only when absolutely necessary will save a significant amount of fuel.
It's all more or less common sense, and most of it only takes discipline. The most difficult tip to observe, especially when traffic is whizzing past you and you're being tail-gated and honked at, is the 55 mph speed limit. Still, why spend your hard-earned dollars to make total, and obnoxious, strangers happy?

---
DIMORA MOTORCAR SPONSORS 30TH
ANNIVERSARY REUNION OF 'DALLAS'
TV SHOW AT SOUTHFORK RANCH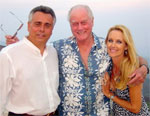 Thirty years ago, CBS introduced the world to the Ewings of SouthFork Ranch, and soon demonstrated that a superrich Texas oil and cattle clan could be dishonest, dysfunctional, dastardly, and delightful to watch every Friday night. Dallas became so popular that 360 million people were glued to their TV sets on the night they found out who shot J.R.
To celebrate one of the greatest series in world television history, the Ewing family will host a Texas-style reunion and barbeque at SouthFork Ranch, in Parker, Texas, on Saturday, November 8, and you are invited to join in the fun. Larry Hagman (J.R.), Linda Gray (Sue Ellen), Patrick Duffy (Bobby) and other members of the cast will be on hand. The event will also feature a performance by western swing band Asleep at the Wheel, winners of nine Grammy Awards, as well as a spectacular fireworks show.
Hollywood A-list celebrities and many other special guests are expected to walk the Reunion's red carpet. "We're inviting everyone from Brad Pitt (who appeared on Dallas early in his career) to Robert Duvall," said Reunion Producer Jason Hardison. "Dallas has impacted the lives of some of entertainment's most famous people, and they're coming out to celebrate their love of the series."
Coverage of the event will be beamed from SouthFork to every major market in the U.S. and throughout the world, all focused on a celebration that has been described as fitting and grand.
"News of this event quickly exploded onto the worldwide stage," added Brad Stevens, Reunion Co-Producer. "Media from CNN to Entertainment Tonight have picked up the story. Access for coverage is the request of the day. Less than 24 hours after the Dallas Morning News broke the story, over 400 international media outlets picked it up."
The first sponsor for the party was DiMora Motorcar Founder and CEO Alfred DiMora. He owned Clenet Coachworks, maker of the Clenet automobiles often seen on Dallas. "We were delighted to have our Clenets featured on Dallas, one of the longest-running shows on television," he noted. "We jumped at the chance to sponsor this fun event, knowing that a portion of the proceeds will benefit the National Kidney Foundation."
"I have always been a huge Dallas fan," DiMora added. "I would love to see a revival of Dallas, with a new generation of Ewings driving their Natalia SLS 2 sport luxury sedans." Powered by the 1200-horsepower DiMora Volcano V16 engine, the Natalia SLS 2 carries a Dallas-sized price tag: $2 million.
Tickets for the dinner, show, and many extras are available for $100 per person. The top tickets go for $1,000, which includes a cocktail party with the Dallas cast inside the Ewing mansion. Tickets go on sale Friday, August 22, at noon Central time, on a first-come basis. For details, please visit www.dr30.com.
For information on becoming a sponsor for this very special event, please contact Brad Stevens of the Austin Media Group: 505-268-8000, brad@dr30.com, or www.dr30.com.
"This is not a once-in-a-lifetime event," said Stevens. "This is a once-in-forever celebration!"
About DiMora Motorcar
Based in Palm Springs, California, DiMora Motorcar crafts the world's most expensive production automobile, the Natalia SLS 2 sport luxury sedan. The founder, CEO, and driving force behind DiMora Motorcar, Alfred DiMora, produced two of America's finest luxury automobiles, the Clenet (as owner) and the Sceptre (as co-founder). Beyond being featured on such TV series as Dallas and Dynasty, Clenets were purchased by a distinguished group of celebrities, ranging from Farrah Fawcett, Rod Stewart, Ken Norton, and Sylvester Stallone, to King Hussein of Jordan. When President Reagan declared 1986 the Centennial Year of the Gasoline-Powered Automobile, DiMora's Clenet was selected as the Official Centennial Car. As a result, he and the Clenet were honored at the Automotive Hall of Fame in Michigan. For more information, please visit www.dimoramotorcar.com.
---