WHEELS   .   .   .
RIDING THE MACHU PICCHU TRAIN
Inca Rail Train Features Breath Taking Views
by Bonnie Carroll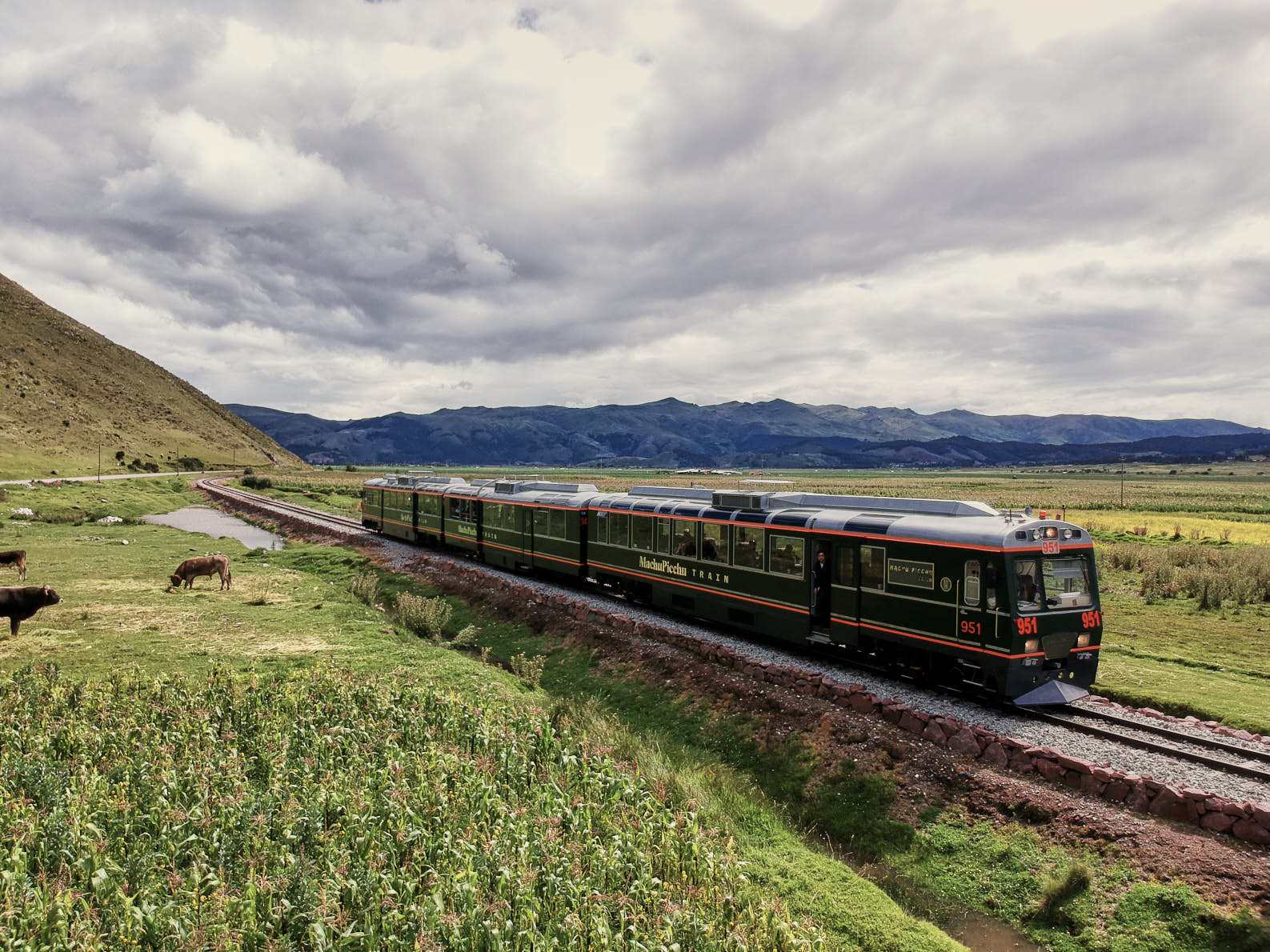 When American archaeologist Hiram Bingham stumbled upon Machu Picchu in 1911, who knew travelers would be seeking all sorts of ways to access the ancient ruins. Currently, it's by foot or train, the latter of which tends to be most popular.
Now Inca Rail, Ollantaytambo, Peru is offering, the 360° Machu Picchu Train. This is the hot and new incredible way to get to the famous Inca city. They have comfortable seating cars, a cocktail bar and food, an observatory car and two charming waiting rooms before boarding the train.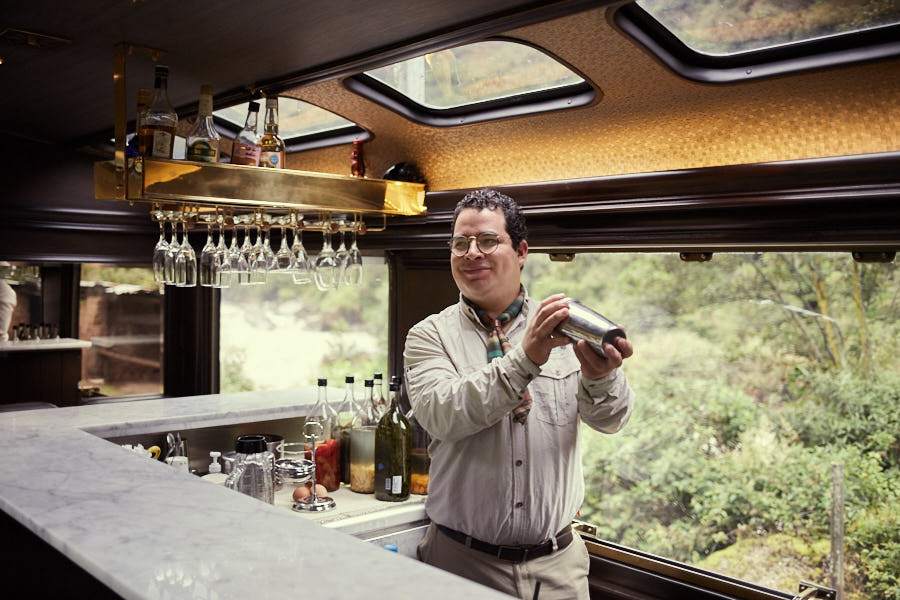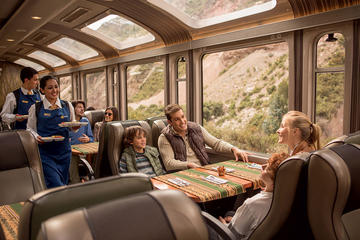 The hour and one half ride offers fantastic views of Machu Picchu, drops travelers at the Machu Picchu Hotel, and has become terribly popular with toruists. For additional information visit: incarail.com/trains/machu-picchu-train
______________________________________________________________________________
SANTA BARBARA AIRBUS HONORED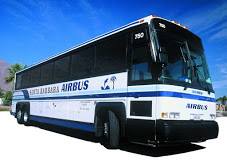 Santa Barbara Airbus was named the 2017 Large Business of the Year by The Chamber of the Santa Barbara Region during its Regional Business Awards ceremony. The award ceremony is generally held in January each year and covers the previous twelve months, yet were rescheduled and awarded on May 11, 2018.  
According to The Chamber of the Santa Barbara Region (CSBR) President and CEO Ken Oplinger, nominations are received from members and awarded by a volunteer committee of Board Members, Ambassadors and Members after careful deliberations on criteria including: Business Excellence – Achieved successful business practices, e.g. financial strength, marketing, promotional activities, strong ethics. Promotes employee self-growth and development and has demonstrated a high level of customer satisfaction, confidence and service; as well as Community Service – Has proven their interest in the welfare of the community through financial contributions, personal service or civic leadership. "Not fires nor debris flows nor fog of night will keep us from celebrating local businesses. We are so pleased to honor Santa Barbara Airbus," Oplinger remarked.
CEO/Co-owner Eric Onnen revealed, "After being nominated for five years, it's incredibly fulfilling to receive this award from business leaders here in Santa Barbara. On behalf of my entire staff at Santa Barbara Airbus, we really appreciate this recognition and are deeply committed to providing excellent service and customer satisfaction combined with our employee development and community social responsibility."
Santa Barbara Airbus Co-owner Mark Klopstein shared, "Part of our 35th year anniversary celebration includes the purchase of a 55-passenger model luxury motor coach featuring the latest technology in emissions and interior amenities. This new coach purchase reduces our carbon footprint significantly and affirms our continued commitment to being a green business."
About Santa Barbara Airbus
Celebrating 35 years of service in 2018, Santa Barbara Airbus continues as a family-owned and locally operated company with a commitment to provide safe, efficient and affordable transportation. With a fleet of 24 deluxe motor coaches and mini-coaches, services include 16 daily trips to/from Santa Barbara & LAX, Private Charter Bus Service, Public Day Trips and Multi-Day Adventures—logging over 1.2 million miles annually. Santa Barbara Airbus' 60 employees actively volunteer throughout the community and donate thousands of dollars to local schools, charities and non-profit organizations through a corporate charitable program, #airbuscares.  For complete information, call 1-800-423-1618 and visit
www.sbairbus.com
______________________________________________________________________________
Amtrak Pacific Surfliner Extends Savings
for Train Travel to Top Coastal Destinations
Enjoy half-price companion fares on travel to Ventura, Santa Barbara and
San Luis Obispo through June 25, 2018
​

The Amtrak® Pacific Surfliner® is extending its friends and family discount offering special savings on train travel to Ventura, Santa Barbara, and San Luis Obispo counties through June 25, 2018. For a limited time, passengers can purchase one full-fare adult ticket and book up to three additional passengers on the same reservation at a 50 percent discount on select Pacific Surfliner trips.
The friends and family discount is valid for travel on Pacific Surfliner trains to/from the following stations: Simi Valley, Moorpark, Camarillo, Oxnard, Ventura, Carpinteria, Santa Barbara, Goleta, Lompoc-Surf, Guadalupe, Grover Beach, and San Luis Obispo. The discount is also valid on connecting Amtrak Thruway bus services to additional destinations including Solvang, Lompoc, Buellton, Santa Maria, Cal Poly San Luis Obispo, CA and University of California, Santa Barbara.
"The promotional offer is part of our Hug the Coast campaign, which celebrates everything that makes Southern California great from its beautiful beaches and vibrant downtowns to the diverse and unique communities that we serve," said Bryan MacDonald, chairman of the Los Angeles – San Diego – San Luis Obispo Rail Corridor Agency, which oversees the Pacific Surfliner service. "The friends and family promotion is designed to encourage travel to regions recently impacted by natural disasters, helping to drive necessary business back to those areas and support economic recovery."
Program details:
Book up to three companions with a 50 percent savings – Purchase one full-fare adult ticket for Pacific Surfliner travel to/from Ventura, Santa Barbara, or San Luis Obispo counties, and receive three additional tickets at a 50 percent discount on the same reservation.
On PacificSurfliner.com or Amtrak.com, select "Adult" as passenger type (for up to four adult passengers), then enter V346 in the promotion code field. Tickets can also be purchased by calling 800-USA-RAIL or visiting a staffed station, and referring to discount code V346. This discount is not available through the Amtrak app.
A 20 percent discount on individual Pacific Surfliner tickets is also available year-round through partners at Santa Barbara Car Free (for travel to stations in Santa Barbara County) and San Luis Obispo Car Free (for travel to stations in San Luis Obispo County. Visit santabarbaracarfree.org and slocarfree.org for more information on these programs.
The Amtrak Pacific Surfliner offers daily service between San Diego, Orange County, Los Angeles, Ventura, Santa Barbara, and San Luis Obispo, connecting travelers to popular destinations along the Southern California coast. Many destinations, including Ventura, Santa Barbara and San Luis Obispo, are easily walkable, but also offer free bus and shuttle connections to Pacific Surfliner riders through the Transit Transfer Program.
Visit pacificsurfliner.com/save to view complete details on the Friends and Family Discount, browse trip ideas, download schedule information and more.
---