"MARANELLO ROSSO" Ferrari Museum
A Tribute to the Color of Success & Love of a Family
by Bonnie Carroll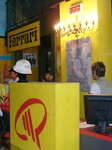 Having lived in Beverly Hills for many years I am very aware of the generousity of Ferrari, who support many children's chariities with brilliant auto shows. However, until I heard the story of Enzo Ferrari, who lost his own twenty-four year old son to Multiple Distrophy, I only saw the public relations spin on the cars that had been generated over the years, and did not have a true sense of the man and what motivated him until this special visit to the museum.
Located in the Republica di San Marino, the museum is filled with exquisite collector autos, including a white convertible that was used in one of Marilyn Monroe's films. The Ferrari is viewed by many as the ultimate status symbol and is associated with locations like the Via Venneto and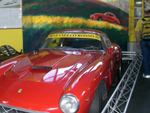 Rodeo Drive. Viewing all these beautiful red racing cars and exquisite leisure cars under one roof, in such a dramatic setting, is so impressive.
Group tours are scheduled regularly at the museum, and private charity events as well. A large area in the musuem is used for gala parties and dining. A center for instructional courses is also used to present historical and promotional films on the complete history of the man behind the design, and promotional corporate presentations. 
If you love the Ferrari as I do, don't miss an opportunity to see all this wonderment under one roof. For more information visit:
www.maranellorosso.com.
---
SUN, SURF AND SEXY CARS IN VENTURA
Have you seen Ventura lately?  While Santa Barbara still carries the cache of being Central California's "In" beach city, neighboring San Buenaventura, with its revitalized funky, spunky downtown has moved silently towards becoming the destination of choice for Southern California automobile enthusiasts. 
This will all come to a peak on July 20, 2008 when the Ventura Sports & Race Car Club presents its premier "Ventura Motorsports Gathering" at Mission Park in downtown Ventura.  "This is not a car show," states organizer Don Greene, "This is a Concours de Elegance!  We are searching out and selecting the finest specimens of sports and racing cars ever to be displayed in this area.  "And what's the best part?" He smiles, "It is free to the public!"
This year's "Salute to Jaguar" is guaranteed to attract a classic selection of prominent Jaguar models.  The grassy park across from Ventura's historic mission will also find a wide array of sport motoring's most vaunted names.   Jaguar, Ferrari, Maserati, Mercedes, MG are among the automotive makes that will be in attendance.  As of this date, comedian and "Tonight Show" host Jay Leno has confirmed that he has put the Ventura Motorsports Gathering on his calendar.  In addition, the noted marquee, Maserati, will have an automotive display, including some of their newest models.
The sponsoring Ventura Sports & Race Car Club is a newly formed group of senior enthusiasts who have long traveled to similar events around the world.  As member Kim Stevenson commented.  "I have lived all over the U.S. and Europe and Downtown Ventura is really is a great place for this type of show – there are plenty of fun and interesting bars and restaurants, and it is more reasonable than some of its neighbors."  Another member, Bill Erickson, a driver in the 2007 Peking to Paris Race, will be showing a documentary of his participation this event.  Entrants from the Italian Mille Miglia, the Panamericana, and other famous sport racing events will be present.  Full information on the event is available at www.venturamotorsports.com.
This is the first year for what is certain to become the most anticipated automotive event on the California Gold Coast.  For all prospective entrants, there is still time to apply.  Go to registration@venturamotorsports.com for information and entry blanks.  For hotel and restaurant information, contact the Ventura Visitors & Convention Bureau at 800 - 333 - 2989 or Tourism@ventura-usa.com.
---