WHEELS . . .
The Jaguar XE has been revealed to the world during a star-studded event held at Earls Court, London.

A true driver's car, the rear-drive Jaguar XE redefines the concept of the sports saloon thanks to its advanced lightweight construction, streamlined styling, luxurious interior, and outstanding ride and handling. The XE goes on sale in 2015, with the high-performance S model at the top of the range.

The XE S rewards drivers with the responsiveness and refinement of its supercharged 3.0-litre V6. Generating 340PS and 450Nm of torque, this high-revving engine is linked to an eight-speed automatic transmission with paddle shift controls, giving the driver immediate access to the vehicle's incredible reserves of power. Accelerating to 0-60mph in just 4.9 seconds, the XE S has an electronically-limited maximum speed of 155mph.

Further Information and a series of web videos can be downloaded or embedded from this link:  http://www.digitalnewsagency.com/stories/8635-jaguar-takes-over-london-to-launch-the-new-xe-to-the-world
Just as Movistar Yamaha MotoGP™ continues to perform on-track this season courtesy of Valentino Rossi and Jorge Lorenzo, the team's partnership with TW Steel keeps pace with the global lifestyle brand choosing last weekend's British Grand Prix at Silverstone, Round 12 of the 2014 MotoGP™ Championship, to unveil its latest timepieces in honour of the partnership.
Celebrating the shared synergies of passion, power and performance, TW Steel has produced a dynamic new six-piece watch collection to showcase the Yamaha Factory Racing brand.  Naturally sporty in their appearance, the new designs, available in 40mm and 45mm sizes, are priced to appeal to fans of the team retailing for only $99.  Offering features usually reserved for more expensive timepieces, the 'By TW Steel' moniker on each watch is representative of the DNA of these exciting and unquestionably affordable models.
With each design founded around a genuine carbon case, the new watches incorporate an appealing carbon fibre design dial featuring the Yamaha Factory Racing logo.  A steel case back also features the brand logo while a gun plated, steel crown further enhances the more expensive look and feel of each model, as does the use of reinforced mineral crystal.  Each piece houses a Miyota 2115 3-hand movement with the dial encompassing a 24-hour indicator and date display.
Highlights of the new Yamaha Factory Racing Collection 'By TW Steel' are the colour presentations of the silicon straps, which include editions featuring Yamaha blue, retro yellow, black, grey, green and white all with a steel gun plated clasp.  Finally, each model is 10 ATM water resistant.
"We really wanted to embrace a collection that would reflect Yamaha Factory Racing's heritage and also be widely obtainable by the brand's phenomenal global fan base," commented TW Steel co-owner and CEO, Jordy Cobelens.  "With that in mind we created the 'Yamaha Factory Racing - By TW Steel' range in order to produce a value-focused timepiece but one, like our main TW Steel offerings, which also packs in items befitting more expensive watches. 
"Offering features like a genuine carbon case and reinforced mineral crystal ensures consumers are getting an outstanding watch to show their support for Yamaha Factory Racing, but at an easily affordable price point.  As with all our models, the designs are bold, appealing and in this case, all attractive to fans who want to show their support for the team.  I'm confident these will be extremely popular thanks to our combined global reach."
"I'm tremendously excited with the addition of these new 'Yamaha Factory Racing - By TW Steel' watches," commented Lin Jarvis, Managing Director of Yamaha Motor Racing.  "We know our fans are continually looking at ways to show their support for our team and of course the Yamaha brand. We worked together with TW Steel to develop this new collection with three very important targets.
"First, to make an attractive sports design using the colors that symbolize Yamaha Factory Racing and the Movistar Yamaha MotoGP team.  Secondly, to use top quality materials and provide the high performance and reliability that will be expected by Yamaha's fans.  Finally, to provide these exceptional timepieces at a very affordable price.  TW Steel hit all of the targets and produced a great watch that I, and all members of the Yamaha Factory Racing program, will be proud to own and wear.  I am sure that these watches will be a great global success."
The new Yamaha Factory Racing 'By TW Steel' Collection will be available in October.
TW Steel is a private, family-owned company founded in Amsterdam in 2005 now retailing in over 100 countries and counting worldwide.  In addition to its partnership with Movistar Yamaha MotoGP™, TW Steel is also the 'Official Timing Partner' to the Sahara Force India Formula One™ Team and enjoys a stellar brand ambassador portfolio including Mick Doohan, Kelly Rowland, David Coulthard and Emerson Fittipaldi.
About TW Steel:
With its name meaning 'The Watch in Steel', TW Steel is firmly established as a big, bold, global lifestyle brand. Its timepiece collections are reflective of, and available for all tastes and occasions with innovative design and luxurious styling paired together with Swiss build quality and an exceptional price point. TW Steel offers a defined sense of individuality and shows to the world that as a bold and ambitious personality, you wear a statement watch that truly reflects who you are.  

Proudly Dutch, TW Steel is led by its entrepreneurial CEO and co-owner Jordy Cobelens – whose talents have been recognized with Ernst & Young's 'Emerging Entrepreneur of the Year 2011' in The Netherlands.  While Jordy Cobelens oversees the building of the TW Steel brand, his father and co-owner, Ton Cobelens, serves as the Chief Design Officer.  Having launched in 2005, and now with 140 models, TW Steel has attained a global appeal while creating an internationally recognized and respected brand name offering truly affordable luxury available in over 100 countries.
About Movistar Yamaha MotoGP™:
Movistar Yamaha MotoGP™ is the official designation of Yamaha Factory Racing, Yamaha's wholly-owned full-Factory Team in MotoGP™.  The team was founded in 1999 and is now based in Gerno de Lesmo, close to Monza, in a brand new state-of-the-art facility with all technical, logistical, managerial and communications departments housed under one-roof.  Masahiko Nakajima is President of Yamaha Motor Racing with Lin Jarvis serving as Managing Director.  Since 2013 multiple MotoGP™ Champion, Italy's Valentino Rossi, has partnered with Jorge Lorenzo, the Spanish rider a two-time MotoGP™ Champion.
___________________________________________________________________
LAND ROVER - WIN A GROUP TRIP INTO SPACE CONTEST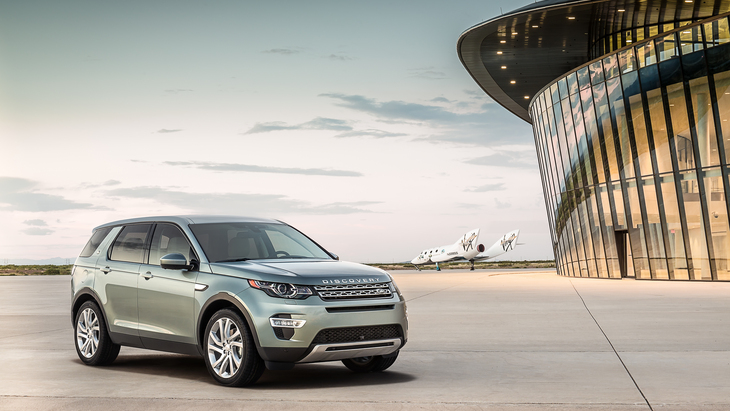 Four friends are set to win a once-in-a-lifetime trip to space with Land Rover's Galactic Discovery  competition, a ground-breaking on-line search for a group of aspiring astronauts to go on the ultimate adventure. 
The incredible Virgin Galactic space flight prize was announced to audiences around the world through a film featuring a group of the world's greatest-living adventurers and personalities, including Sir Richard Branson, Bear Grylls and Sir Ranulph Fiennes.
It will be the first time that a competition has offered the chance for a group of four friends to win a trip to space.  The winners will be among the first pioneering travellers to view the earth from space and experience out-of-seat zero gravity.
The extraordinary opportunity is being offered by Land Rover and Virgin Galactic to mark the reveal of the New Discovery Sport, a compact and versatile SUV and first of a new Discovery family. The car was unveiled to the world in a film shot at Spaceport America, New Mexico, which will be the base for Virgin Galactic's sub-orbital space flights. The film forms part of Land Rover's biggest ever digitally-led campaign, debuting the New Discovery Sport exclusively to an online audience for the first time.   Over the next four months, the brand will harness the power of social media, PR and digital marketing across 40 countries to launch the New Discovery Sport and seek out the world's most adventurous spirits.   The campaign will culminate with the announcement of the four winners in December 2014.
British adventurer and Land Rover ambassador, Bear Grylls, will play a hands-on role in helping the winning group prepare for their voyage beyond the final frontier.
Land Rover has assembled a group of experienced adventurers and personalities to back the Galactic Discovery mission, including legendary British explorer Sir Ranulph Fiennes; entrepreneur and founder of Virgin Galactic, Sir Richard Branson; and former actress and wildlife campaigner Virginia McKenna. Each of the stars brings their adventurous spirit, gravitas and wisdom to the launch film, which can be viewed at:www.landrover.com/gotospace
To enter the competition, aspiring astronauts from across the globe are being asked to produce a 30-second video, or a still image, that demonstrates their spirit of adventure, choose three friends to join them on their space adventure and submit it via Land Rover's website (http://www.landrover.com/gotospace). Land Rover expects to receive tens of thousands of entries from over 40 countries across the globe.
The Galactic Discovery collaboration signals the next phase of two pioneering companies – Land Rover and Virgin Galactic – working together to push the boundaries of travel and adventure for the next generation. A global partnership between the brands was announced in New York in April this year, and when flights begin, a fleet of Land Rovers will play a key role in Virgin Galactic's space experience, with future astronauts driving in the vehicles from the spaceport in New Mexico to the spaceship to begin their trip across the final frontier.
Land Rover and Virgin Galactic are now exploring potential collaborations, projects and the development of immersive experiences for customers. They are also actively working together on joint STEM education programmes, which encourage young people to aspire to a future in science, technology, engineering and mathematics. Both brands see the huge potential to develop their partnership to inspire others and motivate more young people to pursue careers in these vitally important fields.
Land Rover Galactic Discovery has been launched in celebration of the unveiling of the New Discovery Sport, the world's most versatile premium compact SUV, and the first member of the new Discovery family.

https://www.youtube.com/watch?v=tyb3KxgNsnU&list=UU5tKd04rlzeWlpTJIkBaufQ
___________________________________________________________________
The first all night weekend London Underground services will run from 12 September 2015 - in time for the Rugby World Cup in England.

The Mayor and London Underground (LU) today announced that 24-hour 'Night Tube' services at weekends will begin operation from the early hours of 12 September 2015, transforming night time journeys across London for millions of people.

The announcement comes as independent research into the economic benefits of the Night Tube found that the new service will boost jobs and help maintain London's status as a vibrant and exciting place to live, work and visit.

The Night Tube will cut night time journeys by an average of 20 minutes, with some cut by more than an hour. It will also play a vital role in opening up London's night-time economy to a host of new opportunities, supporting around 2,000 permanent jobs and boosting the economy by £360 million, the research found.

The Mayor confirmed that Londoners and visitors to the capital will be able to take the Tube home at any hour of the night on Fridays and Saturdays, supporting London's businesses, jobs and leisure opportunities. As the most visited city in the world, London will join just a handful of other top world cities, including New York and Berlin, which also provide underground services through the night.

Demand for a 24-hour Tube service is clear - late night Tube ridership has increased at double the rate of daytime trips and night bus usage has risen by 270 per cent since 2000. In order to meet the expected demand for Night Tube services, there will be six trains per hour through central London on all Night Tube lines, including the Jubilee, Victoria and most of the Piccadilly, Central and Northern lines. On the Northern line, there will be eight trains per hour to meet demand at busy stations between Leicester Square and Camden Town.
___________________________________________________________________
BY AIR . . .

FIJI AIRWAYS ENHANCES ONBOARD EXPERIENCE
With Signature Dishes, a Rejuvenated Inflight Magazine, and Lomalagi Duty Free Shopping
 
Los Angeles, CA (September 4, 2014) – Fiji Airways unveils the latest suite of changes to its onboard passenger experience, which includes a new Signature Dish, designed by renowned Fiji-based chef, Lance Seeto, an updated FijiTime in-flight magazine, and Lomalagi Duty Free. These enhancements were introduced aboard all Fiji Airways international flights on September 1st.
 
The new Lomalagi Inflight Duty Free shopping brings passengers world-class inflight retailers, from local Fijian names to well-known international brands. The inflight magazine, FijiTime, has also been redeveloped to include compelling destination stories and striking imagery to inspire all types of travelers.
Headlining these onboard experience enhancements is the Business Class Signature Dish, inspired by the tropical flavors and artisan cooking techniques of the Fiji Islands and designed by Fiji Airways Culinary Ambassador, Chef Lance Seeto. 
The meat option of the Signature Dish features a charred beef fillet with masala chai tea rub and herb buttered prawns, with a side of sweet potato duchess, Fijian organic vegetables, and tempered cardamom jus; the fish option presents seared wild fish poached in coconut herb buttered prawns, coriander, and pineapple rice pilaf, along with Fijian organic vegetables and red papaya curry sauce. There is also a vegetarian option of the Signature Dish.
 
Stefan Pichler, Fiji Airways' Managing Director & CEO comments, "As Fiji Airways continues to expand its fleet and network, so does our onboard experience. What sets us apart is our cabin crew, who, like the people and country we represent, is renowned for its unique and genuine Fijian hospitality. With the improvements brought onboard, we have empowered our crew members to elevate this outstanding service and deliver an experience that is fitting of a world-class boutique airline."
 
Chef Lance Seeto remarks on the new menu, "The national airline of any country is the first and last point of contact for its visitors, especially here in Fiji. There's an opportunity to showcase the destination, its people, and its diverse culture through the inflight food. Fiji Airways has joined the culinary renaissance that is now underway across our resorts, hotels, and restaurants. The new Fiji Airways Business Class menu is inspired by the flavors and techniques of all the cultures that influence its food, not just the native iTaukei but Indian, Chinese and colonial British as well. Fiji's tropical island cuisine is no longer just presented on the plate but is now also in the skies."
 
Along with the introduction of the Signature Dish, the new Business Class restaurant-style catering concept offers new menu and service elements, such as the Yadra Vinaka (good morning) sleeper service, an hors d'oeuvre service, and an 'a la carte' dining option for premium travelers. A Signature Welcome Cocktail and Mocktail, designed to reflect a Fijian sunset, have also been introduced in partnership with Fiji Rum.
__________________________________________________________________________________
RAIL EUROPE'S 2014 SUMMER TRAVEL TRENDS:
Top destinations by train (in order): France, Italy, United Kingdom
Traffic between Paris and Barcelona increased by a whopping 86% due to the introduction of the new high-speed line via the TGV Train. Passengers can now transport between France and Spain, from city-center to city-center, in just over 6 hours.
With more high speed lines and tickets available at lower costs, Italy sales saw a 35% increase this year. Italian hotspots include: Rome, Milan and Venice – also known as the Golden Triangle. 
Spain and Switzerland are also among the leading European destinations, with an increase of roughly 30% in sales from the same time last year. North Americans are flocking to Zurich, Bern, Geneva, Lucerne, Madrid, Barcelona, Valencia and Cordova. 
Top 5 city-center to city-center journeys this summer:
* Rome to Milan (via the high-speed Italo train)
* Rome to Venice (via the high-speed Italo train)
* Paris to London (via the high-speed Eurostar train)
* Paris to Avignon (via the high-speed TGV train )
* Paris to Amsterdam (via the high-speed Thalys train)
Rail Europe is the largest distributor of European rail products for North American travelers. A one-stop shop for rail travel planning and booking, the company offers a wide range of rail passes, premier high-speed train tickets, local and regional tickets (from over 50 European train companies), and e-ticketing options for many top destinations. Bookings can be made by visiting raileurope.com.
For more information on Rail Europe, please visit their newsroom: http://www.multivu.com/players/English/7157831-rail-europe-inc-newsroom/