The Car Industry Post-GM & Chrysler
By Laurence Vittes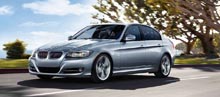 It remains to be seen to be seen how and whether GM and Chrysler recover, and hats off to Ford for bravely surviving with some outstanding cars. For the time being, however, it makes sense to look very carefully at what the foreign manufacturers have to offer. Last month I drove three new dreamboats that could be your perfect fit and last for years and years.
Green comes to BMW
One of the most sensational new cars to come along in years is BMW's 3 series diesel. It's the 335d and it is extremely hot. It looks just like any other 3 series 4-door sedan, and it handles like every other BMW (that is, to say, marvelous, safe and comfortable, plus loads of creature comforts and technological wizardry).
But with 265 horsepower and an astounding 425 lb-ft of torque at 1,750 rpm, 36 mpg on the highway, this is not your grandfather's diesel. In fact, it shows us what the rest of the world has been enjoying for years: performance equivalent to and surpassing gas engines with much better mileage and lower maintenance bills. The extraordinary amount of torque means you never to be bashful taking off from a boulevard stop, while this beautiful automobile cruises effortlessly on the highway.
And still, it also delivers an impressively clean, fuel-efficient drive. So now, you can drive a BMW and be really green!
Prius gets a facelift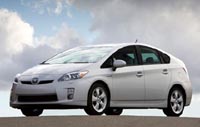 If you'd like to spend less money and still get a technologically great car, check out Toyota's Prius, entirely new for 2010. Like the former model, it's like driving a minibus, but without the mini. It's chock full of room, with a very practical hatchback design, gets incredible mileage even if you step on the gas from time to time, and it makes traversing the West Side during rush hour (which seems to 24/7 these days) a piece of automotive cake.
The exterior changes are not dramatic but there are important improvements inside and out. It's a bit of a better looker, with a lovely rear taillight configuration. It's also more powerful while delivering an EPA-rated 51/48 mpg City/Highway, up by 3 miles per gallon. The CVT, or continuously variable transmission, is a delight.
There are three driving modes: EV, ECO and Power. EV is all electric, for very short distances at speeds under 25 mph; ECO provides the best fuel mileage, without noticeably compromising performance. Power, the default mode, provides surprisingly brisk acceleration when needed.
Standard Toyota magic includes Touch Tracer Display, projecting info before your eyes, so you can keep them on the road. Options include such technological tricks as a moonroof and solar-powered ventilation system; remote pre-air conditioning to cool the car down to ambient temperature before you climb in on a hot day; a warning beep when you wandering in your lane; radar cruise control; Intelligent Parking Assist that will parallel park the Prius with no steering or throttle input from the driver; and pre-collision emergency braking to slightly reduce the impact when you don't see an accident coming but the car's radar does.
All this and you get to join the sister or brotherhhod or Prius ownbers who in Southern California, are legion, and very happily so.
Zoom zoom zoom
Years ago, I leased a Saab 9.3 when I could have leased a Mazda 6. While Saab is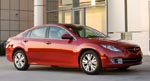 struggling to find a buyer in the wake of GM's problems, Mazda keeps on raising the stakes on the 6, which for 2009 is all-new, more spacious, more refined, and more powerful. I drove one for a week and felt like I had hit the jackpot. Equipped with a stick shift, the way I like to drive, and a sporty, purposeful personality, it was a pleasure to drive whether I was confronted with traffic closing in on all sides or just cruising up the coast to Malibu.
There's no shortage of competition in the midsize sedan sector, including comfort food models like Toyota's Camry, Honda's Accord, Chevrolet's Malibu and Hyundai's Sonata on the one hand, and sportier models like Nissan's Maxima and Volkswagen's Passat on the other. But the Mazda 6 is in a class of its own which cries out for an extended test drive before you make your final decision.
Before you buy or lease anything automotive, visit Michael Karesh's invaluable TrueDelta.com website for current information, reviews and insights about what constitutes value these days, and which manufacturers offer it.
---
COFFEE & TEA AT 1984 PRICES ON GATWICK EXPRESS

To celebrate its 25th birthday, Gatwick Express, the non-stop rail air
link between London's Victoria station and Gatwick Airport, is offering
travellers tea and coffee at 1984 prices - just 26 pence - on 14 May
2009.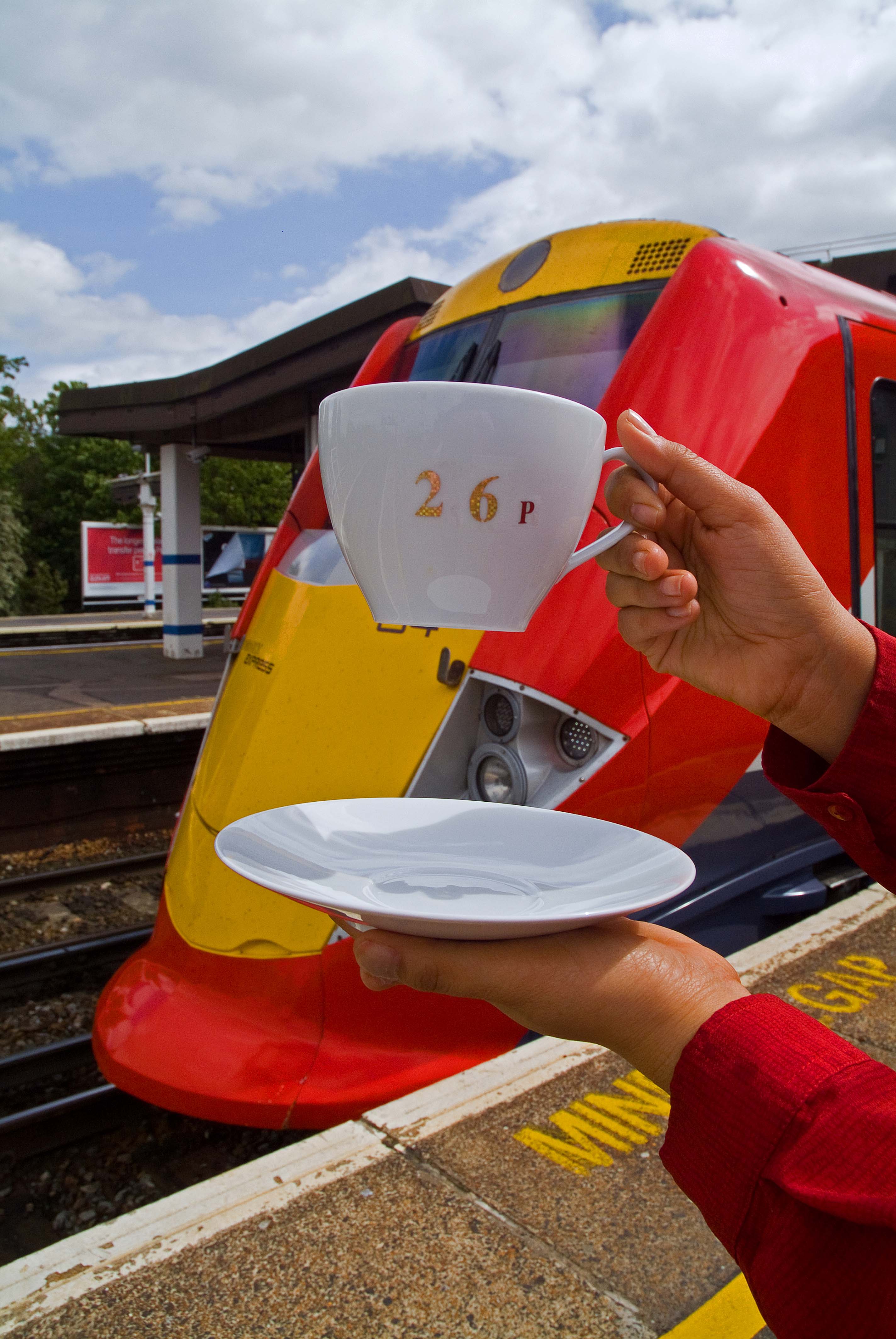 Catering has always been popular on the 30 minute journey between London
and the airport. By offering hot drinks at 25 year old prices, customers
will be reminded of the long established customer service ethos which
Gatwick Express still delivers after a quarter of a century of
operating.

Chris Burchell, managing director at Gatwick Express said: "Until 1984,
the train link to Gatwick Airport was limited, using dedicated carriages
from part of another rail service. The British Rail Board, wanted to
provide a dedicated air link to the airport in order to counter the
perceived distance from the capital both to the UK market and more
especially to potential passengers overseas. Converted rolling stock
from Midland Mainline was used and in 1984 the Gatwick Express was
launched sporting full InterCity colours and the ability to reach speeds
of 90 miles per hour.

14th May is a landmark birthday for Gatwick Express. In the past 25
years, over 125 million people, including British Royalty and heads of
states from all around the world, have travelled on our trains."

Gatwick Express is the fastest, most comfortable way to travel between
London and Gatwick Airport. For more information visit
www.gatwickexpress.com


---
FAMILY TRAVEL IN AMERICA
Readerís Digest, the highest circulated global magazine, offers its readers additional content on its website: www.readersdigest.com, and this month the website provides a variety of affordable summer trips that hit all 50 states.
 Readerís Digest has divided the U.S. into four regions: Western States, Rocky Mountain States, Central States and Eastern States for possible family travel options. Below are a couple of hidden gems from each region.
Western States:
∑         Oregon: Smith Rock State Park: Smith Rock is known as one of the world's most popular rock-climbing destinations.
∑         Alaska: Kotzebue: See native Inupiat Eskimos nurture and raise wildlife in their natural habitat. 
Rocky Mountain States:
∑         Colorado: Rifle Gap and Rifle Falls: Discover this remote mountain region featuring two state parks.
∑         Idaho: Snake River Valley Wine Country: Tour Idahoís wine country which is the perfect climate for growing grapes.
Central States:
∑         Wisconsin: Villa Louis: Visit one of the most beautifully restored Victorian homes in the United States.
∑         Oklahoma: Washita Battlefield National Historic Site: See the location of the battle that killed Cheyenne chief Black Kettle in the surprise attack led by Lt. Col. George Armstrong Custer.
Eastern States:
∑         Connecticut: The Aldrich Museum of Contemporary Art: Discover major trends in todayís art scene at this Ridgefield, CT museum.
∑         Florida: Amelia Island: Visit this beautiful quaint and authentic Victorian seaport island for a quick trip back in time.
---
---