LA QUINTA RESORT AND CLUB TO HOST
THIRD ANNUAL DESERT CLASSIC CONCOURS D'ELEGANCE
 The Greater Palm Springs Ultimate Classic Car Event Will Take Place February 26 – 28, 2010
The third annual Desert Classic Concours d'Elegance will take place on Friday, February 26 through Sunday, February 28, at the iconic La Quinta Resort & Club in La Quinta, Calif.  This celebration of the motorsports lifestyle will bring together the world's most rare automobiles along with cocktails and cuisine prepared by La Quinta's culinary team in a fun and festive setting.  Exhibit areas will also include displays of other collectible items such as jewelry, watches and art.
"We are delighted to host The Desert Classic Concours d'Elegance," said Ralph Vick, managing director of La Quinta Resort.  "La Quinta Resort has a long history of bringing together the world's most exciting people and hosting signature events."
"La Quinta Resort is the perfect setting for our event," said Paul Merrigan, founder of the Desert Classic Concours d'Elegance.  "As one of the top destination resorts in the world, La Quinta provides a spectacular backdrop for some of the most beautiful and historically significant cars seen anywhere. It's a classic meets classic partnership."
Guests at the event will view more than 150 legendary classic, sports and racing vehicles elegantly displayed at the La Quinta Resort Mountain Course. The exclusive selection of marques will include Bugatti, Delahaye, Mercedes Benz, Packard, Alfa Romeo and more.  The cars will be displayed with detailed information so that spectators can learn about the history and significance of these impressive vehicles.  Awards will be presented to more than 30 automobiles in 14 categories.
In its third year, The Desert Concours has established itself as one of California's premier classic car events.  Last year, it attracted more than 4,500 spectators from around the world and received recognition from national media as well as automotive aficionados. 
Advanced tickets to the Sunday Concours d'Elegance are $25 per person..  Tickets will be on sale beginning November 1, 2009.  Children 12 and under receive complimentary admission. 
The Desert Classic Concours d'Elegance is a 501(c)3 non-profit corporation.  Proceeds benefit Coachella Valley charities.  For more information, please visit www.desertconcours.com or call 760-766-2824.
---
CONNECTICUT'S ONLY PRIVATE BEACH RESORT INVITES TRAVELERS TO

'TAKE THE TRAIN TO THE SOUND'

 -- Luxury resort and spa teams-up with Amtrak to offer two-night package featuring roundtrip transportation from New York's Penn Station and Boston's South Station --

 

The 170 room Water's Edge Resort & Spa, situated on the Long Island Sound along the magnificent Connecticut shoreline, has partnered with Amtrak to offer a two-night package featuring roundtrip tickets for two aboard Amtrak just in time for the summer season.

            The value-added package was created specifically for summer revelers from the New York City and Boston areas desiring a reprieve from the crowded beaches of popular summer resort areas such as the Hamptons and Cape Cod.  The private escape features luxury accommodations at the famed turn-of-the-century style New England estate, nestled within 25 acres that include manicured grounds leading to a private white sand beach; making it the only resort in the state to house a private beach.  Most of the spacious guestrooms and suites offer spectacular views of the Long Island Sound along with high-end, in-room amenities and elegant décor.  The resort offers a full-service spa featuring ten tranquil treatment rooms, award-winning restaurants with sea views, lounges, a fitness center, and indoor and outdoor pools.  Just a two-hour Train ride from Penn Station or Boston's South Station, Water's Edge Resort & Spa provides an elegant, affordable and accessible retreat.
Two roundtrip tickets Amtrak (coach)– Penn Station or Boston's South Station

A third night can be added to either package for a cost of $99.00++ guestroom only

Ground transportation for two from Old Saybrook Train Station in Old Saybrook, Connecticut to the resort

Two-night accommodations (standard guestroom)

Breakfast Buffet for two days

Three Course Dinner for two on your second night stay

Complimentary activities

Private sandy beach access (includes lounge chairs)

Beach discovery walks

Water aerobics

Kayaking rental available

Fitness

Center
 Guests may also add a la carte spa services.  The Spa at Water's Edge Resort specializes in marine therapies and treatments.  It is an elegant sanctuary of ten treatment rooms and a relaxation suite.  The extensive menu consists of services ranging from massages to body treatments, facials and products by natural skincare line Pevonia Botanica. 
            Dining options for package holders include dinner for two at the award-winning Restaurant at Water's Edge, named the best brunch in Connecticut by Connecticut Magazine.  Guests may also choose from two additional restaurant and lounges offering Italian to Continental cuisine along with an extensive wine list from leading international and local vintners.
A history steeped in tradition and entertainment, Water's Edge Resort & Spa was built in 1946 as Bill Hahn's, a quaint and stately New England seaside resort where visitors from the tri-state area were treated to relaxing accommodations, exceptional cuisine and live entertainment.  The entertainment roster headlined today's legendary performers such as:  Woody Allen, Barbara Streisand and Art Carney to name a few.  Bill Hahn, known as Bill the innkeeper and Mr. Showman during this period, turned the hotel's main dining room into a "Broadway" stage establishing the resort as one of the most sought after entertainment venues in the northeast.
In 1981, businessman and local resident, Michael Dattilo purchased Water's Edge Resort & Spa restoring it to its original grandeur and maintaining the rich tradition of service excellence and extraordinary entertainment in the memory of Mr. Hahn.  Mr. Dattilo renamed the inn The Water's Edge Resort & Spa.  Over the years the resort and spa has flourished and expanded to include villas and condos for a total of 170 guestrooms and suites, three restaurants, including an award-winning restaurant, 12 spacious meeting and social function rooms, outdoor garden terraces, full-service spa with ten treatment rooms, indoor and outdoor pool and Onsite retail shopping outlets, i.e., Salon Massimo, Southern Exposure, Azul, Medical Esthetics, Michele A Bridal Boutique. 
---
Eurostar Italia Alta Velocità
The high speed is now! Get on-board
The opening of the high speed "Alta Velocità" Milan-Bologna section revolutionises your way of travelling. Distances become shorter allowing us to increase frequency of the trains on the lines with greater traffic.
To get there quick, forget the plane: go by train!
From 14 December from Milan to Bologna takes just 1 hour 5 minute. And thanks to the introduction of new Alta Velocità trains, there will be shorter times for journeys connecting also Florence, Rome and Naples. 

Milan and Rome a stone's throw away!
Milan and Rome will be connected by 51 trains a day, of which 19 AV Fast. You will find: 

The AV Fast train, which makes no intermediate stops and takes just 3 hrs 30 mins. from the Duomo (Cathedral) to the Colosseo (Colosseum) and return, directly into the heart of the cities.
The AV train, stopping at Florence and Bologna, takes 3 hrs 59 mins. 
With our customers all the way
Mobile Desks available to customers on the platforms with dedicated personnel for assistance and quick booking changes, on-platform monitors for notices on carriage categories and numbers.
For those going in 1st class, access to the Eurostar club and the possibility of using the self-service totems for making quick booking changes. 

On the train, your travel experience is spent in utmost comfort and safety with the Alta Velocità fleet, which stands out for its comfort. Time for work thanks to the electric sockets at your seat and the large personal tables, and time for resting, thanks to the comfort of the armchairs, and a quality service from our personnel, with welcome drink with the best Italian brands, chocolates and daily newspapers.

On arrival, in the heart of the city, you will find connections with the regional network and all the other means of transport.
On Rome and Milan services – and when booking – you will have to chance to use a Limo service for 1st class customers in cooperation with Maggiore.
---
Three Reasons to Get an Audi
By Laurence Vittes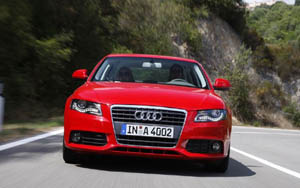 If you're big on tooling around town and country, being chic, practical and uncompromising all at the same time, then there's definitely going to be something for you in the Audi line-up of well-behaved sedans, ferocious coupes (like the new A5), wagon equivalents, SUVs and delicious big and little sports cars.
I caught up with an Audi I really liked, the new Audi A4 sedan, when spring was being sprung a few months ago.
Three Things I Really Like:
1. Spiffyness
The new A4 is, naturally, faster and more fuel efficient only begins to describe the luxurious A4. With a host of innovative technological and safety features, the A4 is in a class by itself.
2. Luxury and Entertainment
The A4 offers complete luxury in not just materials and craftsmanship, but in entertainment as well, thanks to the available Bang & Olufsen Sound System, Audi advanced key and Audi music interface.
3. Plumage
The two red colors the A4 comes in. I'm tired of the incessant silver, black and white.
4. Technology
The latest, most innovative technology such as Audi valvelift system, SIRIUS® Satellite Radio and Bluetooth® hands-free interface allows the Audi A4 to deliver a convenient and luxurious driving experience. Just the thing for spring!
5. Safety
Audi works relentlessly to create the safest cars possible and the A4 is part of a lineage of cars featuring industry-leading, reliable safety features such as a comprehensive airbag system and brake disc wiping in wet weather.
Naturally, I put the A4 through a rigorous workout. Hit a few casinos in Palm Springs, then headed up north through the "grapevine" to Gorman and over west to the gorge leading down to Ojai. The car never missed a beat. It was safe and secure and handled like a dream, had amazing power and cruised silently. We stopped for a picnic along the way, under a banyan tree I'd like to say, but the gorge has wilder foliage.
And that red!
---