KIDS KALEIDOSCOPE  .  .  .  .
SANTA BARBARA KIDS SHINE DURING DR. MARTIN LUTHER KING, JR WEEKEND
by Bonnie Carroll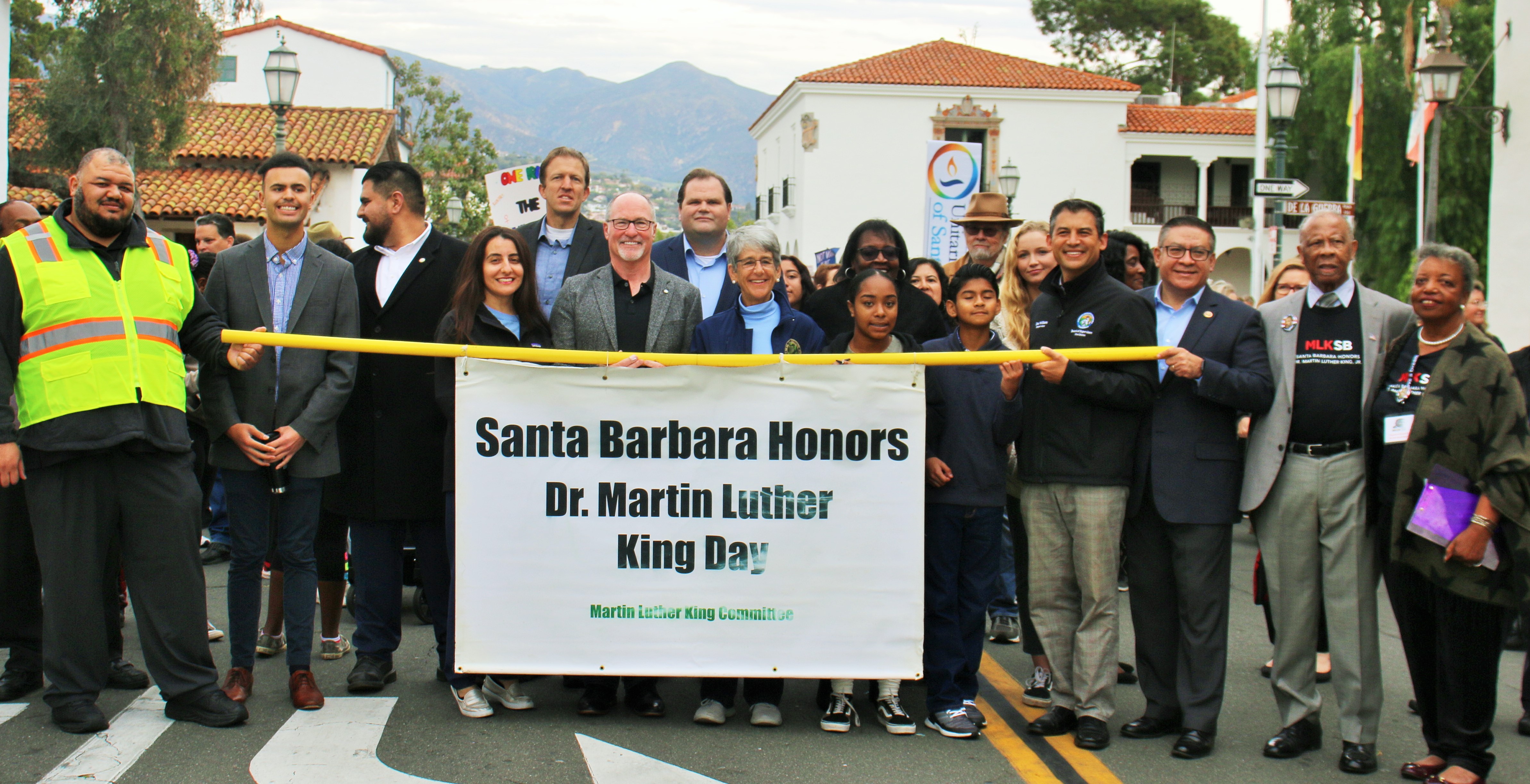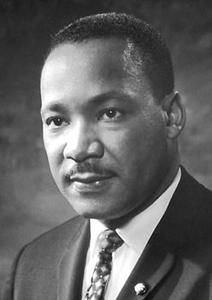 Dr. Martin Luther King, Jr. Holiday Celebration in Santa Barbara was a culmination of four days of planned activities created by Martin Luther King, Jr. Committee of Santa Barbara to celebrate the life of Dr. Martin Luther King, Jr which included a "Walk with Us" Eternal Flame Ceremony at UCSB Buchanan Courtyard, followed later that evening on January 17th by a worship service at B'nai B'rith featuring choir performances. All four days featured special programs for area children and included a poetry/essay competition with an awards ceremony for kids from 7 to 15, as well as a junior high dance group, young chior singers and a bevy of young people and small children marching down State Street.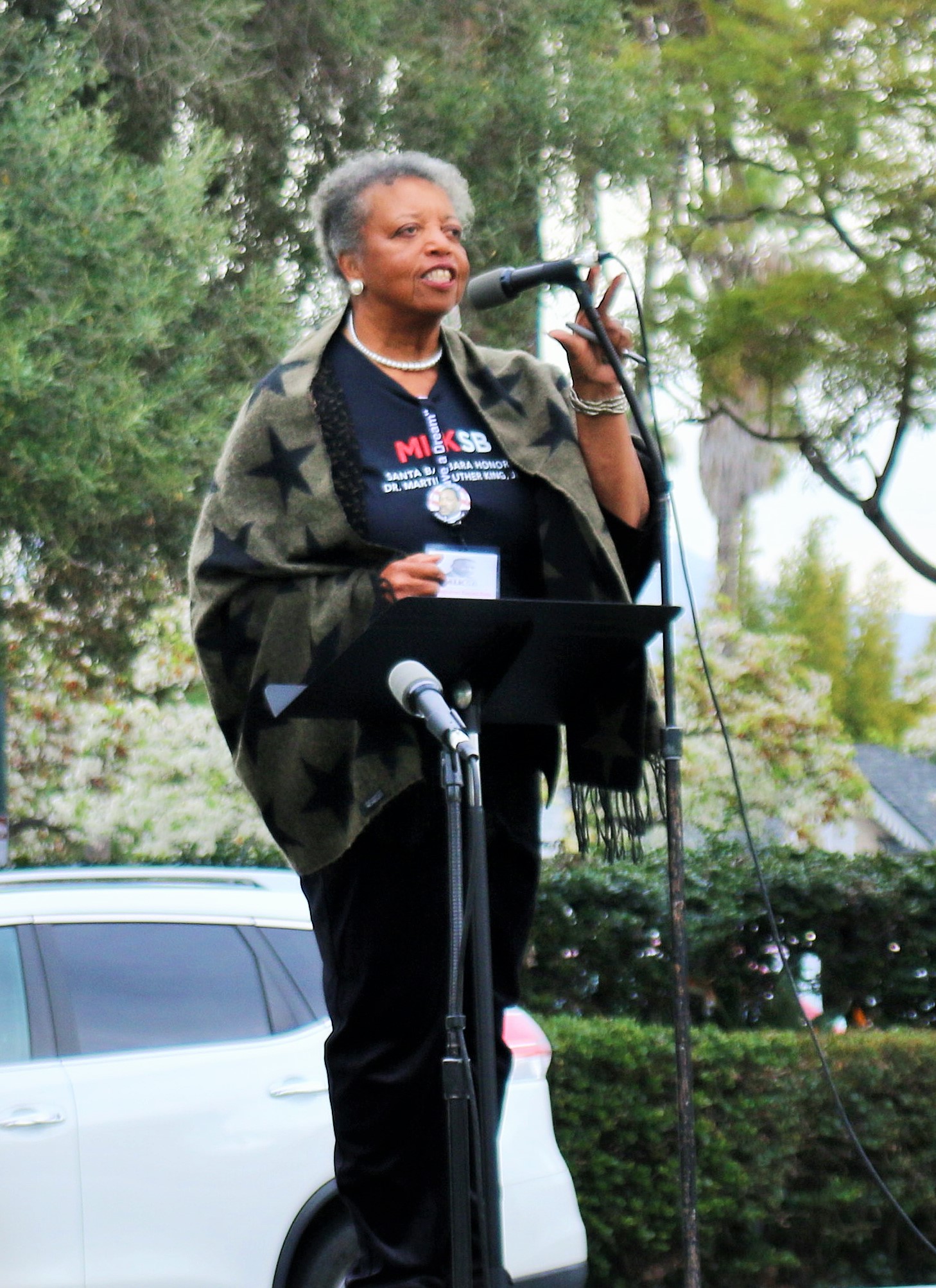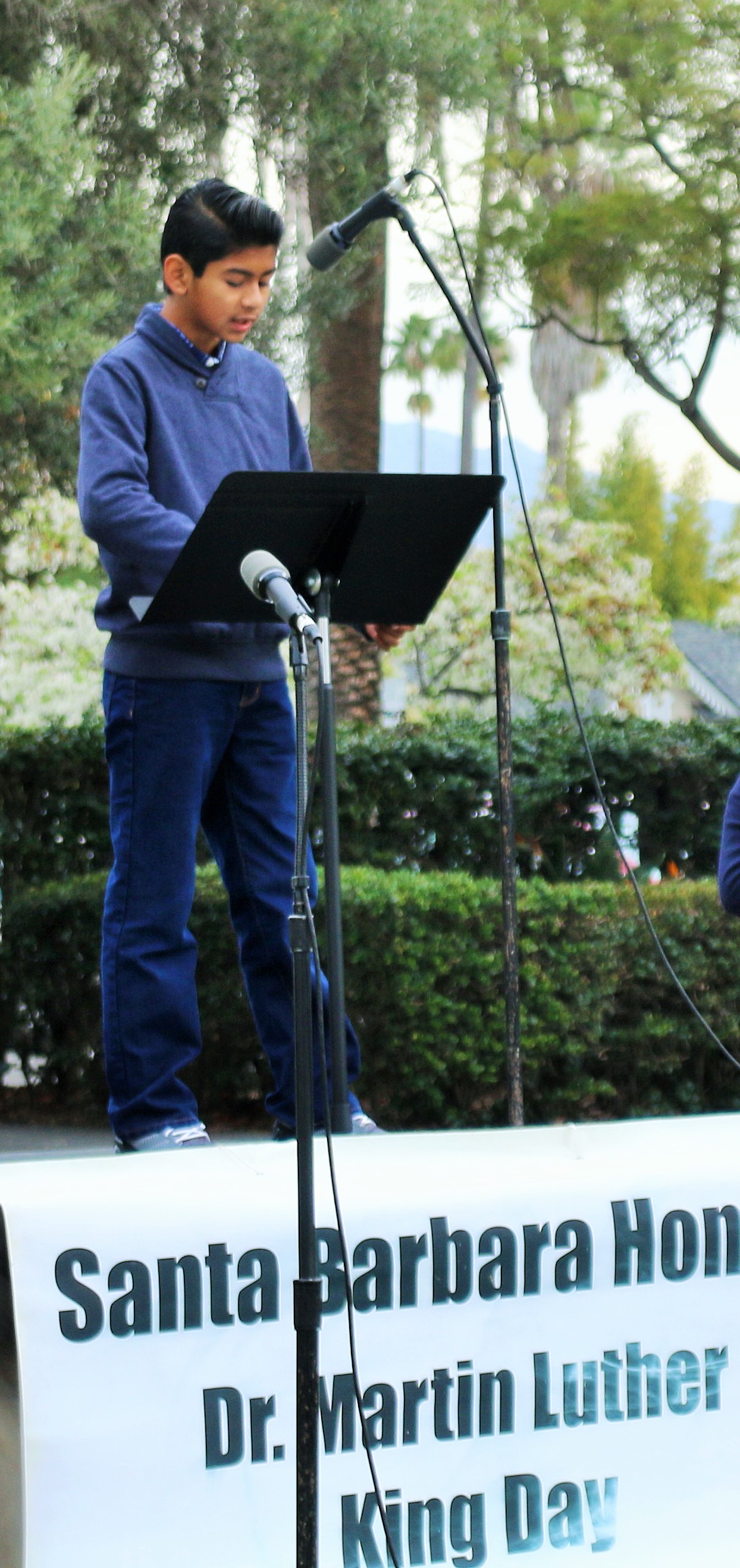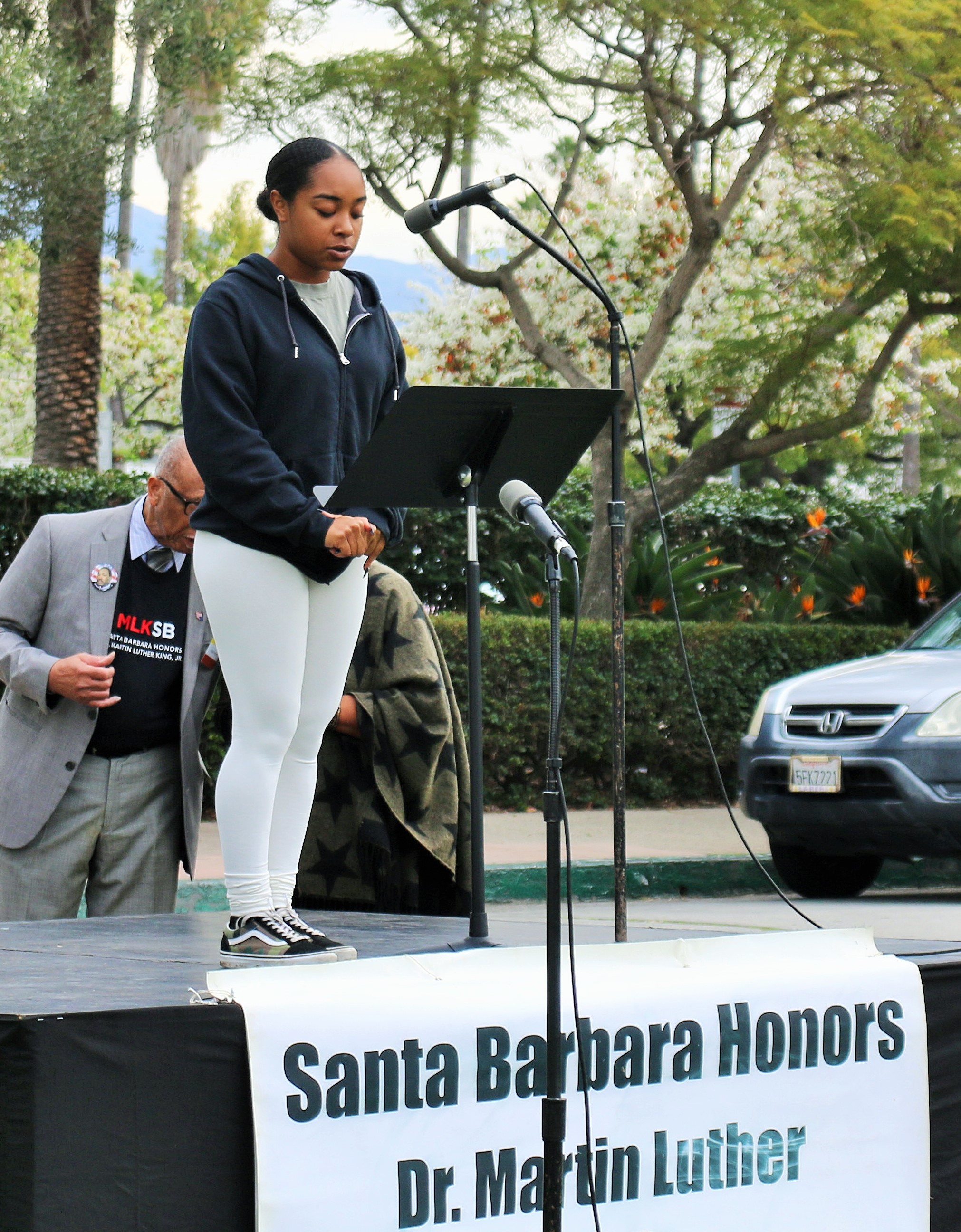 Coordinator Sojourner Rolle, Winners Angel Hermandez & Asiah Raymie
On January 18th the community participated in "Crossing the Bridge" from the East to West of Santa Barbara City College campus to congregate for an address by Wendy Sims-Moten and enjoy performances by the Plantation Dancers, Ring Shout and Buzzard Lope, drumming. Faith services were enjoyed at a collection of churches and faith organizations recognizing Martin Luther King, Jr. on Sunday Janaury 19th.
The outstanding finale of the four day Martin Luther King, Jr. weekend was a morning gathering at De La Guerro Plaza and the March down State Street to the Arlington Theater. The early program attracted a crowd of supporters who enjoyed the songs, while many joined in for the World Dance for the Humanity performance, including State Senator Hannah-Beth Jackson. E. onja Brown, President of MLKSB served as Emcee and shared inspiring words with the audience. Poems and essays were read by two winners of the MLKSB sponsored writing competition coordinated by Sojourner Rolle, followed by words of inspiration from a collection of local officials including County Supervisor Das Williams, City Council Members from the Santa Barbara area, County Supervisor Gregg Hart, and an open microphone for people to share their own personal thanks on MLK day.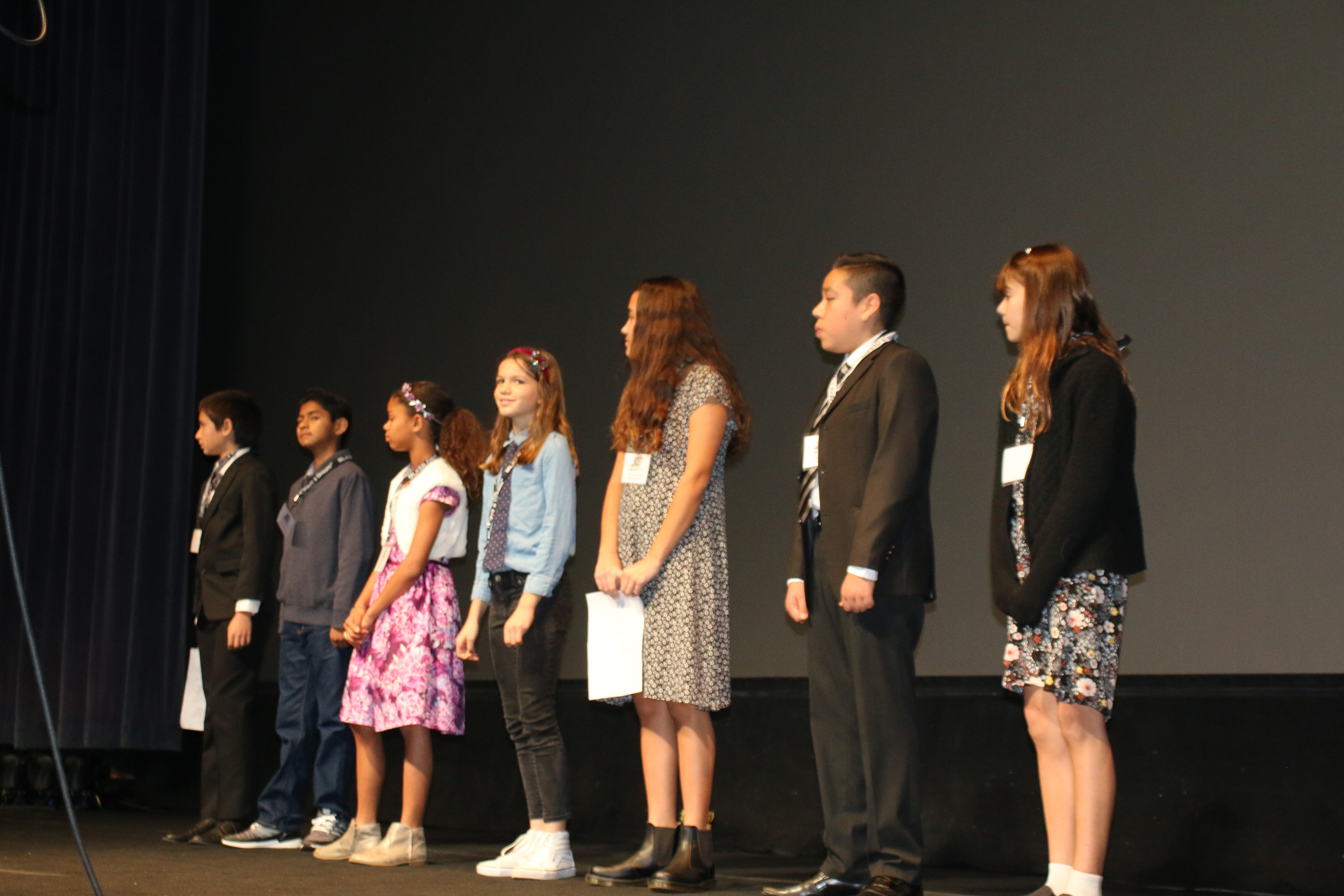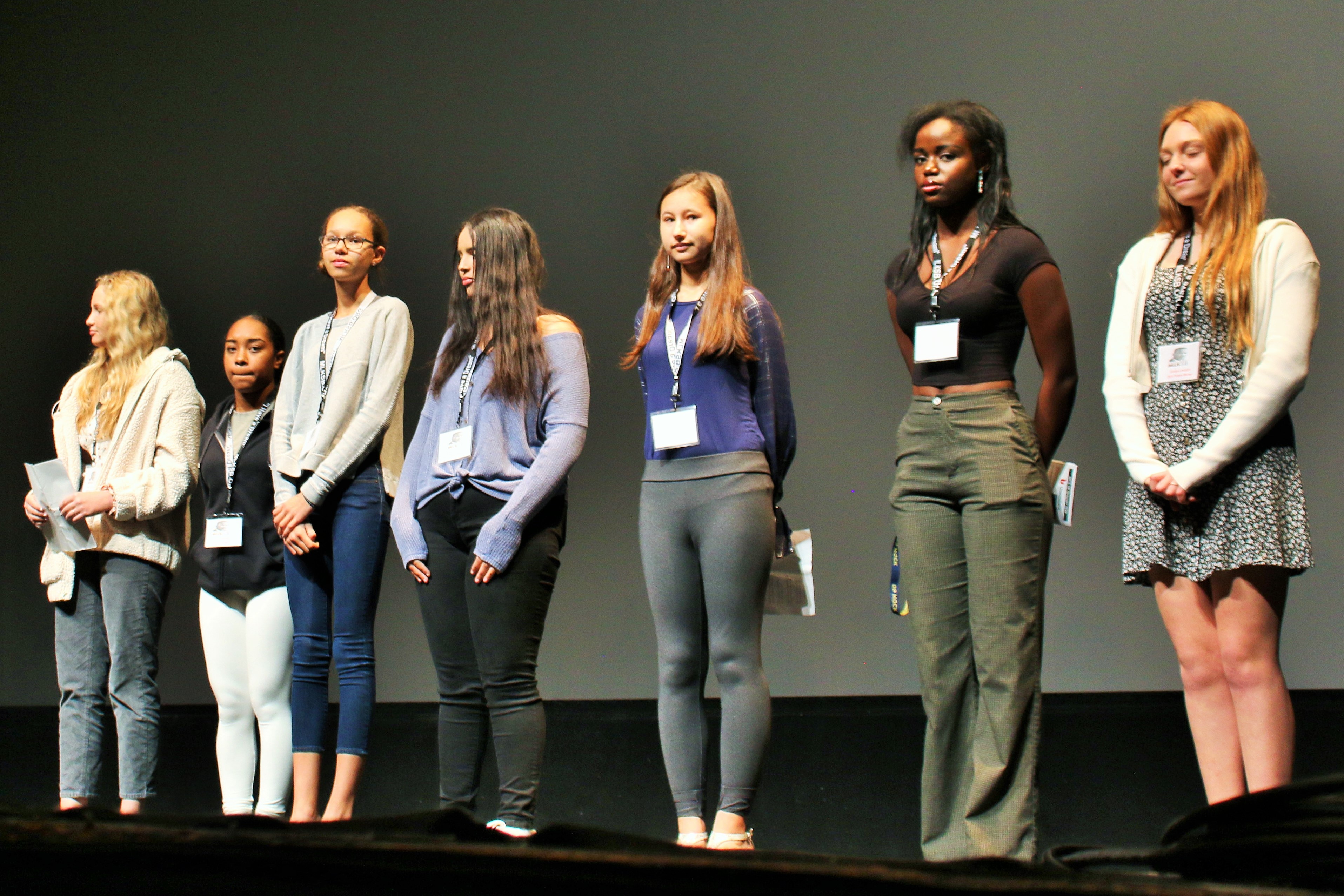 MLK Poetry/Essay Competitors & Winners
The SBPD escorted the crowd who Marched up State Street to the Arlington Theater where guests were greeted by Jazz Trio David Gorospe, Tyler Hammond and Danny Connell playing in the Arlington Foyer. The audience members recieved an invocation by Rev. Julia Hamilton, The Unitarian Society Santa Barbara, and Emcee Alla R. McKeon, introduced Mayor Cathy Murillo, State Senator Hannah-Beth Jackson and Congressman Salud Carbajal who all had prepared proclamations for Dr. Lawson. The program also honored student poets and essay writers, beautiful songs by Lois Mahalia, a fantastic dance number by "Core Knowledge," young dancers from La Cumbre Junior High, and Michael A. Young, UCSB Vice-Chancellor, Emeritus introduced the keynote speaker Rev. Dr. James M. Lawson.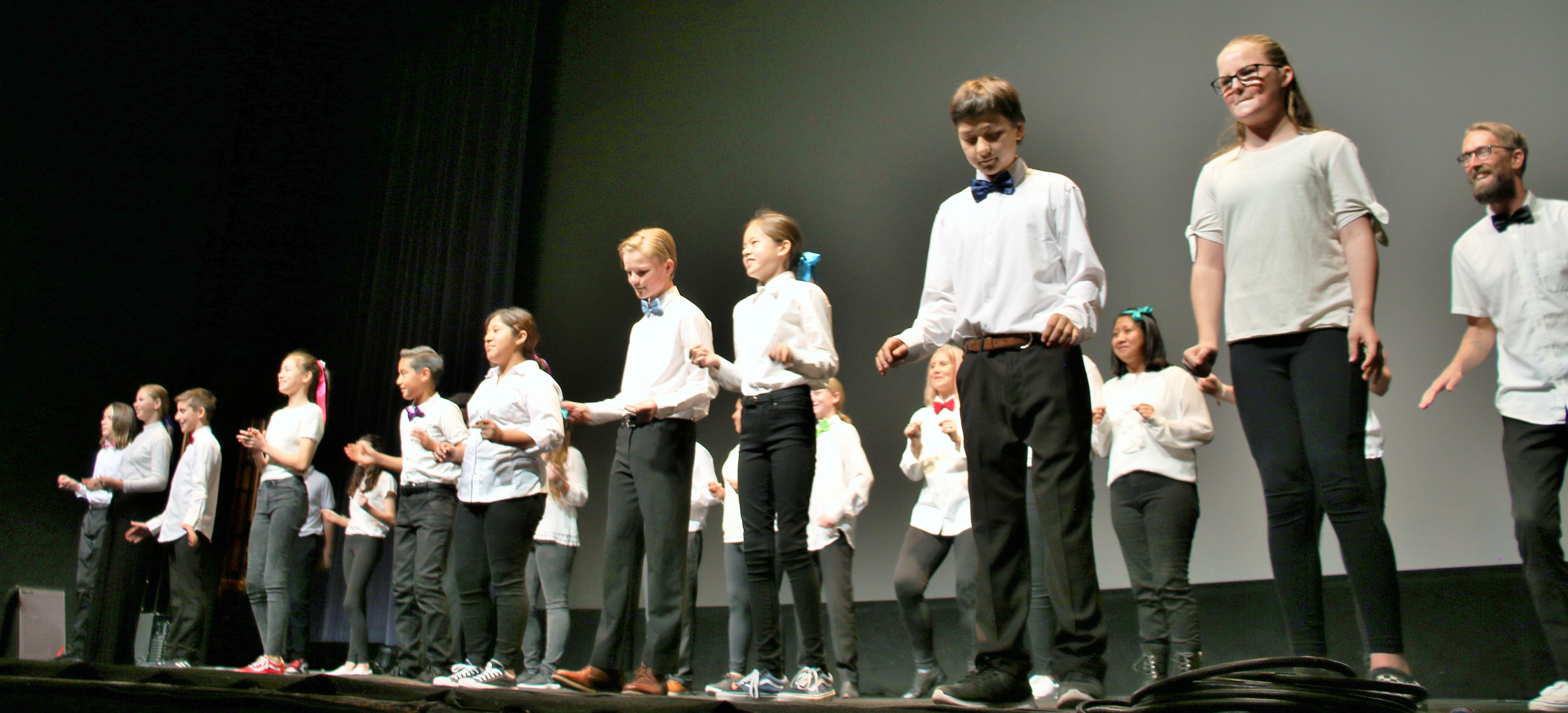 "Core Knowledge" Youth Dancers Le Cumbre Jr. High, Derrick Curtis Choreographer
Dr. James M. Lawson, who worked with Dr. King in the planning of the non-violence direction of the late 1950s-1970s, and he mentored the Nashville Student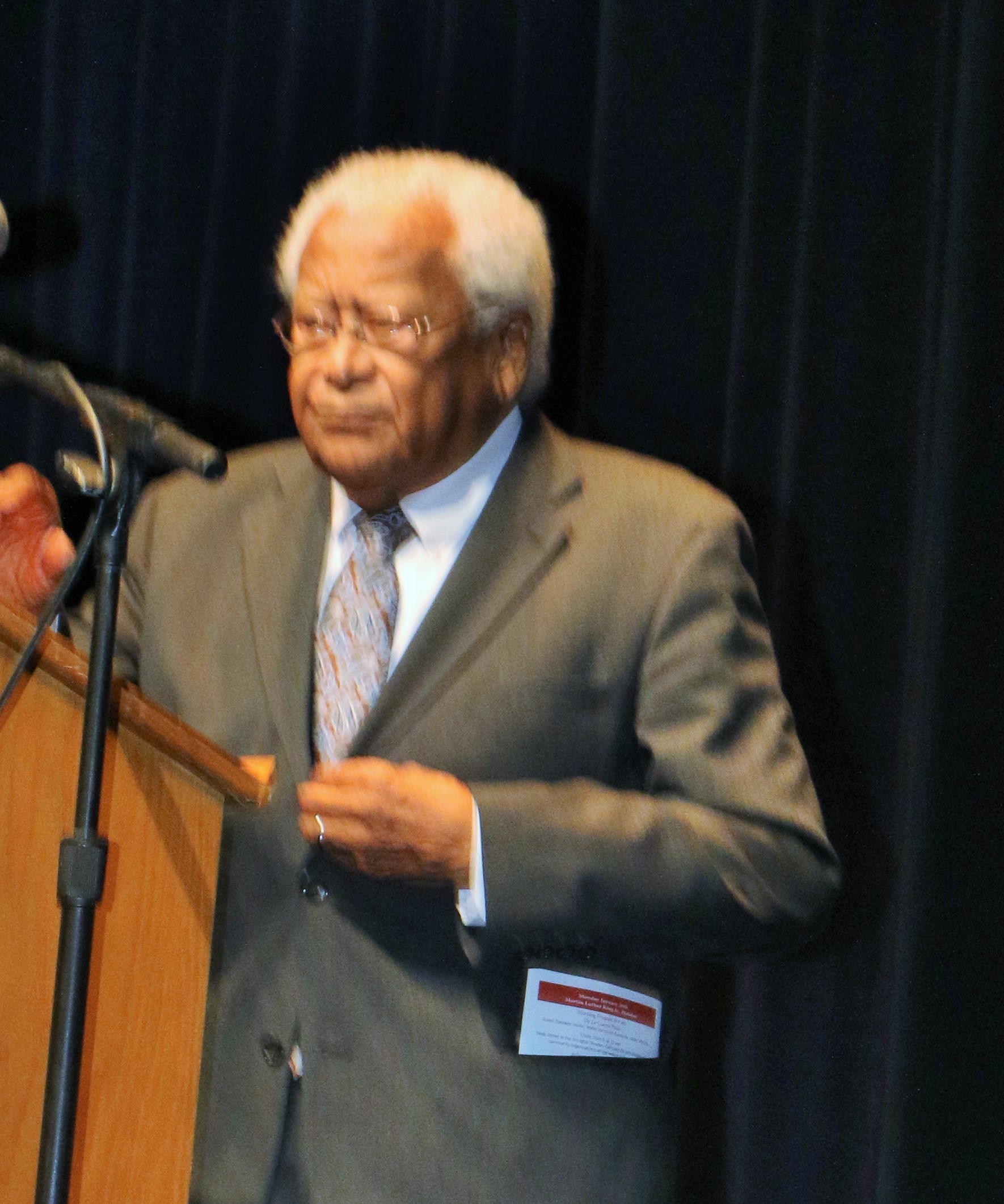 Movement and the Student Nonviolent Coordinating Committee. Dr. Lawson serves on the faculty of both California State University, Northridge and University of California, Los Angles. More recently he was inducted into the California Hall of Fame for his Life's work advocating for social justice via non-violent action. The ninety-one year old speaker gave one of he most impressive and inspiring talks, filled with hope and encouragement, peppered with direction to be proactive in fighting for truth and equal rights, but always from a place of love. I was very honored to shake the hand of this man and share a few words following his thought provoking talk.
Before leaving the theater to attend a luncheon guests, and their children were given a benediction and blessing by Rev. Roderick Murray. It was a fabulous weekend of events presented by Martin Luther King, Jr. Committee of Santa Barbara and a loving tribute to Dr. Martin Luther King, Jr., a great man who gave his life fighting for freedom and equality. For additional information please visit www.mlksb.com.
---