KIDS KALEIDOSCOPE   .     .      .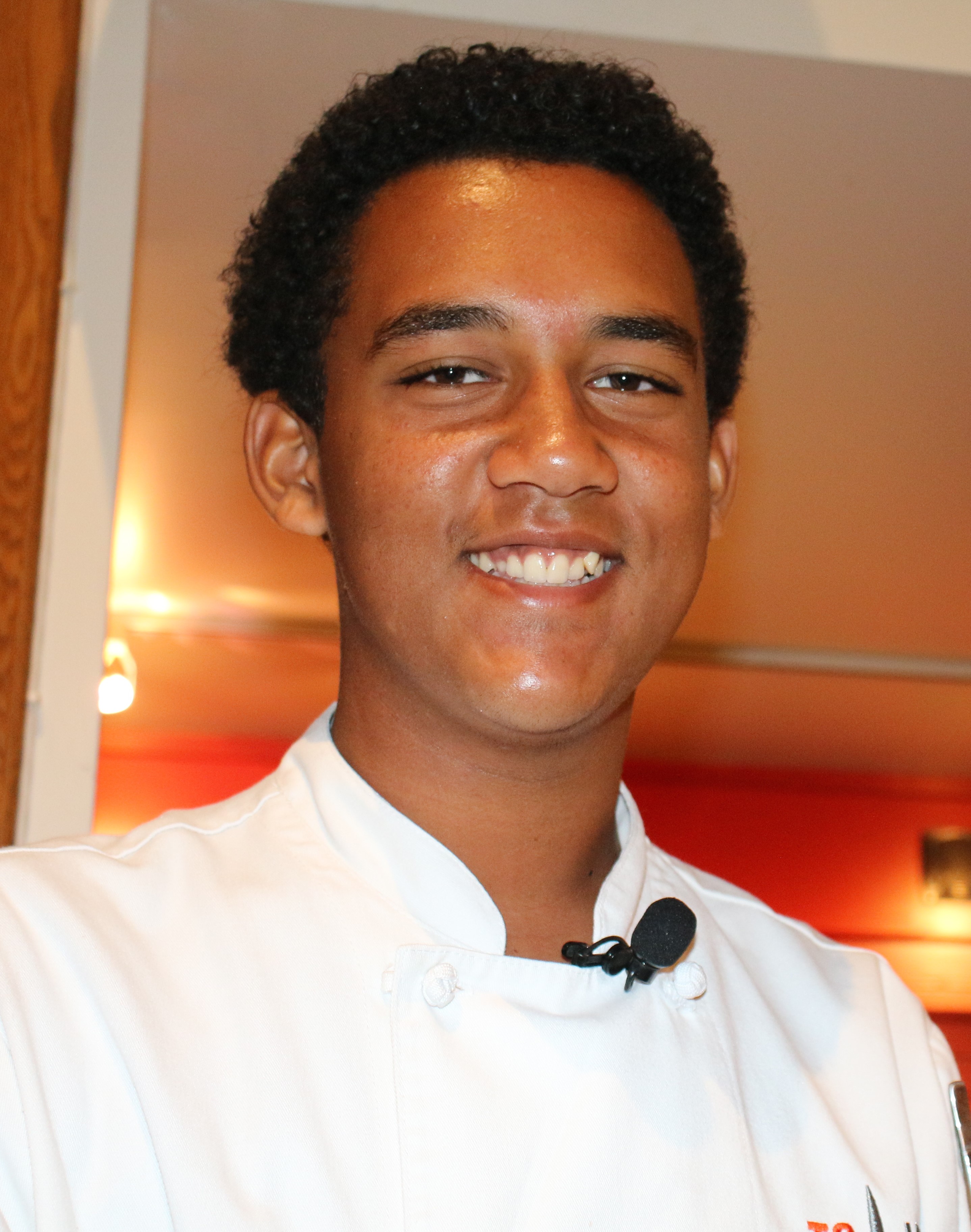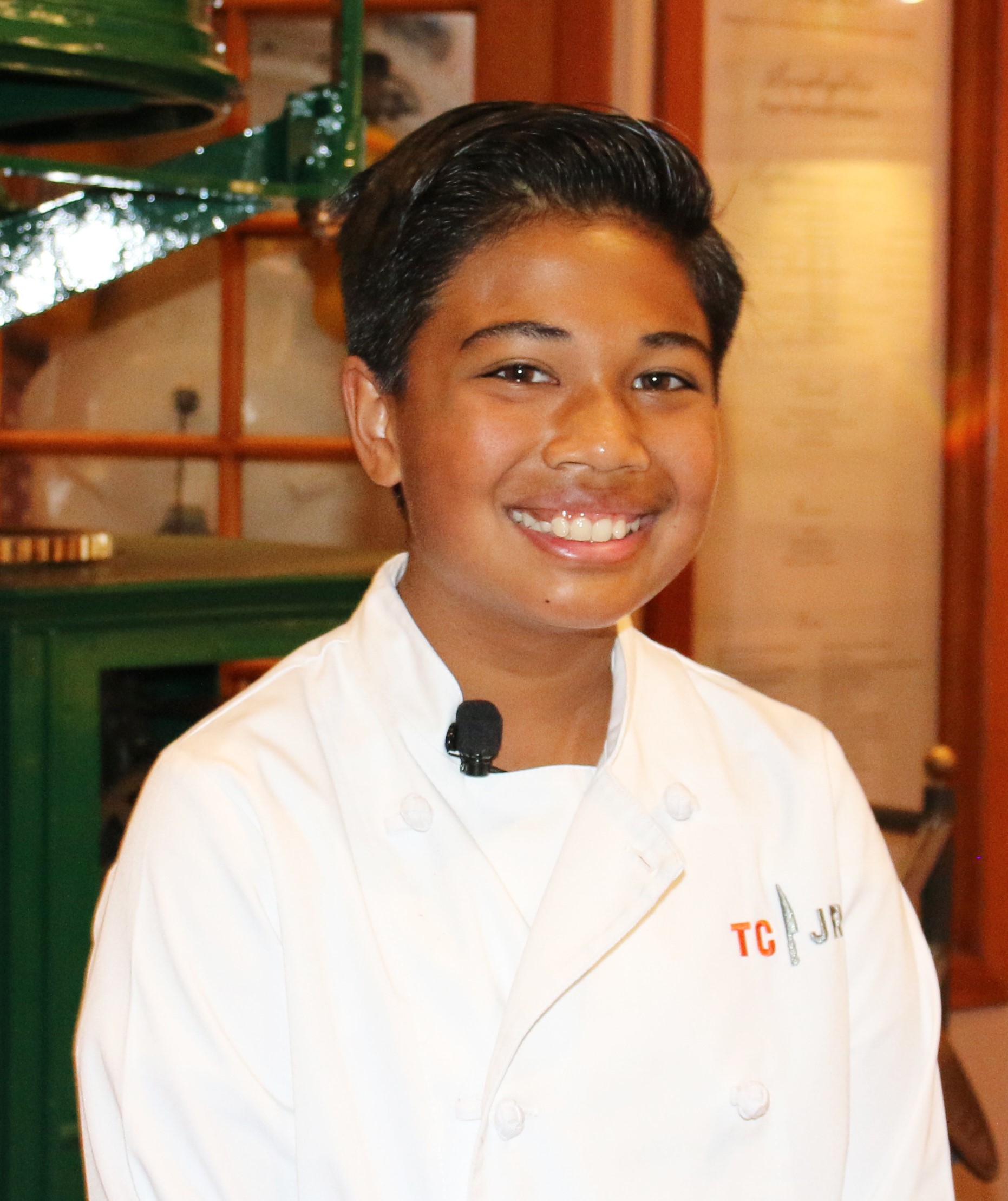 Chef Carson Peterson & Chef Rogers Mathews, Jr.
JUDGES CHALLENGED TO PICK #1 TEEN CHEF
Santa Barbara Maritime Museum Cookoff A Sell Out
By Bonnie Carroll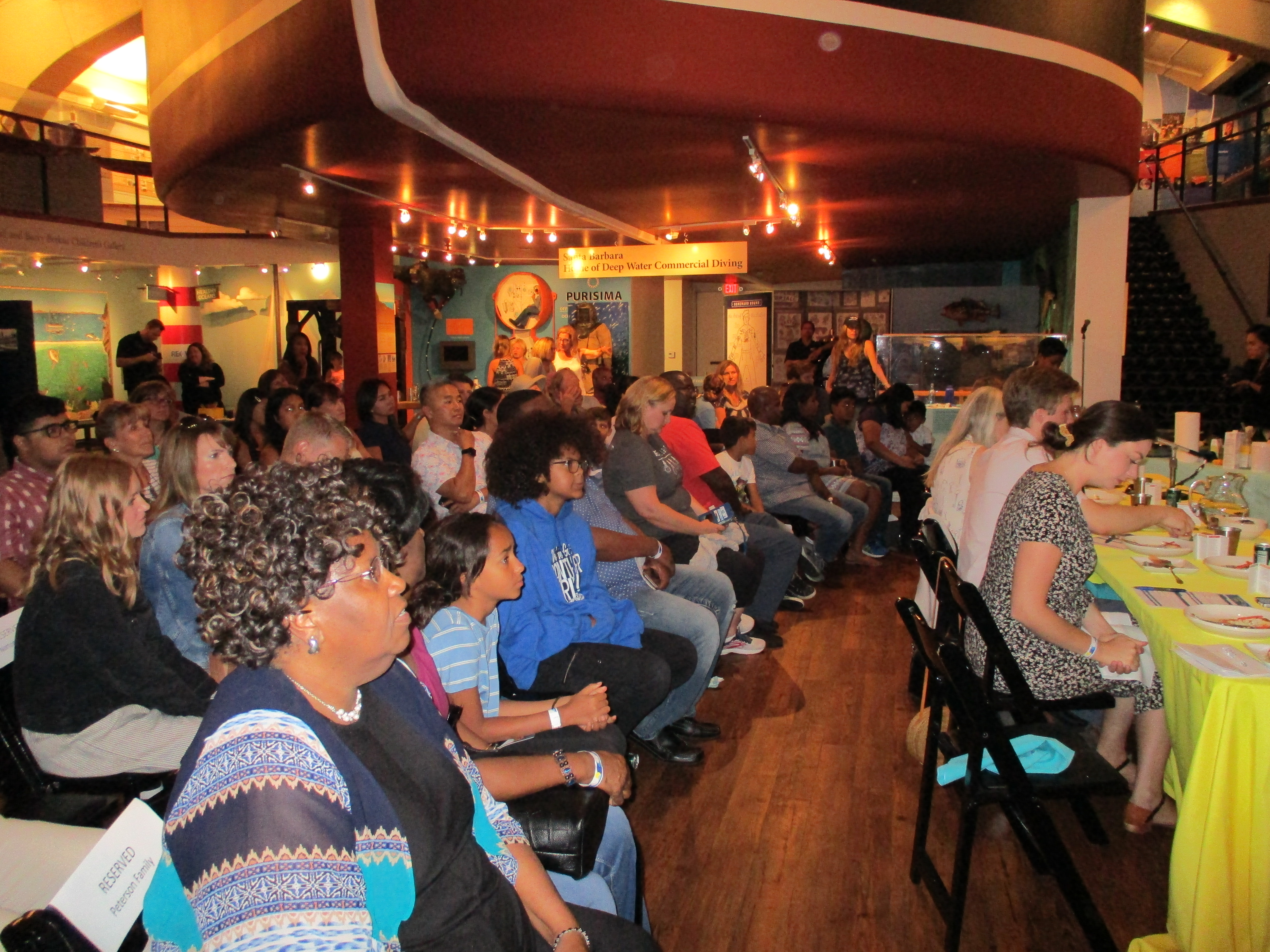 Attendees Watch Chefs & Judges
Santa Barbara Maritime Museum (SBMM) invited two top teen chefs to compete in a locally sourced seafood cookoff which was performed in front of a live audience on September 8, 2019. Cookoff teen chefs were Carson Peterson of Ventura and Rogers Mathews, Jr. of Corona, both 14 years old who have competed on Top Chef Junior. The event was held at Santa Barbara Maritime Museum, 113 Harbor Way, Santa Barbara Harbor and 110 people filled the lower level of the Museum.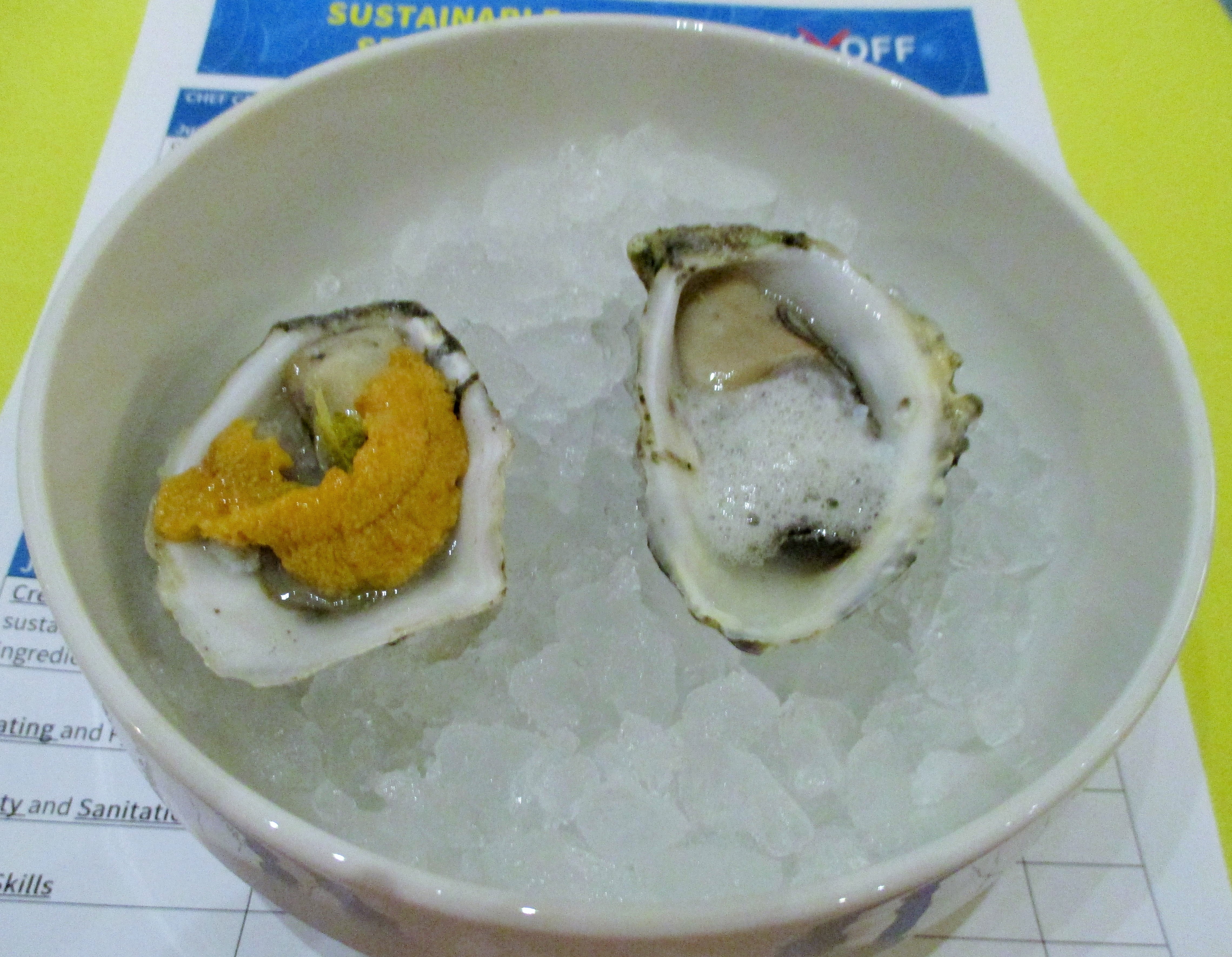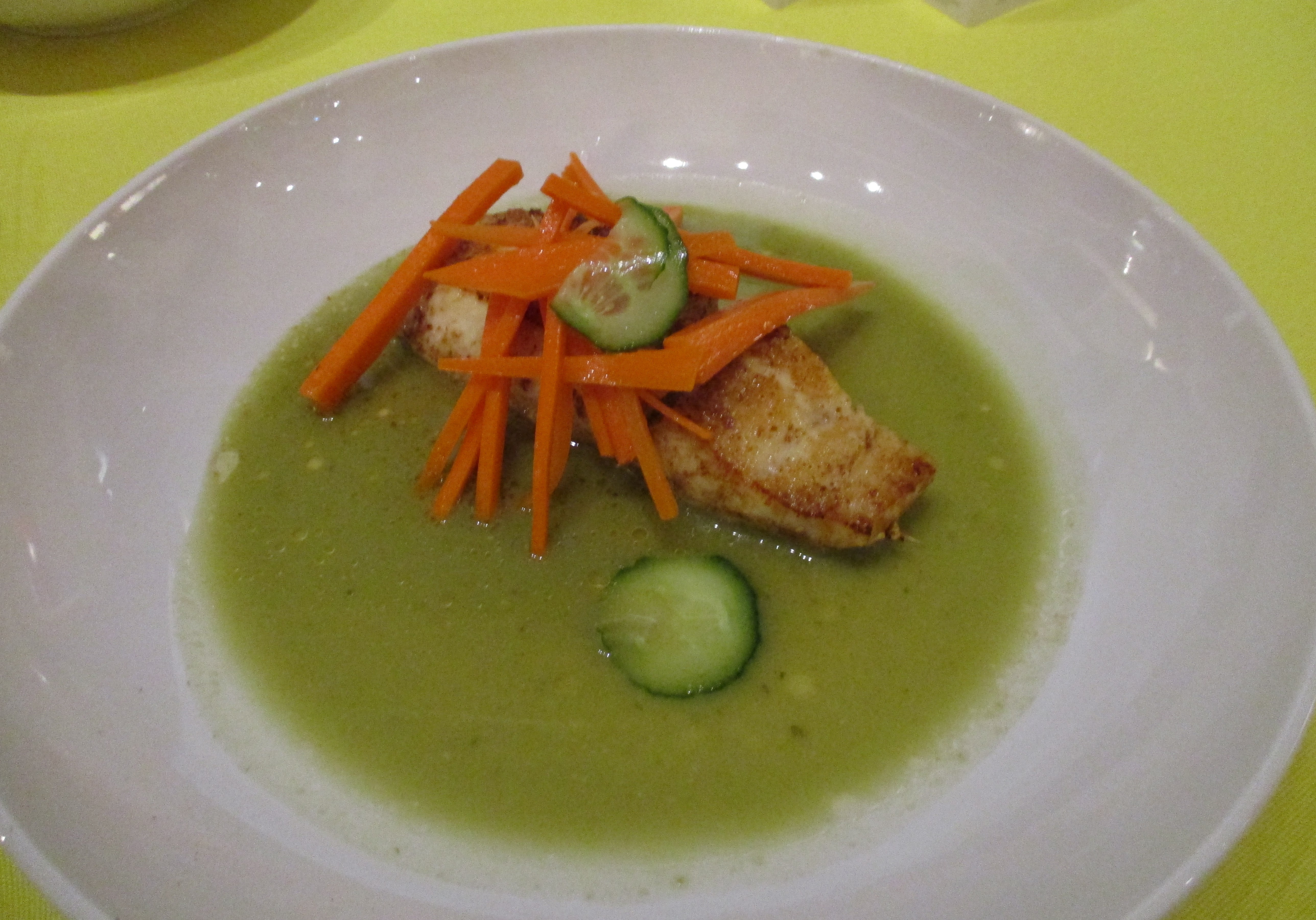 Carson Peterson Santa Barbara Oysters & Halibut in Green Curry
Competitor Carson Peterson, a 14-year-old freshman at Ventura High School, started cooking with Nonna, his Italian grandmother when he was about 5 years old. "I remember making pasta dough with her and making our family's pasta sauce that takes all day," he recalled this inspired his love for cooking, which got more serious when he was 11. "I started spending most of my free time in the kitchen, and I've just been getting better and more knowledgeable every day."
Upon studying the careers of chefs such as Curtis Stone, Julia Child, Alton Brown, and Thomas Keller, Peterson gravitated toward French cuisine. "French techniques and flavors can be found all over Europe and northern Africa," explained Peterson, who enjoys making poisson en papillote, coq au vin, and croque madame. "French food has implemented itself into many cuisines, and I really find that interesting."
Peterson, who hopes to attend Stanford for college says "there is always an unknown, whether it's an unfamiliar pantry, an unfamiliar kitchen appliance, or a wacky challenge, Top Chef Junior was definitely no walk in the park. While being hard, it brought out the best in me as a chef and as a person. Not only was I able to improve my culinary skills, but I was also able to create relationships I will keep forever."
Carson Peterson is a professional chef known for his take on classic French cuisine. He appeared on Top Chef Junior Season 2, was featured on the Today Show, competed in the 2019 Strawberry Smack Down and judged the Casa Pacifica Angels Wine, Food and Brew Festival. His signature dishes include Poisson en Papillote, Coq Au Vin and Croquembouche.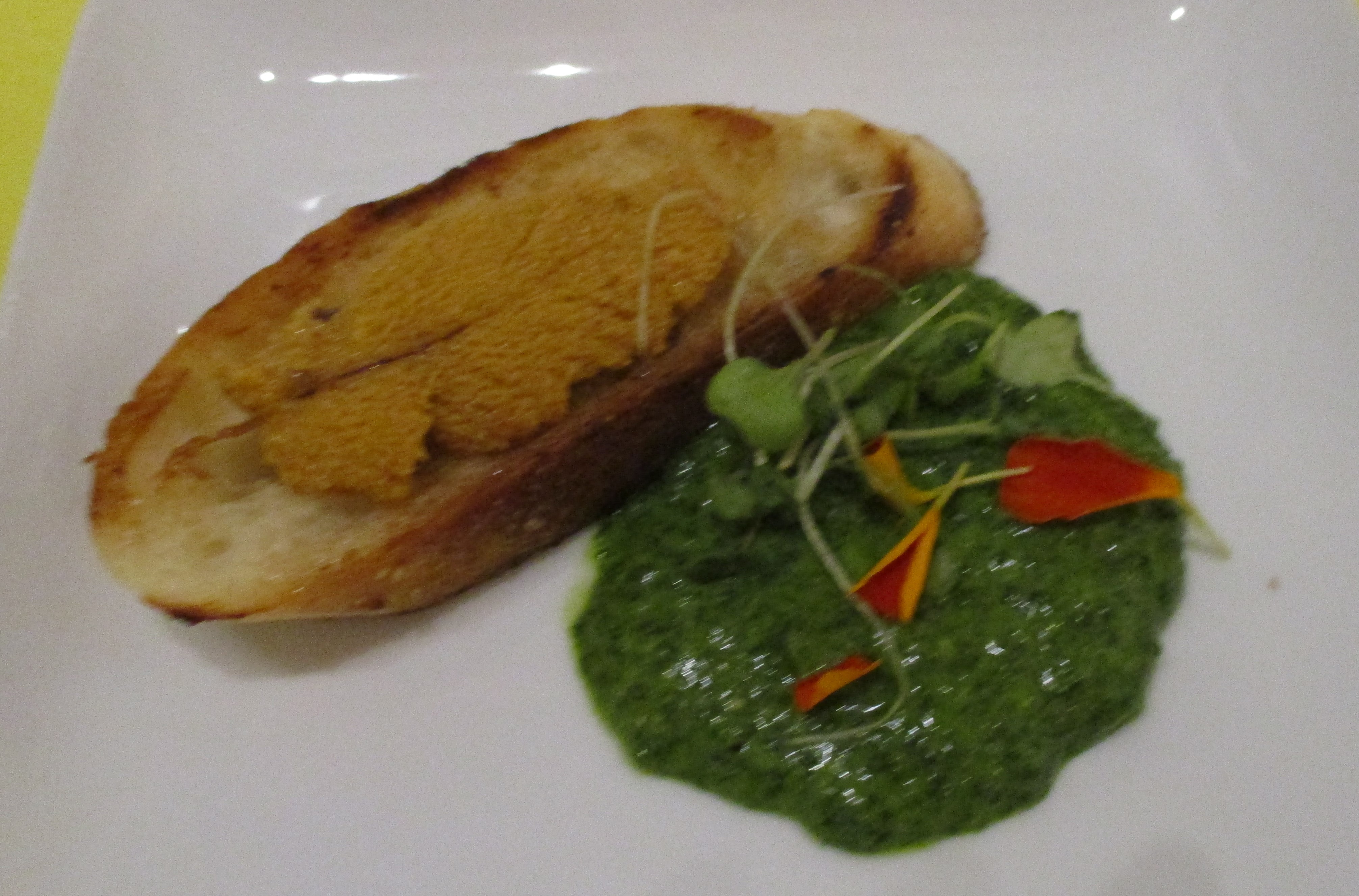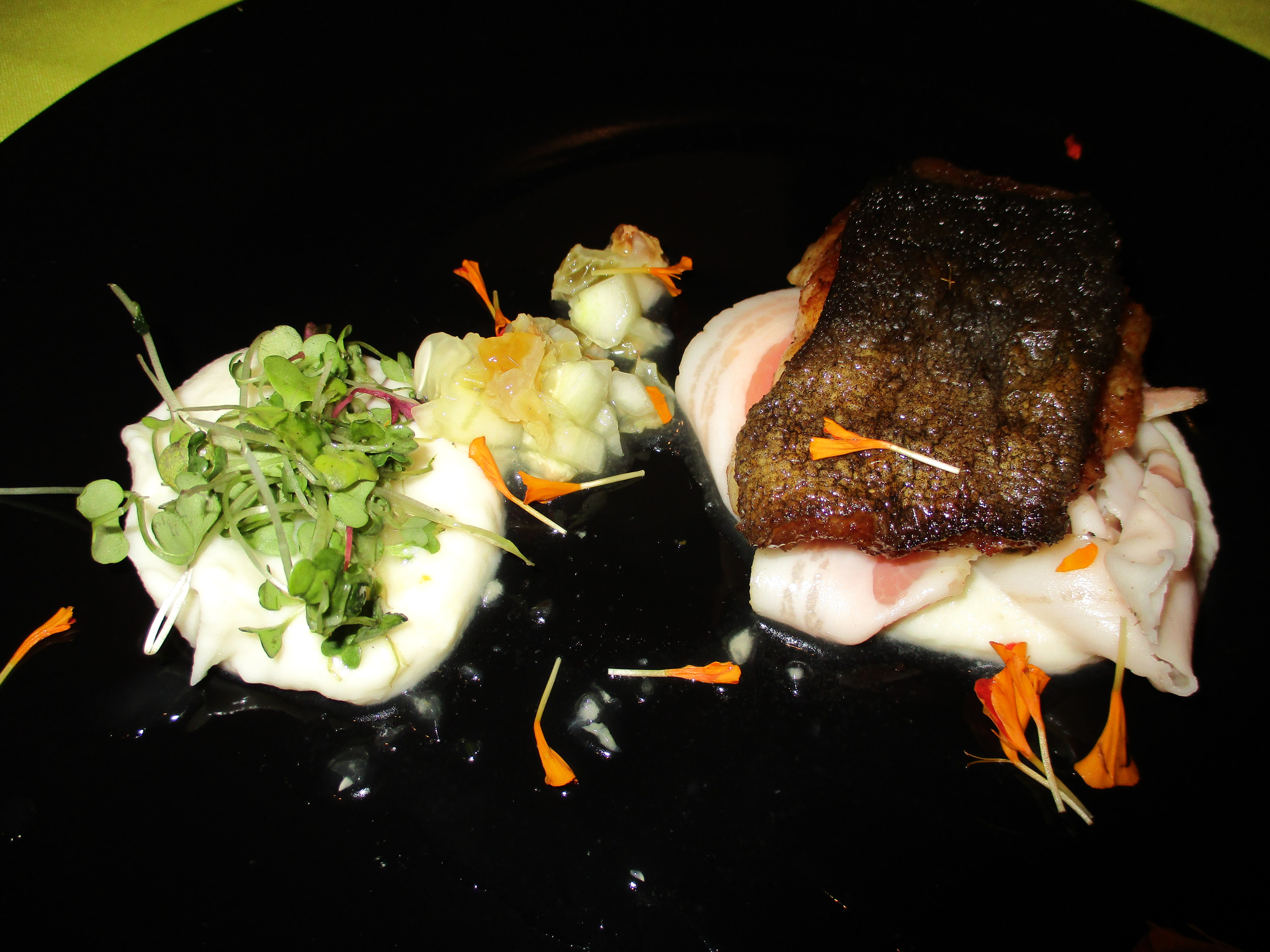 Roger Mathews, Jr. Uni Toast & Black Cod Plate
Rogers Mathews, Jr. is a very charming little guy known for making it all the way to the semi-finals and taking third place in this season's Top Chef Junior competition. In his freshman year at Santiago High in Corona, Mathews was introduced to cooking when his family decided to make homemade pizza and let him pick the toppings. "After that I was hooked," he explained. "Cooking was so much fun!" By age 10, he was learning techniques and flavor profiles and looking up to chefs like Thomas Keller, Daniel Boulud, and Curtis Stone.
Though challenging, his experience on Top Chef Junior taught valuable lessons. "In the beginning, it was very stressful to have to cook with a time constraint," said Mathews. "As a result, I learned to be very efficient in managing my time in the kitchen." He dreams of writing his own cookbook one day and opening a small restaurant. "My restaurant would focus on the artistic side of cooking and showcase food seasonality," said Mathews, "or maybe utilizing forgotten parts of vegetables like stems and leaves in a creative way."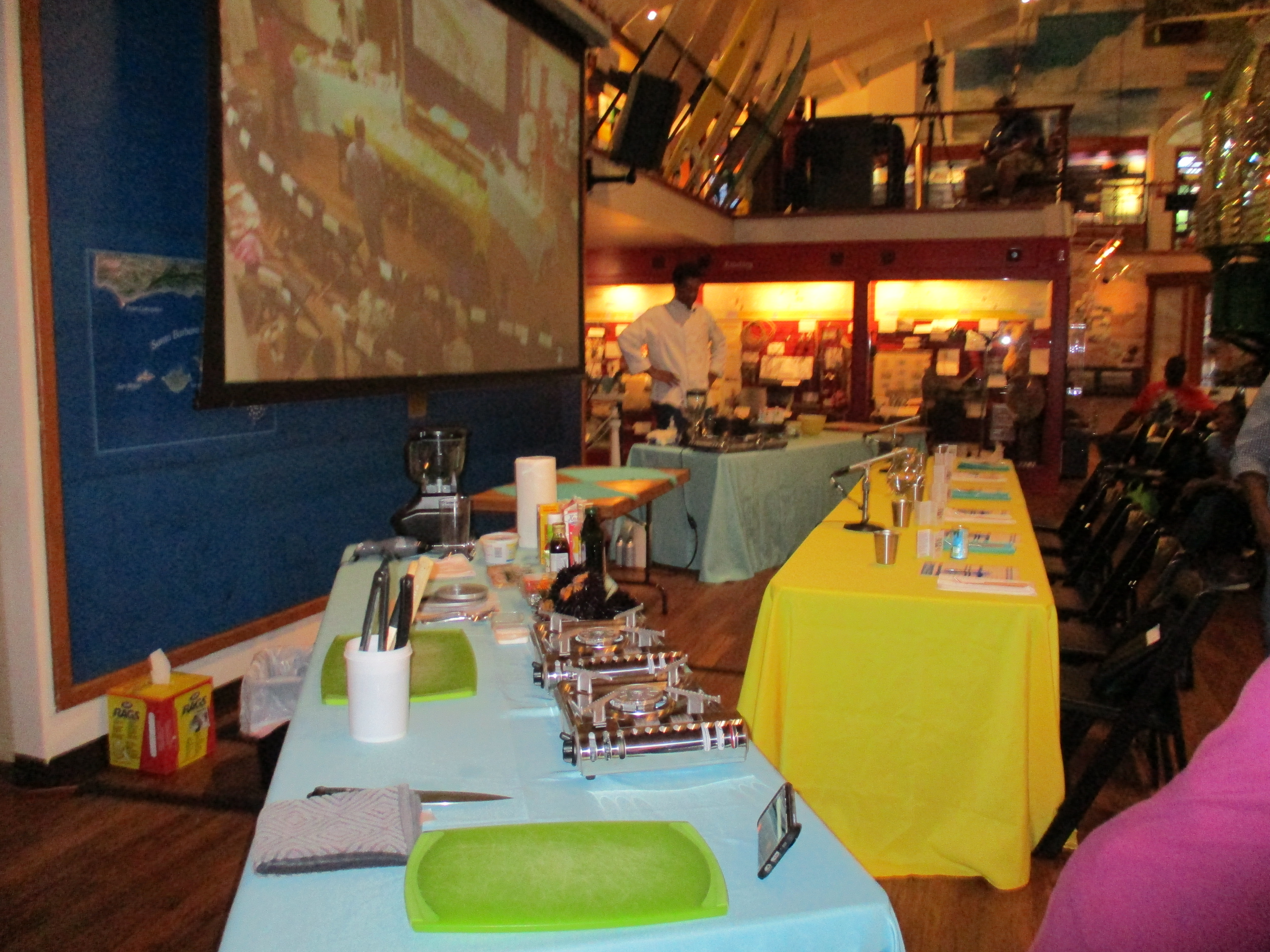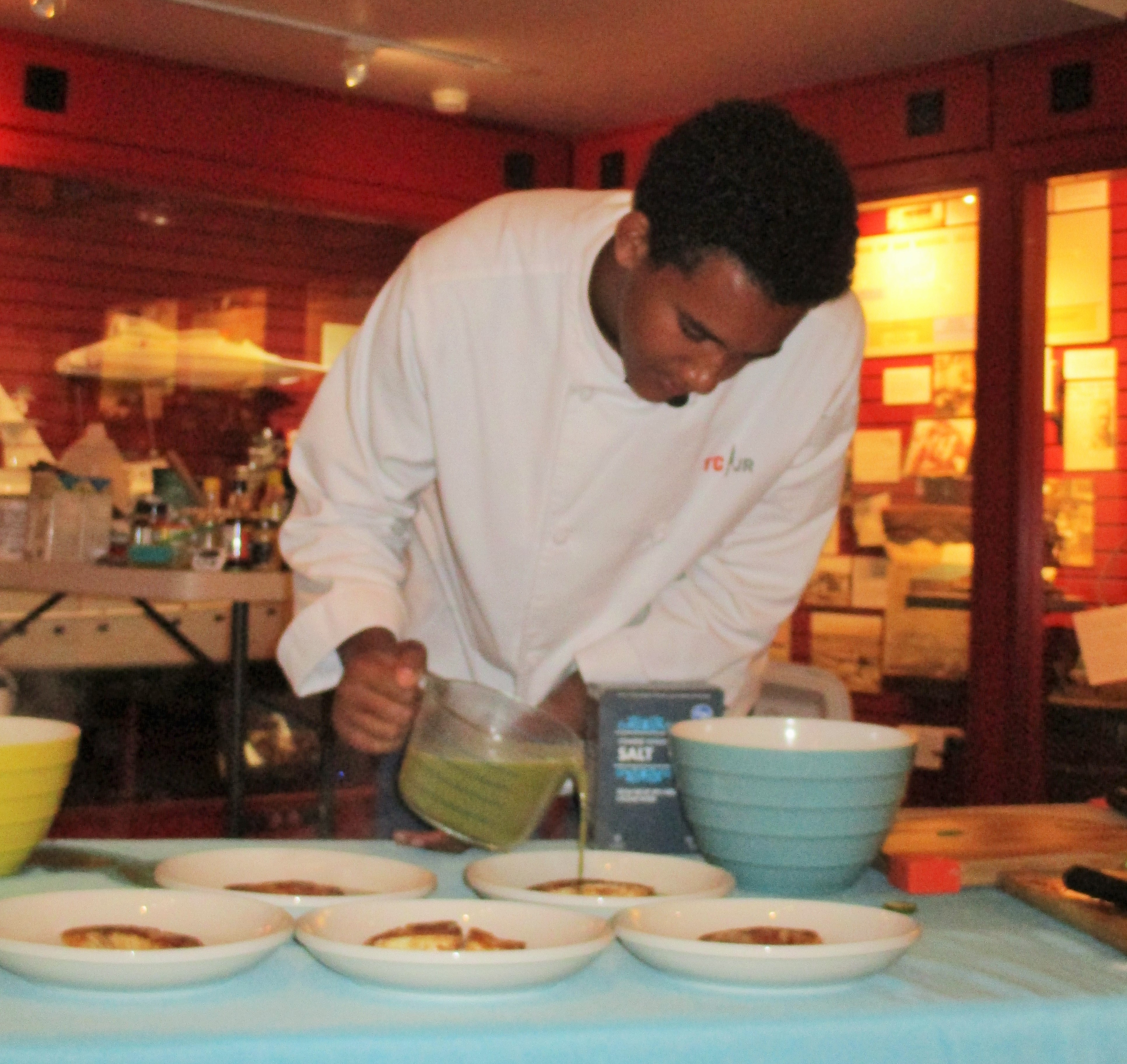 Cookoff Stage Area  - Carson Peterson Plating Entry
The judges panel including Bonnie Carroll, founder and editor-in-chief, Bonnie Carroll's Life Bites News; Emily Cosentino, marketing and promotions manager, Santa Barbara Independent; Jake Hagen, assistant pastry chef, Newhall Refinery; Krista Harris, editor/co-publisher, Edible Magazine; Chef Kayla Norton, pastry chef, Old Town Junction, Newhall; and Chef Daniel Palaima, Tyger Tyger had a difficult time determining the winner. The plates prepared by both chefs were outstanding. Rogers Mathews, Jr. won 1st place prize, but It was very close. Both Carson and Masters did an amazing job, answered questions and shared detailed information on each step of their preparation and presentation.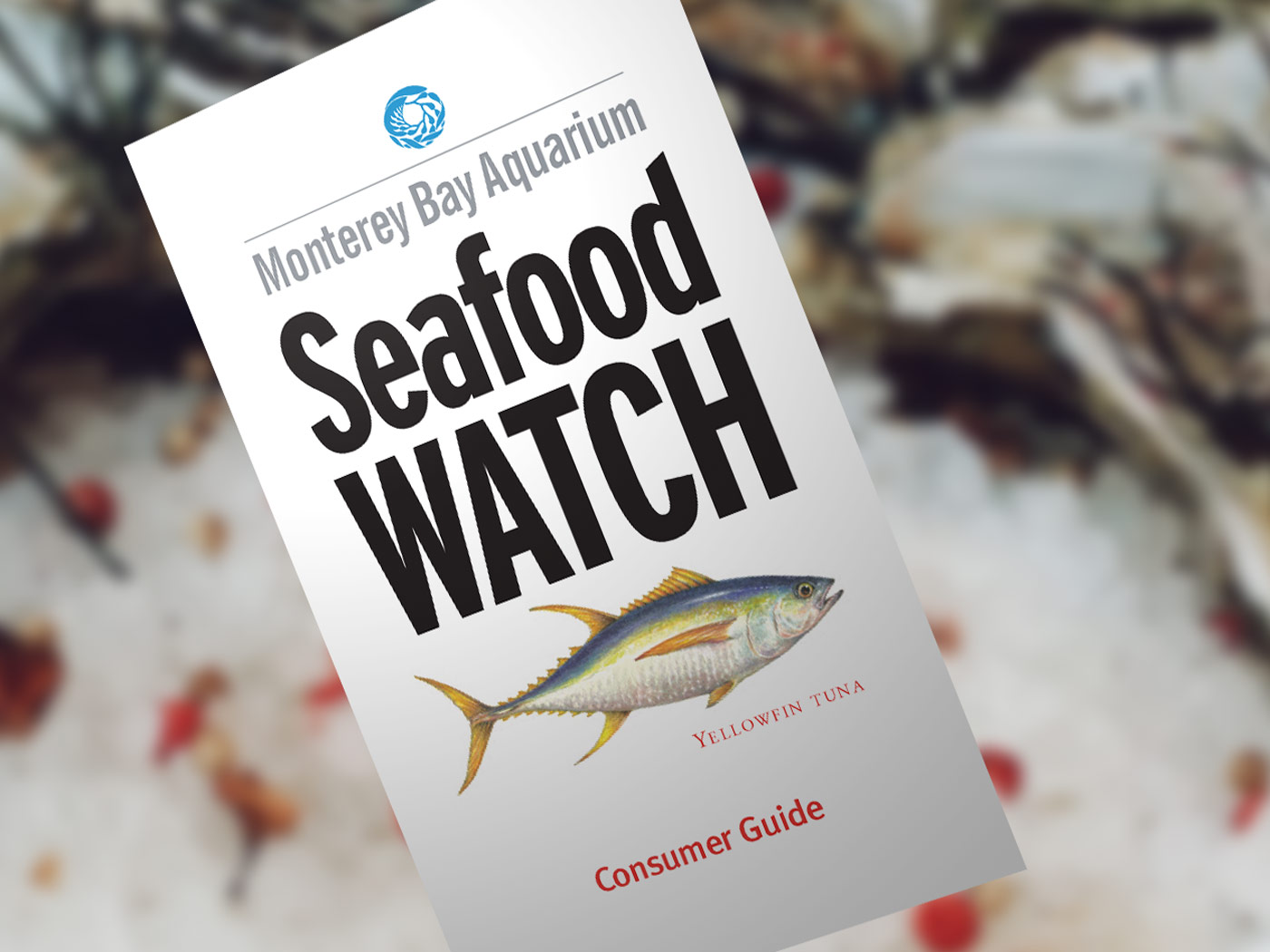 Sustainable seafood is seafood that is either caught or farmed in ways that consider the long-term vitality of harvested species and the well-being of the oceans, as well as the livelihoods of fisheries-dependent communities. It was first promoted through the sustainable seafood movement which began in the 1990s. This operation highlights overfishing and environmentally destructive fishing methods. Through a number of initiatives, the movement has increased awareness and raised concerns over the way our seafood is obtained.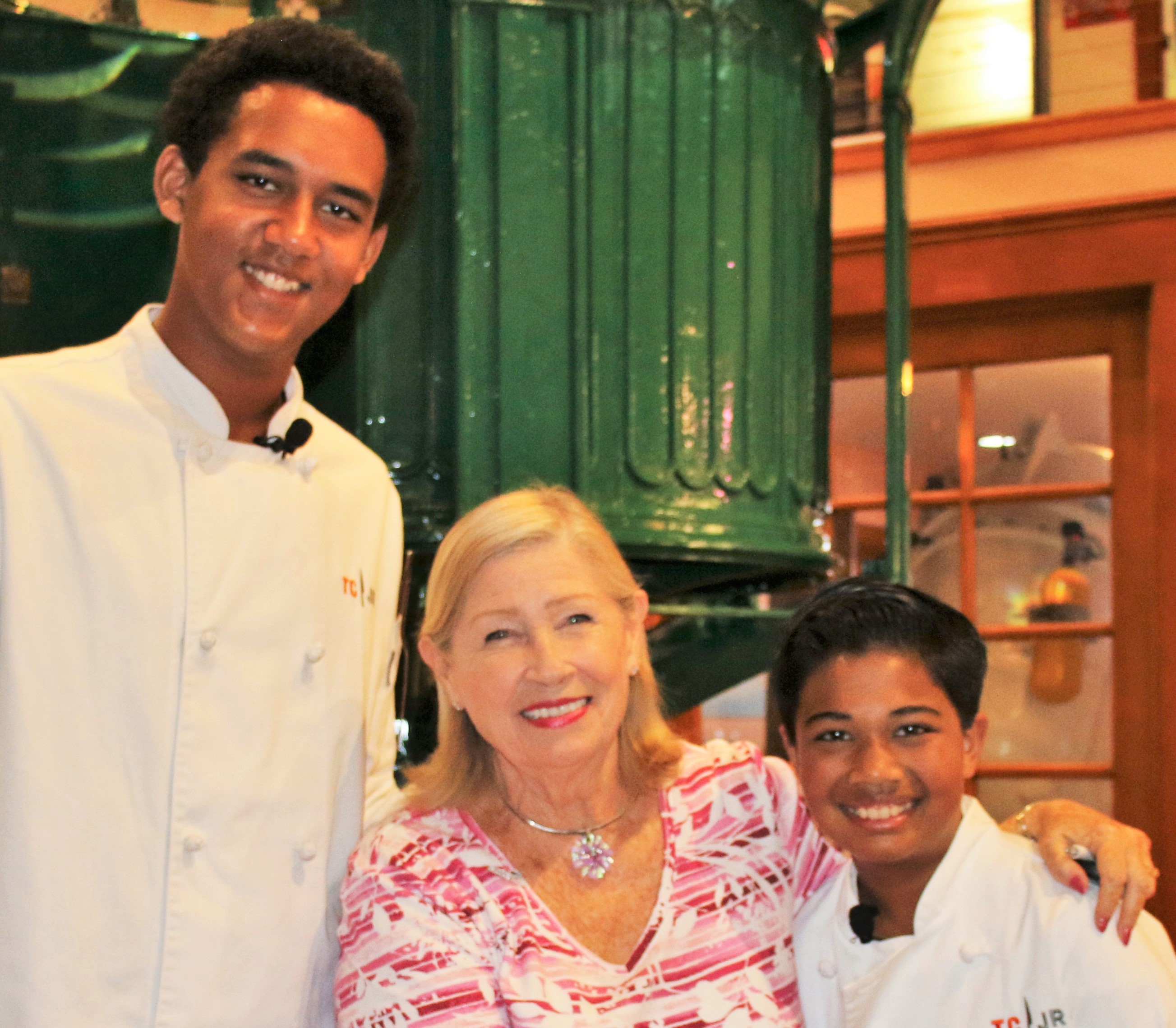 Judge Bonnie Carroll Interviewing Carson & Rogers
Congratulations to Maritime Museum and Museum Deputy Director & Curator Emily Falke on a wonderful and educational event featuring sustainable seafood, and congratulations to two great chef competitors. Each guest was given a Monterey Bay Aquarium Seawatch Watch Westcoast Consumer Guide as a gift to take home. I am so proud to have met these amazing young men and to be on their judging panel. For upcoming Maritime Museum event or membership information visit Visit sbmm.org.
__________________________________

ELDERLY ASIAN ELEPHANT LITTLE MAC HUMANELY EUTHANIZED AFTER SHARP DECLINE IN PHYSICAL CONDITION OVER LAST TWO WEEKS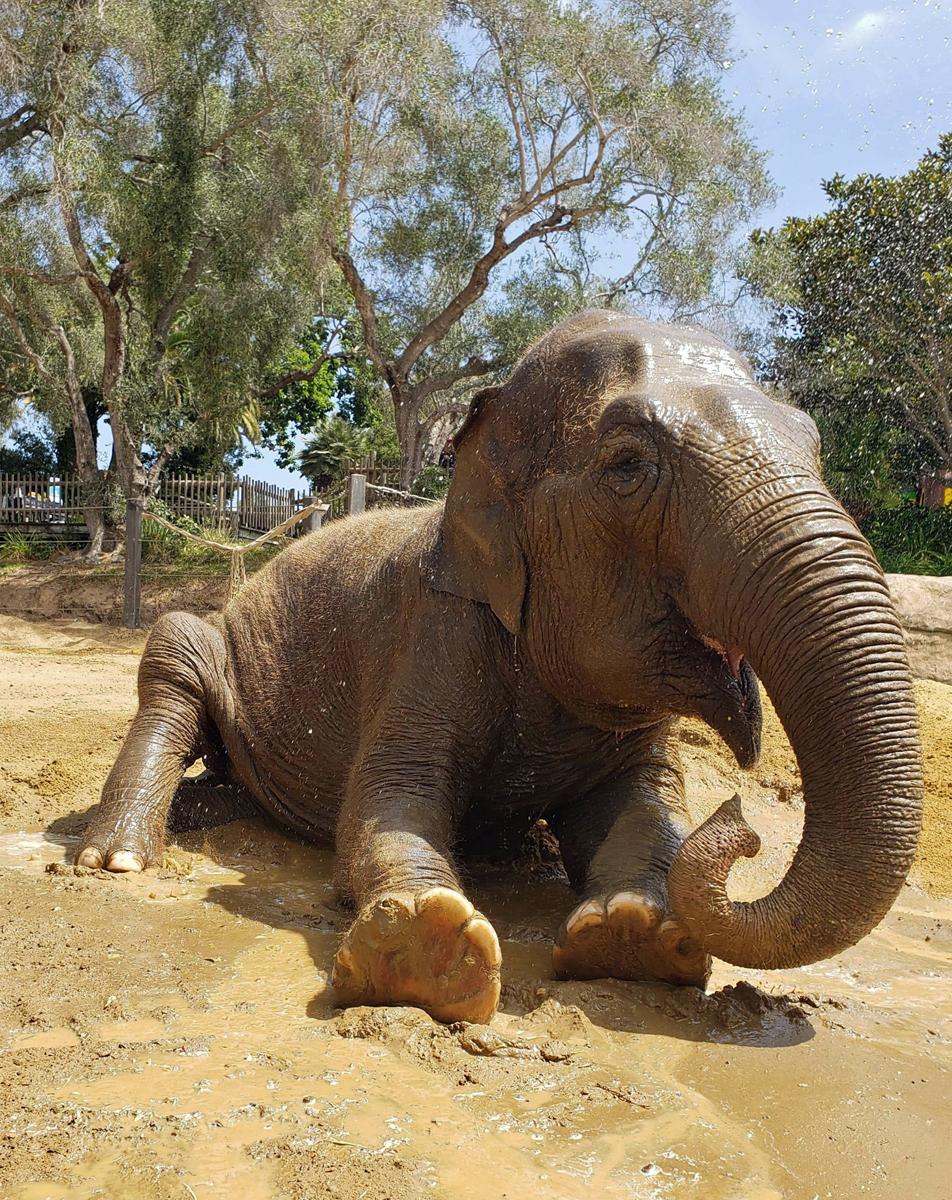 Zoo's Elephant Program Ends After 47 Years with Little Mac and Sujatha 
Santa Barbara, CA, September 26, 2019 – Little Mac, the Santa Barbara Zoo's 48-year-old Asian elephant, was humanely euthanized last night (Wednesday, September 25) at approximately 7 p.m. She was in her exhibit yard, surrounded by her keepers and other Zoo staff who have cared for her over the years. Her body was removed by crane to a truck and taken to the California Animal Health & Food Safety Laboratory in San Bernardino, which is run by U.C. Davis, where a necropsy will be initiated today (Thursday, September 26). The results will take several weeks to be developed and will contribute to ongoing research into the health and welfare of elephants under human care.  This followed several days of what Zoo officials called hospice care for the elderly elephant who arrived at the Zoo from India in 1972 with her companion Sujatha (pronounced sue-JAW-tha), who died in October 2018.  This decision was made due to her declining condition as a result of her ongoing medical issues, some of which were common in geriatric elephants and some new medical problems that had developed since June.    "She faced chronic challenges with her teeth and arthritis in her legs, but her overall condition began declining in June due to the onset of additional medical problems. She continued to decline in spite of our best efforts, especially in the past two weeks," said Dr. Julie Barnes, the Zoo's vice president of animal care and health. "We had exhausted the medical options available that would allow her to have a good quality of life. It was time to let her go."

End of Zoo's Elephant Program  Little Mac's passing marks the end of the Zoo's Elephant Program, which spanned 47 years. The pair of one-and-a-half-year-old elephants came to the Santa Barbara Zoo from the city of Mysore, India, in
exchange for six California sea lions. The two lived together at the Zoo their entire lives. Neither ever bred or produced offspring. Current standards for elephant management set by the Association of Zoos and Aquariums (AZA) focus on having bigger herds with breeding bulls, and larger exhibits, neither of which are possible at the Santa Barbara Zoo. The Zoo program was "grandfathered in" as the exhibit was especially designed for the two female elephants, and had been modified many times since 2004 to address the challenges the animals faced as they aged.  No plans have been made for future occupants of this exhibit. 

Behavioral Study, Expert Consultations for Little Mac "Since Sujatha passed away last fall, Little Mac hadn't shown signs of depression or any other concerning behaviors. In fact, she had been doing quite well, despite being a singly-housed elephant," says Dr. Barnes.  Data gathered during a behavioral study which began in November 2018 supports what keepers had observed since Sujatha passed away: that Little Mac was showing increased engagement with her environment, even when faced with changes in her routine and that environment.  "Following a bout with colic in June, both the study and keeper observations showed that the regular patterns of high level of engagement were being replaced with more ups and downs in her behaviors," adds Dr. Barnes. "She would improve physically and behaviorally, we would be hopeful, but she never fully recovered." Early last week, keepers noticed a change in the color of Little Mac's boli (dung). Tests indicated that there was bleeding in her intestines. The Zoo consulted about her diagnostics, treatment options and prognosis with well-respected elephant veterinarians Dr. Dennis Schmitt and Dr. Ellen Weidner, several veterinarians from San Diego Zoo Global, and local equine veterinarians. No diagnosis was reached.   After exhausting treatment options, Little Mac began receiving hospice care. Animal care staff treated her symptoms, provided her with drugs to keep her as comfortable as possible, and offered her usual training and activities. 

About Sujatha & Little Mac; Little Mac Got Her Name  Sujatha was born to a working mother in an Indian logging camp, and Little Mac was discovered nearby in the forest, apparently orphaned. Herb Peterson, owner of several Santa Barbara McDonald's restaurants paid for the two elephants' trip airplane from India, and received naming rights for one of them. McDonald's newest product was a burger called a "Big Mac," so Peterson chose "Little Mac" for then four-foot-tall pachyderm. 

 It is believed that malnutrition as a calf in India contributed to Little Mac's lifelong dental issues, which resulted in two dental procedures costing $100,000, and the eventual loss of all her upper teeth. For the past few years, her food had to be pre-chopped to help her with digestion.  She has been the Zoo's sole Asian elephant following the death of Sujatha who was humanely euthanized at age 47 on October 16, 2018, due to ailments related to old age.  An Asian elephant is considered geriatric around age 40. At 48, Little Mac exceeded the median life expectancy for Asian elephants in human care, which is 46.9 years. That means that half the animals live less than 46.9 years, and half live longer.   "Had Little Mac's health not declined, we may have been looking at moving her to another AZAaccredited facility or an elephant sanctuary," added Dr. Barnes. "The behavioral study suggested that she likely had the ability to cope with the changes associated with such a move and with being introduced to other elephants."

Remembering Little Mac & Sujatha; Grief Resources  The Zoo has partnered with VNA Health (formerly Visiting Nurse & Hospice Care) to provide guidance for Zoo staff and guests in dealing with grief following the loss of both Little Mac and Sujatha. This includes a session with Zoo staff and a blog posting on the Zoo's website about bereavement (www.sbzoo.org/loss) of loved ones and even pets and Zoo animals.    Donations in memory of Little Mac and Sujatha can be made to the International Elephant Foundation (www.elephantconservation.org) or to the Zoo's Toys4Animals Amazon Wish List. Gifts of organic, pesticide-free tree trimmings and branches for other animals at the Zoo are also welcome (www.sbzoo.org/support/browse).  
---