Teen Times by Cody Hilton 
The Excitement and Glamour Teen Awards Hollywood. Trends in TV and Film being viewed by Teen America. How they feel about the winners and special event participation for the awards 2013
Teen novel set on Oahu during the attack on Pearl Harbor offers a reminder of history and a lesson about overcoming prejudice.
Acclaimed author C. E. Edmonson, with two award-winning novels for teens under his belt, has just released his latest novel, Fall Down Seven, in which he explores what happens to thirteen-year-old Emiko Arrington and her family in the aftermath of the attack on Pearl Harbor.
At first, December 7, 1941, is a perfect Sunday morning. Emiko's father, Lieutenant Commander Charles Arrington, U.S. Navy, is on leave when the attack occurs, enjoying a Sunday morning with his family in their home in the foothills of the Koolau Mountains, reading the newspaper on the lanai, or back porch, and enjoying the view across the central valley and over the naval base.
Emiko's mother, who was born in Japan but moved to Hawaii with her parents when she was six, is preparing macadamia pancakes. Emiko's eight-year-old brother Charlie, in perpetual motion, is throwing baseballs at a mattress propped up against a tree.
The normalcy of their morning is shattered with the first whine of the airplane engines. As the family watches, a constellation of black dots grows in size until it becomes dozens of planes, each carrying a single bomb strapped to its undercarriage. As the planes come closer, Emiko recognizes the emblem painted on the fuselage: a big red sun against a background of white – the flag of Japan.
Emiko, who unlike most girls her age is dreaming of college rather than marriage and babies, realizes her dad will soon be away at war. Like millions of other American families, she and her mother and brother, tense with worry, will listen to the radio, read the newspaper, and watch the newsreels at the movies. Unlike these other families, within a very few days, they will cease to be Japanese-Americans. Somehow, without warning, they will become, simply, Japanese.
"In other words," says Edmonson, "Emiko and her mother and brother become the enemy. What follows is Emiko's first-person account of the day that forever changes her life."
Inspired by the Japanese proverb "Nana korobi, ya oki," which means "Fall down seven times, get up eight," Emiko embarks on a new life fraught with confusion, prejudice, and hatred while seeking to understand what has happened, why she and her family are being singled out, and when it all will end.
Edmonson comments, "I take real times in history and add characters that have compelling stories to tell. This inspiration for this book came from my wife's mother, who was a young girl on Oahu during the attack on Pearl Harbor."
Award-winning author C. E. Edmonson stays true to form as he weaves his sense of humor and characters into an inspirational tale that appeals to readers of all ages. The unique voice of the author gives the story a feeling of authenticity that goes a long way to engage readers and creating an emotional investment.
"This story is inspirational but not preachy nor is the religious or spiritual undertones. This could have been heavy-handed, but Edmonson does a great job keeping things authentic enough to be meaningful, but creative enough to be an enjoyable story." ~ Readers Favorite Reviews
AUTHOR:  C. E. Edmonson is the author of the award-winning teen novels Golden's Rule and Finding Faith as well as two western novels. For more information, see www.ceedmonson.com.
 ____________________________________________________________
Kids Kaleidoscope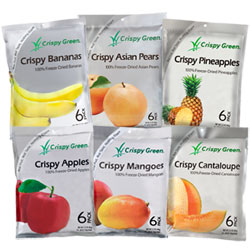 Crispy Fruit by Crispy Green® - Ideal Healthy Snacks For All That Is Fall:
Back To School, Fall Sports, and Halloween
It's back-to-school time and Halloween is coming. All great occasions should include healthy, easy-to-eat snack foods for both kids and adults. Crispy Green®, the maker of Crispy Fruit – "real fruit, real taste, nothing else" – offers several varieties of Crispy Fruit snacks, including the recently introduced Crispy Fruit Tangerine, plus Apples, Asian Pears, Bananas, Cantaloupe, Mangoes and Pineapples. Crispy Fruit comes in individual, single-serving packets that are easy to pop into lunch boxes, soccer bags, and overnight bags. They're perfect for busy parents, kids, and teachers alike. They also make for an ideal, healthy yet delicious, Halloween treat.
 
"Getting kids, and adults, to eat fresh fruit can be a challenge, especially when the whole family is on the go with school, after-school, and work activities," says Angela Liu, president and founder of Crispy Green. "Crispy Green products are perfect on-the-go healthy snacks, packed with the same nutrients and fiber found in fresh fruit, just conveniently 'crisped' and packaged for busy lives."
 
All Crispy Fruit are also available in a convenient "Grab & Go" 6-pack – six single-serving bags (MSRP: $7.99) or individual, single-serving bags (MSRP: $1.49 each) that provide approximately one serving of fruit and 55 calories or less per bag.
 
Crispy Fruit is available online and in retailers such as The Fresh Market, Harris Teeter, ShopRite, Giant Eagle Market District, Earth Fare, Martin's Food Markets, and selected Whole Foods markets. To find a retailer in your area that carries Crispy Fruit, go to www.crispygreen.com/where-to-buy.html. For more information, please visit www.crispygreen.com.
_____________________________________________________________                                                                                                                                     NEW SCREW TOP SQUEEZ'EM REUSABLE FOOD POUCHES, THE MUST HAVE BACK-TO-SCHOOL LUNCH BOX ACCESSORY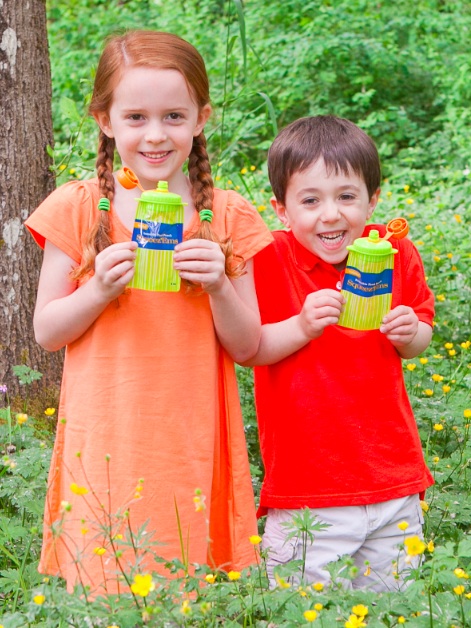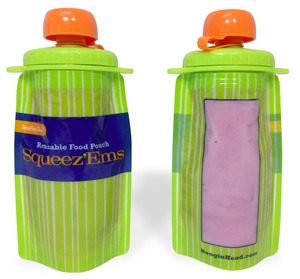 With Squeez'Ems, Kids Can Be Top Of The Class In Eating A Healthy Lunch By Bringing Their Favorite Blended or Smooth Foods Along To School In Their Lunch Boxes
Squeez'Em reusable food pouches are here to give kiddos an innovative (and fun!) way to bring their favorite healthy yogurts, apple or pear sauce and other puréed or blended foods along to school with them in their lunch boxes!  Parents who want to give their kids a healthy homemade lunch, kids with allergies and families who prioritize going green will love the new Screw Top Squeez'Ems!
With their wide opening, Squeez'Ems are easy to fill, clean, and store, and they are BPA, PVC, and Phthalate free. Because they are refillable and reusable, Squeez'Ems are an earth-friendly alternative to store-bought premade food pouches. This makes them perfect for families concerned about the environment! Also, Squeez'Ems are great for kids with allergies to store-bought foods, as parents can easily fill the reusable pouches with purées specific to their child's diet.
Many of today's premade puréed food pouches are actually less healthy than they seem, as they contain an abundance of preservatives and sugars. Because Squeez'Ems reusable food pouches can be filled with whatever the parents choose, they are a fantastic solution for those concerned over the nutrition content of premade store-bought food pouches!
Squeez'Em is comprised of just one piece to eliminate the worry over losing parts.  It features a new screw top lid that turns clockwise to prevent accidental opening. It guarantees a tighter, 100% leak-proof seal! Also, the pouch has an open window so that kids can view their fave purées inside. Both practical and cost-conscious at just $7.99 per duo-pack, Squeez'Ems are the ultimate must-have for the kids' lunch boxes this school year!
Plus, busy, on-the-go families will love the portability of Squeez'Ems.  It's a quick, easy way to give your kids a nutritional snack in between school and sports or other extra curricular activities!
For more info on Squeez'Ems, please visit www.booginhead.com.  Squeez'Ems are available at BabiesRUs stores and Amazon.com.         ______________________________________________________
Vintage Initial Necklace
This piece will be the prize of grandma's jewelry box! Features antique style charms with a floral motif in three different shapes. The back side can be personalized with the grandchild's initial. Made in the studio of fine (.999) silver and oxidized to accent the motif, as well as give it an antiqued look. Retails for $70.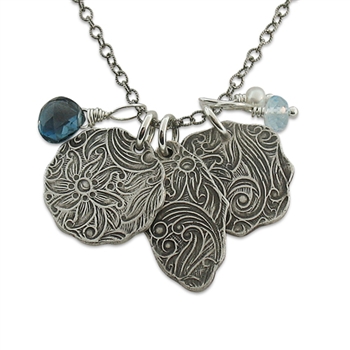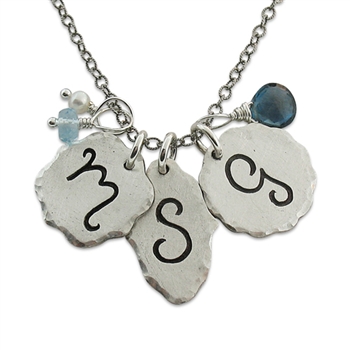 Vintage Initial Bracelet
This piece will make grandma smile with joy on Grandparents Day! It is the perfect compliment to the Vintage Initial Necklace. Features 3 antique style charms that each have a floral motif on one side and a grandchild's initial on the other side. Hung on a sterling silver oxidized textured bracelet. Retails for $125.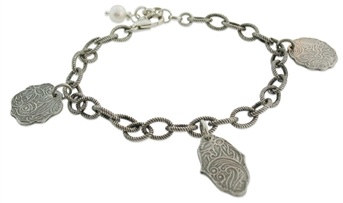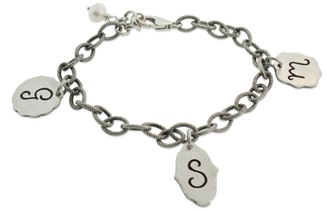 All the above Grandparents Day gifts celebrate grandma and show her how much you love and appreciate her and all she does. They are the perfect way for grandma to keep her beloved grandchildren close to her heart at all times.
 
Isabelle Grace Jewelry uses recycled metals for their designs, so their jewelry is both one-of-a-kind and eco-friendly. The sentimental pieces can accent any style, highlight any special moment, and commemorate any memorable event. All of the pieces are inspired by the most important things in life: family, love, and marriage. The line proudly accessorizes Hollywood's leading ladies, including Alyson Hannigan, Tia Mowry, Christina Milian, Ali Landry, Lindsay Price, Katherine Heigl, Nicole Sullivan, Tori Spelling, Alison Sweeney. For more info on Isabelle Grace Jewelry, please visit their website. You can also like them on Facebook and follow them on Twitter.    www.isabellegracejewelry.com  ______________________________________________________________
FUNNYBONE TOYS ANNOUNCE DISRUPTUS & ARRAZZLES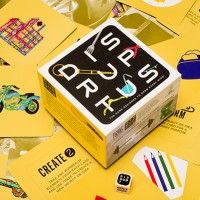 Funnybone Toys is pleased to announce that Disruptus & Arrazzles have been honored with a 2013 Academics' Choice Brain Toy Award, a prestigious seal of educational quality, reserved only for the best mind-building media and toys. The independent Academics' Choice Awards program and its seal of excellence are recognized worldwide by consumers and educational institutions as a mark of genuinely effective learning tools that stimulate the mind, and provide potential for the student to fully develop higher order thinking skills. 
 Disruptus & Arrazzles is a winner of the Academics' Choice Brain Toy Award in the toy category. The Academics' Choice Advisory Board consists of leading thinkers and graduates from Princeton, Harvard, George Washington University, and other reputable educational institutions. Product-appropriate volunteer reviewers, combined with the brainpower of the Board, determine the coveted winners.  Entries are judged by category (i.e. mobile app, toy, book, website, magazine, etc.), subject area, and grade level, and evaluated based on standardized criteria rooted in constructivist learning theory. The full list of winners is posted online at www.AcademicsChoice.com. 
---