TEEN TIMES by Cody Chandler Hilton
SBIFF FILM FESTIVAL NEWS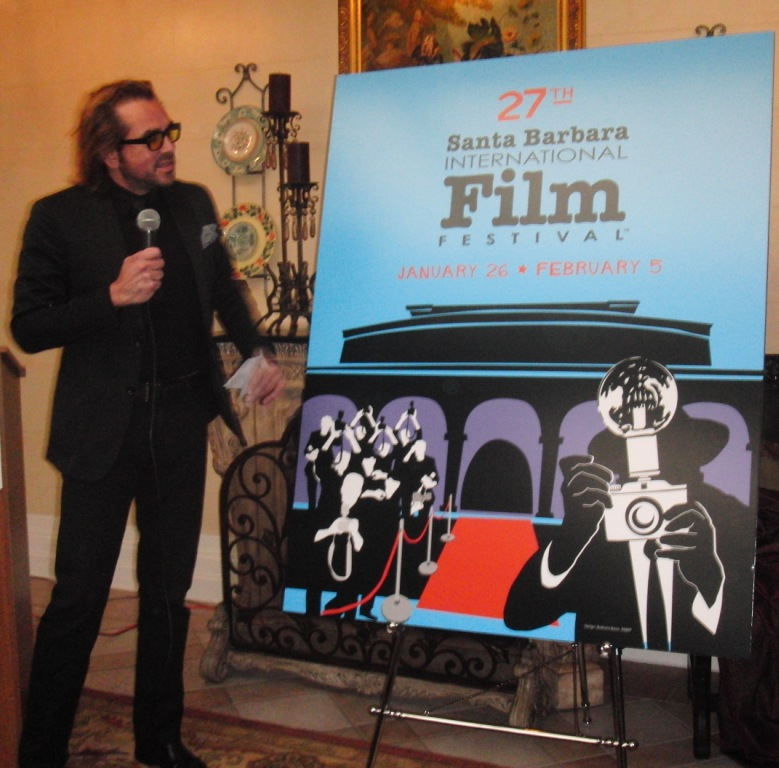 Roger Durling Displays Poster for 27th Annual Santa Barbara Film Festival.
10-10-10 Competition will included student work for consideration at the Festival and awards will be presented at a special event. Visit SBIFF.org for details.
SBIFF WELCOMED 21+ OSCAR NOMINEES TO THE 27TH FEST
 
 
Santa Barbara, CA -- The Santa Barbara International Film Festival, which began Thursday, January 26, welcomed 21+ Academy Award nominees.
 
SBIFF Executive Director Roger Durling, said "We're thrilled to pieces to have all of these nominees come to SBIFF. Congrats to all of them, and we're grateful to have them here."
 
Hugo emerged as the film with the most nominations, receiving 11 in all, including Best Director for American Riviera Award honoree Martin Scorsese, as well as Best Picture.
 
Receiving an astounding 10 nominations was The Artist, and Santa Barbara will have the honor of celebrating first time nominees Jean Dujardin and Berenice Bejo with the Cinema Vanguard Award. Director Michel Hazanavicius and producer Thomas Langmann will also attend the festival.
 
This year's Modern Master, Christopher Plummer, received his second Oscar nomination for his performance in Beginners, written and directed by Santa Barbara's own Mike Mills, who will present the festival's highest honor.
 
SBIFF's Outstanding Performer of the Year, Viola Davis also received her second Oscar nomination for her extraordinary performance in The Help.  Joining her that night will be her co-star and Oscar nominee for Best Supporting Actress, Octavia Spencer, along with writer/director Tate Taylor.
 
Receiving their first Academy Award nominations are Virtuosos Rooney Mara (The Girl With The Dragon Tattoo), Melissa McCarthy (Bridesmaids) andDemián Bichir (A Better Life), as well as director Gore Verbinski (Rango), who will screen Rango for Field Trip to the Movies.
 
Additional festival attendees/films that received nominations included:
 
The Artist
Hugo
Rango
The Help
Beginners
Pina 3D
Puss in Boots
Kung Fu Panda
La Luna, animated short film from Pixar
Joe Berlinger, whose documentary Paradise Lost 3: Purgatory got nominated, will be at the festival with his documentary Under African Skies.
 
The number of nominees attending SBIFF will continue to grow, as you can expect to see the following in SB for panels (soon to be announced), to name just a few:
 
Jim Rash (Descendants)
Jim Burke (Descendants)
Letty Aronson (Midnight in Paris)
Paul Feig (Bridesmaids)
Bill Pohlad (Tree of Life)
Mike De Luca (Moneyball)
Thomas Langmann (The Artist)
 
The Santa Barbara International Film Festival, presented by lynda.com,ends on Feb 5.  Please log onto www.sbiff.org.
 

---
---