KIDS KALEID0SCOPE  .   .   .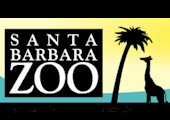 GROOVY ZOOFARI "SUMMER OF LOVE" TICKETS ON SALE FOR ZOO FUNDRAISER HELD AUGUST 25
 Fundraiser for the Zoo's Animals is Presented by Union Bank, Sixties Costumes or Safari Attire Encouraged Tickets $350; Available Online at www.sbzoo.org/zoofari Festive Annual Event Expected to Sell Out at 650+ Revelers  
When the moon is in the Seventh House, and Jupiter aligns with Mars, it is time for this year's Zoofari Ball. This annual fundraiser for the Santa Barbara Zoo is known for its inventive themes and this year's is a flashback to the Sixties. More than 625 revelers are expected to attend a groovy night under the stars on Saturday, August 26 from 5:30 to 11 p.m. 
Tickets for Zoofari Ball XXXIII: Summer of Love, presented by Union Bank, are on sale through August 17 and cost $350. For tickets, call (805) 962-5339 or visit www.sbzoo.org/zoofari to purchase online. Ages 21 and older only. This event is expected to sell-out. Guests are encouraged to dress in hippie or safari attire. They will make the scene on the Zoo's scenic hilltop, while bidding on far-out silent auction items.
The food and drink are mindblowing and include signature cocktails, fine wines, and outta sight cuisine from Rincon Events. Good vibrations roll when the Replicas fuel the flower power on the dance floor.  "Zoofari is now in its 33rd year, and has become the Zoo's biggest fundraiser of the year," says Zoo Director Nancy McToldridge. "People come back year after year because they know it is one of the best parties in town, and maybe anywhere. We're grateful to these 'party animals' who help support the Zoo's animals." 
Tickets are also on sale for a raffle to win an 8-night/9-day adventure for two from Costa Rica through the Panama Canal (or reverse). This trip includes one pre-cruise hotel night and seven nights aboard the all-inclusive, 62-passenger Safari Voyager in a Commander stateroom. Hiking, snorkeling, kayaking, paddle boarding, and exploring await, thanks to UnCruise Adventures and Robertson International Travel Consultants. Only 250 tickets are being sold, at $100 each at www.sbzoo.org/zoofari. Winner need not be present to win.  Zoofari Ball is designed by Behind the Scenes Event Design and is coordinated by Behind the Scene's Lisa Carter-Alford along with the Zoo's Nancy McToldridge and Taryn Choquette, and organized by a committee of community volunteers and Zoo staff. This year's honorary event chair is Kelly Jensen.  
The Silent Auction features trips, dining, jewelry, artwork, and special one-of-a-kind experiences including get-away trips to Mammoth, New Orleans, West Hollywood, Kauai, and Oahu; free weekend rental of a Tesla Model S or X; private charter for a party on Condor Express; private Australian-style barbecue for 24 guests at the Zoo's koala exhibit; sailing for six about private 32' sailboat; and much more. 

ZOOFARI BALL SPONSORS Title Sponsor:  Union Bank  Diamond:  Anonymous  The Crawford Family, The Dreier Family  Lady Leslie Ridley-Tree
Platinum: Bella Vista Designs, Inc. Belle, Daniel, Felix & Colette Cohen  Fantasy Settings, LLC, Mimi Michaelis, Santa Ynez Band of Chumash Indians, Ventura Volkswagen & Ventura Toyota. Gold: Frank Schipper Construction  Herbert & Bui Simon Foundation HUB International Insurance Services, Inc. The Hurst Family Hutton Parker Foundation The Krainer Family Montecito Bank & Trust Northern Trust Pacific Compensation Insurance Company Rudi Schulte Family Foundation Straus Foundation John C. Woodward. Silver: Jeff & Margo Baker Barbakow In memory of Polly Blackburn Mary Lou & William Brace Bright Events Rentals CSU Channel Islands Classic Party Rentals Cottage Children's Medical Center Justin Fareed & Family Gary Frolenko Engineering & Elissa   Rubin Patricia & Alan Griffin  Stina Hans & Joel Kreiner, John & Kielle Horton Kelly Jensen Gerd & Pete Jordano Kayne Anderson Rudnick Wealth Advisors Robin & Brian Kopeikin La Cumbre Animal Hospital – Beverly   Holmes, DVM & Eve Kuesis, DVM Elizabeth & Joseph MacPhee Katharine Mallin, Mosher Foundation – Yvette & Jeff Giller The Pryor Family in honor of Kelly   Jensen Salon Elite of Ventura Tolman & Wiker Insurance Services, LLC  Tri-County Produce – John Dixon  Vernon Construction Wells Fargo Private Bank Crystal & Cliff Wyatt  -   Premier Wine:  The Brander Vineyard - Premier Print:  Boone Graphics 
___________________________________________________________________
The Edible Academy Opens at The New York Botanical Garden
Marking a major expansion of its acclaimed garden-based education program, The New York Botanical Garden (NYBG) has opened a new $28 million
Edible Academy
. The indoor-outdoor campus, designed by the distinguished architecture firm Cooper Robertson, is at the cutting edge of sustainable technology and will allow NYBG's edible gardening program for children, families, teachers, and the general public to double its capacity to 100,000 people annually and operate year-round.
For visitors to New York City, NYBG's Edible Academy is just 20 minutes from Midtown and opens up a new range of summer and year-round workshops, camps and courses that will add an experiential, learning vacation component to urban adventures. For visiting families, a day trip or week-long camp program offers kids of all ages the chance to experience hands-on gardening activities and attend camps in summer that are focused on art, sustainability and culinary themes at one of New York City's greatest cultural treasures. Activities include:
Hands-On Gardening Activities in the Edible Academy
Children are invited to roll up their sleeves and help tend the gardens in the Edible Academy. Dig in the soil, sow seeds, water the seedlings, and harvest ripe produce. Each season offers new themes to investigate through hands-on activities and take-home projects. Tuesdays–Sundays and Monday holidays through November 4, 2018. For hours, visit
nybg.org/families
Seasonal Programs at the Edible Academy
Pickle Me!: July 17–August 10

Pollinator Pals: August 14–September 9

Three Sisters: Corn, Beans, Squash: September 11–October 5

Goodnight, Garden: October 9–November 4
Family Weekend Series in August and October
Totally Tomatoes: August 11–12

Harvest Weekend: October 6–8
Edible Academy Fresh from the Garden Tastings
Wednesdays, Saturdays & Sundays; through November 4, 2018

2–2:30 p.m., 4–4:30 p.m.

Cooking demonstrations, presented by Whole Foods Market®, encourage families to get hands-on with healthy cooking. New recipes featuring plants grown in the Edible Academy are offered each week. Edible Academy staff will demonstrate family-friendly recipes using seasonal vegetables, fruits, and herbs. Kids and adults alike will learn how garden-to-table cooking is not only nutritious, but fun, too.
The Edible Academy, with the existing Ruth Rea Howell Family Garden as its centerpiece, features a 5,300-square-foot classroom building with a demonstration kitchen and a high-tech classroom; a teaching greenhouse; two outdoor pavilions for programs, including one at treetop level offering a vista of the Garden's old-growth forest and the Bronx River; a tiered lawn amphitheater designed to seat 350; and spacious gardens where children, educators, and other visitors will learn about plants and grow and harvest their own produce.
___________________________________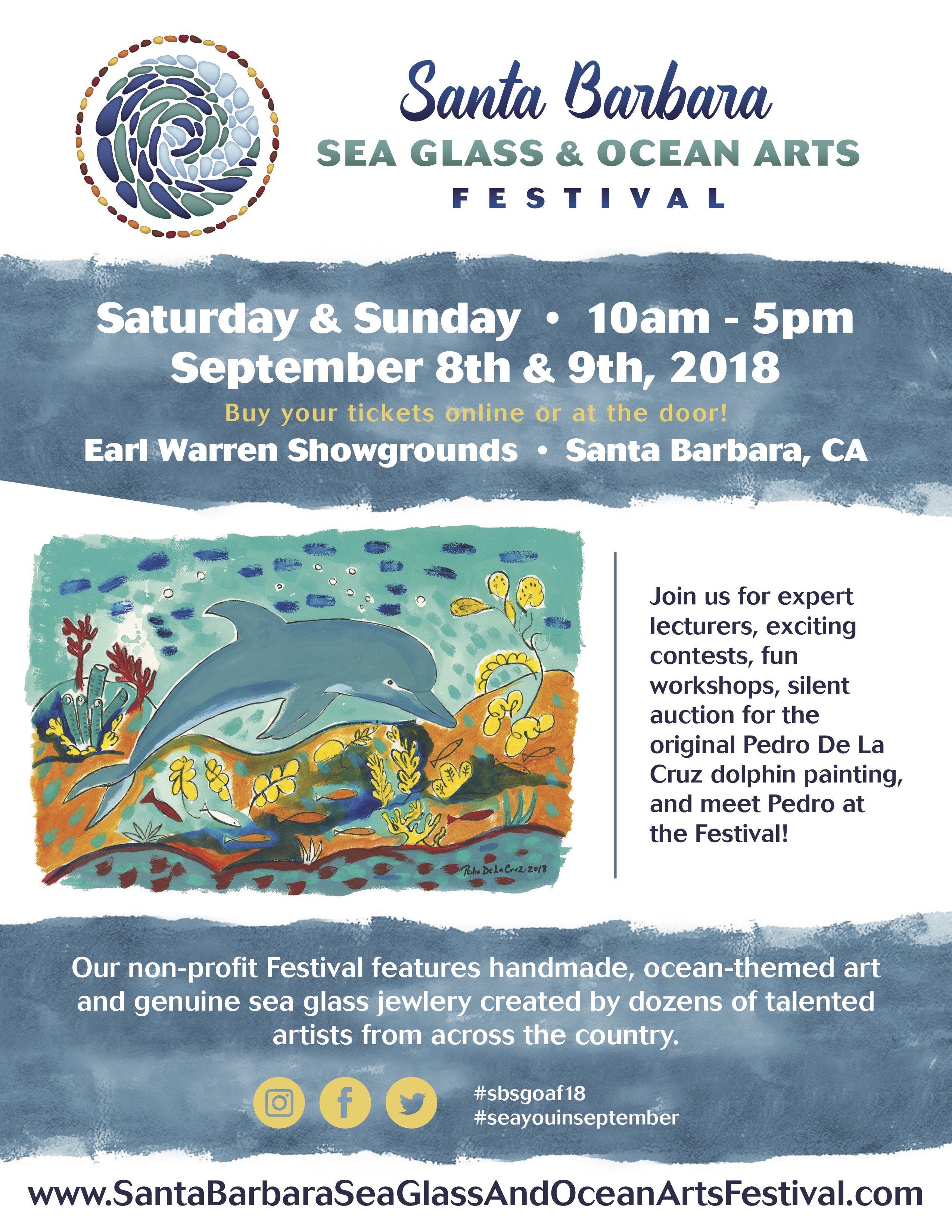 4th Annual Santa Barbara Sea Glass &
Ocean Arts Festival Returns!
Elizabeth Roberts Selected as Featured Artist - September 8-9, 2018
Tickets to the festival start at $5 for Sunday admission, $7 for Saturday admission, $10 for a 2-day pass and $15 for Saturday Early Bird admission. They are available for purchase at the door or online here. Parking at the venue is a $5 charge, cash only. For additional information, please visit the Santa Barbara Sea Glass & Ocean Arts Festival website here.
__________________________________________________________________
---