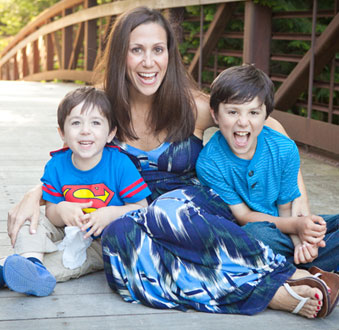 SHARE THE FLAVORS OF THE HOLIDAYS WITH YOUR KIDSBooginhead's Sari Davidson-Crevin Shares
Kid Friendly Holiday Smoothie Recipes
On-the-go parents are constantly seeking ways to provide healthy portable snacks for their kids.  Booginhead's founder, Sari Davidson-Crevin has come up with some easy healthy holiday snacks for toddlers and kids that are perfect to serve in Squeez'Ems reusable food pouches.  So get your family & kiddos into the holiday spirit with these yummy, festive smoothies!

Gingerbread Smoothie Recipe
Serves: 2
Ingredients
1 cup almond milk
 2 frozen bananas, peeled, sliced and thawed slightly
1 and 1/2 teaspoon fresh, grated ginger
1/2 teaspoon ground cinnamon
 1/2 teaspoon ground nutmeg
1 teaspoon molasses
1 teaspoon vanilla

Instructions:
Start by adding the liquid to your blender, followed by the soft fruit. Add the greens to your blender last. Blend on high for 30 seconds or until the smoothie is creamy.

Peppermint Patty Green Smoothie
Serves: 2
Ingredients
 3/4 cup almond milk
1 cup spinach, about 1 handful
1 frozen banana
2 tbsp fresh mint leaves, stems removed or 1/8 tsp peppermint extract
1/4 tsp vanilla extract
1 heaping tbsp chocolate chips

Instructions:
Place all the ingredients, except chocolate chips into your blender
Start on low speed, and increase to high
Blend until smooth, about 1 min
Then add the chocolate chips and blend for a few seconds. Just long enough to break them down into smaller pieces.
Enjoy!
Pumpkin Smoothie
Serves: 2
Ingredients
 
 1 Cup Pumpkin Puree
   1 Cup Milk
 1 Banana, sliced
 2 tbsp Brown Sugar
 ¼  tsp Ground Cinnamon  ¼ tsp Vanilla Extract
 
Instructions:
Spoon pumpkin puree into a re-sealable bag and freeze, 8 hours to overnight.
Remove pumpkin from freezer and allow to soften at room temperature, 5 – 10 minutes
Pour milk into blender, add pumpkin, banana, brown sugar, cinnamon and vanilla extract. 
Blend until smooth, about 3 minutes

Shown below: Squeez' Ems 2-Pack Reusable Food Pouch ($7.99)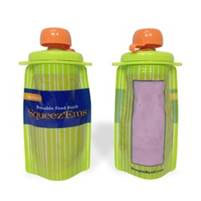 ______________________________________________________________
HEALTHY SNACKS FOR KIDS ON THE ROAD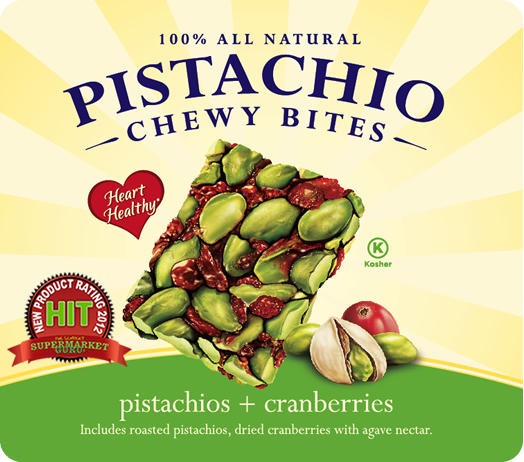 Stressing out over staying healthy while traveling is never a fun way to spend the holiday season.  Pistachio Chewy Bites can help put your mind at ease by offering a nutritious and convenient on-the-go healthy snack option.  Stash Pistachio Chewy bites in your pocket, purse or travel bag and you won't be left wondering how to stay energized and satisfied while heading to your next destination.  
Vegan celebrity chefs and cookbook authors, Jenny Engel and Heather Goldberg of Spork Foods travel non-stop to trade shows, cooking demonstrations and client events.  The cooking duo brings Pistachio Chewy Bites on all of their trips.  "We love carrying Pistachio Chewy Bites with us at all times in case we need a healthy snack on the go! They're made with real, all natural whole ingredients and most importantly taste delicious."-Jenny Engel and Heather Goldberg – http://www.sporkfoods.com  
There is no reason to be subject to gas station or airport junk food.  Just grab a bag of Pistachio Chewy Bites on the way out the door and you will be taking the first step towards staying healthy throughout the holiday travel season. 
About Setton Farms Pistachio Chewy Bites
With three main ingredients, Pistachio Chewy Bites provide healthy snack lovers the amazing benefits of pistachios, cranberries and agave nectar in a delicious and nutritious bite-size bar.  Pistachio Chewy Bites are heart-healthy, 100% all natural, gluten and dairy free, low in sodium, GMO free, vegan and a great on-the-go protein snack.  They also have no cholesterol, zero trans-fat and are a good source of dietary fiber. http://www.PistachioChewyBites.com 
Pricing: 6-Pack $5.99 and 16-Pack $12.99
_________________________________________________________________
Children's Museum of Manhattan's "The Grinch's Holiday Workshop" Open Thru December 31st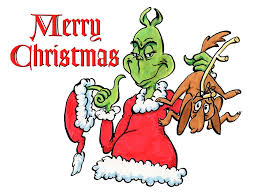 "The Grinch's Holiday Workshop" Features an Indoor "Ice" Skating Rink 
New Interactive Exhibit Immerses Children in the World of Dr. Seuss' Classic Holiday Tale 
Cindy-Lou Who, the lovable dog Max, the "Mean One" himself, The Grinch, and the rest of the residents of Who-ville will come to life at the Children's Museum of Manhattan (CMOM) in the new interactive experience The Grinch's Holiday Workshop which runs from October 25 through December 31. CMOM is located at 212 West 83rd Street (between Broadway and Amsterdam Avenue), New York, NY. 
Based on Dr. Seuss' How the Grinch Stole Christmas!, visitors will be transported into the story of how a grumpy Grinch, determined to ruin Christmas for the town of Who-ville, learns that generosity and the holiday spirit are not tied to gifts. With gallery walls draped in scenes from the book, including Cindy-Lou at the Who-ville holiday feast where the transformed Grinch carves the "roast beast," the interactive exhibit is a great and fun way to promote creativity, a love of reading and draw upon the lessons learned by the Grinch. 
New to The Grinch's Holiday Workshop this year is a special indoor "ice" skating rink where kids can take off their shoes and "skate" in their socks. The synthetic ice rink is safe, fun and provides thrills without any chills. 
The Grinch's Holiday Workshop features daily and weekly programming. For more information and details regarding all of CMOM's programs and initiatives, please visitwww.cmom.org. 
 WHAT:     The Grinch's Holiday Workshop
 WHEN:     October 25 through December
 WHERE:   Children's Museum of Manhatta
  The Tisch Building
212 W 83rd Street
(between Broadway and Amsterdam Ave)
New York, NY 10024 
ADMISSION:   Children and Adults:
Seniors: $7
Directions: To get to CMOM take the 1 train to 79th or 86th St. Station, the 2 or 3 Express to 72nd or 96th St. Station, then transfer to the 1 train,  the A, B, C, or D train to the 59th St. Station, then transfer to the 1 train or the B or C train to 81st St. Station. Or take the West Side M7, M10, M11, or M104 to West 83rd St or the cross-town M79 and M86 to Broadway.
---