TEEN TIMES by Cody Hilton
MUSIC CENTER HONORS TALENTED TEEN ARTISTS AT 24th ANNUAL SPOTLIGHT AWARDS

First Place and Runner-up Awards Named

The Music Center celebrated 12 performing artists
and four visual artists at the 24th Annual Music Center Spotlight Awards during
a finale performance hosted by Tony Award-winner Ben Vereen at the Music
Center's Dorothy Chandler Pavilion on Saturday, April 28, 2012.

The event was the culmination of the year-long program, during which over 2,300
high school students participated. More than $100,000 in cash scholarships was
awarded to participants, with $5,000 for students receiving first place and
$4,000 for the runners-up in each category. "We are so proud of the remarkable
passion, talent, and achievement of these students," said Mark Slavkin, Music
Center Vice President for Education.  "We have been so honored to work with
these young artists in Spotlight and know they are destined to make major
contributions to the world of the arts," added Jeri Gaile, Director of the
Spotlight program.

Performing arts and visual arts finalists receiving first place and runner-up
awards included:

Non-Classical Voice:  First place was Elizabeth Romero, 17, a senior at
Huntington Beach High School's Academy for the Performing Arts, and runner-up
was Mason Alexander Park, 16, a junior at Ramón C. Cortines High School of
Visual and Performing Arts.

Non-Classical Dance:  First place was Cammi Nevarez, 17, a senior at Southern
California Online Academy, and runner-up was Sam Cantoria, 16, a junior at John
F. Kennedy Middle College High School.

Classical Voice:  First place was April Cho, 16, a junior at Marlborough School,
and runner-up was Justin Lewis, 17, a senior at Los Angeles County High School
for the Arts.

Ballet:  First place was Tyler Donatelli, 15, a freshman at Huntington Beach
High School, and runner-up was Tiana Lovett, 15, a freshman at Julian Charter
School.

Jazz Instrumental: First place was Jeremy Corren, 17, a junior at Los Angeles
County High School for the Arts, and runner-up was Jacob Shulman, 17, a senior
at Los Angeles County High School for the Arts.

Classical Instrumental:  First place was Phoebe Pan, 14, a freshman at Pacific
Academy, and runner-up was Jessie Chen, 17, a senior at Palos Verdes Peninsula
High School.

Photography:  First place was Sophie Levine, 14, a freshman at Crossroads School
for Arts and Sciences, and runner-up was Shelby Anne Burney, 17, a senior at Los
Alamitos High School.

Two-Dimensional Art:  First place was Brian Wang, 18, a senior at John F.
Kennedy High School, and runner-up was Youngeun Oh, 18, a senior at New Open
World Academy.

The evening's performances were judged by an esteemed panel of performing arts
celebrity judges including:  1) For non-classical voice:  Casting Director for
Center Theatre Group, Mark Simon; Tony Award-winner Award, Marissa Jaret
Winokur; and two-time Obie Award winner, Charlayne Woodard; 2) For classical
voice:  Metropolitan Opera and LA Opera tenor Greg Fedderly; Celebrated
soprano/mezzo soprano Juliana Gondek; and head coach for LA Opera's 
Domingo-Thornton Young Artist Program Joshua Winograde; 3) For non-classical
dance:  Emmy-winning choreographer Daniel Ezralow; Founder and artistic director
of Diavolo Dance Theater, Jacques Heim; and pioneer in reality television and
executive producer of American Idol and So You Think You Can Dance, Nigel
Lythgoe; 4) For ballet:  Former principal dancer with Joffrey Ballet, Jodie
Gates; artistic director of Ballet West, Adam Sklute; and artistic director of
Houston Ballet, Stanton Welch;  5) For jazz instrumental:  Winner of BMI Classic
Theme Composer and former music director of The Tonight Show band, Kevin
Eubanks; multi-Grammy winning producer Gregg Field; and professor of music in
the Thornton School of Music at USC, Ronald McCurdy; and 6) For classical
instrumental:  pianist, harpsichordist and conductor Lucinda Carver; Dean of
USC's Thornton School of Music Robert Cutietta; and former Pasadena Pops music
director, conductor Rachael Worby.

All finalists had the opportunity to work directly with renowned artists and
arts professionals who provided insights on technique, training and professional
life. This element of the Spotlight program is designed specifically to help
participating students better prepare for future opportunities in the arts.

The Music Center's Spotlight program is one of the nation's most acclaimed
performing and visual arts education programs for teens.  The program has
launched numerous professional careers. Fourteen finalists are Presidential
Scholars, and many have joined or performed with professional companies,
including the Metropolitan Opera, Alvin Ailey American Dance Theater, American
Ballet Theatre, Boston Symphony Orchestra and the New York Philharmonic. Many
alumni return to the program and participate as judges and master class
instructors. Fredric M. Roberts is founding chairman of the Music Center
Spotlight Awards and Walter Grauman is creator/executive producer.

The Music Center Spotlight Awards is supported by Bank of America, Helen and
Peter Bing and the Music Center's Fraternity of Friends, a volunteer membership
organization comprised of prominent Los Angeles businessmen and entertainment
industry professionals who support the Music Center.

As one of the top performing arts centers in the world, the Music Center is
committed to strengthening community through the arts.  Set in the heart of Los
Angeles' downtown cultural district and home to four internationally renowned
resident companies – LA Phil, Centre  Theatre Group, LA Opera and Los Angeles
Master Chorale – and the celebrated Glorya Kaufman Presents Dance at the Music
Center, the Music Center offers the most compelling, highest quality
engagements.  In its effort to extend the reach and accessibility of the
performing arts, the Music Center is a national model for experiences in which
people participate directly through its Active Arts® at the Music Center.  As
well, the Music Center presents special productions, events and festivals for
children and families, including World City at the Music Center, and plays a
leadership role in advocating for and directly providing arts education in
schools throughout the County.  The Music Center boasts four venues -- the
Dorothy Chandler Pavilion, Ahmanson Theatre, Mark Taper Forum and Walt Disney
Concert Hall -- as well as a vibrant collection of outdoor theatres, plazas and
gardens.
For more information about the Music Center Spotlight Awards, visit
musiccenter.org.
__________________________________________________________
KIDS 8-14 PERFORMERS CAMP
"Showtime Summer Camp"
Unitarian Society of Santa Barbara
1535 Santa Barbara St., SB CA 93101 M-F July 16 - 27 9-AM to 12PM
COST: $450 Limited scholarships available
INFO: Register online www.sbchildrenschorus.com (805)512-9840
ABOUT the Camp: Join the Choir Camp where kids sing, dance and perform each day. Camp will have a music instructor – Erin Bonski Evans - and a choreographer – Liam Burke. Your kids will have a lot of fun while they learn songs and gain important skills as they learn how to properly use their voices. Session culminates with a performance parents are invited to attend. This camp is something to sing about!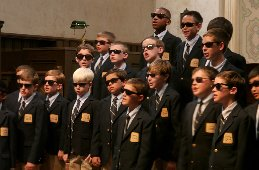 Boys Chorus Members at a recent performance in Santa Barbara
ABOUT SBCC:  Santa Barbara Children's Chorus is a county-wide, non-denominational music education and performing organization for children ages 8-14. We provide children of the community with the opportunity for musical training and performing in a fun and challenging environment. Founded in 1993, SBCC will be here for years to come to serve your children. With the continuing decline in funding for school-based music programs, especially in the elementary and secondary school levels, SBCC is dedicated to filling a vital gap in bringing the benefits of music and vocal performance to children. www.sbchildrenschorus.com.
---