KIDS K PAGE   .   .   .
SEAPER POWERS BOOKS & TOY
By Kim Cameron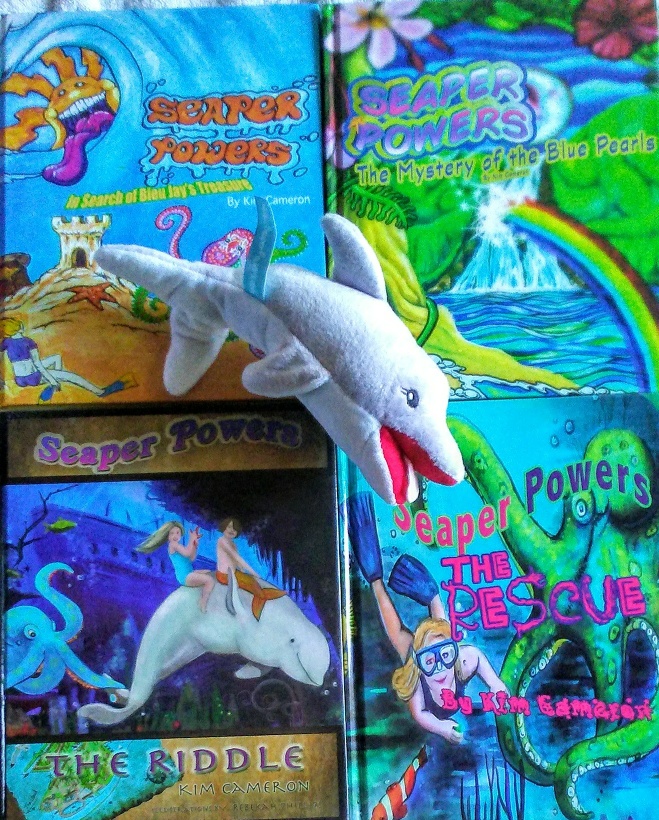 Enjoy these magical children's books about the mysteries of the sea. Kim has published four so far; The Riddle, The Rescue, The Search of Blue Jay's Treasure and The Mystery of the Blue Pearls. Your kids will love these fun books with darling illustrations, and the stuffed animal shark is cuddly will make a favorite friend during bedtime reading. Visit: www.seaperpowers.com.
____________________________________________________________________
A new single by Latin GRAMMY-winning 123 Andrés and Juan Miguel
Ven Conmigo a Jugar
Just in time to celebrate the FIFA Russia World Cup 2018, the renowned children's music rockstar 123 Andrés teams up with Venezuelan pop sensation Juan Miguel in Ven Conmigo a Jugar, an explosive new song that brings out all the joy of this tournament and gives voice to the hopes and dreams of kids in barrios, communities and towns all over the world.
123 Andrés is a Colombian-born, US-based singer who is devoted to creating music for children. He boasts numerous awards, including a 2016 Latin Grammy win for "Best Children's Album." 123 Andrés tours the US and Latin America performing in Spanish and English for family audiences while advocating for early literacy and bilingualism.
Ven Conmigo a Jugar is the first single from Actívate, which will be 123 Andrés' fourth album. Just like his previous albums, each song on Actívate showcases a different genre, representing a diversity of countries in Latin America. The album will have an impressive guest list from the Spanish-speaking pop world. The upbeat and joyful songs will have families singing, dancing and - most important - being active together.
For this first single, 123 Andrés says he was inspired by watching kids play street soccer, pretending to be soccer stars. "I've had the opportunity to travel from DC to LA, from Chicago to Colombia, and everywhere I go, I see kids – boys and girls – strike up soccer games in parks, fields and streets. It's amazing to watch!" he said. "This is the best part of the World Cup, seeing how kids get inspired to follow their favorite players, and play out their own 'championships' with their friends in their community."  
Ven Conmigo a Jugar is on it's way to becoming an anthem for this World Cup, with it's tropical fusion that brings together the Colombian Champeta, Brazilian Samba, Caribbean rhythms and urban beats. Juan Miguel, who's been hitting the Number 1 spot on the charts in Venezuela, brings top-notch vocals. The song blends in realistic sports commentary by two iconic sports anchors from Latin America – Fernando Petrocelli from DIRECTV Sports and Antonio Casale from RCN Colombia – helping capture the suspense and tension of a soccer match. It wouldn't be complete without kids' voices, and the song features a Venezuela-based choir composed of children with disabilities, called "El Alma No Tiene Discapacidad" ("The Soul Has No Disability"). The production and technical team is top-notch, led by Latin Grammy winners Raniero Palm as producer, Pablo Governatori as mixing engineer and Felipe Tichauer as mastering engineer.
The video conveys all of the song's passion. Made by Trini Producciones and shot in two contrasting locations – a rural area filled with sandy landscapes in San Bernardo del Viento in Córdoba, Colombia, and the gritty San Agustín barrio, in Caracas, Venezuela. It was directed by French, a leading film director in Colombia, and Wil Romero, the foremost Venezuelan music video director.
This beautiful production is available at 123 Andrés' YouTube channel.
---