Kids Kaleidoscope
GREAT NEW SITE FOR KIDS WHO TRAVEL
www.littlepassports.com
KID FOOD NEWS . . . 
RUBY'S ROCKETS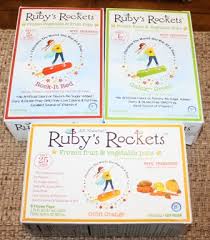 We did a test run of these frozen bars for summer and we
all loved them. If you are vegetarian and healthy, want
your kids to have healthy snacks then you will all love
Ruby's Rockets in three flavors: Rocket Red, Galaxy Orange
And Orbit Green. They are a mixture of delicious fresh
Fruit and give kids the joy of a healthy pop for summer
enjoyment. For details and where to buy visit:
www.rubyrockets.com.
 The Company
Company on a mission. According to the founders they created
Rubyís Naturals to bring children delicious, healthy,
 fun snacks we not only want them to eat, but they love to eat as well.
We are passionate about organic, non-GMO,
 real food, made with ingredients you can pronounce. Clean food that
tastes as good as it is good for you. Itís that simple.
 No chemicals, sweeteners, or artificial anything. Thatís what we believe
all of our children deserve and weíre committed
to bring it to them. Best of all, kids arenít the only ones who love them.
 Parents do too.
---