Teen Times by Cody Hilton
Family Film To Enjoy
Oz the Great and Powerful is a 2013 American fantasy adventure film directed by Sam Raimi, produced by Joe Roth, and written by David Lindsay-Abaire and Mitchell Kapner. Screenplay by Mitchell Kapner & David Lindsay-Abaire. Adapted from the Wizard of Oz, and released in the US on March 8th.
Cast: James Franco as Oz, Mila Kunis as Theodora, Michelle Williams as Glinda the Good Witch, and Rachel Weisz as Evanora.
We all loved this film about Oscar Diggs, who is a rather dishonest magician that goes from Kansas to the brilliant Land of Oz, where he believes he can attain success and fame easily, but then he meets three wiches named Theodora, Evanora and Glinda who see through him. He struggles figuring out who the good and eveil characters are on time to help. Oscar uses his illusion to transform himself into the Wizard of Oz but remains the same old Oscar.
___________________________________________________________________
Kids Kaleidoscope
PANERA BREAD PARTICIPATES IN SANTA BARBARA FOODBANK'S "GROW YOUR OWN WAY" PROGRAM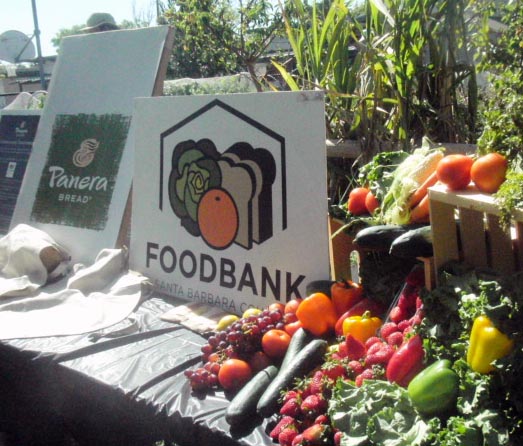 Second and third grade students from Isla Vista Elementary School, along with representatives from Panera Bread, First Pick Management and Foodbank of Santa Barbara County participated in a ceremonial seed-planting event at the Isla Vista elementary school garden today. They were joined by Keyshawn Johnson, NFL Super Bowl champion, who is a member of First Picks Management team, along with his friend Anthony Henry, Dallas Cowboy great. A bevy of area Panera Bread store managers and Isla Vista school staff helped the children with aprons and garden gloves.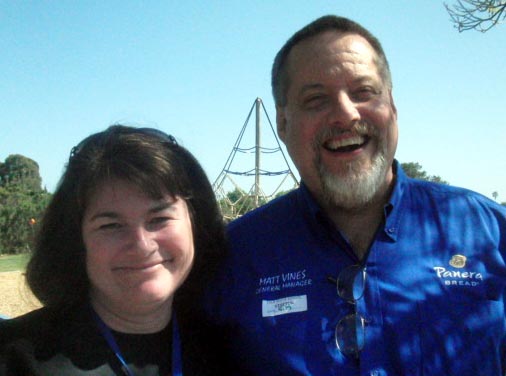 Mary Kahn, principal of Isla Vista elementary school and Oscar Carmona of the Foodbank of Santa Barbara County expressed their appreciation for the support being given to the program by Panera Bread. "It's necessary for our kids to learn about the importance of fresh and nutritious food early on," said Principal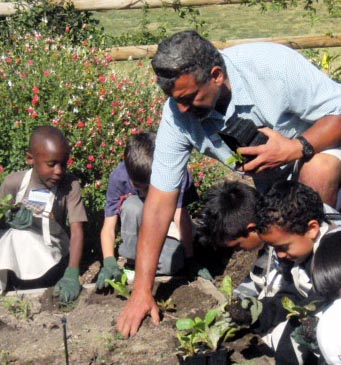 Kahn. The financial support and coffee grounds Panera is donating will help us encourage and inspire even more people to grow food at home, which will help augment the amount of food the Foodbank distributes annually," said Oscar Carmona. Matt Vine, General Manager of the second Santa Barbara Panera bakery café scheduled to open at 700 State Street later this month, said that all the members of the Panera family are happy to be working in the Santa Barbara community, "we appreciate the loyal patrons we have garnered since our La Cumbre location opened," said Vine.  The Panera Bread Company began in St. Louis, Missouri and today owns 1,625 franchises throughout the United States and Canada.
It was obvious the two football greats, who are board members of First Pick Management, Keyshawn Johnson and Anthony Henry loved helping the kids with their planting. Keyshawn gave a short talk before the planting to explain to the children how important good food is, and how much fun a home garden can be.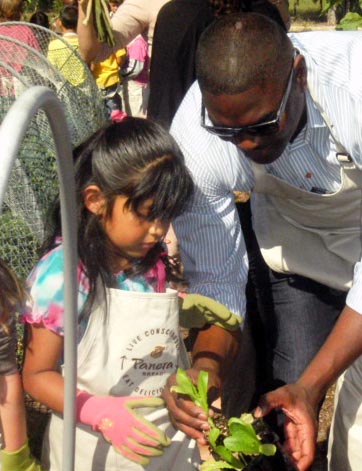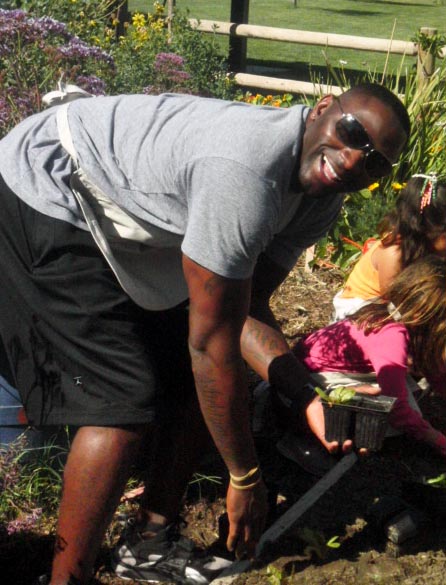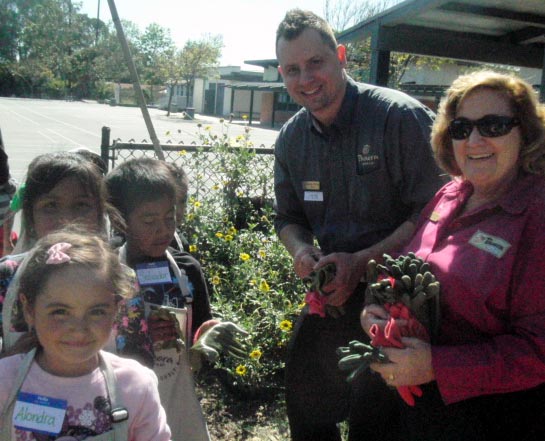 Santa Barbara County Foodbank celebrates 30 years of eliminating hunger and food insecurity by distributing nutritious food, education and resources through its 300 member non-profit agencies. For additional information visit: www.foodbanksbc.org.
____________________________________________________________________
---