TEEN TIMES  with Cody Hilton
Tips for Preparing Teen
For Overseas Travel This Summer
 
A company that for over 30 years has delivered meaningful international travel experiences for teens offers tips for families sending their children internationally this summer.
 

"Health precautions, securing documents, packing and communications are at the top of every traveler's list. There are so many things parents can do in advance of a trip to help things go smoothly," says Scott von Eschen, President of Adventures Cross-Country (ARCC -http://www.adventurescrosscountry.com/).
 
Since 1983 Adventures Cross-Country has provided domestic and international cultural experiences through travel that combine service projects, adventure and sometimes language immersion for students ages 13 to 19. 
 
The seasoned professionals at ARCC have combined the best tips and precautions they've given parents and teens over the past 30 years and offer this sage advice for the international traveler:
 
Documents:
Keep all important documents (passports, plane tickets, emergency contacts, etc.) organized together in a sealable plastic pouch.  Always know where this pouch is and, if possible, keep it with you at all times.
Make sure the Passport is valid for 6 months after the return date to the United States.  Countries have become increasingly focused on this requirement in recent years.
Make 2 color copies of the passport. Keep one copy at home and keep the other in a bag separate from the passport.  These copies will be invaluable for getting a replacement if the passport is lost or stolen.
Confirm if the country your child is visiting requires a Visa for U.S. citizens.  In some instances (ex. Cambodia and Egypt) you can easily get a visa at the airport when you arrive at your destination.  In others, (ex. China and Vietnam) you will need to get a visa from the nation's Consulate in the U.S. in advance of departure.  Sometimes this process takes weeks.
If your child has a serious allergy, carry an explanation of the allergy and warning in the country's language so restaurants, first responders, etc. can be informed. Select Wisely (www.selectwisely.com) is a service that prints such warnings on cards in multiple languages.
 Health Precautions:
Visit the CDC for health information on your child's international destination (http://wwwnc.cdc.gov/travel/destinations/list).  Be especially aware of any immunizations required for entry into a country and for current outbreaks (e.g. Yellow Fever card is required to enter Tanzania).  Be sure to do this well in advance of travel as some immunizations require a waiting period before they are active.
Pack a mini-medical kit with Band-Aids, ibuprofen, motion sickness meds, "traveler's stomach" remedies, electrolyte powders, etc. (consult your doctor for additional advice on what to pack).
Send your child with prescription medications and back-up prescriptions packed in a separate bag.  This is particularly important when travel is in remote locations.
Educate your child about international water and food safety. Remind that brushing teeth with tap water, drinks with ice (smoothies are notorious) and eating uncooked foods (salads) can lead to an upset stomach.
Clothing and Equipment:
Encourage culturally sensitive and appropriate dress. For example, short shorts and tank tops don't travel well in most developing countries.
Leave expensive and coveted items at home. Keep a low profile and don't be the traveler that thieves want to target.
Confirm which plugs and adapters you will need for any electronics you will be carrying.  U.S. style plugs generally will not work in most countries.
Do a "practice pack" to make sure everything can fit in your bag. No need for panic on the eve of departure.
Communication:
Confirm that a cell phone will work in the country where your child is traveling.  Will they need to purchase a SIM card for their U.S. phone to work when they arrive or is it better to buy an inexpensive local phone?
Turn off cell phone automatic roaming and data downloads to avoid excessive international charges.
Set up a communication schedule with your child. When and how often should you expect to hear from your traveler?  Will it be on the internet or phone?
Print up a list of emergency phone numbers for your child.  The list should show how to reach these numbers from outside of the United States (i.e. country code, etc.).
General Preparation:
Register your child's itinerary with the U.S. State Department's "Step Program".  This alerts the local U.S. Embassy to the in-country presence of your child in the event of emergency. (https://step.state.gov/step/)
Open up a bank account attached to an ATM or sign up for a pre-paid debit card (such as Visa Buxx) that can be used internationally.  ATM machines are almost everywhere these days and provide a safe and easy way to exchange U.S. dollars into local currency.  This system precludes the need to carry large amounts of cash.
Pack separately a small amount of emergency cash at the bottom of your main luggage "just in case".
Confirm flight times and travel days.  Every year ARCC has a handful of students who mistakenly made flight reservations for one day before or one day after the trip begins.
Adventures Cross-Country advocates meaningful travel as the best way to inspire teens to become Global Citizens. "I am extremely proud of the lasting impact that ARCC students have had on people, on communities and on the environment around the world," reflects von Eschen. "Many of their travel experiences are life-changing as students learn to be contributing members of our global community."
 
Adventures Cross-Country's 50-page catalog details Community Service, Language Immersion and Multi-Sport programs in 21 countries on six continents for youth seeking a summer service learning experience, all while exploring cultures and communities off the beaten path. The full catalog in a digital version can also be viewed online: click here. To order a copy or to speak to a representative, call (415) 332-5075 or visit online: http://www.adventurescrosscountry.com/
 

About Adventures Cross-Country (ARCC)
Founded in 1983, ARCC has become a leading provider of Community Service, Service Learning and Adventure Travel programs for youth ages 13 to 19. For over 30 years ARCC has been offering life-changing experiences to students who participate in two- to four-week small group programs that visit 21 countries on six continents. From teaching primary school English and building water purification projects in Africa to running whitewater rapids in Costa Rica to enhancing fluency in Spanish or Mandarin in Spain or China, ARCC brings youth face to face with the challenges, realities and beauties of nature and our global community. For post-high school students ARCC operates Gap Programs in Africa, Asia and Latin America. These offer an educational and cultural bridge between high school and college combining a rich academic curriculum with the experiential benefits of international travel.
___________________________________________________________________
CHEF AT 15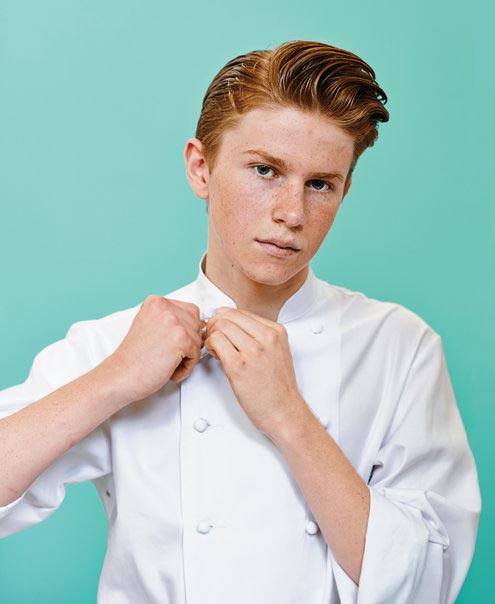 One weekend in February, in the kitschy, barnlike house he shares with his mother and grandmother in the San Fernando Valley, Flynn McGarry was preparing an eight-course tasting menu for 15 guests. The McGarrys' living room, which is dominated by a gigantic brick fireplace, had been cleared to make room for four tables draped with white tablecloths that his mom, Meg, steamed and pressed before moving on to the silver. "We're having a 'Downton Abbey' moment here," she said.
McGarry, who turned 15 in November, has been hosting his supper club — which he calls Eureka, after the street where he used to live — since he was 11˝. Cooking what he calls "progressive American cuisine" is a time-consuming endeavor, and the $160-a-head tasting menus can take somewhere on the order of eight days to prepare. By noon on Saturday, McGarry had finished making the ember-roasted carrot gelée to go with the smoked egg yolk that would be served alongside compressed mango, pickled mustard seeds and coffee-pickled carrots. The beets for the beet Wellington, a dish inspired by a photo of rare beef Wellington that he saw on Instagram, sat in the smoker; they had already been roasted over wood chips and steamed. The beets would eventually be swathed in a mushroom duxelle, dotted with beet greens, enveloped in puff pastry and accompanied on the plate by a smear of creamed sorrel, a beet bordelaise sauce made with reduced ember-roasted beet juice and a single smoked, glazed date.
On Sunday, Huy Nguyen, the 36-year-old executive sous chef at Faith & Flower, a new restaurant in downtown Los Angeles, and Josh Graves, its 27-year-old pastry chef, arrived to help out in the kitchen. Nguyen made the kale purée for the abalone, or sea snail, course, while Graves made rolls and sliced mangoes. At one point, McGarry entered the kitchen with a tray of flowers and herbs from his yard, where he grows the things he can't find anywhere else or — in the case of "supertiny lettuce," say — to the exact size he wants.
"Are those daisies edible?" Meg asked. "Yeah, they're not daisies," McGarry replied. "They're St. John's wort."
"You have to be careful with those," she said. "They're medicinal. They're for depression. I wouldn't put it on people's food.  "They get one petal," he insisted. "They won't be depressed," Graves joked. "Is that really what it is?" Meg asked. "Maybe that's why we're so happy here.
Around 7 o'clock, the guests — among them were a couple of actors (Dan Byrd of "Cougar Town," Michaela Watkins of "Trophy Wife"), a producer, an editor, a lawyer, McGarry's manager and several restaurant people — milled around the house and chatted on the porch before sitting down to eat. McGarry emerged from the kitchen with each course, to both present it and finish it at the table. A snack of puffed trout skin was followed by blanched asparagus tips, wrapped in grilled asparagus gelée and garnished with the controversial petal. Served on a rustic slab of gray slate, they resembled an exotic species of snail. Diners praised the clean flavors and the way each ingredient was "elevated" rather than obscured. ("People use butter as a crutch," one griped, by way of praising McGarry's palate.) They also teased the chef for not yet being old enough to drive. "When I'm little, I want to be Flynn," said Max Shapiro, a real estate broker and an amateur chef who runs B.R.K., a private supper club ("a hobby turned psychotic," Shapiro said of his elaborate dinner parties) in West Hollywood. He was sitting beside his friend and supper-club partner Max Coane, a sommelier. Both are regulars at Eureka. "Want to smell some wine?" Coane asked McGarry.
McGarry is small, very slender and lightly freckled, with thick auburn hair that swoops to the side in a style that one diner described as "a perfectly tossed salad." He comes across as preternaturally calm and poised, though not entirely un-self-conscious. This may have something to do with the degree of attention trained on him at all times. Dinner, for instance, was filmed by a documentary filmmaker; McGarry's father, Will, a professional photographer, took pictures throughout. And while McGarry's mother has retired her YouTube channel, Dining With Flynn, and his sister no longer posts on her blog, The Sister of a Culinary Prodigy, diners snapped pictures of their food on their iPhones as each course arrived and posted them to Instagram. Later, Tyler Florence, the Food Network star, left an encouraging comment about the beef course. "Tight brother," he wrote.
McGarry's story reflects many of our prevailing pop-culture obsessions — precocious kids, superparenting, esoteric food, homemade celebrity — and he has already appeared on "Late Night With Jimmy Fallon," the "Today" show and NBC's "Nightly News." He has consulted on a sitcom about a teen chef, inspired by his life, that was in development for a while at NBC. He's working on a book about his experiences and his approach to food. After turning down countless reality projects, he's in the process of developing an unscripted travel series with RipCord, a production company founded by the actor Mike White, that will soon be pitched to networks. As a way to cull through all the inquiries, Meg, whose mother was once an executive at NBC, initially instituted an NBC-only press policy. But as interest grew, the family handed over the task to professionals. McGarry now employs a manager and a lawyer, and requests go through his agent at U.T.A.
Yet the formidable machine that has been assembled to catapult McGarry to the culinary equivalent of Bieberish heights is, in some ways, at odds with his real ambition. The danger of child stardom is that it can undermine adult credibility. McGarry prefers not to think of himself as a kid chef, but rather as a kid who happens to have aspired to be a Michelin-starred chef since he was 12. To that end, McGarry, who is home-schooled through an online program, cooks an average of 160 hours a month. He has apprenticed at some of the best restaurants in the country — at Grant Achatz's restaurants Next and Alinea in Chicago, and at Daniel Humm's Eleven Madison Park in New York, where he has staged, or interned, five times. He was invited to help prep a dinner at the Modernist Food Lab in Seattle, under the chef Maxime Bilet, and asked back a few months later to help put together a charity dinner with guest chefs, including the departing White House pastry chef, Bill Yosses, who helped him land a gig cooking on the White House lawn during the Easter Egg Roll. McGarry posed for a picture with the Obam
Last September, after he became a regular at the Eureka dinners, Shapiro took McGarry to Alma, in downtown Los Angeles, which was named Best New Restaurant in America in 2013 by Bon Appétit magazine. Ari Taymor, Alma's 28-year-old owner and chef, asked McGarry if he'd like to help out the next day at a private event, a collaboration dinner for 150 people at a farm near Bakersfield. McGarry said yes, and they spent five hours cooking two whole goats over an open fire in pitch dark 40-degree weather. "It was pretty gnarly," Taymor recalls. "I got smoke-inhalation poisoning, and he looked like he came out of a chimney."
But Taymor was impressed by the young chef. "He's a prodigy," he says. "He's only been cooking for two or three years. I've had people working for me for eight or 10 years — it's just the way he handles, the way he moves. It's kind of an innate thing for him." McGarry, who is technically in the 10th grade, now works at Alma a couple of days a week. Meg wants him to finish school as quickly as he can so he can work full time at a restaurant. "He's a professional," she told me. "I think he can learn more being out in the world."
The celebrity chef is a relatively new cultural species. In the early '60s, chefs like Paul Bocuse became famous "for cooking in their restaurants," says Colman Andrews, editorial director of The Daily Meal, a website, and a founder of Saveur magazine. "They didn't have TV shows, they weren't seen out socially at parties, they didn't, for the most part, have product lines." Wolfgang Puck glamorized the profession in the '80s, becoming a celebrity who catered to celebrities and wasn't shy about lending his name to frozen pizzas, performance blenders and 1,000-watt crepe makers. ("They could make jokes about him on 'The Tonight Show,' and all of America would know perfectly well what they were talking about," Andrews says.) But it wasn't until the Food Network debuted, in 1993, that cooking truly became its own genre of entertainment. "Television shows could not be just about instructional cooking," says Bob Tuschman, a senior vice president, who helped get the network running. They needed to be "just fun to watch, where you would learn a lot sort of as a byproduct of being entertained."
The Food Network exposed millions of Americans to an aspect of culture, gastronomy, they would not have normally encountered. And according to Allen Salkin, the author of a history of the network, "From Scratch," this included a lot of children, too. As food personalities became celebrities, children who once dreamed of being rock stars or actresses now dreamed of being chefs. As a 3-year-old, McGarry dressed up as Emeril for Halloween. At 10, after his parents split up, he grew frustrated with all the takeout that his mother was ordering and decided to do something about it. "For two years, I practiced the basics by myself," he says. "Knife cuts, sauces — using the Internet and cookbooks and stuff like that."
The Internet soon became a conduit to the world of haute cuisine — of cooking as self-expression and eating as experience — and introduced him to the key players. After Meg, a freelance filmmaker, signed him up for a kids' cooking class, the teacher asked the students to buy a cookbook of their choice. McGarry chose Thomas Keller's "French Laundry Cookbook" and subsequently worked his way through its recipes. "I had no clue what Michelin was," McGarry says. "I didn't know all of the rankings and all the food. And then once I got on Google, I was like, 'Oh.' That kind of opened my eyes to it." On the Internet, he learned about molecular gastronomy, sous vide and so-called progressive cooking. "It's, like, you go on YouTube, and you watch a Thomas Keller video, and then there's this Grant Achatz video." McGarry picked up proper knife techniques by watching online demonstrations; then he began experimenting with flavors and preparations. "When I was like 10, I wanted to be in a Food Network show, and then when I saw [those videos], I just fully did like a 180."
His parents encouraged his desire to become a serious chef. When the counters in the kitchen proved too high, they made him a prep kitchen in the dining room that was modeled after Keller's at French Laundry. When McGarry decided he wanted a private space to create menu ideas, his dad constructed a kitchen in his bedroom to resemble Alinea's in Chicago. They redid the electricity, built the tables and removed the closet doors to convert it to a pantry; McGarry would get an induction burner for a birthday, a vacuum sealer for Christmas. When McGarry eventually visited the restaurant, he remarked, "This is what I put in my bedroom!"
The turning point, however, occurred after his 11th birthday. McGarry contracted whooping cough, and he was forced to stay home for almost three months, much of which he and his mother spent watching "Iron Chef Japan." When he recovered, they gave a dinner party for Meg's friends from the "Le Bernardin Cookbook." "It was funny," Meg recalls. "It was like a school play. Everybody applauded at the end, and he realized, 'Oh, this is a really cool thing that I want to do.' " McGarry, who had long been bullied at school, returned to sixth grade, but during the next year, he asked his mother if he could be home-schooled in order to focus on cooking. "I was actually relieved," says Meg, who at that point had spoken to several principals about the bullying. "I don't want him to be unhappy. And I want him to do what he likes to do."
McGarry began to focus on the supper club, and when a Talk of the Town item on Eureka appeared in The New Yorker, in early 2012, the dinners became a popular ticket on the Los Angeles food scene. Soon after, McGarry and Meg met Kris Morningstar, the chef at Ray's & Stark Bar, the Renzo Piano-designed restaurant at the Los Angeles County Museum of Art, at a food event called Taste of Beverly Hills. (They struck up a conversation after Morningstar complimented Meg's Hall and Oates T-shirt.) The chef invited McGarry to see what it was like to work in a real kitchen, with professional cooks, and before long he was helping out a couple of days a week. The line cook taught McGarry how to work the meat station. One sous chef taught him how to break down fish; another taught him how to butcher. He met Josh Graves, who taught him how to make bread and ice cream. "Even my mom," McGarry recalled, "was like: 'Are you sure you wanna do this? You're a 12-year-old working a 15-hour day.' " But he was attracted to the pressure and the pace of a professional kitchen. "Once I realized that I could do it, then I was like, 'This is what I want to do.' "
McGarry next asked Bernhard Mairinger, the chef-owner of the Austrian restaurant BierBeisl, if he could borrow his kitchen to host a dinner. The pop-up quickly became a monthly event, and McGarry was invited to do a dinner for 150 people at Playa, the critically renowned restaurant, which has since closed. The revenue financed a trip to Chicago, where he apprenticed at Next, and then at Alinea.
McGarry told me that despite his professional demands, he tries to keep up with his old friends from middle school. "I have the kid side and the cooking side," he said. "When I hang out with people my own age, I sort of shut the cooking side off, which I also think is good for not burning out." But he concedes that he now has more in common with his fellow chefs — the often-tattooed hipsters, 10 years his senior — whom he considers his peers. He uses Uber, the ride-sharing app, to meet them for dinners at night. (In May, he'll be getting his learner's permit.) "I get along better with them than I do with lots of people my own age," he says. "You adopt the traits of people around you, and I spend most of my time around 25-year-olds. I start to adopt their traits and become more of an adult. I go out to dinner with them. I work with them so much — they're friends."
When I asked Meg if she worried that McGarry was pushing himself too hard, she said: "This all came from him." I asked if she worried about the lifestyle he would be exposed to, hanging out at night with his new older friends. "In every kitchen he's been in, there's a real protectiveness. A lot of people are mid-to-late 20s or 30s — so they've been through crazy times and come out the other side," she said. They seemed safer, perhaps, than teenagers. "It's a better group for him to be around."
In a corner of the McGarrys' "Bonanza"-style kitchen, there's a rack containing roughly $6,000 worth of highly specialized kitchen equipment, including a chamber vacuum sealer, induction burners, a binchotan grill and an immersion circulator that McGarry bought after he sold one of his guitars when he was 10. "To cook like this, it takes expensive tools," McGarry says. "And the ingredients are expensive. That's why when people ask how you can charge people $160, it's like, 'I don't think you understand how expensive the ingredients are.' "
When shopping for his dinners, McGarry and his mother wake up at 5 a.m. to go to the fish market downtown or to the butcher. When McGarry needs something from Whole Foods, a few miles away, he hops on his bike. The big farmers' markets in Hollywood and Santa Monica are the ones worth going to, but on a recent Thursday the only option was a tiny one downtown. McGarry goes to farmers' markets all the time just to see what they have, what's in season, to taste around and see what's good. He talks to farmers and creates a list of all of the produce he can use. His menus are primarily produce-driven, usually eight courses (two of which are desserts, which he leaves to Graves). He narrows each of them down to a maximum of nine ingredients.
Some chefs have an emotional approach to food; McGarry's is decidedly conceptual. He thinks in terms of juxtapositions. At the Eureka dinner in February, he served abalone with kale, almond and ember-roasted chicken broth, because "abalone is really rich, and the kale, if you grill in a lot of different layers to it, is really nutty," he says. "So I figured if you purée almonds into it, it will give it a good texture and add some depth of flavor." After he has decided on a combination, he begins to calculate balance. "You need acid, sweet, salt, crunchiness, and then if you have something soft, you need something crunchy. If you have something salty, you need something sour — so maybe I pickle the kale. You start to add techniques to it to make things taste certain ways."
Once he comes up with the concept for a new dish, McGarry draws a picture of what it might look like on a plate. His experiments, like one particular vegetable dish, are often intentionally playful and witty. "The idea was that cardoons — a type of artichoke — and celery look alike," he explained. "And rhubarb, which is also in season, looks like that, too. So maybe all three will go together. I have no clue. I haven't tested it yet. It's like a visual idea." He ended up poaching the cardoons in goat's milk and pairing them with pickled rhubarb, grilled celery and a mushroom consommé. "I was always creative kid," McGarry said. "I played music, I painted a lot. I was always really creative. My whole family is creative. I got into the creative side of cooking — seeing how I could take a carrot and elevate it to this incredible level that you'd never imagine eating a carrot."
Despite the attention that's always paid to McGarry's age, cooking is a profession, with its hours and pressure and physical demands, that skews young. Apprentice chefs in Europe begin working in kitchens around 15 or 16, while also attending multiyear culinary schools where they're not only trained in cooking but also in management, accounting, bookkeeping, service and all other aspects of running a restaurant. René Redzepi, whose restaurant, Noma, in Copenhagen, was voted the best in the world three years in a row by Restaurant Magazine, started when he was 13. Redzepi opened Noma at 26. "I think the age gets blown out of proportion," Taymor says. "I don't see him by his age. It doesn't really exist to me."
But McGarry's age has certainly helped with opportunities. As Andrews points out, most teenage apprentices in Europe would be deep in the kitchen trenches, tournéing hundreds of potatoes a day, not collaborating with famous chefs in pop-ups or interning in Michelin-starred restaurants. "At that age he would be in a kitchen," Andrews says, "but he wouldn't be a celebrity chef. He'd be peeling vegetables or cleaning fish."
McGarry may be in something of a rush, but even the chefs he has worked with have encouraged him to be patient. "Considering his age, he has such a creative mind, and it's only going to continue to develop as he gets older," Daniel Humm, the executive chef at Eleven Madison Park, told me. "I think it's important that he keeps his focus, that he keep a strong desire to learn more and to not rush his development as a cook. This industry is very difficult, very demanding, and there are no guarantees at all."
Humm describes his own training as a decade-long period spent in the background of kitchens, working every station, performing every task. He credits this experience with allowing him to learn the basics, but also preparing him to run his own three-star kitchen. "These days," he says, "we turn the spotlight onto any young talent, whether it's an athlete, a musician or a cook, and it could hurt that person's development. For Flynn, I just want to make sure he takes the time to grow, because he's already in such a great position to have a bright future if he can keep his focus. It's more important for him to have a big name in 15 years, not necessarily right now."
Alma is located in an unassuming space around the downtown Los Angeles arts district, on a stretch of blocks that is gentrifying at what seems like warp speed. It serves inventive, seasonal tasting menus focused mainly on produce. McGarry works in an open kitchen, alongside seven other cooks nearly twice his age. One afternoon in March, just before 3 o'clock, he was breaking down an enormous sturgeon into smaller pieces. In less than half an hour, the staff would clean down the kitchen in preparation for dinner service, but behind the counter, everyone worked quickly and efficiently, effortlessly avoiding collisions as they darted around in the small space. McGarry was focused and efficient, fast but also methodical and calm. At one point, Taymor called him over to check out a couple making out outside the plate-glass window, but McGarry remained at his post. Taymor told me that people often ask him, and his servers, what that kid is doing in the kitchen.
McGarry has yet to make much money for his cooking, but that could change soon. Once he turns 16, he can take his California High School Equivalency Exam and, with his parents' consent, work full time at a restaurant like Alma. And while McGarry may be singularly focused on his cooking — "he doesn't want to be the kid chef," Meg says — he also seems to recognize the value of his unusual story in achieving his ultimate goal. He is hoping to expedite his professional development by traveling across the globe to work in some of the world's top kitchens. And he is hoping to make this possible by starring in a reality show in which he is paid to travel across the globe to work in some of the world's top kitchens. "I get to learn from these chefs and experience all of these different places, but I don't have to pay a lot of money for it," McGarry said. David Bernad, who is developing the show, said: "Flynn is very confident kid, but he also knows that he doesn't know everything and has a lot to learn. So the idea of the show is that it's his journey to being the youngest Michelin starred chef in the w
McGarry's real precociousness, in fact, may be his ability to confront his own ambition. Twice during our conversations, he spoke about how he tries to avoid reflecting too much on all the things that are happening, to not pay attention to the media or let it freak him out. At the same time, he's a willing participant in it; he told me he was convinced that self-promotion — whether it's a show or a magazine article — was an integral part of being a creative person nowadays. "You can't really do anything without selling out, to an extent," he says. "And I don't consider this selling out, because I want to do it. I was like: 'I want to do a travel show. I want to meet these chefs. I want to talk to them, and I wouldn't be able to do it otherwise.' I could get into these kitchens, maybe, and work there, but I'd have to find a place to live, and all the plane tickets and stuff. And also, I'm 15, so my mom has to come with me, too."
McGarry's eventual plan is to move to New York at 17, work at Eleven Madison Park or somewhere like it for a year, maybe a year and a half, and then start work on his restaurant by 19. The remainder of his teenage years seems to him a respectable stretch of time in which to learn and develop. Then again, "now that I think about it," he says, "time moves very quickly for me, so it's not that far away. I don't think I can wait too long, because the real estate [in New York] keeps going up and up and up. You can't wait forever to do it, because if you wait forever, your opportunity might just be gone."
He paused for a moment. "I know people are always like, 'You shouldn't mark what you want by someone else's [standards]' — like three Michelin stars or four New York Times stars — but it's kind of like a goal to look up to. This is what I want. I want to have one of the best restaurants in the world, or whatever, which is kind of a very high goal to have, but I like pressure. So to say I want the best restaurant in the world would put enough pressure on me to try as hard as possible to have the best restaurant in the world."
Story Credit: Carina Chocano is the author of "You Play the Girl" which will be published next year. Peden & Munk are Taylor Peden and Jen Munkvold, a photo team based in New York & Los Angeles. Food and Drink Isue Editor Jon Kelly. The New York Times.
http://www.nytimes.com/2014/03/30/magazine/the-chef-at-15.html?ref=magazine
_________________________________________________________________
FAMILY TRAVEL IDEAS . . . 



Your Santa Fe Family Adventure Awaits
Santa Fe has plenty of places to keep children of all ages happy. Looking for an outdoor adventure? Santa Fe has skiing, hiking, biking trails, and plenty of outdoor parks for your little nature enthusiast. For a hands-on experience, check out some of the museums around Santa Fe, there are always unique activities to enhance their cultural experience. Here's a 
full list of activities
 for you and the kids to experience and enjoy together. Below are some 
deals and specials
 we've put together just for you.
Your colorful family adventure starts here at 
SantaFe.org
_________________________________________________________________
 Leader in Alaska Small Ship Cruising
Caters to Parents and Kids - Suggests Lineup
Of Top Family-Designed Departures
 
Alaska, the most popular destination for small ship cruises, wraps its heart around families who choose to join a growing number of small ship family departures.
 

AdventureSmith
Explorations www.adventuresmithexplorations.com/, the travel company securing matches between adventure-seeking clients and a treasure trove of small expedition ships and land-based lodges, offers six distinct family itineraries that clients can match with the small ship of their choice. Cruise prices include most all land excursions so there are no hidden costs to a family.
 
"An Alaska family vacation can be a transformative adventure while sharing experiences like kayaking in front of a tidewater glacier, walking in an ancient temperate rainforest or watching whales at water level from a small skiff," says Todd Smith, AdventureSmith Explorations founder/owner. "The greatest benefit is traveling with like-minded families and kids of similar ages." Professional guides are family-oriented, meals are child-friendly and flexible activities offer multi-generational options.
 
AdventureSmith Explorations offers this lineup of distinctive family cruises for 2014:
 

Eastern Coves Family Adventure Cruiseand Western Coves Family Adventure Cruise, among the most active cruise options, are suited to ages eight and up. Children will get the most out of their adventure by participating in off-vessel activities such as hiking, kayaking and stand-up paddleboarding. The 8-day Eastern Coves cruise travels from Juneau to Ketchikan; the 8-day Western Coves travels from Ketchikan to Juneau. The two cruises may be combined.
 
Kids in Nature departures are further geared toward entertaining and educating all ages. Children 12 and younger receive 25 percent off the adult fare. Eastern Coves utilizes the 60-guest Wilderness Adventurer on a July 19, 2014, departure and the 76-guest Wilderness Discoverer on a June 27, 2015, departure. Western Coves utilizesWilderness Adventurer on July 26 and Aug. 9, 2014, departures and Wilderness Discoverer on July 4 and Aug. 1, 2015, departures.
 

Exploring Alaska's Coastal Wilderness is an 8-day cruise aboard the 62-guestNational Geographic Sea Bird or Sea Lion, among the finest small ship expedition cruises in Alaska. National Geographic expedition leaders are professional experts in their field. Special programming for kids on all departures includes photo workshops, journaling, scavenger hunts, zodiac-driving lessons, hands-on nature and science programming, and child-friendly menu options with a special pizza and movie night. Travelers ages 17 years and under save $500 at double occupancy.
 
Discoverers' Glacier Country is an 8-day upscale family cruise exploring Glacier Bay National Park, Alaska's Inside Passage and Admiralty Island. Guests hike, kayak and whale-watch. Select Kids in Nature departures offer a savings of 25 percent in select cabin categories for children 12 years and younger. Departures aboard the 86-guestSafari Endeavour are July 20, 2014, or in 2015 June 21 and July 19. Departures aboard 22-guest Safari Quest are June 20 and July 18, 2014.
 

True Alaska Family Cruise is a 9-day cruise departing July 19, 2014, aboard the 49-guest Baranof Dream. The custom itinerary moves at a slower pace exploring Alaska's nature and Native American culture, visiting Sitka, Petersburg, Juneau and Hoonah. Activities include kayaking, Zego personal skiff rides and rough-terrain vehicle explorations in scenic Hobart Bay. Native crafts, scrapbooking, geology, scavenger hunts, game night, geo caching, a quick dip in the water ("Killer Whale Dip"), baking, knot tying, plant and animal identification and other special programs are available. Triple and quad accommodations are priced from $1,999 for children.
 
Alaska Island Spirit Family Cruise is aboard the 32-guest Island Spirit scheduled for a July 20-28, 2014, exploration of Alaska's towns and wilderness. The ship anchors in quiet coves so guests can enjoy the Alaskan solitude or kayak and walk the shore. A unique battery system allows for a complete shutdown of engines and generators at night, creating near-total peace and quiet. Kids travel two for one on the dedicated family cruise on July 20, 2014.
 
Throughout the season charter cruises provide options for family vacations, reunions and other occasions. Smaller charter yachts include the Glacier Bay Adventure Cruiseaboard the 12-guest Sea Wolf, Active Inside Passage aboard the 12-guest Pacific Catalyst II and Active Prince William Sound Discovery aboard the 12-guest Discovery. When considering a charter, guests should plan ahead at least nine to 12 months or more in advance.
 
"We help clients compare itineraries and small ships, then we handle such details as traveling to the embarkation city, recommendations for packing, hotels, transfers, flights and tours, all at no extra cost to the client," Smith says.
 

Founded in 2003, AdventureSmith Explorations is based in Tahoe City, CA, along the northern shore of Lake Tahoe. Early in his career, company founder Todd Smith helped pioneer the concept of wilderness small ship cruising in Alaska that incorporates the comforts of a floating base camp. In 2012, Smith joined the ranks of Conde Nast Traveler's prestigious 14th Annual Travel Specialists List as the world's expert on small ship expeditions. A distinction he received again in 2013. For information, availability and 2014 reservations, call 800-728-2875 toll-free or visit www.adventuresmithexplorations.com.
__________________________________________________________________
NEW 'SEUSS AT SEA' PROGRAM DEBUTS ON CARNIVAL SPLENDOR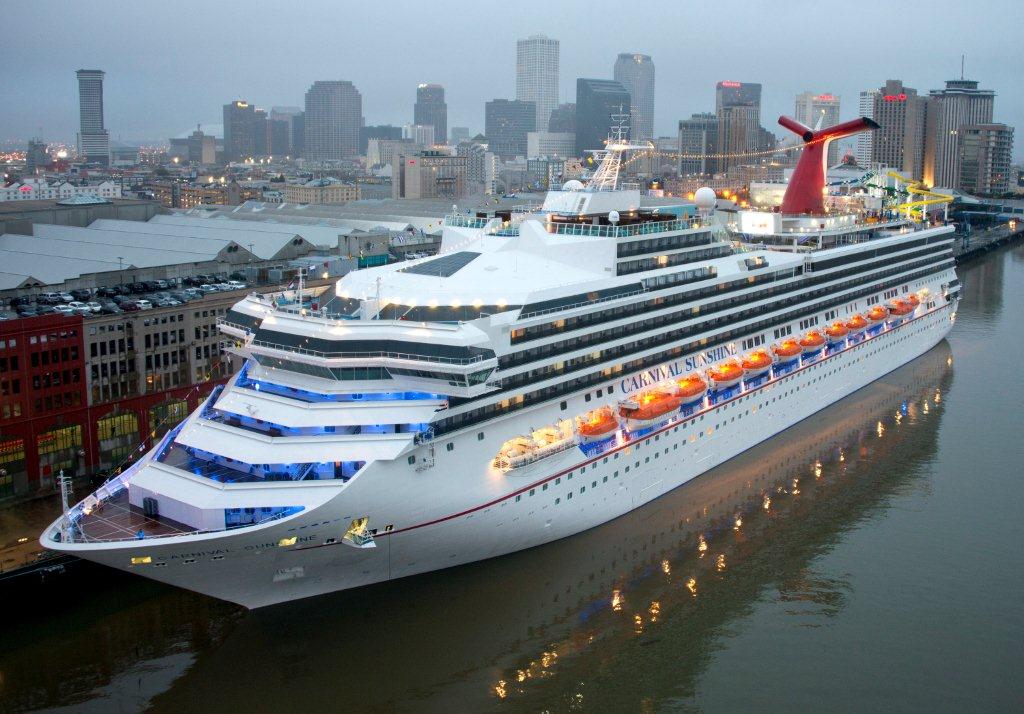 Green Eggs and Ham Breakfast with the Cat in the Hat and Friends,
Seuss-a-palooza Story Time Among Fun New Activities Held for the First Time Last Week
Carnival Cruise Lines' exclusive partnership with Dr. Seuss Enterprises kicked off in grand style last week on Carnival Splendor which became the first "Fun Ship" to offer Seuss at Sea, a fleetwide program featuring exciting youth, family, dining and entertainment experiences inspired by the amazing world and words of Dr. Seuss.
The fun-filled festivities included the first-ever Green Eggs and Ham Breakfast with the Cat in the Hat and Friends, where both the young and young at heart enjoyed deliciously playful food straight from Dr. Seuss's imagination – green eggs and ham, colorful fruit and pancake stacks, funky French toast, as well as traditional breakfast favorites, all served by wait staff in Dr. Seuss-inspired uniforms. Popular characters such as the Cat in the Hat, Thing One and Thing Two, and Sam-I-Am joined guests at their tables for fun interactions and one-of-a-kind photo opportunities. 
Also debuting on Carnival Splendor is Seuss-a-palooza Story Time, an interactive reading event for kids of all ages, hosted in a vibrant, custom-created tent on the stage of the main show lounge. Equally popular was the inaugural Seuss-a-palooza Character Parade where guests joined Dr. Seuss characters in a swirly conga line along Carnival Splendor's promenade.
Carnival Splendor is stocked with a selection of classic Dr. Seuss books, toys and games and is hosting special showings of beloved movies such as "The Cat in the Hat" on the giant outdoor Dive-In Movies screen.
"We're delighted to debut the Seuss at Sea program on Carnival Splendor which is sure to amuse and delight kids of all ages while providing parents and their children an opportunity to participate in fun and playful activities together as a family," said Gerry Cahill, Carnival president and CEO.  "In addition to providing a wonderful environment for quality family time, Seuss at Sea arms travel agents with yet another effective marketing tool for enticing families to set sail aboard the 'Fun Ships,'" he added.
"Quality family time is more important than ever in today's 'always on' society and we're very excited to debut the first Seuss at Sea program which brings the wonderful world of Dr. Seuss to thousands of families sailing aboard the Carnival Splendor," said Susan Brandt, president of Dr. Seuss Enterprises. "We can't wait to work with our partners at Carnival to create even more magical memories for families as we roll out the Seuss at Sea experience to additional ships across Carnival's fleet."
Next up is Carnival Freedom which will be outfitted with a variety of specially designed Dr. Seuss spaces following its multi-million-dollar makeover this spring.  Fleetwide roll out of Seuss at Sea is expected by 2015 and the program will also be featured on the new Carnival Vista which is set to debut in 2016.
For additional information, contact any travel agent, call 1-800-CARNIVAL or visit carnival.com.
___________________________________________________________
---