TEEN TIMES - Cody Chandler Hilton
Navitat Canopy Adventures Begin July 1
World-class canopy zip line tour just 75 miles northeast of Los Angeles

NAVITAT CANOPY ADVENTURES opens July 1, bringing a world-class canopy zip line tour to the mountains of Southern California.

NAVITAT showcases the rugged beauty of the San Gabriel Mountains, just 75 miles northeast of Los Angeles near the popular Mountain High winter resort. The canopy tour course is entirely tree-based and features 10 zip lines ranging from 200 to 1,500 feet in length -- including one that sends guests soaring 300 feet above the canyon floor.

"We are an authentic, high-adventure canopy tour with a heavy emphasis on educating our guests about our natural environment," said Ken Stamps, CEO and Managing Partner of NAVITAT CANOPY ADVENTURES, which also operates a tour in the mountains of western North Carolina. "We think our tour is a perfect match for Southern California."

Guests begin their NAVITAT experience at the Welcome Center in downtown Wrightwood where they meet their guides, go through a 20-minute orientation session and gear up. Then, they ride in an all-terrain vehicle to the start of the custom-designed course, learning along the way about the natural and cultural history of the area. In Ground School, guests are trained in proper zip line techniques before starting the course.

Two highly skilled Canopy Guides lead each group of eight guests through a series of artfully constructed zip lines, sky bridges and stairs, trails, rappels and platforms high in the treetops. Guests are gradually introduced to zipping, beginning first with shorter zip lines closer to the ground before moving onto higher, longer zip lines and sky bridges. Guides handle all equipment, and guests are attached to a redundant safety system at all times while off the ground.

"Safety is our top priority at NAVITAT," said Wrightwood Site Manager and Partner Evan Krogh. "Our guides are trained by industry-certified professionals, and they are required to continually train while they are working here."

NAVITAT is a member of the Association for Challenge Course Technology (ACCT), which is accredited by the American National Standards Institute. The company adheres to and exceeds all ACCT standards for construction, operations and training.

Bonsai Design Inc., the leading canopy tour installer in the country, designed the NAVITAT course. The design is entirely tree-based and uses no poles or other structures to support the platforms and course features.

"We've taken great care in creating this course," said John Walker, NAVITAT partner and president of Bonsai Design Inc. "We've used innovative design and installation methods to build a course that fits into this amazing landscape, disturbing it as little as possible."

The course is located on a portion of the Wrightwood Guest Ranch property, a 300-acre retreat located between the San Gabriel Mountains and Angeles National Forest. The site is home to massive conifer trees, abundant wildlife and long-range views of the Mojave Desert, the Sierras, and the San Bernardino Range, including San Gorgonio, Southern California's highest peak.

"This is a special and spectacular place and we've designed a tour to match it," said CEO and Managing Partner Ken Stamps. "Guests can expect beautiful views, big zip lines and big-time fun."

NAVITAT tours begin July 1 and run daily, from 7 a.m. to 4 p.m., through Nov. 30. Reservations are required. Regular tour price is $109 per adult, and $99 per youth. Weight restrictions apply. Tours last approximately 3 ˝ to 4 hours. Visit www.navitat.com/wrightwood/ to book your tour and learn more.

---
KIDS K NEWS
GOING TO CAMP
How to Alleviate Non-Severe Separation Anxiety
Talk it over with your child. Before signing up for any camp or an away-from-home activity, talk to your child about it. Ask him how he's feeling and what he thinks about these plans. Above all, be sure to acknowledge your child's feelings as legitimate. Even if you don't believe there's any real reason for him to be upset, remember that his feelings and fears are very real in his own mind.
"It's important not to be over-indulgent, but it's also crucial that you not completely dismiss your child's fears," Patkin says. "In my case, adults were correct that there was no actual danger for me to worry about—but that didn't banish my fears or prevent me from acting on them. It's a good idea to let your child have some say in decision making—if he flat-out doesn't want to go to camp, don't force him. You might also consider giving him a choice—day camp as opposed to sleep-away, for example."
Realize that some amount of separation anxiety is normal. Yes, listen to your child and give her wishes some weight. Also realize, though, that at some point you're likely to hear some variation on the "Mom, Dad, don't leave me—I'll miss you!" theme from any youngster. The timing and duration vary, but every child experiences some level of stress when facing a separation from his or her loved ones—so there might be no need to panic. The fact is, no matter how independent or self-possessed your child is, chances are she'll probably be reluctant to leave you. That's normal.
"If you hear words of doubt coming from your camper's mouth—especially as drop-off day approaches—don't automatically pull the plug on the whole venture," advises Dr. Rankin. "Especially for overnight campers, spells of apprehension and homesickness often occur, which isn't surprising, since your child loves you and isn't used to being so far away from you. Yes, it's always uncomfortable for parents when their kids are unhappy, but remember that you know your child best, so simply trust your instincts if you suspect that she's more than just a temporarily unhappy camper."
Look for causes. While almost every child does experience some degree of separation anxiety, these feelings don't always originate within the child. They can also be caused or exacerbated by outside circumstances. If your child is feeling distressed for another reason, he'll be in need of extra comfort and security…which can easily lead to a stronger-than-usual desire to be with his parents in familiar surroundings.
"Especially if separation anxiety, or its current severity, is abnormal, look for other things that might be causing these feelings," Dr. Rankin instructs. "For example, a divorce, a recent or upcoming move, or even your stress that your child might be observing can trigger separation anxiety. If you suspect that something other than summer camp might be influencing your child's feelings, don't ignore the issue."
Practice shorter separations. If your child is apprehensive about being away from you and from home, it makes sense to work your way up to longer separations. (Think about it this way—if you're not an experienced runner, you wouldn't jump straight into running a marathon, would you?) Depending on your child's age and level of homesickness, practice short separations—maybe just an hour or two to start—and increase their duration, taking into account your child's reactions.
"One of the many factors that played into my summer camp meltdown, I think, is that I really hadn't spent too many nights away from home beforehand," Patkin recalls. "I didn't even like it when my parents left me overnight in our own home with a babysitter or relative, so of course I hadn't sought out sleepovers. If I'd had more 'practice' before being left in another state for what was supposed to be four weeks, perhaps my reaction wouldn't have been so severe…or my family and I would have known that camp wasn't a good idea to begin with."
Stay calm and positive. You've probably noticed that negativity, pessimism, and worry tend to breed more of the same—and it should come as no surprise that this trend holds true when it comes to your children. If your prospective camper voices worries, acknowledge them, but don't feed into them by adding your own apprehensions to the pile. (And certainly don't bring up worrisome what-ifs yourself—for example, "I just don't know how I'm going to make it a whole week without you here, Junior!")
"During the days leading up to camp, it's best to focus on its positive aspects," shares Dr. Rankin. "Remind your child of how much fun she'll have and what she'll learn. And don't make a big deal of drop-off—if you get emotional, your child is more likely to lose control too. Lastly, if you do receive an upset phone call, email, or letter, don't make a fuss that your child can feed off of. Instead, try to talk to a counselor or camp administrator about your child's homesickness before making a decision regarding how to proceed."
Feed your child's interests. Sometimes homesickness can be sparked by boredom and unhappiness—so don't assume that just because you enjoyed science camp in your youth, for example, your child will too. It's always a good idea to make sure that any camp you're considering for your child is a good fit for him. After all, if he's happy and engaged, his attention is more likely to be focused on what's right in front of him, and not on what he's missing.
"Granted, I was unsuited for sleep-away camp for many reasons, but I think the only reason that I lasted as long as I did, even though it was just three days, is because I was at a sports camp—and I loved sports," recounts Patkin. "When I was on the ball field, I do remember actually having fun. Remember that camp is supposed to enrich your child and help him grow—if his daily activities aren't capturing his attention, of course he'll be more likely to long for you! I know that even today, when I'm on a business trip that's not going well, I'm much more likely to want to come home sooner rather than later."
Let your child take "home" with him. Your child may be traveling miles away, but there's no reason why she needs to leave home behind altogether. Send familiar objects with her, such as a favorite stuffed animal, a small picture of you, and phone numbers. She'll feel less cut off from everything that's familiar, and will therefore be less likely to experience severe homesickness. It's even better if she can go to camp with a friend from home.
"Sending small objects with meaning can indeed remind your child that you love her and are thinking of her," confirms Dr. Rankin, "but don't go overboard. You don't want her to be so focused on things she's brought from home that she doesn't get engaged in camp activities. For this reason, it can also be smart to wait a few days to send letters. For many children, contact from home is less likely to trigger homesickness if they have already established friends and interests in their new environment."
Don't be too quick to provide an out. When dealing with separation anxiety, this is often the hardest line of all for parents to walk. If your child is upset and emotional and begs to be with you, you'd need to have a heart of stone not to be affected. Many parents soon give in to their child's pleading rather than endure their own resulting anguish!
"As a father myself, I completely understand why many people simply can't stand seeing their children suffer from separation anxiety," says Dr. Rankin. "After all, you're hardwired to see to your child's well-being…and chances are, you're going through some degree of separation anxiety yourself. (In fact, a quick Internet search will reveal numerous articles advising parents who are feeling distraught or off-balance due to the absence of their children!) It's very important for your brain to remind your heart that if you give in too easily, you might prevent your child's emotional growth. Ultimately, though, you know what's best for your child—so if you truly feel that he's in a bad situation, err on the side of caution. Again, this is why it's so important to make the right decision regarding camp upfront—so that you can avoid causing your child to experience unnecessary anxiety."
          "I believe that there are very few children who won't at least feel a twinge of homesickness when overnight camp—or any significant separation—rolls around," concludes Patkin. "But if you approach the situation positively and rationally and encourage your child to do the same, you'll both be better prepared for the separation—and you will be better equipped to determine if your child's anxiety levels aren't normal or healthy."
____________________________________________________________________
REAL FOOD MOVEMENT "GROWS" IN EUGENE, ORE. AS ANOTHER LOCAL SCHOOL WINS FARM TO
SCHOOL PROGRAM IN NATIONAL CONTEST

More than 750 schools across U.S. nominated in Annie's second "Root 4 Kids"
contest encouraging kids to dig real food

Annie's, Inc. today announced The Village School in Eugene, Ore. as the winner in its second Root 4 Kids contest encouraging kids to dig and plant new veggies. The Village School generated more sign-ups than over 750 other schools throughout the nation competing to win their choice of a Farm to School program or school garden.

Root 4 Kids, a cause-related campaign conducted in partnership with the National
Farm to School Network, has set out to reach and celebrate one million kids
digging and planting new veggies. To encourage participation and create friendly
competition this spring, Root 4 Kids invited parents, teachers, administrators
and community members to sign up at www.Root4Kids.com/Join and commit to helping
kids "dig" new vegetables by completing at least one activity, such as learning
about, eating and planting new veggies, or working to get more fresh foods into
schools.

After Camas Ridge Elementary School in Eugene, Ore. took top prize in Root 4
Kids' first contest earlier this year, the community rallied again, helping
carry The Village School to victory. With its prize, The Village School will
work with Farm to School to customize a combination of activities that best help
its students become more deeply connected to real food.

"Winning the Root 4 Kids prize adds a vital third layer to our work already in
progress to be more green, sustainable and to serve healthy food," said Bob
Kaminski, Principal of The Village School, a public charter school. Kaminski is
working closely with Executive Director Andy Peara and a group of dedicated
staff and parents to start the school's own locally-grown, organic food service
for its 212 K-8 students.

"We thank everyone who supported our efforts and Annie's leadership to promote
kids' interest in healthy, natural and organic foods," said Peara. "Annie's
message truly resonates in our community."

To help generate sign-ups, staff and parents spread the word far and wide via
emails and phone calls. Following the lead of parent Abra Cooper, they also held
a screening of the film "What's on your plate?" to educate both kids and parents
on the importance of connecting families to where food comes from.

"After two successful contests, thousands of teachers, parents and community
members have demonstrated a commitment to teaching kids about growing and eating
more real food," said Aimee Sands, Marketing Director at Annie's. "The Village
School and all the participating schools deserve recognition and support for
their efforts. We wish we could award the prize to all of them."

Annie's will award Root 4 Kids merchandise, Annie's product and grants toward a
garden or Farm to School program to all schools that finished in the contest top
10, including Hayhurst Elementary School, Portland, Ore.; Lakeshore Elementary
School, Mooresville, N.C.; Anthony Elementary School, Anthony, Fla.; Greenwood
Elementary School, Seattle; Somers Elementary School, Kenosha, Wis.; NICE
Community School, Ishpeming, Mich.; Memminger Elementary School, Charleston,
S.C.; Seven Generations Charter School, Emmaus, Penn.; and Hampton Elementary
School, Hampton, Conn.

For more details about The Village School, visit http://happyvillage.org/. To
learn more about Root 4 Kids, and to commit to helping kids dig and plant new
veggies, visit www.Root4Kids.com. 

About Annie's

Annie's is dedicated to nourishing families with delicious natural and organic
foods made with the highest quality ingredients. The line includes cheese, pasta
meals, crackers, cookies, pretzels, cereals, fruit snacks, salad dressings, BBQ
sauce and condiments. Since its founding in 1989, Annie's has been committed to
social and corporate responsibility. The company believes in the importance of
sustainable farming practices that respect the earth and its inhabitants.
Annie's products are available nationwide at major grocery stores, natural food
stores and club stores. For more information, visit www.Annies.com. Follow
Annie's on Facebook (www.Facebook.com/annieshomegrown) and Twitter
(@annieshomegrown).
___________________________________________________________________
NEW FUN KIDS PRODUCT FOR SUMMER . . . BY ZOKU
The fun and fast quick pop maker by ZOKU has everyone talking and enjoying. This great fruit juice bar maker is simple to use (adults must operate this for their kids) and provides a really healthy option to store bars available. Yu can select your own ingredients, including juice, fre4sh fruit, etc. It comes with all the directions (easy) and tools to create fun, healthy, delicious and refreshing treats for kids (big or small) this summer. Visit: zokuhome.com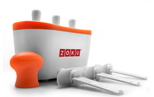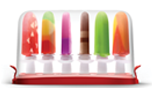 ---
---