KIDS K PAGE .   .   .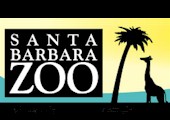 80 TONS OF SNOW, SLEDDING, AND…REINDEER?
SANTA BARBARA ZOO'S SNOW LEOPARD FESTIVAL IS
SUNDAY, DECEMBER 3, 10 A.M. TO 4 P.M.
Sledding for Kids, Snow Play Area, Snow Painting, Climbing Wall, and More

Snow and Icy Treats Given to Snow Leopards and Other Animals

Male Everett is Oldest Male Snow Leopard in AZA Zoo

Live Reindeer at the Zoo from November 22 to January 1
A rare blizzard hits the Central Coast on Sunday, December 3 when 80 tons of snow is delivered for the Santa Barbara Zoo's annual "Snow Leopard Festival," held on Sunday, December 3, from 10 a.m. to 3 p.m. (9 a.m. early admission for SB Zoo members only).
The snow will be shaped into sledding runs for kids (sleds provided), deposited in a snow play area, and provided as enrichment to many of the Zoo's animal residents, including the highly endangered big cats honored at this festival.
At age 19, the Zoo's male snow leopard Everett is the oldest snow leopard living in a zoo accredited by the Association of Zoos and Aquariums (AZA). The Zoo's female Zoe is aged 14. The two are not a breeding pair, but they often are seen on exhibit together, which is rare among this solitary species.
With the holidays not far away, guests are also encouraged to visit the Zoo's temporary exhibit of reindeer, where Santa is available for photos and gift requests (Wednesdays through Sundays only, starting November 22). Two male reindeer, named Lightning and Holiday, are on view from Wednesday, November 22, 2017 through Tuesday, January 1, 2018.
Sledding tickets are $3 and are sold at Zoo's front gate and at the snow area. No advance sales. Regular admission is required to enter the Zoo. Sledding is for children aged 4 to 12 only. No adult sledding. Sleds are provided–no personal sleds. Snow play area is open to children 12 and under. For more information call 962-5339 or visit www.sbzoo.org.
Snowy Fun
There are six sledding runs, including two bunny slopes for younger children. The snow play area has snowman-making supplies, a place to "paint" in the snow using watercolors, a holiday card craft area, and more snow fun. A snow leopard-related craft is part of the Explore Store's "Explorer Fundays." There's also face painting and climbing on the 25-foot tall "Mount Everest" climbing wall.
Snow leopard-related toys and books are available for sale, as are wool products made by the native people who live near snow leopard habitat, as part of a program of the Snow Leopard Trust (www.snowleopard.org). The Zoo supports the Snow Leopard Trust, and proceeds from sales of these items direct benefit snow leopard conservation.
About Snow Leopards
Snow leopards are critically endangered and currently number between an estimated 3,900 and 6,400 in the wild. They have long been prized as hunter's trophies, destroyed as predators of domestic flocks, and sought as a source of valuable fur. Adapted for the extreme weather, snow leopards have been viewed at elevations as high as 19,600 feet in summer. Their furry feet help them to stay on top of the snow by providing a greater surface area–like snow shoes–and their fur keeps their paws warm and dry, providing traction as well. Unlike most big cats, snow leopards don't roar, but they do make vocalizations.
_________________________________________
SAN DIEGO ZOO


Rescued Tiger Cub and Companion Settle into New Home at the San Diego Zoo Safari Park
Today marks a big step for the San Diego Zoo Safari Park's tiger cub twosome. The approximately 3-month-old, rescued Bengal tiger cub and his 4-month-old companion, a Sumatran tiger cub that came to the San Diego Zoo Safari Park from the Smithsonian's National Zoo, are settling in nicely to their new home at the Tull Family Tiger Trail. The two cubs were previously spending time at the Safari Park's Ione and Paul Harter Animal Care Center, but now they are living exclusively at the Tull Family Tiger Trail habitat.
"The two cubs are adjusting really well to their new home," said Lori Hieber, senior mammal keeper, San Diego Zoo Safari Park. "They're doing great. They act like little brothers; they play and cuddle a lot, and they squabble a bit like most brothers, but it's all natural, healthy behavior."
The Bengal tiger cub was brought to the San Diego Zoo Safari Park Aug. 23, 2017, after being confiscated by U.S. Customs and Border Protection officers during a vehicle inspection at the U.S./Mexico port of entry near San Diego. The cub remains under the jurisdiction of the U.S. Fish and Wildlife Service. As part of the organization's broader efforts to lead the fight against extinction, San Diego Zoo Global is committed to reducing wildlife trafficking and the demand for illegal wildlife products.
The Sumatran tiger cub was born at the Smithsonian's National Zoo, but his mother was unable to care for him properly. Both the San Diego Zoo Safari Park and the National Zoo are members of the Association of Zoos and Aquariums (AZA), and in a collaborative effort, the animal care teams determined the best solution for the well-being of the National Zoo cub was to transfer him to the Safari Park, so he would have a playmate and grow up with another tiger. This offers both cubs opportunities for social interaction with their own species.  
The cubs have bonded well, and they are growing in leaps and bounds. They are currently fully weaned from formula, and are exclusively eating a carnivore diet. Both cubs now weigh 32 pounds. As they continue to grow, the Bengal tiger will eventually outweigh the Sumatran tiger by about 200 pounds, given the difference between these two tiger subspecies.
 "We feel really fortunate to have these two cubs here," said Hieber. "It was an unusual circumstance for us to acquire them, but we think they're in the best possible hands, and they're going to have a wonderful life while they're here at Tiger Trail." 
The cubs will be visible to guests daily from 9am to 12:15pm. They may also be seen occasionally on the Safari Park's online Tiger Cam, which can be viewed at sdzsafaripark.org/tiger-cam.
            Like all tigers, the critically endangered Sumatran tiger and endangered Bengal tiger subspecies face many challenges in the wild, from loss of habitat to conflicts with humans, but the biggest threat continues to be poaching. Tigers are killed by poachers who illegally sell tiger body parts, mostly for folk remedies. People can help protect wild tigers by avoiding products made with non-sustainable palm oil, an industry that harms tiger habitat; and by refusing to purchase items made from endangered wildlife.
            Bringing species back from the brink of extinction is the goal of San Diego Zoo Global. As a leader in conservation, the work of San Diego Zoo Global includes on-site wildlife conservation efforts (representing both plants and animals) at the San Diego Zoo, San Diego Zoo Safari Park, and San Diego Zoo Institute for Conservation Research, as well as international field programs on six continents. The work of these entities is inspiring children through the San Diego Zoo Kids network, reaching out through the internet and in children's hospitals nationwide. The work of San Diego Zoo Global is made possible by the San Diego Zoo Global Wildlife Conservancy and is supported in part by the Foundation of San Diego Zoo Global.
---