Kids Kaleidoscope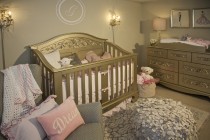 MOM'S HELPING MOM'S
ROCKABYE MOMMY  CONCIERGE
By Bonnie Carroll
 These innovative young women  are designers who have researched and collect all the wonderful items that mother's and mother's to be will need to spoil, care for and enjoy their pregnancy and their babies.  The offer decorating designs to create a signature space for babies. Their site has everything from room design, and they also find everything from designer pacifiers to baby bump pillows for pregnant women.
To look for design style that suite your family or to find all the wonderful gifts or necessities for babies and mom's please visit their site and take a look at all this darling stuff. I so enjoyed meeting the owner's of this company at the TMG Oscar Beauty & Style Luxury Suite earlier this year at the Beverly Hilton Hotel. These design services being done by women who have been there is needed.
 Some of the delicious items they can make available include exquisite baby cards by La Bella Studios, beautiful pacifiers by Crystal Dreams, cute scarf/bib combinations by Scabib, my lil' yuppie flash cards for brilliant little kids, beautiful tiny bracelets and jewelry for star baby girls and lovely baby bows. The magic inkless print kit will enable you to take hand and foot prints of your baby with safe products, and tiny labels for kids belongings. For mom they offer baby bump pillows to help restless mother's to be sleep well, and also stylish compressions leggings. For the entire collection visit: www.rockabyemommy.com.
 La Bella Studios Baby Cards, www.Etsy.com, Crystal Dreams – Baby Pacifier, www.mycrystaldream.com, Scabib – Scarf & Bib   www.scabib.com, My Lil' Yuppie Flash Cards, www.Mylilyyuppie.com, Beautiful Jewelry for Little Girls, www.LittleMissTwinStars.com, Beautiful Baby Bows www.Ellasbowsetsy.com, Magic Inkless Print Kit, www.smallprint.com, Baby Bump Pregnancy Pillows, www.bumpnest.com, Tiny Lables, www.nameBubbles.com, Legnology Compression Leggings for women by women, www.legnology.com.
____________________________________________________________________
Austin Adventures Announces
Top Ten National Park Family Adventures for 2014
Plus an Incentive to Book by May 15
 
international multi-sport vacation specialists, suggests 10 iconic destinations where families can play and bond this summer without leaving North America. And to inspire early reservations, families who book a trip by May 15 will receive $200 off pre-trip accommodations and a coffee table book celebrating the beauty of America's National Parks.
 
See: http://www.austinadventures.com/np-promo/
 

"Our National Parks are just incredible to behold," explains Dan Austin, President of Austin Adventures (http://www.austinadventures.com/). "Every Park is different and with every trip we plan, we take great care to get beyond the beaten path to experience what makes it so special and extraordinary."
 
For the 2014 season Austin's company has arranged 10 unique six-day/five-night programs in the Western U.S. and Canada expressly designed for families with children ages 7 and up (min age 5 forYellowstone Family Adventure). All-inclusive pricing starts at just $1,998 for adults (double) and $1,598 for kids. National Parks visited include Yellowstone, Grand Teton, Yosemite, Kenai Fjords, Bryce, Zion, Wind Cave, Banff and Jasper.  There are multiple departures of all trips.
 
New for this season, Austin Adventures guests will enjoy unprecedented "insider's access" and advantages that Austin attributes to a recent partnership between his company and Xanterra Parks & Resorts®. This partnership brings "access to things like hard-to-get hotel rooms, off-the-tourist-track itineraries and local specialists whose expertise adds unique perspective to travel experiences."
 
Families new to exploring National Parks are invited to join an upcoming Webinar from 7 p.m. to 8 p.m. (EST) on April 16 hosted by Travel Webinars (travelwebinars@dot2.us). This can be added to an Outlook calendar by clickinghttps://www1.gotomeeting.com/synchOutlook?wid=266556632&uid=105234583
 
To join the Webinar please visit: https://www1.gotomeeting.com/register/266556632
 

As each and every park is different activities will vary by what the terrain offers. The South Dakota Family in the Black Hills focuses on a host of dedicated Rails to Trails bike routes and a day exploring underground wonders. Alaska Family on the Kenai Peninsula explores the wilderness by train, small ship, sea kayak, bicycle and on foot.
 
Montana Family Great Western Adventure(named a 2014 Tour of a Lifetime by National Geographic Traveler) displays the Wild West from Little Big Horn to the Beartooth Mountains to Yellowstone's Lamar Valley and Cody's rollicking rodeo.
 
Near and inside the parks are exemplary accommodations and culinary experiences representative of the history and traditions of the region. After a day of rafting and hiking, parents often enjoy an al fresco glass of wine as their children splash in the swimming pool.
 

"Each National Park has its own set of challenges, from white water rapids to rigorous treks. Our guides create a secure and rewarding environment to accomplish the challenges while having a ton of fun along the way," Austin says.
 
For a comprehensive 2014 catalog, call toll-free 1.800.575.1540, or e-mailinfo@austinadventures.com. To review current trips, schedules and itineraries log onto: http://www.austinadventures.com/. 
 
About Austin Adventures

For over 40 years Austin Adventures (formerly Austin-Lehman Adventures) has provided adventure vacations, now on six continents, building an international reputation for small group active travel to destinations in The Americas, Europe, Africa and Antarctica. Its specialty is adult adventure (multi-sport), family, biking, hiking and small ship cruising adventures, all focused on history, culture and nature's gifts.  Small group trips feature exceptional regional dining, distinctive accommodations and all-inclusive rates and services. In addition to scheduled group departures, Austin Adventures offers customized trip planning and a money-back satisfaction guarantee. The company's Vice President of Operations, Kasey Austin, was singled out by editors ofOUTSIDE Magazine as the world's top Family Guide for 2014.
 
In September 2013 Austin Adventures joined the Xanterra Parks & Resorts® portfolio of experiential leisure offerings. Known for its "Legendary Hospitality with a Softer Footprint," Xanterra Parks & Resorts® entities include lodges, restaurants, tours and activities in national and state parks and resorts as well as a cruise line, railway and tour operator. Xanterra Parks & Resorts has operations in the Grand Canyon, includingGrand Canyon Railway in Williams, Ariz., and The Grand Hotel in Tusayan, AZ.;Yellowstone; Zion; Crater Lake; Glacier, Rocky Mountain and Petrified Forest National Parks; Mount Rushmore National Memorial; Furnace Creek Resort in Death Valley National Park and five Ohio State Park Lodges as well as the Geneva Marina at Ohio's Geneva State Park. Xanterra Parks & Resorts also operates Kingsmill Resort in Williamsburg, Va., Windstar Cruises, VBT Bicycling and Walking Vacations and Austin Adventures.
__________________________________________________________________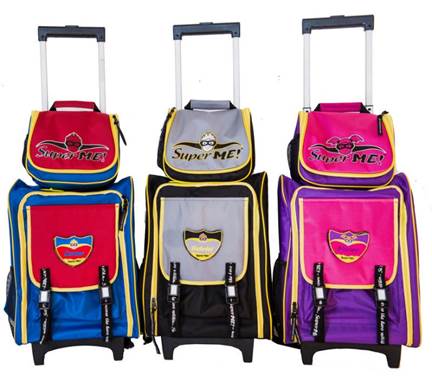 SUPERME: SUPERHERO-INSPIRED PRODUCTS PUT THE 'FUN' IN FUNCTIONALITY
KIDS EMBRACE INNER SUPER POWERS WITH FEEL-GOOD PRODUCTS THAT GIVE BACK
Embracing the inner personality, unique skillset and boundless talent of kids all over the map, SuperME offers a collection of superhero-inspired products that combine functionality and fun. Developed by designer Daphne Kaufer, SuperME offers an assortment of backpacks, lunch boxes, masks, pouches that encourage kids to embrace freedom of thought and expression. Kaufer has a BA in Architecture from the University of Cardiff, Wales and AA in Footwear and Accessories Design from FIDM Los Angeles. Starting out with a successful children's footwear line called DaphDaph SF that has graced the pages of Italian Vogue Bambini, Kaufer is extending her creativity in children's accessories.
From the classic superhero to ninjas and safari capes, SuperME has the perfect piece for every personality. SuperME donates a portion of its proceeds to support PACER's National Bullying Prevention Center and encourages children to be proud of who they are and accepting of others. Allowing kids to embrace life fully prepared and go on SuperME adventures, the brand is a go-to for the classroom, fieldtrips, travel with the family, sleepovers, and more.
All SuperME products are environmentally friendly and are 100% safe. Designed in San Francisco and manufactured to the highest quality standards in Taiwan at an ISO 9001 certified, family-owned and operated factory, SuperME allows every child to embrace their unique super powers.
For additional information on the brand, please visit http://www.supermehero.com/ 
_________________________________________________________________________

10 Tips for Parents on Boating Safely With Kids
From the Non-Profit Sea Tow Foundation
Warmer weather and the end of the school year signals the start of the family boating season. Boating offers one of the best ways for parents to escape the distractions of everyday life and share their enjoyment of nature with their kids. However it's important for parents – especially those new to boating – to follow a few basic safety steps that will help make the experience more enjoyable for the whole family.
 
The Sea Tow Foundation, a 501[c][3] nonprofit organization dedicated to boating safety and education, offers the following list of 10 Tips for Boating with Kids.  
Life Jackets Save Lives. Be sure all kids on board are wearing a life jacket whenever the boat is moving. This is not just sound advice; it's the law. The U.S. Coast Guard requires that all children under 13 years of age must wear a Coast Guard-approved life jacket while the vessel is being operated unless the child is below deck or in an enclosed cabin. 
Make sure it fits. Children's life jackets come in different sizes appropriate to the child's body weight. Make sure you have one that fits each child onboard, and that the kids haven't outgrown their life jackets over the winter. Infant life jackets have a strap that runs between the legs and extra flotation behind the head to ensure the baby floats face up at all times. Keep an extra child's life jacket or two on hand in case a friend comes along.
No Exceptions. Kids often complain about having to wear their life jackets on board. Get them "invested" in theirs by letting them pick it out for themselves. Make sure the life jacket fits the child properly, both for comfort and safety's sake. Be a good role model. If the kids see you wearing your life jacket, they'll be more likely to wear theirs.
 Safety Starts in the Parking Lot: Get the kids in the habit of putting on sunblock, a hat and their life jacket even before you walk down to the boat. That way, they'll be protected if they accidentally tumble off the dock into the water.
Keep Everything "Shipshape": When you board the boat, have everyone stow their gear and any water toys away neatly. Be sure there are no loose lines, mops, buckets, etc. on deck that someone might trip over.
Pre-Cruise Check: The adult who is driving the boat should give the kids a safety lesson before leaving the dock. Make it a point to tell them that there can only be one captain, and it's important to follow his or her orders quickly and quietly. Set a few basic rules, including: No running or sitting on the side rails, foredeck, aft sunpad or swim platform when the boat is under way.
 First Mate: Kids will get a bigger kick out of a boat trip if you make them your First Mate. Before you leave, show them where you're going on a chart. While under way, have them keep a lookout for marker buoys. Teach older kids how to work the chart plotter and find your GPS coordinates.
 Radio Check: Be sure everyone knows how to operate the boat's VHF radio in case of an emergency. A good way to practice is to call Sea Tow's Automated Radio Check service. This free service not only shows the kids how to key the microphone and talk over the VHF, it also lets you be sure the radio is in good working order. To find the Automated Radio Check VHF channel in your boating area, visithttp://www.seatow.com/boating-safety/automated-radio-checks.
Tow for Two. When you tow kids behind the boat on inflatable water toys, water skis or a wakeboard, be sure to designate an adult or teen to be the official watcher, keeping his or her eyes on the towed rider at all times. Teach the kids hand signals they can use to tell you to speed up, go slower or stop. Be sure they wear their life jackets while skiing, boarding or riding.
Places, Please! Give the kids assigned seats on the boat while docking, so that they don't accidentally block the driver's view. Make sure they know to keep their fingers and toes inside during this process!
These basic guidelines will help you ensure everyone stays safe on board. But the most important tip for your family boating adventure is this: Have fun out there!
 
About the Sea Tow Foundation

In 2007, Sea Tow Founder and CEO Capt. Joe Frohnhoefer created the Sea Tow Foundation – a 501(c)(3) nonprofit organization – to promote safe boating practices. The Foundation's goal is to reduce accidents, fatalities and property damage related to recreational boating. For more information, please visitwww.boatingsafety.com
_________________________________________________________________________
Teen Times – Cody Hilton
Scholarships Available to Teens
Seeking Meaningful Summer Travel Experiences
 
Monetary assistance is available to teens who have a yen to travel and be a force for positive change this summer.
 
Founder's Scholarships in the amount of $1,000 per student will be applied to program tuitions for students who meet criteria outlined by Adventures Cross-Country (ARCC) and who enroll by May 9 in ARCC programs ranging from Costa Rica to Thailand. For over 30 years ARCC has delivered meaningful international travel experiences for students ages 13 through 19.
 
Adventures Cross-Country advocates meaningful travel as the best way to inspire teens to become responsible global citizens.
 
"I am extremely proud of the lasting impact that ARCC students have had on people, on communities and on the environment around the world," reflects Scott von Eschen, parent of two teens and President of Adventures Cross-Country (http://www.adventurescrosscountry.com/). "Often their travel experiences are life-changing as students learn to be contributing members of our global community."
 
Scholarships are available to boys currently in grades 9-12 for two programs:  Thailand Elephant Service that runs July 1-31 and Costa Rica Service Ultimate that runs June 28-July 18.  A third scholarship program open to boys in grades 7-9 is Hawaii Service with two departures, July 1-14 and July 18 -31.
 
Scholarships are available to girls currently in grades 8-9 for Costa Rica Service Ultimatethat runs July 16-Aug. 5 and for girls currently in grades 7-9 for Costa Rica Service Classic that runs July 21-Aug. 3.
 
Thailand Elephant Service - In Thailand students work alongside the mahout, a traditional elephant caretaker, bathing, feeding and riding elephants deep into the jungle while embarking on a journey to protect and care for these animals in their native land. Students volunteer in a hill-tribe village, learn how to cook tasty Thai delights, spend the night among monks at a Buddhist monastery, explore the temple wonderland of Chiang Mai, scuba dive spectacular multi-colored coral reefs, whitewater raft the Pai gorges, teach English and make friendships with children in a local primary school in this country named The Land of Smiles.
See: http://www.adventurescrosscountry.com/trips/thailand-elephant-service
 
Costa Rica Service Ultimate - Student travelers dive into the heart of Costa Rican culture by working with school children and rural farmers on community service projects. Enroute they whitewater raft through the jungle on the Pacuare River, surf an unspoiled coastline, patrol turtle nesting beaches,  help a community build a shelter, do daily chores with a family and help educate village youth. See:http://www.adventurescrosscountry.com/trips/costa-rica-ultimate-service
 
Costa Rica Service Classic - Students teach English in a local school, whitewater raft through the jungle on the Pacuare River, engage in conservation and ecological preservation, come together with a rural community to build a shelter, plant a vegetable garden, explore lush rainforests, untouched beaches, and a rainbow of exotic wildlife, and surf the friendly waves of the Pacific Coast.
See: http://www.adventurescrosscountry.com/trips/costa-rica-classic-service
 
Hawaii Service - Students traveling here engage in a celebration of a landscape of perfection, where the beauty of turquoise waters melt into captivating sunsets. Enroute they engage with communities in helping preserve natural and cultural environments while sharing a laugh with local children at a Boys and Girls Club, surfing, swimming and hiking the magnificent Na Pali coast.
See:http://www.adventurescrosscountry.com/trips/hawaii-service
 
Adventures Cross-Country's 50-page catalog details Community Service, Language Immersion and Multi-Sport programs in 21 countries on six continents for youth seeking a summer service learning experience, all while exploring cultures and communities off the beaten path. The full catalog in a digital version can also be viewed online: click here. To order a copy or to speak to a representative, call (415) 332-5075 or visit online:http://www.adventurescrosscountry.com/.
 
About Adventures Cross-Country (ARCC)
Founded in 1983, ARCC has become a leading provider of Community Service, Service Learning and Adventure Travel programs for youth ages 13 to 19. For over 30 years ARCC has been offering life-changing experiences to students who participate in two- to four-week small group programs that visit 21 countries on six continents. From teaching primary school English and building water purification projects in Africa to running whitewater rapids in Costa Rica to enhancing fluency in Spanish or Mandarin in Spain or China, ARCC brings youth face to face with the challenges, realities and beauties of nature and our global community. For post-high school students ARCC operates Gap Programs in Africa, Asia and Latin America. These offer an educational and cultural bridge between high school and college combining a rich academic curriculum with the experiential benefits of international travel. 
---