KID FRIENDLY VACATIONS  .  .  .

HIGHWAY 101 TRIPS FOR FAMILY FUN
Stay on Trend for 2015 along the 
CA Highway 1 Discovery Route:
Experience Abundant Outdoor Adventure and
the Next Step in Eco-Tourism: Stewardship Travel 
According to the Huffington Post/Post 50 Travel Blog, Adventure Travel and Eco-Tourism are two big trends for boomers in 2015, which can be found in abundance along the CA Highway 1 Discovery Route located mid­way between San Fran­cisco and Los Ange­les in San Luis Obispo County.Whether taking an exhilarating hiking or biking expedition in one of the many magnificent State Parks along the coast, or kayaking and paddle boardingalong miles of coastal waterways, or cycling through acres of vineyards and mountain trails, you're sure to find the perfect outdoor adventure or stewardship travel experience among the 10 artisan towns and villages span­ning over 101 miles of prime Pacific coast­line.
The Next Step in Eco-Tourism:
Stewardship Travel
Curious to view what this destination is about? A
recently launched hosted travel show
On the Road With Jo
focuses on local favorites, historic places to visit, and stewardship travel opportunities
that bring the
CA Highway 1 Discovery Route
to life
. Watch full episodes or short vignettes from each of the destinations along the Discovery Route to determine which historic, cultural and stewardship activities to add to your itinerary
.
Outdoor Adventure
Visitors who travel along CAs Highway 1 Discovery Route to commune with nature are treated to everything from majestic views of rugged Pacific coastline in Ragged Point, and kayaking in San Simeon, relaxing
or cleaning-up the
beautiful beaches in the classic beach town of  Cayucos, to enjoying the renowned, verdant vineyards in historic Edna Valley and  Arroyo Grande Valley. Then there's Nipomo, with gigantically famous dunes, where horses and golf carts are welcomed equally.
A
s well as several charming artisan towns like Cambria and  Avila Beach & Valley. Don't forget to visit the rustic seaside villages
of
 Oceano and  Los Osos/Baywood Park, which are woven in between seaside state beaches and marinas where outdoor adventure abounds. Experience amazing outdoor activities and explore the many State Parks along the CA Highway 1 Discovery Route in each of
these
regions below:

Vacationers can enjoy a more meaningful trip any time of the year by participating in the country's first Stewardship Travel program
,
full of fun, authentic, and inspiring activities with area historians, scientists, and specialists. Have fun in the great outdoors and help preserve wildlife during a beach clean-up in the small towns of Cambria, Cayucos, and Avila Beach. Make new friends during a
n
interpretive walk in The Elfin Forest in Los Osos or become a "citizen scientist" at a nature center. In all, there are more than 70 unique activities and/or contribution opportunities in more than ten locations along the California Central Coast designed to add deeper meaning
on
any vacation.
For more information regarding outdoor adventures in this very special part of the world, visit  www.Highway1DiscoveryRoute.com.
About the California Highway 1 Discovery Route
Breathtaking natural beauty, preeminent wine regions, amazing outdoor adventure and delicious restaurants boasting culinary excellence dot the California Highway 1 Discovery Route along Coastal San Luis Obispo County. With 10 amazing destinations spread throughout offering over 500 extraordinary accommodations, including hotels, motels, B&Bs and vacation rentals with unique specials and packages, the California Highway 1 Discovery Route offers one fantastic vacation anytime of the year. This 101 mile span of prime Pacific coastline is conveniently located midway between San Francisco and Los Angeles, and offers a vast wine region, diverse artisan towns, charismatic seaside villages, scenic country roads rich in character and history and two world-class wine regions. Leaders in Stewardship Travel, the next step in eco-tourism, visitors will discover over 70 activities and donation opportunities throughout the region to help you feel good while doing good on vacation.  Stewardship Travel visitors will learn more, connect deeper, and may choose to spend a couple hours helping to restore a park trail, protecting wildlife on the beaches, or planting a native tree.
Find enriching multi-day tours and discover a plethora of fun and relaxing itinerary ideas in these 10 California Highway 1 Discovery Route destinations: San Simeon & Ragged Point, Cambria, Cayucos, Los Osos/Baywood Park, Avila Beach & Valley, Edna Valley, Arroyo Grande Valley, Oceano and Nipomo. Every February, the towns along the California Highway 1 Discovery Route celebrate Coastal Discovery & Stewardship Month, offering month long special lodging packages, activities, events and movies throughout the region. For the latest news on the area join us on Facebook www.facebook.com/WineCoastCountry and follow us on Twitter twitter.com/Hwy1DiscoveryRt. For more information on the California Highway 1 Discovery Route, visit  www.Highway1DiscoveryRoute.com or contact Chief Administrative Officer Cheryl Cuming at 805-547-CBID (2243), admin@SLOcountyBID.com.
---------------------------------------------------------------------------------------------------------------
SMOKE AND MIRRORS INSPIRING TO TEENS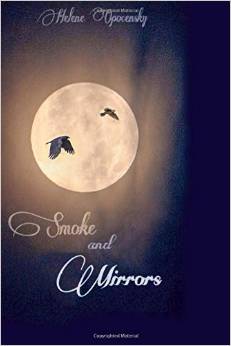 The new book, Smoke and Mirrors by Helene Opocensky, celebrates individuality and encourages teens to embrace their differences and seek to unlock their hidden potential. Tapping into her experience working with families in crisis as an Assistance Attorney General for the State of Connecticut, Opocensky wrote Smoke and Mirrors to encourage children and teens to embrace what makes them special and sets them apart from the crowd.
After Corbin's mother dies and leaves him homeless, Maxim Moritz Grobian took him under his wing and taught him the magic that was their heritage. Grateful for everything Max did for him, Corbin feels powerless to resist the mission Max assigns him: to bring Max's estranged daughter to him. Max insists she is the only one who can use the powerful Heartstone to keep mages safe from the Inquisitors that hunt them, so that mages could take their rightful place in the world.
A worthy goal, thinks Corbin initially, but once he meets Lorelei, all he really wants to do is run for the hills. Both afraid of hurting her and endangering himself, he begins to doubt both the mission and Max himself.  How could he possibly do what Max wants him to do? He is supposed to gain her trust and even make her fall in love with him. There is no way — absolutely no way — he was going to do that, not after what she had told him.
Perfect for middle grades, Smoke and Mirrors is full of adventure and shares valuable life lessons including:
Life is magical and should never be taken for granted - the world is full of wonder!
Children always understand what is going on - when adults go through difficult times, their children do as well
Prejudice and hate hurt everyone - it creates something ugly, even for the hater
"It wasn't my fault" is sometimes true - the hard part is questioning if it could be your fault and then accepting responsibility for your actions
Love, family and acceptance come in all shapes and forms - you just have to be willing to open your heart to accept these gifts
___________________________________________________________________
BACK-TO-SCHOOL GETS A (WALL)POP OF STYLE

~ WallPops New Line Makes Back-To-School Fun ~
Students, get ready: the long and carefree days of summer are coming to an end, and reminders that responsibility is right around the corner are hard to miss, with back-to-school signage everywhere you look. But instead of just early mornings and homework assignments, what if back-to-school meant a chance to brighten up your study area, redecorate your dorm and discover products that help you stay on task? 
WallPops, the premier line of peel-and-stick wall art from Brewster Home Fashions, has turned the back-to-school season around by offering stylish and practical new products – from Chalkboard Dots and Dry Erase Organization Kits to fashionable peel-and-stick photo frames and decorative wall decal kits – WallPops has it all. 
"We created this line with busy students in mind," says Paula Berberian, Creative Director of WallPops. "A happy marriage of style and function, our goal in designing and optimizing this line was to bring some fun to the back-to-school season. 
Oversized Message Boards: These extra-large message boards are perfect for leaving your roommate a note or yourself a reminder. Not to mention the fact that the fun yet classic designs complement any existing décor. (All message boards retail for approximately $23.99-$26.99 each)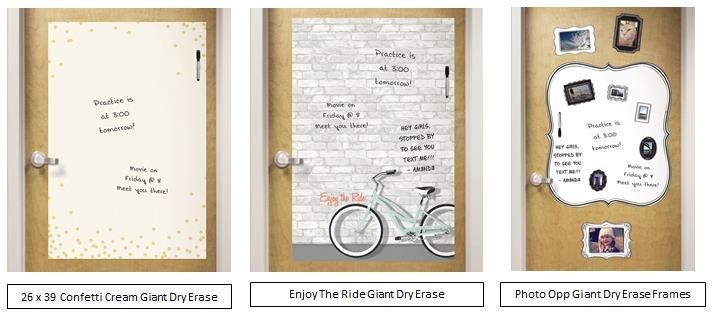 Dry Erase Calendars and Organization Kits: Keep track of exams, school functions and dinner plans while still keeping décor chic. (All kits retail for approximately $14.99-$26.99 each) 
·         Organization Kits: These on-trend kits come with a monthly and weekly calendar, a message board for notes and a cork board for pinning up everything from concert tickets to postcards.
·         Academic Calendars: Designed specifically with students and teachers in mind, these calendars show dates starting in August and ending the following July, to reflect the academic year. They're perfect for keeping tracking of long weekends and counting down the days until spring break.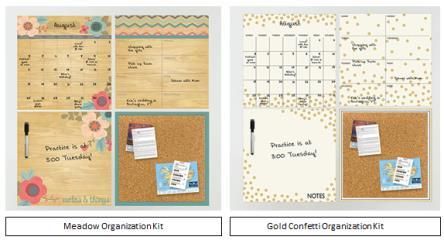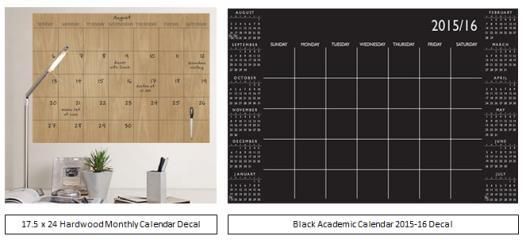 Dry Erase Dots: Make a note or add a reminder – these fun dry erase dots let you do it all. They're an updated classic of traditional, square boards and the jewel tones add just the right amount of flair to any room. (All Dry Erase Dots retail for approximately $14.99 each)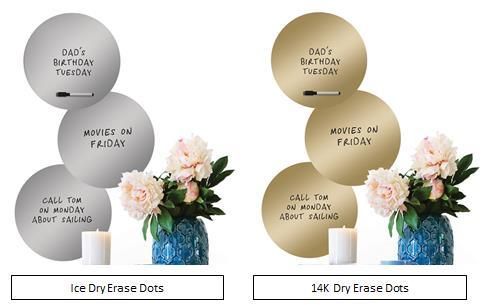 Small Wall Art Kits: Add an accent or display your favorite photos – there's no limit with small wall art kits from WallPops. (All kits retail for approximately $17.99 each) 
·         Photo Frame Kits: Dorms and apartments are notorious for having strict "no nails in the walls" rules – some even prohibit tape – thankfully, WallPops has damage-free options for putting all your favorite photos on display. Don't live in a room with bare walls when these kits are the perfect solution.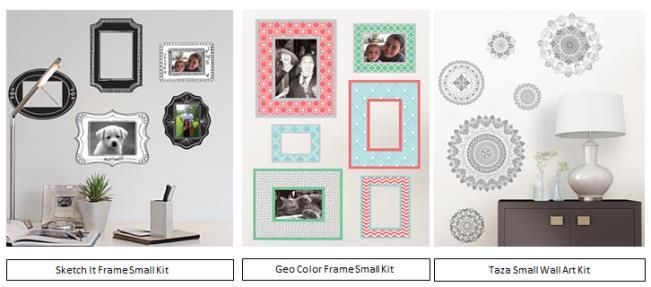 Confetti Dots: The mini revolution is here! WallPops' traditional Dots now have a sister product in their new Confetti Dots. Coming 64 to a pack, choose from gold, silver or copper, each with a chic metallic sheen, or classic matte black. Each pack retails for approximately $14.99.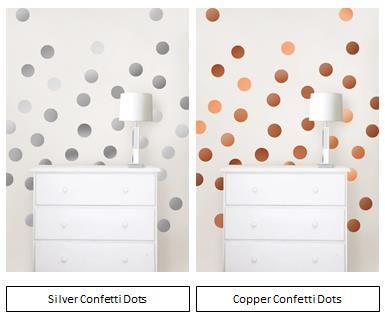 Large Wall Art Kits: Turn your room into a work of art with their large wall art kits that come in bright colors and on-trend patterns. (All kits retail for approximately $30.99 each)
 Wall Quotes: Say what you feel – better yet put in on your wall! These wall quotes are exactly what you need to express and inspire yourself. (All quote kits retail for approximately $17.99)
 Maps: Perfect for sprucing up your study area, the Earth at Night Map can be used as attractive wall art during the day and a glow in the dark accent piece at night.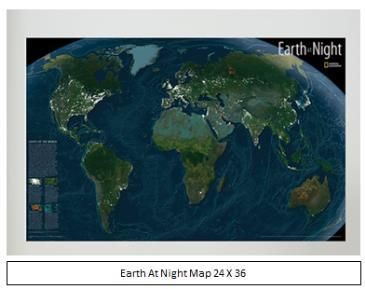 Back-to-school can be something to look forward to this year, thanks to WallPops. All designs are available for purchase on the WallPops site at www.wallpops.com and at select retailers nationwide. 
WallPops by Brewster Home Fashions is the premier line of peel-and-stick wall art on the market today with on-trend design and total coordination possibilities.  Headquartered in Randolph, Mass., Brewster Home Fashions is one of the oldest independent, family-owned wallcovering companies in the U.S. that now spans five generations.  Since 1954, Brewster Home Fashions has been a prominent manufacturer and distributor of fine wallpapers and home decor products for residential and commercial markets globally.  For more information, visit brewsterwallcovering.com or call Brewster Home Fashions at 1-800-366-1700.
-----------------------------------------------------------------------------------------------------------------------
Award-winning young adult fantasy tells the story of two boys
who embark on their greatest journey – to discover their purpose in life –
and the consequences of the choices they make to get there

In his award-winning debut young adult fantasy novel, author B. R. Maul cracks open a portal to another world just outside the small Midwest town of Riverside, setting off a series of events that forever changes the lives of two boys.
Simon Whittaker is living an ordinary teenage life, until the most powerful ring in the land of Magnanthia inexplicably chooses him to become its guardian. Overnight, Simon flees from something trying to kill him, sees magical spells he has only read about, and steps into the most majestic world he could ever have imagined. 
Swept away to a fantastic world in the midst of a brutal war, Simon must place his life in the hands of four unlikely travelers, a swordsman, a ranger, a cleric, and a wizard, who have been sent to lead him down the right path.
Soon, Simon learns that King Elderten has sentenced Magnanthia's nine guardians, the group the king believes is responsible for the kingdom's devastation, to death. Young Simon is the only hope for those who believe the guardians are innocent.
Meanwhile, Jak Jakobsin, a newcomer to Riverside, has been pulled through a portal into Bedlam, the home of the overlord and his army of undead, by two of Bedlam's scouts. Bedlam's overlord plans to use Jak, along with his army of undead, goblins, and trolls, to build a force so powerful that Magnanthia will be his forever.
Told from the alternative viewpoints of Simon and Jak, In the Land of Magnanthia explores how two young boys discover their dueling purposes in life and how the choices they make form and ultimately determine their destinies.
For Maul's efforts, this first novel in his new Portals, Passages & Pathways series received the Bronze Medal in the Best Sci-Fi/Fantasy/Horror eBook category in the 2015 IPPY (Independent Book Publisher) Awards.
Maul comments, "I wrote this book because of my love of fantasy fiction combined with an unshakable passion to know my purpose in this life and the purpose of life."
Reader reviews include the following:
"He has created familiar characters that I 'recognize' from my own life. He also uses a rich vocabulary, which gives his book depth."
"I found the book a very fun read, and found myself staying up a little too late some nights to get in one more chapter before lights out."
"Maul's imagination and ability to paint a picture of our own childhoods makes it so that anyone reading this book will be able to identify with one of the characters…I wholeheartedly recommend this book and look forward to the next in this series."
Author: B. R. Maul grew up in Moorhead, Minnesota. Having studied creative writing and secondary English education in college, he planned to teach high school before embarking on a writing career. A sudden turn of events, however, compelled him to begin writing immediately. This, combined with his lifelong love of fantasy fiction, resulted in the debut novel in his Portals, Passages & Pathways series, In the Land of Magnanthia. He currently lives in Fargo, North Dakota, with his wife and three daughters.
________________________________________________________________
CHILDREN'S LITERARY CLASSICS HONORS "TAME YOUR MANNERS"
Children's Literary Classics is pleased to announce that the children's picture book, Tame Your Manners, written by Loretta Neff and illustrated by Anirban Mitra, has been selected to receive the Children's Literary Classics Seal of Approval.  The CLC Seal of Approval is a designation reserved for those books which uphold the rigorous criteria set forth by the Children's Literary Classics review committee, a team comprised of individuals with backgrounds in publishing, editing, writing, illustration and graphic design. 
Tame Your Manners is a picture book written to educate youngsters on the benefits and how-tos of cultivating one's social graces.  Covering everything from table etiquette to thank-you notes, author Loretta Neff approaches the important topic of manners in an entertaining way which will inform and inspire young readers to always put their best foot forward.  With safari animals as their guide, Neff demonstrates corollaries between various animals and the lessons which can be learned from them.  Wonderful illustrations, by Anirban Mitra, a list of core values, and a glossary of terms all help make this book a likely favorite for children and adults. 
Look out Emily Post, there's a new book in town and it's sure to be a hit as it guides young readers to be the best version of themselves they can possibly be.  This book is recommended for home and school libraries.   
Children's Literary Classics, an organization dedicated to furthering excellence in  children's literature, takes great pride in its role to help promote classic children's literature which appeals to youth, while educating and encouraging positive values in the impressionable young minds of future generations.   To learn more about Children's Literary Classics, you may visit their website at www.clcawards.org or www.childrensliteraryclassics.com 
The EW Foundation is an educational nonprofit providing character and etiquette educational resources for children and young adults, and fundraising opportunities for charities, missions, and schools. With emphasis on good character and core values, EWF's educational books and programs provide pathways for success for all children, especially for those in low-income communities. To learn more about EWF, you may visit their website at www.EWFcares.org or call 561.833.0131.
---