KIDS K - TRAVEL ALERT

KID FRIENDLY HOTELS IN LONDON 2015-16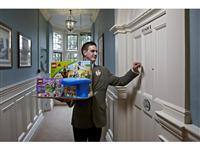 Bringing little ones to Britain is made all the easier with baby and toddler-friendly hotels, holidays, attractions and restaurants. These great places to stay, play, visit and eat are a flavour of what you can expect to find in Britain as a family.

Hotels

The Marylebone Hotel, London

Big cities have plenty to offer families visiting with a baby or toddler. In the heart of London's Marylebone district - close to Hyde Park, Oxford Street and Bond Street - the luxury Marylebone hotel offers a children's concierge service, children's magazines, milk and cookies on turndown, kids' DVDs, use of the pool (with dedicated family times) and, if you're travelling with older children too, the use of Wii and the PlayStation.

http://www.doylecollection.com/hotels/the-marylebone-hotel

Rubens at the Palace, London

Children will think they're real princes or princesses when they stay at Rubens at the Palace; located right next to Buckingham Palace, the luxury hotel has some rooms available that overlook the Queen's London residence. And with its own Director of Fun, children are kept entertained, especially with the welcome pack of games, special children's check in and the option of a children's masterchef class!

http://www.rubenshotel.com/families

The Grove, Hertfordshire, south England

As well as branding itself as child-friendly The Grove - less than an hour's drive north of London - focuses on being parent-friendly too. Its concierge team offers to unload and valet park your car while you bring in your young children to enjoy the milk and cookies and toy box ready for them on arrival. Activities abound, from giant jenga to junior golf clinics. Toddlers can even bring their buckets and spades; the hotel has its very own beach, where there's plenty of space to build sandcastles. And if all that building makes them hungry, try out the special children's afternoon tea.

http://www.thegrove.co.uk/families

Fowey Hall, Cornwall, south west England

There's no need to bring a steriliser, bottle warmer, changing mat or nappy bucket - Fowey Hall will have these ready in your room on arrival. The family focused hotel - said to have inspired Toad Hall in The Wind in the Willows - is located in the charming sailing town of Cornwall's Fowey, less than a 2-hour drive from Exeter and its international airport. Facilities such as babysitters you can book, TV and DVD players in the rooms and family areas in the sumptuous spa, aim to offer a relaxing stay for the whole family.

http://www.thefoweyhotel.co.uk/

Bovey Castle, Dartmoor National Park, Devon, south west England

Children as young as pre-schoolers can revel in the hotel's new LEGO room service; Bovey Castle is the only hotel in the world to bring LEGO toys to the bedroom door. Children are given a LEGO menu on arrival and once they've selected - LEGO DUPLO is made for little hands - the hotel's LEGO concierge will deliver it to the door. There's also fun to be found in the hotel's playroom and its location in the beautiful Dartmoor National Park - a 45-minute drive from Exeter International Airport - means there's plenty of fresh air to be had, with archery, survival skills, reptile and owl encounters and rock climbing on offer.

http://www.boveycastle.com/Families.html

The Black Swan Hotel, Helmsley, Yorkshire, north England,

This centuries-old coaching inn - now a boutique hotel - sits on the edge of the North Yorkshire Moors, meaning it's within easy reach of popular northern England seaside towns of Whitby and Scarborough as well as less than an hour's drive from the city of York - fun for all the family. What's more, kids under 4 sleep free and there's a library of children's DVDs to keep all ages amused.

http://www.blackswan-helmsley.co.uk/

The Ickworth, Bury St Edmunds, Suffolk, east England

Set in 1,800 acres of National Trust parkland 1 ˝ hours north east of London, The Ickworth is a country-estate hotel where children can enjoy the fresh air of the forest, fields and lawns, climbing trees, riding bikes and spotting deer. Adults can enjoy free childcare and head for the spa! Mealtimes can equal flexible family dining, children's high tea, and sumptuous banquets for parents to enjoy when the little ones are tucked up in bed with the hotel's baby listening service in action.

http://www.ickworthhotel.co.uk/

Bedruthan Steps, Mawgan Porth, Cornwall, south west England

With every bedroom offering en-suite bathrooms, refrigerators, and baby listening services, Bedruthan Steps caters for young families. Situated on the breathtaking north Cornish coastline, a 5-hour train journey from London, families can choose from open-plan hotel suites or interconnecting rooms, as well as villa suites with private terraces that lead on to a large lawn and children's play area. And with 7 play areas and children's activities for different ages, an early dinner serving between 16:00-18:00 and daily children's entertainment (in busier months) like clowns and magicians, expect happy smiles.

http://www.bedruthan.com/

Crieff Hydro, Perthshire, Scotland

Styled as a hotel and leisure resort - and designed 'with families in mind', Crieff Hydro is set on a 900-acre estate an hour from Glasgow, and features a Victorian spa, 18-hole golf course and more than 60 indoor and outdoor activities - a great place for kids to let off steam. Guests can choose between family rooms and suites in its hotel or self-catering cottages and free childcare is available to all in its BIG Country facility. Its aim is that children of all ages will never be bored, offering sessions ranging from exploring the indoor castle to discovering local wildlife.

http://www.crieffhydro.com/

Western Isles Hotel, Isle of Mull, Scotland

On the island of Mull, the second largest island of the Inner Hebrides off the west coast of Scotland - and just a 4-hour drive from Glasgow - sits the Western Isles Hotel, overlooking picturesque Tobermory Bay. Children will be drawn to the houses in a rainbow of colours that sit on the bay - they were used as the location in popular BBC children's show Balamory. Or they can imagine they're knights or princesses if families book the hotel's turret suite, the official family room, plus there are interconnecting rooms to choose from.

http://www.westernisleshotel.co.uk/

Trefeddian Hotel, Aberdovey, Ceredigion, Wales

An easy stroll from gorgeous beaches perfect for building sandcastles and shell-collecting, the Trefeddian Hotel offers larger rooms for family occupancy. An earlier time slot is available in its restaurant for children's dining, there are indoor and outdoor play areas, a games room and the hotel provides a baby listening service so parents can enjoy some time together. Although in a beautiful, tranquil part of west Wales, its location is only 2 ˝ hours from the international airports of both Birmingham and Liverpool.

http://www.trefwales.com/

The Vale Resort, Vale of Glamorgan, Wales

http://www.vale-hotel.com/

Enthusiastic about sports? Then take a look at the Vale Resort, set in 650 acres of countryside but just 15 minutes drive of the capital, Cardiff. Kids and adults can make use of the Health and Racquets Club, with sporting facilities suitable for all ages. Many attractions including cinemas, The Big Pit and go-karting are all easily accessible from The Vale. There are family rooms and interconnecting rooms to choose from.
_________________________________________________________________
STYLISH CAMP GEAR FOR KIDS
Introducing the new Ninja Graffiti, Icy Powers & Golden Powers Cape Backpacks from SuperME!Perfect for the superhero on the go, SuperME is proud to introduce the new Icy Powers, Ninja Graffiti & Golden Powers Cape Backpack! From the outside, it is a sleek and super functional backpack. But just as quick as a superhero can transform identities, this backpack converts into a superhero dress up costume by simply pulling the hidden cape out of a pocket at the top of the backpack. Superhero eye mask included to complete the transformation. The bags are made from environmentally friendly, insulating EVA to keep snacks & drinks fresh. Perfect for preschoolers (ages 2-6) and can easily fit a water bottle, snacks, change of clothes, school folder or a favorite book.  The Icy Powers Cape Backpack matches and coordinates with SuperME's Cape2Mat lunch bag.  A starter SuperME Velcro patch comes with each bag, and there is the option to personalize with your own hero name or initials patch.
To view the entire SuperME! collection, please visit www.supermehero.com.
---