KIDS KALIEDSCOPE  .  .  .

CARNIVAL TO SERVE AS 'OFFICIAL SEAGOING HEADQUARTERS' FOR THE CAT IN THE HAT'S PRESIDENTIAL CAMPAIGN,
COINCIDING WITH RELEASE OF NEW DR. SEUSS BOOK 'ONE VOTE, TWO VOTES, I VOTE, YOU VOTE'  
Variety of Fun, Educational Shipboard Activities Will Teach Kids About the Importance of Voting and the Election Process

With Election Day just three months away, a new candidate has thrown his trademark stovepipe hat in the ring – Dr. Seuss' The Cat in the Hat!
In support of the candidacy of the world's favorite feline, Carnival Cruise Line will serve as the Official Seagoing Headquarters for The Cat in the Hat's presidential campaign, coinciding with the release of the new Dr. Seuss book, "One Vote, Two Votes, I Vote, You Vote."
Joined by his running mates, Thing 1 and Thing 2, and decked out in his special presidential attire, The Cat in the Hat will be hitting the campaign tail – er, trail – on each Carnival ship starting this week, shaking hands, passing out stickers, leading parades and smiling for photo opportunities, all part of his platform of "it's fun to have fun but you have to know how."
In keeping with the presidential theme, Carnival will also offer a variety of fun, educational #CatinHat4Prez-inspired activities designed to teach kids about the importance of voting and the election process.  Part of the line's exclusive Seuss at Sea program, the activities include patriotic face painting and arts and crafts sessions where kids can create colorful posters that will be used in a Seuss-a-palooza Presidential Parade led by none other than The Cat in the Hat himself. 
Ballot boxes will be also positioned in Camp Ocean/Camp Carnival on each ship, allowing kids' voices to be heard as they vote on their favorite Dr. Seuss book and receive a custom-made certificate for voting.  Kids are also invited to star in The Cat in the Hat's official campaign commercial which will be shown on the in-cabin TV channels on each ship. 
"Carnival is the number one cruise line for families and we're delighted to team up with our partner Dr. Seuss Enterprises to celebrate the release of this fantastic new book and the launch of The Cat in the Hat's presidential campaign to help kids understand the importance of voting in a fun yet educational way," said Christine Duffy, president of Carnival Cruise Line.
"We are so happy that Carnival is serving as the 'Official Seagoing Headquarters' for The Cat in the Hat for President, and we know The Cat will have fun on board as the Kids' Candidate, showing kids that every vote counts," said Susan Brandt, president, licensing and marketing, Dr. Seuss Enterprises, LP.
Seuss at Sea is a fleetwide program operated in conjunction with Dr. Seuss Enterprises that features exciting youth, family, dining and entertainment experiences inspired by the amazing world and words of Dr. Seuss.  The program includes such popular activities as the Seuss-a-palooza Parade and Story Time and The Green Eggs and Ham Breakfast with The Cat in the Hat and Friends, as well as character interactions, Dr. Seuss toys and games and popular movies.  Dr. Seuss Bookville, a colorful family reading venue, is featured aboard Carnival Freedom and the new Carnival Vista which debuted earlier this year.
For additional information on The Cat in the Hat's presidential campaign, please visit www.carnival.com/CatinHat4Prez. For additional information and reservations on Carnival Cruise Line, contact any travel agent, call 1-800-CARNIVAL or visit carnival.com.  Carnival can also be found on:
Twitter: www.twitter.com/carnivalcruise
Facebook Fan Page: www.facebook.com/carnival
YouTube: www.youtube.com/carnival
Instagram: www.instagram.com/carnival
____________________________________________________________________
"YOGA HOSERS" OPENS SEPTEMBER 1 IN THEATRES NEAR YOU

lily-Rose Depp - Johnny Depp, Kevin Smith - jennifer Smith all star in this fun family film; PG Rated and a film the whole family can enjoy together.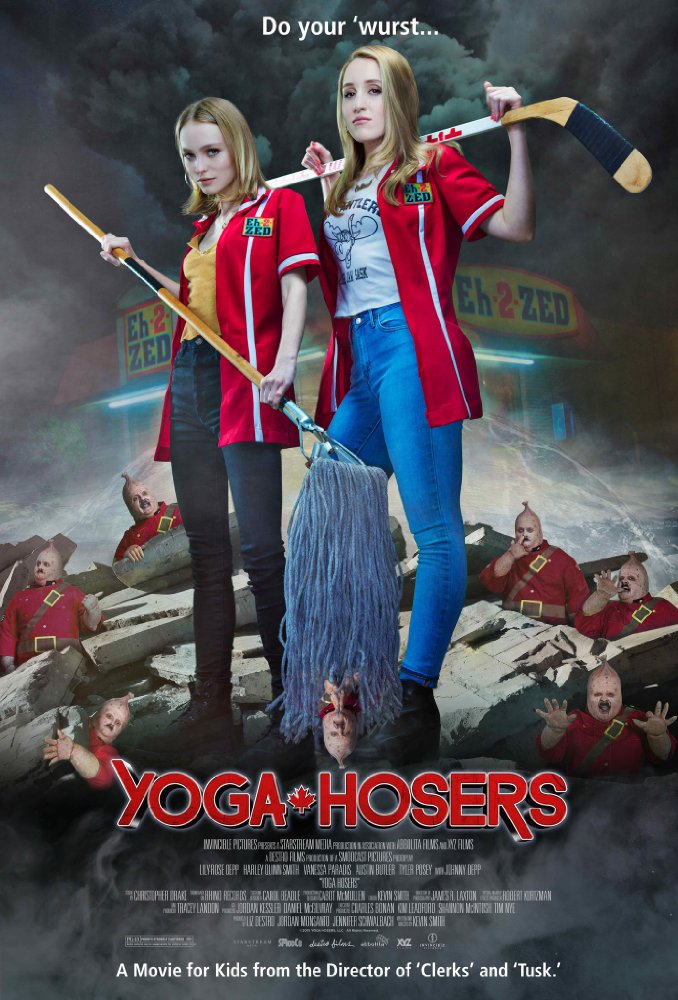 ___________________________________________________________________
KIDS HEALTH NEWS  .  .  .
American Heart Association Releases Stringent New Limits
on Children's Added Sugar Consumption
  "With its new guidelines, the American Heart Association has definitively taken a stand against added sugars, stating that no child should consume more than six teaspoons – or 100 calories – worth a day.
In doing so, the AHA seeks to prevent many of the heart damaging complications tied to excess sugar consumption: high blood pressure, high lipids, insulin resistance, type 2 diabetes, nonalcoholic fatty liver disease and obesity.
More significantly, they have also taken a strong position against sugary drinks, asking parents to limit consumption of sodas, sports drinks and energy drinks to no more than eight ounces per week for children 2-18 years old and to cut them entirely from the diets of younger children.
Public Health Advocates wholeheartedly endorses this science-based decision. Now, we must spread the word to ensure that every parent and physician is aware of these new guidelines so that we can ensure our children's good health.
Here in California we will use these new guidelines to continue to build the case for public policies that curb the consumption of sugary drinks, including the 'Soda Tax' on the ballot this November in San Francisco, Oakland and Albany, and policies currently in the works in the state Legislature."
Elizabeth Velten
Director of State Policy, Public Health Advocates
Public Health Advocates, formerly the California Center for Public Health Advocacy (CCPHA), is an independent, nonpartisan, nonprofit organization at the forefront of solving the obesity and diabetes epidemics by advocating for groundbreaking policies that build a healthier California. The Center played a leading role in removing soda and junk food from public schools, passing California's landmark restaurant menu labeling law and advocating for a statewide soda warning label law. For more information visit: www.phadvocates.org.
---