TEEN TIMES by Cody Hilton
THE SOCIAL NETWORK -- Hot Film for Fall

The story of Harvard programming genius Mark Zuckerberg, creator of Facebook, the revolutionary global social network has captured world attention. The film opened October 1 in the US, and focuses on the creation of the network and the story of the youngest billionaire in history. The story covers the six year personal and legal roadblocks of the Facebook founder during and following his rise to instant success.
For anyone who works with computers or uses the social networks will find this a very interesting film, and provides valuable information on the legal limitations and challenges that arise for the 'instant success' scenario that come with unexpected wealth and success, especially for a young person.
The film was directed by David Fincher, screenplay by Aaron Sorkin, book by Ben Mezrich. The cast included Jesse Eisenberg, Ronney Marc, Bryan Barton, Dustin Fitzsimmons, Joseph Mazello, Patrick Mapel, Andrew Garfield. For video and additional information visit: www.thesocialnetwork.com.
SAW VII 3 D - Bigger than Ever Nail Biter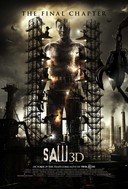 One of the biggest, most successful horror franchises in movie history arrived in theaters in vivid, chilling 3-D with the release of Lionsgate's Saw VII 3D on October 29.

As a deadly battle rages over Jigsaw's brutal legacy, a group of Jigsaw survivors gathers to seek the support of self-help guru and fellow survivor Bobby Dagen, a man whose own dark secrets unleash a new wave of terror.

The first theatrical feature to be shot exclusively on the cutting-edge SI-3D digital camera system, Saw VII 3D brings the horrifying games of Jigsaw to life like never before. The film stars Tobin Bell, Costas Mandylor, Betsy Russell, Sean Patrick Flanery. Saw VII 3D is directed by Kevin Greutert, produced by Oren Koules, Mark Burg and Gregg Hoffman. Saw VII 3D is a Lionsgate Release. Twisted Pictures Presents a Burg/Koules/Hoffman Production
Parental Guidance for kids would be a very wise idea for this film.
---
---