Teen Times by Cody Hilton
TEEN SCENE – TEEN PARTY EXPO – QUEEN MARY
June 15, 12-5 p.m. Queen Mary Dome, Long Beach
(800) 769-5137  teenpartyexpo.com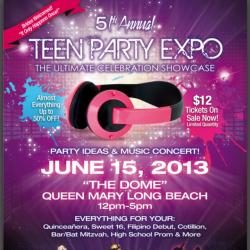 Teens can learn about safe driving from Auto Club at the upcoming Teen Party Expo. AAA staff will be there to answer questions and help with educations on safe and sound driving tips for teens.  Answers on planning activities like proms or cotillions and birthday bash planning are available. A lineup of formal-wear fashions shows will be featured as a DJ spin-off is in progress. Tickets are $10 and F&B vendors will be there.
_________________________________________________________________
Kids Kaleidoscope
Taking It Up A Notch, Luxury Grand Velas Resorts Offer
Summer Camps for Kids and Families;
Gourmet Kids Menu, Movie Theater, Teen Option, Climbing Wall, Zip-Lining,
Mayan Arts And Crafts, Weekly Themed Nights And More
The AAA Five Diamond, luxury all-inclusive resorts in Grand Velas Riviera Maya and Riviera Nayarit offer innovative and exciting Summer Camps for kids and teens, as well as activities for family bonding. The camps include welcome gifts for young people, adventure activities (climbing wall, zip-lining, horseback riding), authentic Mayan arts and crafts, a teen's program and weekly themed activities for the whole family, including a Mexican Fair, Summer Olympics, Culinary Contest and Picnic Parties. Both resorts also have Leading Spas of the World, where Grand Velas Riviera Nayarit offers Kids' Spa treatments, as well as a Family Spa Collection that includes mother-daughter rituals.
Along with special summer programming, guests enjoy all-inclusive features including luxury suite accommodations, a la carte dining at a choice of gourmet restaurants, gourmet kids menu, premium branded beverages, 24-hour in-suite service, taxes and gratuities. The Summer Camps at Grand Velas Riviera Maya and Grand Velas Riviera Nayarit will be held daily and will run from July 8th to August 11th, 2013.
For reservations or more information, please contact Velas Resorts at 1-888-323-4294 or visit www.velasresorts.com.
GRAND VELAS RIVIERA MAYA CAMP
The Grand Velas Riviera Maya Summer Camp is held daily and for all ages.Upon arrival, every child receives a colorful t-shirt, sun glasses, purse for girls and backpack for boys, baseball cap and water jug. Activities not only include Classic Camp Games, but also a variety of weekly programming. Kids can watch their favorite movies while eating popcorn and drinking soda at the "Amy Cinema", perform extreme on-site activities, including a climbing wall, mini-bungee jumping for all ages and even horseback ride on ponies through the surrounding jungle. At authentic Maya-themed arts and crafts sessions, kids can style their own Mayan Mandala using environmentally friendly products and recycled paper, as well as learn to paint and decorate a Mexican Alebrije.
The entire family can attend weekly themed nights, including "Evening Out", where children sing and tell stories around a campfire, eat hot dogs, roast marshmallows and enjoy a fantastic drum show. At the "Mexican Fair Night", campers play traditional Mexican games like marbles, pop the balloon with darts, pin the tail on the donkey and enjoy traditional Mexican treats. Young people and Grand Velas staff also paint nails, braid hair, design necklaces and make bracelets during the "Princess Evening", and the whole family can enjoy the "Summer Olympics", with challenges including potato sack races, walking with one foot tied, archery and more. For culinary enthusiasts, kids and parents can partner up and participate in a "Culinary Contest", judged by Grand Velas Chefs, where every child takes home their own chef uniform, hat and apron. The Teen Club also hosts a karaoke contest for kids and their parents.
GRAND VELAS RIVIERA NAYARIT CAMP
Held daily for kids 4-12, young people arriving at Grand Velas Riviera Nayarit receive a backpack, headband and sun glasses, activity program, coloring book, t-shirt, and can get excited as a Grand Velas Summer Camp flag waves on the resort's property. Activities include tours of the resort on horseback or on donkeys, a climbing wall, zip-lining from palm tree to palm tree, as well as a large wooden play structure, all at the resort. Young people craft with recycled materials, make sand sculptures on the beach and even spend a night at "Pancho's Cinema".
The whole family can partake in weekly programming, including a "Bonfire Night" on Wednesdays from 8:30 p.m. to 11:00 p.m. with games and contests and telescope to view the stars. On Thursday, Friday and Saturday afternoons, the resort also hosts a "Picnic Party" with finger foods, popsicle cart, piñatas, games and contests, as well as shows from clowns, magicians, mimes, and bird and seal trainers. While Mom and Dad are at the Grand Velas Spa, young people can visit the Kids' Spa and enjoy a Flower Shower Massage or Tarzan and Jane Massage from the Kid's Spa Menu. The Grand Velas Riviera Nayarit Teen Club is also available daily from 7 p.m. to 10:30 p.m. daily and includes pool table, air hockey table, foosball, teen lounge, mini night club with lights and sound, dance floor and big screen for music videos.
About Grand Velas Riviera Maya:
        Featured in Forbes' roundup of the 10 Coolest All-Inclusive Resorts, the AAA Five Diamond Grand Velas Riviera Maya, an all-suites and spa resort located five minutes from Playa del Carmen, is the latest and most sophisticated iteration of the ultra-luxury, all-inclusive resort experience.  This Leading Hotels of the World designated resort is the preeminent one of its class boasting 491 suites, each more than 1,000 square-feet, in three separate ambiances-- premium ocean-front Grand Class Suites with terrace plunge pools for adults and families with children 12 and up, family-friendly ocean-view Ambassador Suites and Zen Grand Suites embraced by the flora and fauna of the Yucatan Peninsula's jungle.  The resort presents a gastronomic tour of the Yucatan, Europe and Asia offering seven restaurants with world-class chefs from France, Spain and Mexico; dedicated butler service for each guest, and the region's largest spa sanctuary at over 89,000 square-feet specializing in signature treatments inspired by ancient cultures from around the world.  The spa was named "Best Spa" in the world by Virtuoso and also earned a SpaFinder Readers' Choice Award.  The resort was designed by lauded Mexican architecture firm Elias and Elias and features the sleek and modish interiors that fuse the serenity of the Caribbean with the vibrancy of Yucatan cultures.
About Grand Velas Riviera Nayarit:
        Grand Velas Riviera Nayarit, an all-suites and spa resort located just 15 minutes north of Puerto Vallarta on Banderas Bay, is a member of The Leading Hotels of the World and a recipient of the AAA Five-Diamond Award.  The resort features 267 spacious ocean-view suites.  The crown jewel of the resort and a member of Leading Spas of the World, the Spa at Grand Velas features 20 treatment rooms, over 60 spa treatments, gym and exercise room, spa boutique and beauty salon.  The family-friendly resort also offers tiered three-temperature infinity pools, tennis court, 25,321 total sq feet of meeting space and a Kids Club. Nearby are championship golf courses, numerous options for soft adventure, and the charming town of Puerto Vallarta with its many shops, art galleries and nightlife.  Grand Velas Riviera Nayarit has received numerous accolades within the industry, including most recently as one of Forbes' 10 Coolest All-Inclusive Resorts.
________________________________________________________________________
Underwood Family Farms'
Farm Camp 2013
The first week of Farm Camp begins June 10. It's not too late to sign up your budding rancher for an exciting week on the farm.
They will interact with a wide variety of farm animals and bring home their very own fruits and vegetables picked straight from our fields!

Plus, children will participate in numerous fun and educational craft projects and farm games, with the highlight of the week being an Animal Show put on by the children to educate and entertain their family and friends.   
Camp Dates
Week 1:  Monday, June 10 - Friday, June 14
Week 2:  Monday, June 17 - Friday, June 21
4 SPOTS LEFT

Week 3:  Monday, June 24 - Friday, June 28  
Week 4:  Monday, July 1 - Friday, July 5  
Week 5:  Monday, July 8 - Friday, July 12 
BOOKED
Week 6:  Monday, July 15 - Friday, July 29  
Week 7:  Monday, July 22 - Friday, July 26  
Week 8:  Monday, July 29 - Friday, August 2  
Week 9:  Monday, August 5 - Friday, August 9 
Week 10: Monday, August 12 - Friday, August 16


For additional information on our Farm Camp and to enroll your child
click here or
please call (805) 523-8552. 

Hope to see you at the farm! 


Sincerely,
______________________________________________________________
              Pet Care
PET HEALTH IN SUMMER .   .   .   .
  UNIQUE WAYS TO KEEP YOUR DOG COOL DURING 
ARVADA, CO, May 20, 2013 - Did you know that dogs cannot cool themselves through sweat like humans? They pant to cool off and have small sweat glands in their paws but that leaves them vulnerable to hot temperatures. That's why it's especially important for dog lovers to make sure their canine kid does not get over-heated and dehydrated. Heatstroke is serious and can lead to brain and organ damage, heart failure and even death. There are many products on the market today designed to keep your dog cool during the hot summer months. Below is a list of the best from the internet's premier shopping site for dog lovers, The Uncommon Dog.
Climate Right Dog House Air Conditioner
ClimateRight™ 
is a sensible small and portable air conditioner. This product is made for outdoor dog houses. It helps prevent heat stress / heat stroke and purifies air and dehumidifies. ClimateRight™ lets you affordably control the environment in your pet's dwelling on the hottest summer days. Re-circulated air is constantly being filtered, cleaned and dehumidified. Price: $499.99.
K-9 Koolee Pop-up Canopy Shelter
is the ultimate portable pet cooling and shelter system designed so that you can take your dog with you everywhere. Providing shelter from the sun and cooling from the heat, the K9 Koolee requires no electricity or batteries to keep your dog cool. Simply soak the polymer inserts in water, put in the fridge, and you're ready for your outing. Starting at $103.88
Canine Cooler® Thermoregulating Pet Bed
With the innovative Canine Cooler® Brand Thermoregulating Pet Bed, dogs can enjoy the ultimate comfort and the coolest, softest spot in the house this summer. Cushy and cool while remaining dry due to the patented Soothsoft® Comfort Technology. This memory foam comfort bed soothes using water, not electricity to conform to each pet. Maintenance free, easily wipes clean and does not allow fleas or ticks to penetrate it. Starting at: $52.98
Gel-Pedic Thermo Regulating Ortho Pet Bed
The Gel-Pedic Pet Bed is naturally thermo regulating -- cooling your pet in warm temperatures (and warming your pet in cold weather). The properties of the Gel Foam regulates your dog's temperature with the Gel Foam pulling the heat from your best friend. Plus, the Gel Foam molds to your pet's body contours to relieve pressure that can cause pain and discomfort. Starting at: $62.41
The Kuranda Poly Resin Chew Proof Bed is a perfectly cool choice for the destructive dog. This patented chew proof bed features orthopedic support and comfort with its furniture grade poly resin frame that allows air to circulate all around your dog much like a hammock.  A medium sized Kuranda bed runs $84.44.  
Since 2009, The Uncommon Dog has been offering discriminating shoppers a wide variety of premium products, many exclusive to the site like the FYDO Chew Resistant Dog Bed. Sales have increased from that first year through end of 2012 by 1,065%. Each product is hand-picked and shipped for free. With customers as concerned about service as price, the goal of The Uncommon Dog is to provide exceptional service to help dog lovers find the very best products at great prices. Featuring Personal Shopper Customer Service and a Safe Shopping Guarantee, the site is dedicated to selling products that both owners and their pets will love. Call 888.404.4076 Monday thru Friday from 9-5 Mountain Time for more information.
---