KIDS K NEWS . . .

AROUND THE WORLD KIDS LOVE PRINCE LIONHEART MATS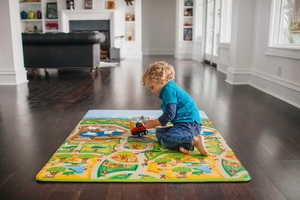 When you're little it's all about finding a big world in a small place. It's about using your imagination to go somewhere in your mind while not going anywhere at all. Prince Lionheart's awesomeMAT provides an open canvas for an adventurous mind. The two-sided mat, city on one side and zoo on the other, is the squishiest Prince Lionheart offers (your knees will thank you!).
 
The awesome playMAT from Prince Lionheart has a uniquely comfortable, supremely squishy feel and a textured, pleasing-to-the-touch surface. One side is covered with a detailed, sprawling illustration of a day at the zoo populated with kids, grownups, animals, plants, trees, paths and ponds. On the flip side, there is an entirely different world, one loaded with interlocking streets, roads, turnarounds, traffic signs, businesses, homes and people. It's a whole town at your children's fingertips and just making their way from one end of the mat to the other is packed with fun and adventure. Regardless of which side of the awesomeMAT is being explored, the scope, detail and colorfulness of the imagery captures and stimulates the imagination while helping develop the intellect. And when not in use, it rolls up like a rug, snugly held together with a take-it-with-you strap. Made of non-toxic & eco-friendly, cushiony foam.
 
Prince Lionheart's baby & kid products are quality made with a modern flair— they've got you covered with everything from feeding, diaper changing, potty training, travel, safety, and play.
_____________________________________________________________
HEALTHY TEA POPS FOR KIDS . . .
Created by research scientist and "mompreneur," Dr. Dionne Laslo-Baker, with her two children in the home of their kitchen along with her husband, Dr. Stephen Baker, in an effort to promote youth healthy eating habits, DeeBee's TeaPops are
the world's FIRST organic tea-based frozen novelty 
http://www.deebeesorganics.com/
A new frozen category game-changer, ALL of DeeBee's TeaPops are certified organic, kosher, Non-GMO, peanut and nut free, as well as naturally gluten-free and vegan – formed from the simplest and purest ingredients found on our planet that satisfy absolutely all tastes.
All of the DeeBee's TeaPops boast the following health and wellness components:
They are available in regular white or black tea as well as the ever-so-the ever-so-popular rooibos that packs an antioxidant punch
With increased levels of antioxidants in the body, TeaPops promote good health
TeaPop treats help reduce the risk of many diseases including heart disease and certain cancers
One refreshing TeaPop treat is equivalent to a bowl of organic fruits and cup of organic tea – but instead, you get all this great low-calorie tastiness on a stick
TeaPopsTM are sweetened only with organic super-fruits and organic coconut flower blossom nectar or organic honey
DeeBee's TeaPopsTM are for everyone in the family and come in 6 distinct and equally delicious flavors: Berries 'N' Cherries, Southern Iced Tea, Toasted Coconut, Tropical Mango, Minty Mint and Dark Chocolate Mint

Also supported by Maria Shriver, DeeBee's Founder, Dr. Laslo-Baker is currently being profiled on her website as "Tips on Being a "Mompreneur" From DeeBees Organics TeaPops Founder:"
___________________________________________________________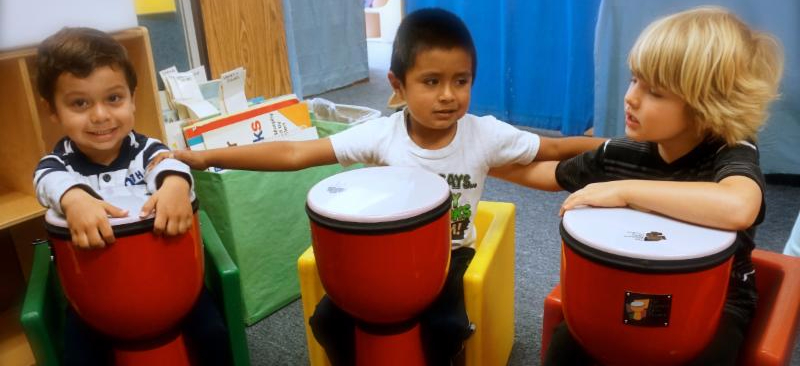 TRAP in Special Education
The Rhythmic Arts Project has advocated education since the day we began nearly 18 years ago .... It's fun for me to share these ideas with teachers who seem to light up with the possibilities when they experience the program for the first time. Though I can only imagine what they think when they see me walk in; Who is this long haired, tattooed, hippy dude limping into my classroom with a cane in one hand and a drum in the other? Well, minutes later the curiosity dissipates and the smiles emerge. I'm not sure who smiles first, the kids or the teachers? 
The point is, they understand the goals and are more than willing to integrate the methodology as a way to achieve them. 
The Rhythmic Arts Project
1115 1/2 North Milpas
Santa Barbara, CA 
93103
Cell:  805 680 4219
Office: 806 962 1442
__________________________________________________________________________
FIRST KID CONTESTANT ON NBC'S 'FOOD FIGHTERS' GOES UP AGAINST CHEF ROCCO DISPIRITO JULY 16 FOR A CULINARY SHOWDOWN WITH A CAN'T-MISS ENDING
Fourteen-year-old home chef Troy Glass will put his signature dishes to the test against five pro chefs, including Rocco DiSpirito, in the first "kid edition" of NBC's culinary cooking competition series "Food Fighters" airing Thursday, July 16 (8-9 p.m. ET). 
Previously a semi-finalist on "Master Chef Junior," Glass is an accomplished home chef from Thousand Oaks, CA who hopes to attend NY's famed Culinary Institute of America after high school so he can pursue a career as a professional chef. In the July 16 episode, he shows off his incredible culinary skills while racing against the clock to try and beat some of the top chefs in the country, including Rocco DiSpirito, a James Beard award-winning chef, health advocate, author of New York Times bestseller Cook Your Butt Off! – and the creator of The Pound A Day Diet meal delivery service.
Glass will also square off against four other pro chefs who will be familiar to viewers from their appearances in shows ranging from "Top Chef" and "Chopped" to "Hell's Kitchen" and "Next Food Network Star." The featured chefs are food stall and food truck chef and owner Hop Phan (Santa Ana, CA), whose culinary specialty is Latin/Asian fusion, Chef Lovely (Los Angeles, CA), a celebrity private chef and culinary specialist for Bloomingdale's known for glamming up the kitchen, chef and culinary consultant Chris Nirschel (New York), whose in-demand cuisine is inspired by Argentinean, Italian and French flavors, and chef/catering company owner Keriann Von Raesfeld (San Jose, CA), who has won cooking competitions all over the world as a representative of the USA.
With each round, Glass will climb a money ladder with increasing cash prizes for every professional chef he knocks out, with the chance to win as much as $100,000. The episode is also full of surprises, as DiSpirito brings a special gift for the teen chef, who later gets the surprise of his life in an emotional, must-see ending that viewers won't want to miss. 
Tim Puntillo, Ben Silverman, Chris Grant and Laura Caraccioli are the executive producers of the series from Electus and Universal Television.   
Please visit the official show site at: http://www.nbc.com/food-fighters
For the latest 'FOOD FIGHTERS news, videos, and photos, please like us on Facebook and follow us on Twitter. 
https://www.facebook.com/NBCFoodFighters
https://twitter.com/NBCFoodFighters   #FoodFighters
---