KIDS KALEIDOSCOPE  .  .  .
STARS COME OUT TO SUPPORT KIDS AT DEBBIE DURKIN'S PRE-EMMY ECOLUXE LOUNGE 
HOLLYWOOD CHRISTMAS IN SEPTEMBER
Pre Emmy Event In Support of Shriners Hospitals for Children, LA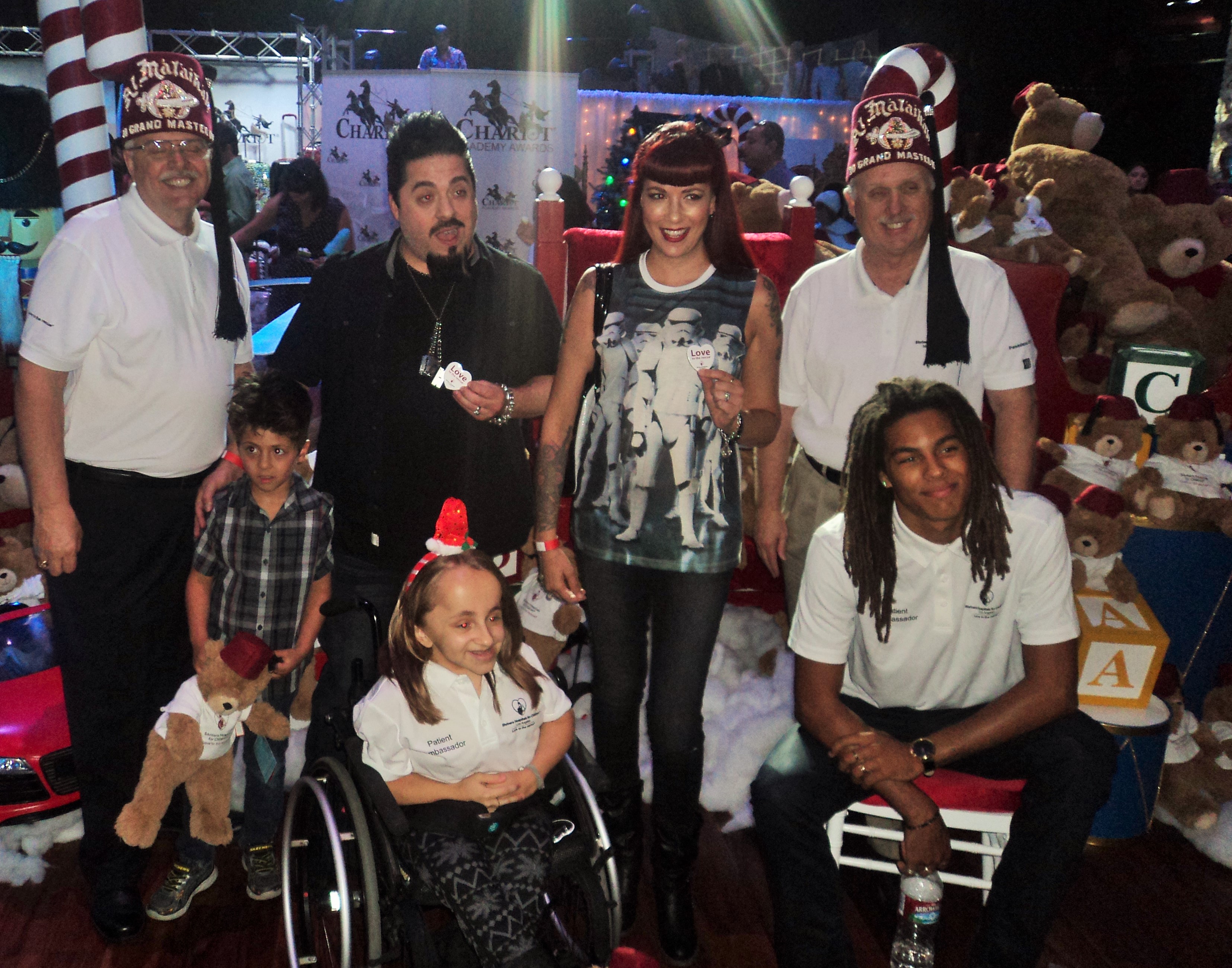 Major kudos to Debbie Durkin LA's leading sustainable TV/film product placement producer who with Christmas just 95 days away turned a hot summer day into a winter wonderland for her annual EcoLuxe Lounge at The Avalon in Hollywood! This was truely a Hollywood production in the true sense of the word with Christmas trees, Santa and a sleigh filled with presents, music, Snowflakes, sweet treats and smiling children. It was a pleasure to attend this sweet and inspired event and the Rounds Premium Burgers were outstanding, as were the tiny taco's.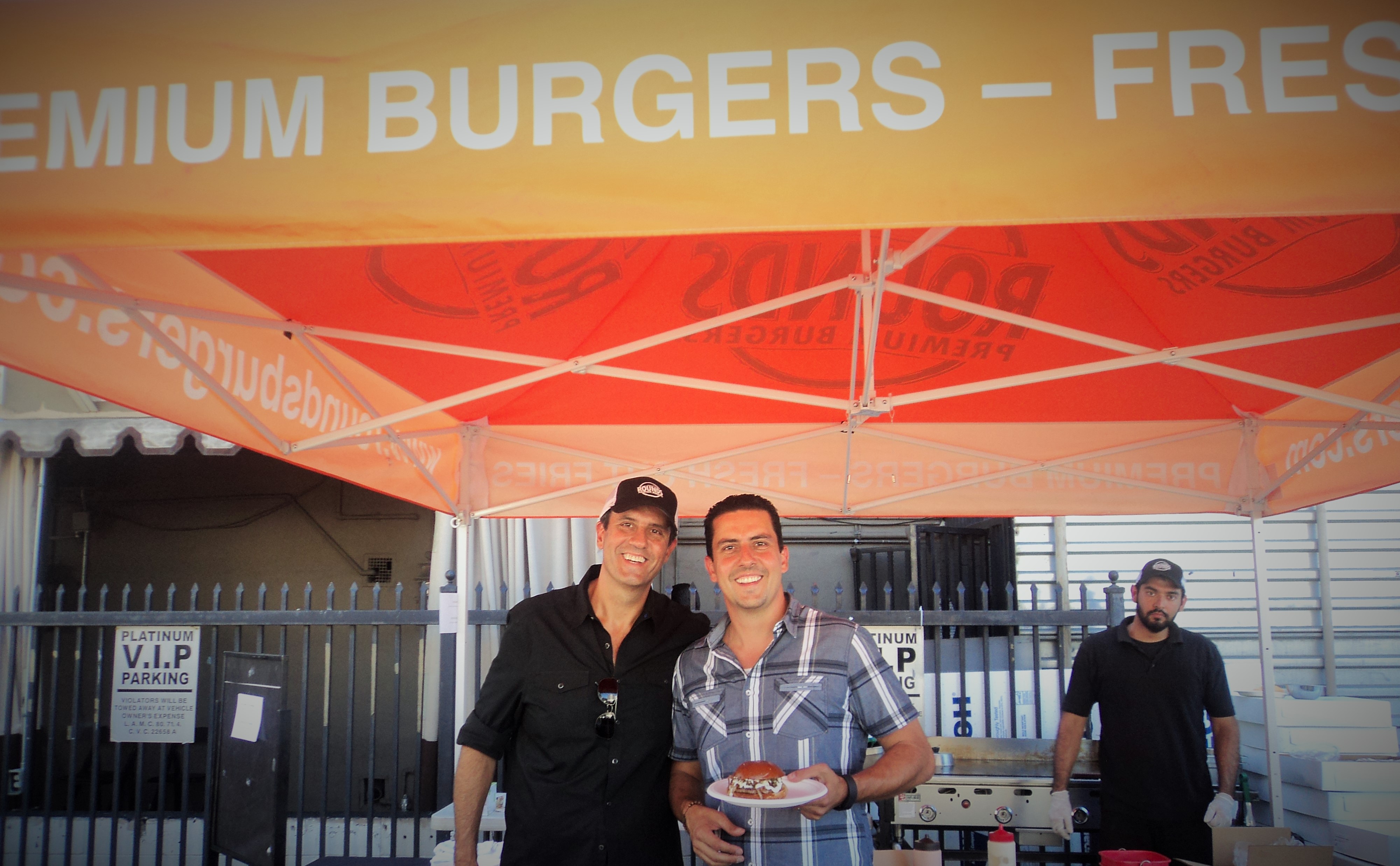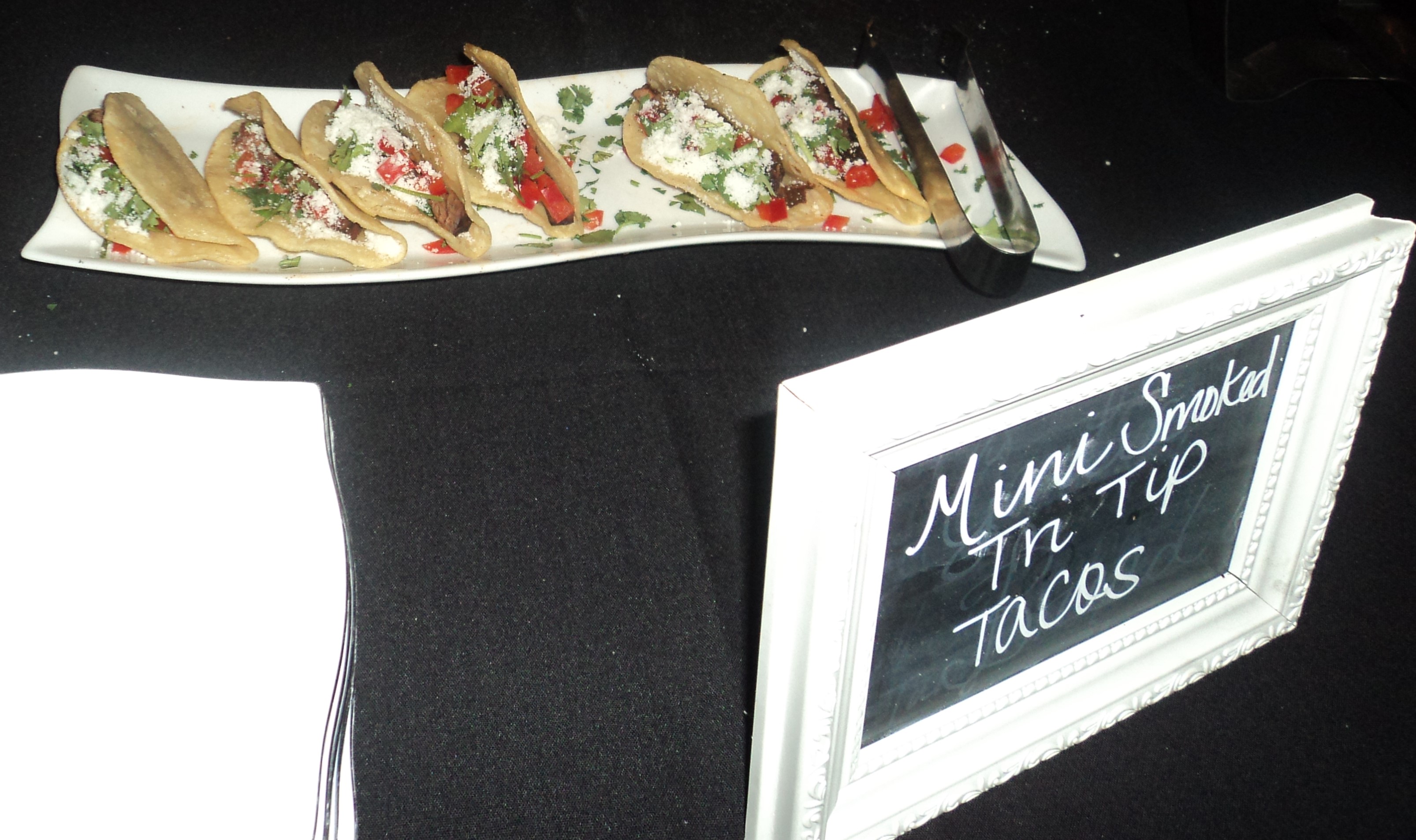 Emmy nominated guests included Beau Bridges (Emmy Nominated for Best Supporting Actor in a Drama for Showtime's Masters of Sex), Khandi Alexander (Emmy Nominated for Guest Actress in a Drama for ABC's Scandal), Naomi Grossman (Emmy Nominated for Outstanding mini series or movie for American Horror Story) and Abigail Savage (of the Emmy Nominated Comedy series Orange Is The New Black)!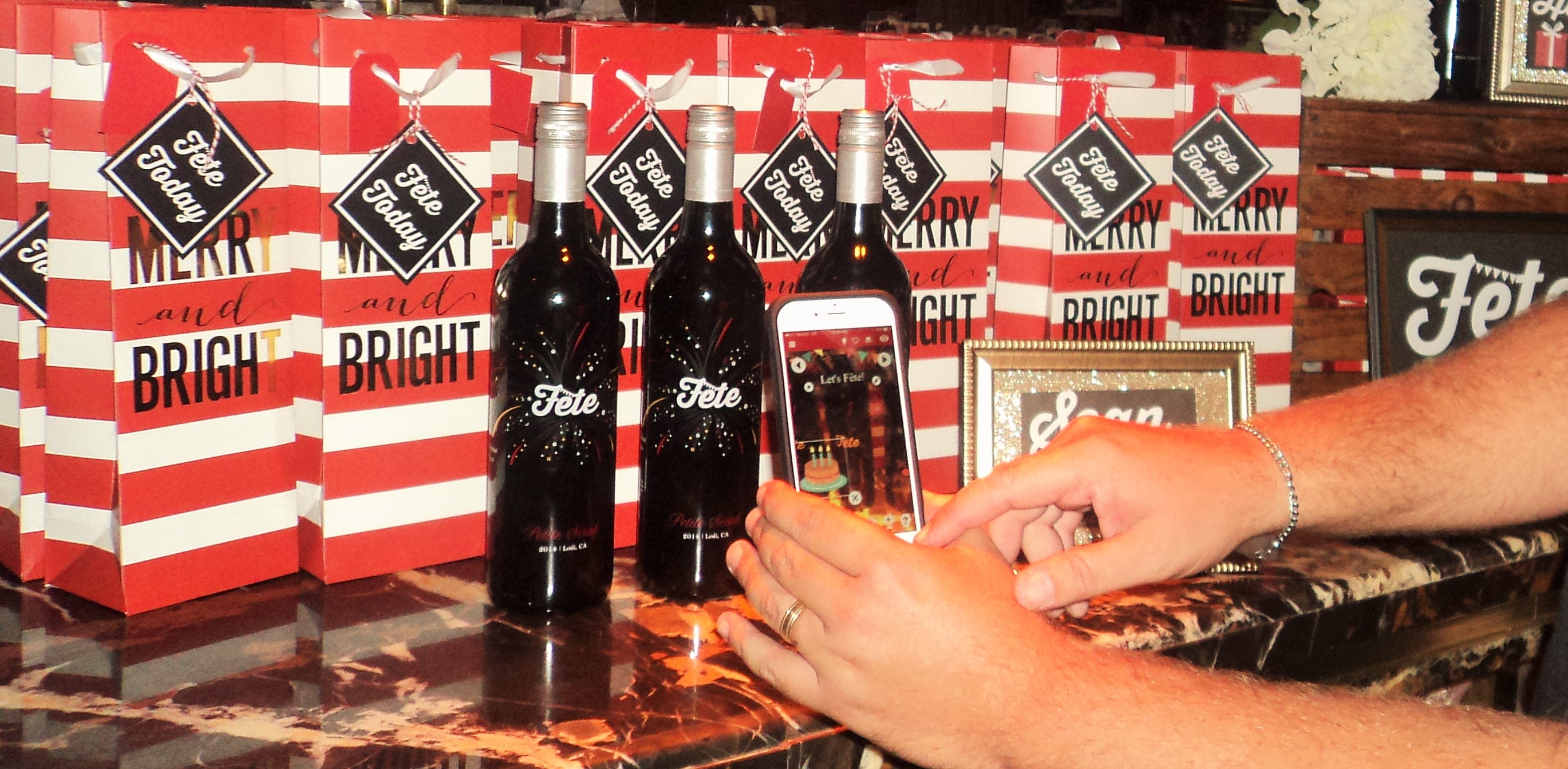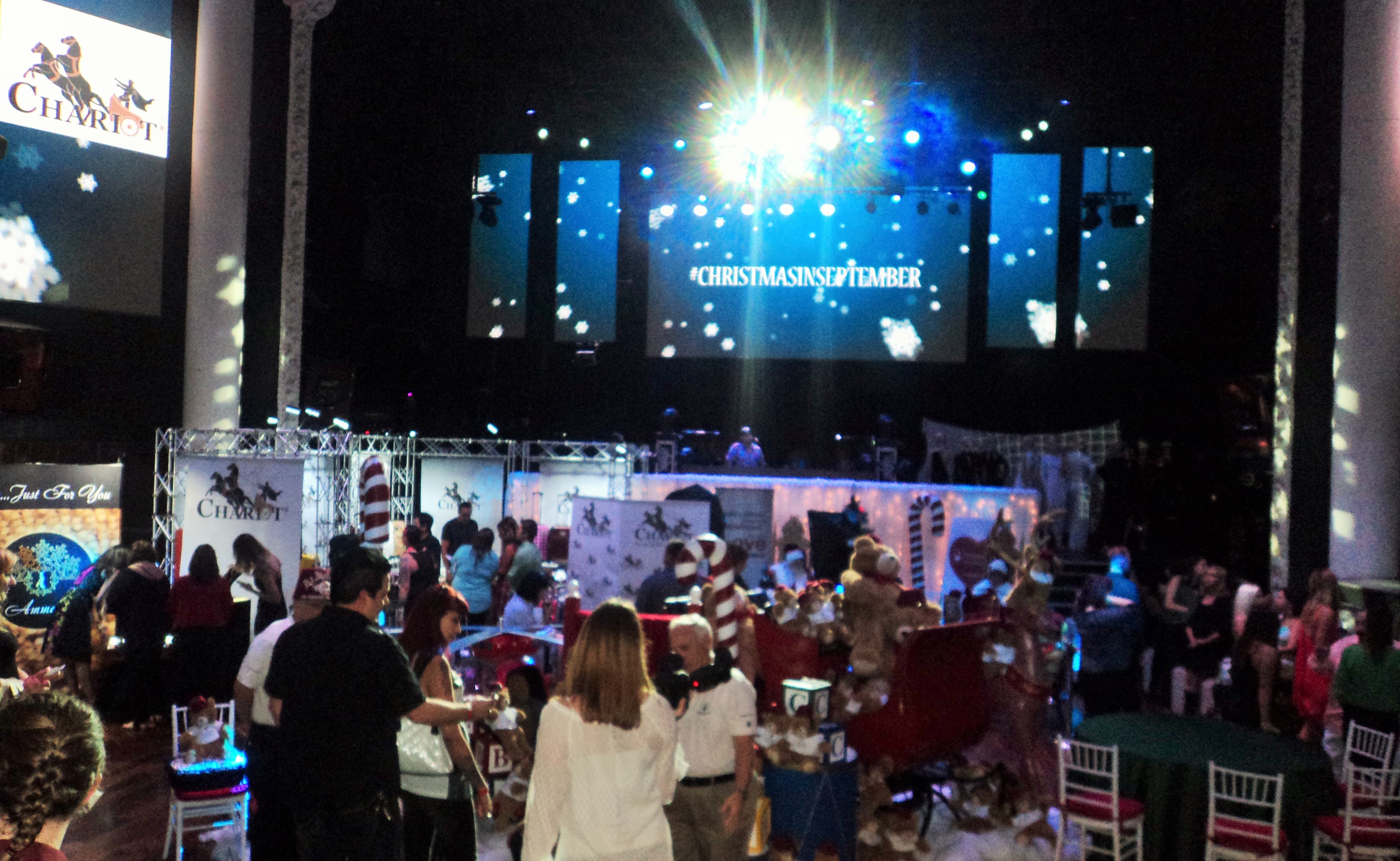 In the spirit of giving, ECOLUXE collected unwrapped toys that were donated to Shriners Hospitals for Children® - Los Angeles, a non-profit dedicated to making medical miracles possible for more than 1 million children and counting. Also on hand, ECOLUXE hosted a WIREIMAGE Holiday Portrait Studio where celebrities posed with Santa and Mrs. Claus.  
Other notable attendees included: Elliot Gould (Ray Donovan), Kevin Sorbo (Hercules), Adina Porter (True Blood), Kym Whitley (Comedian),Tonya Banks (Little Women: LA), Ken Davitian (The Artist), Scheana Marie Shay (Vanderpump Rules), Katie Malone (Vanderpump Rules), Destin Pfaff & Rachel Federoff (Millionaire Matchmaker), Emmy Kenney (Shameless), George Newbern (Scandal), Heather McComb (Ray Donovan), Maisie Williams (Game of Thrones), Miles Brown (Blackish), Nichelle Hines (E's Hollywood Cycle), Nicholas Guest (Sons of Anarchy), Patrick Gallagher (Longmire), Peter Mackenzie (Blackish), Richard Portnow (Parks & Rec),Ray Santiago (Starz series ASH VS EVIL DEAD), Scott Michael Campbell (Longmire), Sean Stewart (E!'s Stewarts & Hamiltons), Shar Jackson (Moesha), Whitney Rose Pynn (NBC's Aquarius) and vine stars Alx James, Zane Hijazi and David Dobrik. 
ECOLUXE host How2Girl Courtney Sixx stopped by to create DIY Holiday Ornaments with celebrity guests and families. The decorated Christmas trees were donated to Shriners Hospitals for Children® - Los Angeles.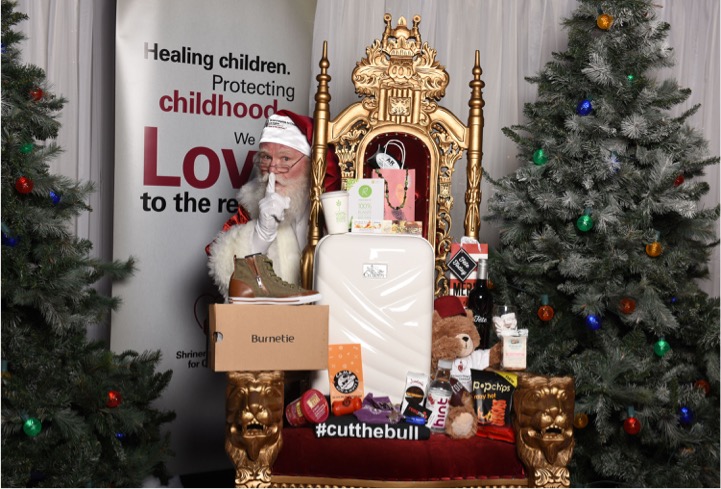 Talent, media and VIP's enjoyed Christmas music from DJ Mike Shay of Superbox Music and Vanderpump Rules took home spectacular pieces from both Ammanii Jewelry and AmyMarieRadzik Jewelry, suitcases in a variety of sizes from Chariot Travelware, picked up new the latest styles from Burnetie Shoes, enjoyed the JacobXJordan Urban Style Lounge featuring Sen Couture, got their makeup and hair done from MUA Victoria Rowe & GLAM Squad, picked up wine from Fete Today, met the fabulous owners and played with CUSTOS in the Camp Run A Mutt/Tranquil Pet Doggie Day Camp, learned about Resqme Lifesaving Tools all while snacking on Sugar And Spyked Holiday Desserts Bar, Rounds Premium Burgers, S'More Bakery, Infiniti Sweets Holiday Candy Bar, Smoked Fusion BBQ Catering served on Repurpose Compostables line of sustainable tableware! Guests also enjoyed refreshing drinks from Hint Water, NEON energy drink, and Southmore Group and took home gift bags filled with treats from Modern Oats, Pop Chips, YOOT TEA, Justin's and more!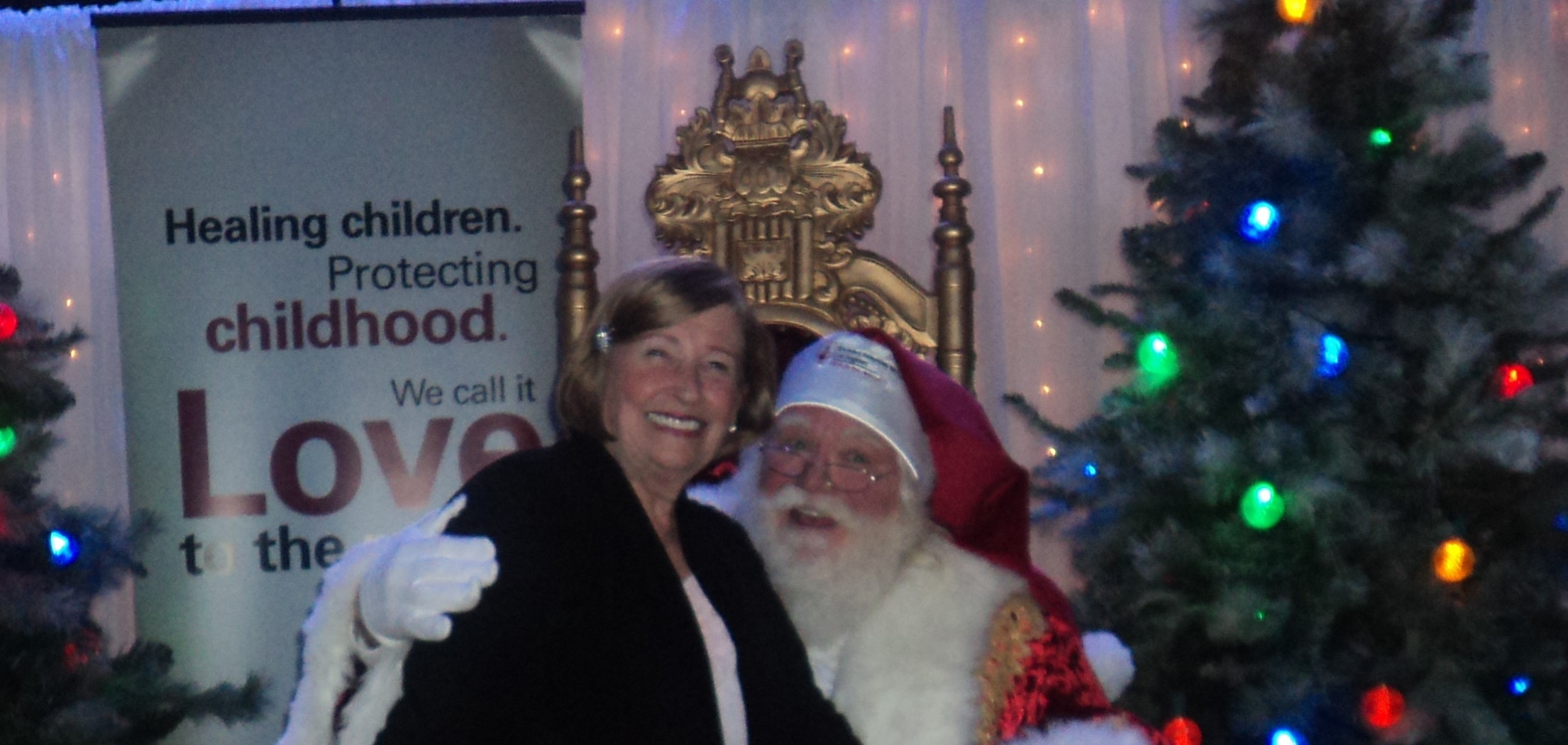 Santa said he is working on my new BMW for Christmas!
Debbie Durkin's EcoLuxe Lounge was held on Saturday, September 19th from 11am to 6pm at the Avalon in Hollywood, CA.  
For more information: visit durkinentertainmentgroup.com, follow @producerdeb or #EcoLuxeLounge.
by Bonnie Carroll
________________________________________________
BACK TO SCHOOL CAN BE STRESSFUL  . . .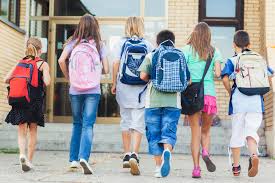 Sending kids back to school can sometimes be stressful for parents -- and it's not just because kids are growing up.

Bullying is an ever-present issue on school campuses across the country -- and bullying awareness and prevention is something that politicians, principals, teachers and parents have been trying to tackle.

Some encouraging news is on the horizon, though. This summer, the Department of Education announced the "first significant decrease" in school-based bullying since the federal government started gathering stats in 2005.

Of note: About 22% of students ages 12 to 18 reported they were bullied at school in 2013. That number was near 30% in the previous eight years of surveys. Bullying was down across the board -- regardless of race or gender of the students.

And while any decline is considered a positive, that 22% still means that remains means that more than 2 of every 10 students are being bullied at school. That's 3.2 million students nationwide, according to DoSomething.org.

And bullying doesn't just cause stress -- it also is related directly to truancy. Approximately 160,000 teens skip school every day because of bullying.

What's worse, those numbers don't include the bullying that's happening away from school -- cyberbullying, or online harassment on Twitter, Facebook, or other social media apps. Of the nearly 25 million students nationwide, surveyed 6.9% reported being bullied online. Whether it's happening online or off -- harassment can often lead to depression in victims.

And according to the Centers for Disease Control and Prevention, suicide is the third leading cause of death among young people, resulting in more than four thousand deaths per year, and bully victims are between 2 to 9 times more likely to consider suicide than non-victims.

So, while we're making a dent in the issue, there is clearly still a lot of work to be done.
_____________________________________________________________________
Introducing The 2015 National Red Ribbon Week Youth Ambassador: Johanna Colón
YouTube Sensation & Seven-Year-Old Dancer Worthy Of Our R-E-S-P-E-C-T
7/27-15 The National Family Partnership is proud to announce that this year¹s National Red Ribbon Week Youth Ambassador is Johanna Colón of Raleigh, North Carolina. Johanna was selected for her tremendous spirit, wonderful dance skills, commitment to healthy activities, kindness towards others, leadership qualities, self-confidence and her self-respect ­ all demonstrated in a three-minute, viral YouTube video, viewed by an estimated 70 million people. Johanna¹s qualities and her song selection tie in perfectly with this year¹s Red Ribbon Week theme: Respect Yourself. Be Drug Free.
³When we respect ourselves, we make healthy choices and we protect our bodies and minds,² said  Peggy Sapp, president of the National Family Partnership. ³Johanna¹s contagious energy, enthusiasm, spirit, leadership qualities and self-confidence make her the perfect youth ambassador and representative for this year¹s theme.² 
No stranger to Red Ribbon Week, Johanna celebrates the event every year at her local elementary school in Raleigh, North Carolina. ³Red Ribbon Week is so much fun and I am very excited,² said Johanna. ³When you respect yourself, you love yourself, you are healthy and you don¹t do drugs. I hope I can help a lot of kids.²
Coincidentally, Johanna¹s mom, Elissa Colón, is a former elementary school teacher who organized Red Ribbon Week activities each year for students at her school.
³My first reaction when hearing that Johanna was selected to be a Youth Ambassador for Red Ribbon Week was sheer excitement,² said Elissa Colón. ³I think it¹s an amazing opportunity for her to learn what a difference she can make in this world. As a parent and former teacher, Red Ribbon Week is important to me because I want my children and other children to succeed in life and be productive, happy adults, which would not be possible if they engage in drug use.²
Elissa Colón sees Red Ribbon Week as a gift to parents and schools ­ and a wonderful opportunity to introduce a sometimes difficult, but nonetheless important, topic to children.  ³I would encourage all parents to take advantage of Red Ribbon Week and use it as a fun, non-threatening way to engage their children in conversations about being healthy, respecting themselves and staying drug free.²
As the Youth Ambassador, Johanna will help spread the Red Ribbon Week message in her local schools; at national Red Ribbon events; online through social media; through print, TV and online media interviews and other opportunities as they arise. 
Red Ribbon Week (October 23-31) is the oldest and largest drug prevention program in the nation, celebrated by an estimated 80 million people each year.
To schedule interviews with Peggy Sapp, President of The National Family Partnership, or Johanna and her mom, Elissa Colón ­contact: Jules Feiler at The Pitching Staff 212-585-0973 or Danielle Lerner at 917-797-7689.
To learn more about Red Ribbon Week and the contest, visit www.RedRibbon.org.
__________________________________________________________________
 Feltman Brothers
10 Great Tips for a Successful Photoshoot with Your Little One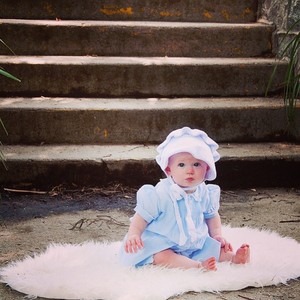 10 Great Tips for a Successful Photoshoot:
 
1.      Time of Day—Choose a time of day that is most conducive to your baby's natural wakefulness. Mornings or just after naptime is ideal for catching smiles and baby's personality if he is fully rested. If you're hoping to catch a special pose, naptime may be the best time of day for newborns.
 
2.      Clothing—Keep it simple and classic. Choose outfits that are easy to get in and out of if you're planning for outfit changes. Plan for only one or two outfit changes. Avoid bold patterns and clothing with words on it. If you're doing family photos in conjunction with the photo shoot, be sure everyone is dressed in similar tones. Outfits can be fun and many companies offer theme crocheted costumes like dinosaurs or mermaids. Baby can be posed in a basket filled with grass or on a blanket resembling water.
 
3.      Props—Bring some of your child's favorite toys to capture his attention.  He may also want to hold a toy or special blanket.  An instrument or song can help him get in a happy frame of mind.
 
4.      Food/Snacks—Baby's don't always cooperate with your schedule; make sure he has a full belly so he will be at his best.  Bring snacks to keep him happy is his mood isn't all you hoped for.
 
5.      Lighting—Natural daylight is best as it gives a soft look to baby's skin. Use window lighting as it casts fewer shadows. A standard 50mm is ideal with the camera set to Aperture Priority Mode with a high ISO and wide aperture. Let the camera choose the shutter speed.  Use an external flash with a diffuser to fill in any dark spots.
 
6.      Be Prepared to be "On"—Be prepared to play hide and seek, make funny faces or make goofy sounds to capture baby's interest and attention.
 
7.      Backgrounds—Keep it simple. A great photo with professional qualities can be captured with a white, beige or gray cloth or sheet draped behind the baby.
 
8.      Set the Stage—Getting siblings to interact in a natural setting can be perfect for capturing special moments. Give them some books or toys to play with and give them some space, be ready to click the camera and catch the shot.
 
9.      Black and White—Get some classic shots by using a black or white background.  Keep the camera on Aperture Priority Mode and select large aperture for a soft blurred background.  This is striking and dramatic for up close face shots.
 
10.  Stabilizers—Use beanbags rather than a tri-pod to stabilize the camera. It's easier to get down on the ground at baby's level and maneuver to get different angles. If possible use a silver or white reflector to bounce light to create a soft flattering shot.
 
When taking baby photos, have an assistant to help wrangle the baby back into place.  Babies may crawl, roll, cry or need a diaper change during the shoot. Be calm, cool, collected and fast and the baby will be far more cooperative. Be friendly and playful and he will follow your lead. Take more shots than you think you'll need and chances are you'll capture several treasured shots.

  Visit: http://www.feltmanbrothers.com 
---