KIDS KALEIDSCOPE  .  .  .
BABIES COUTURE STEALS THE SHOW AT BERGMAN LUNCHEON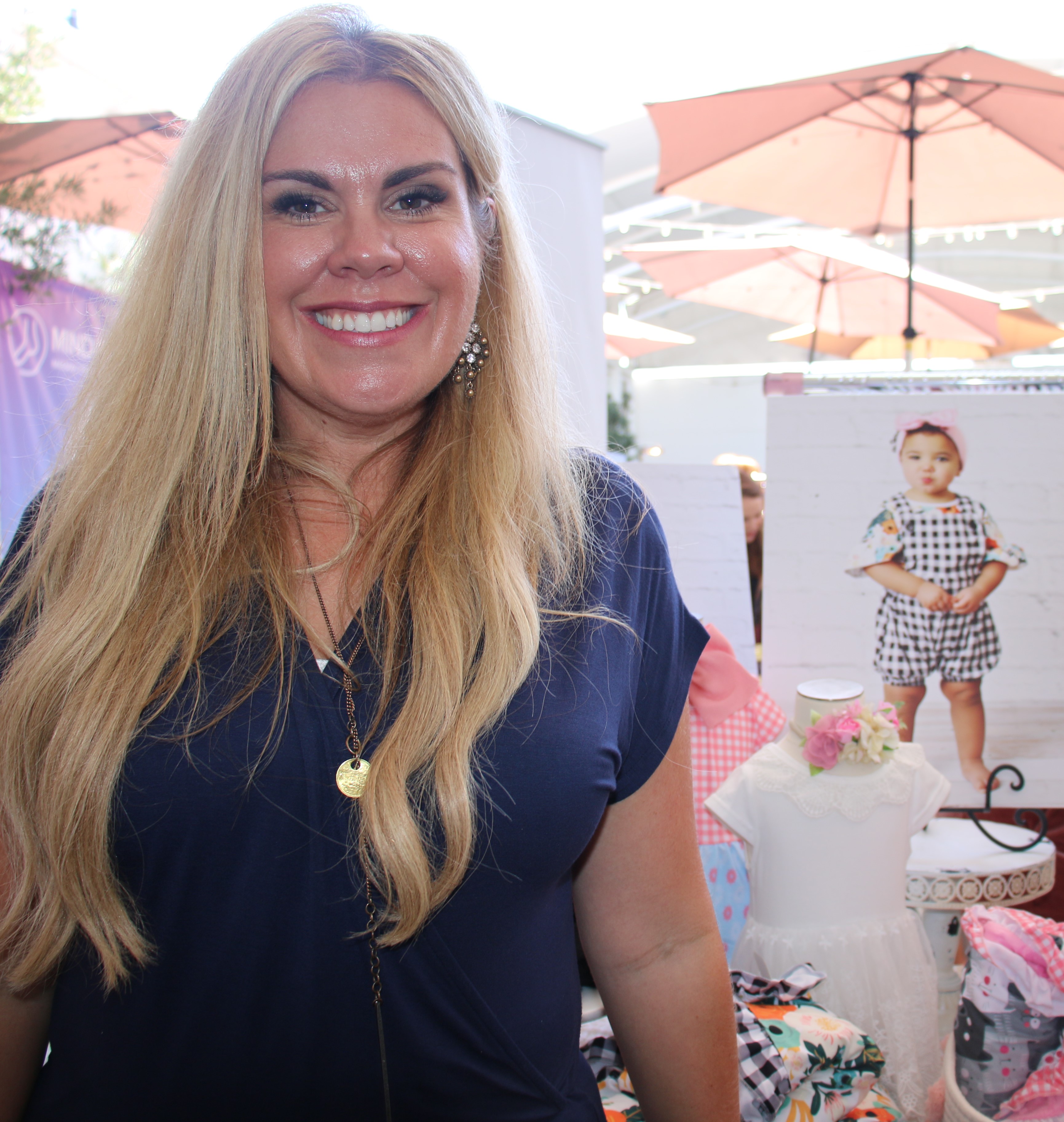 Nicole Friess - Lollies & Lace Boutique
The renowned Doris Bergman celebrity Luncheon at Fig & Olive Restaurant in West Hollywood attracts Award Nominated Celebrities and Presenters for the Emmys, Oscars and more each year, and also some amazing gifting sponsors who present these stars with their fine products.
This year I met a talented young woman, Nicole Freiss, who started her own company following the birth of her first child and is designing and creating her own line of adorable baby clothes for babies and up that was a majore attraction at the recent lunch in September. Lollies & Lace Boutique employees are all stay at home moms. Her sesigns are so cute and well made in amazing fabrics with blankets to match. Loved them.
LOLLIES & LACE Boutique
Nicole Freiss   www.lolliesandlaceboutique.com
______________________________________________________
Kidz Entertainment Inc. Brand - New and Exciting Concepts for Children of All Ages with New Products, Apps, and More!
The Fall season has begun and, Long Island, NY, based toy manufacturer Kidz Entertainment Inc. is gearing up for another great holiday season with new products and events.

Having already had their products featured in the 2017 Golden Globes gift suite along with the 2017 Oscars WOW Creations Gift Lounge, the company set up a runway photoshoot at Toddlewood Studios (Baldwin, NY) to display their many products from their 3-in-1 Cuddly Fun® Muff/Handbag/Plush line to their Kidz T'z Color & Wear T-shirt and Backpack line and their Picture Book Travel Sets.
With a great line of fun and interesting products, Kidz Entertainment Inc. has everything from novelty picture books to gifts that combine the worlds of children, animals and music with color and excitement! Producing specialty toys that are educational, musical, interactive, and entertaining all bundled into one adventure, the company helps to reach children on many sensory levels. With the ever changing world of technology, Kidz Ent. recently moved into the digital age, morphing their popular Show Dog Children's Picture Book into a brand new App turning it into 18 separate fun and interactive puzzles, available on Google Play for IOS and Android as well as iTunes Connect! They also offer other picture books containing bright and beautiful illustrations which entertain the imagination. The factual information adds an educational dimension - while music sheets with an award winning CD attached to the back covers create a musical and interactive facet to these works. Combined with companion coloring books, your choice of a 49 piece Animal Rescue puzzle (which creates a fun atmosphere for your young puzzler) or your choice of a beautifully made muff/handbag/plush animal from the "3-In-1 Cuddly Fun®" line, allows you to create your own picture book travel sets that are perfect for the whole school year! WATCH:  Kidz Entertainment, Inc. - Picture Book Travel Cases - https://www.youtube.com/watch?v=cDIyYh9XzZI
PICTURE BOOK TRAVEL SETS CONTAIN 5 PIECES & CARRYING CASE

3-in-1 Cuddly Fun® is a line of Muff/Handbag/Plush Animals that come with a shoulder strap and two zipper compartments for children's precious valuables. An instant memory maker and forever friend for kids, safety tested, two patents pending!! Not only works as a hand warmer and handbag, it can be used as a decorative cast cover to fashionably hide those unsightly bandages while freeing up use of the uninjured arm/hand.

WATCH: Kidz Entertainment, Inc. - 3-in-1 Cuddly Fun Muff/Handbag/Plush Video Presentation https://www.youtube.com/watch?v=dK7xckQ
Additionally, with 10 new designs for their Kidz T'z Color & Wear line, you can color and create your very own t-shirt! Kids can wear their design proudly then wash it and create a new one!! The included non-toxic Washable Markers allow this adorable t-shirt to be colored over and over again. A great activity with many designs that cater to children 4 and up, it gives your child the opportunity to wear his/her own customized shirt. Collect all designs along with a set of 6 washable markers included, which makes a great arts & crafts project! Kidz Entertainment founder Diane Baumann also brings her books and items to schools for Author Visits as well as visits with the special needs children.
Kidz T'z Color & Wear Designs - Actor, TV/Radio Personality Kato Kaelin with the Kidz T'z Color & Wear from Kidz Entertainment, Inc at the 2017 Oscars

In the coming year, look for "Tales 'N Tunes" which will combine the two short stories "Show Dog" and a new version of "Show Cat", and a brand new book "Little Shop of Wonders" will be available from the company as well. Baumann also wrote the title track to the documentary "Little Shop of Wonders" which premiered in the Long Island International Film Expo.  Also in the coming year, another brand new book "Perfect Wings" will be developed into a 3D presentation.
more information on Kidz Entertainment Inc, Please Visit: www.KidzEntertainmentInc.com
Facebook.com/KidzEntertainmentInc
For Inquiries, CONTACT: info@kidzentertainmentinc.com
____________________________________________________________________
---