October 2008
KIDS KALEIDOSCOPE
by Cody Chandler Hilton
Here comes Halloween, and everyone I know will be out trick or treating, or finding creepy films to watch with a big bowl of popcorn or carmel apples. If you go out at night try to travel with friends and watch out for the kids who are younger than you. If you are not sure about something that gets dropped in your bag have your parents look everything over before you eat it. I think home made costumes are the best, and usually the funniest. Last year I made a Pope costume, and my uncle really laughed when he opened the door and saw me. Another year I went out in a doctor costume.
Many schools and park districts organize programs for this day, and provide a safe place to have fun with your friends and family. This is a great time of year and I hope you enjoy it.
Thanks for reading my column.  CH
---
CONTEXT FLORENCE LAUNCHES A ROBUST
KID-FRIENDLY PROGRAM, ALLOWING FAMILIES
TO EXPLORE THE PAST AND PRESENT IN
FLORENCE AND TUSCANY.
Drawing on its network of over thirty scholars and specialists on the ground, and its track record of designing engaging learning experiences for travelers in cities throughout Europe and America, Context announces the expansion of its acclaimed Family Program to Florence.
The program features 2- and 3-hour walking tours of Florence lead by scholars in art history, history, and other disciplines who have been specially trained to work with children and make the monuments and artistic heritage of Florence come alive for them.
"With heavy crowds, long lines, and an overabundance of artistic masterpieces, Florence can be daunting for parents who want to get their kids excited about art and the Renaissance," says Megan McDonnell, Context city manager in Florence. "So we are organizing our Family Program here to search out the quieter corners of the city and to create interactive, innovative ways to engage kids. The results, so far, are fantastic."
The influential parenting magazine Cookie recently praised Context's family walks, calling the organization's docents "charismatic guide(s) who can bring the sites to life with stories." The organization's walks in Florence feature a mix of city overviews and in-depth art- and history-themed walking tours. Symbols and Legends of Florence is an interactive treasure hunt in which families search for such traditional symbols of Florence as the lily and the Medici "balls" as they explore the city's history and architecture. Renaissance Life for Families, a more in-depth walk, focuses on the everyday life of families living during the Renaissance, paying special attention to home life in a visit to the Palazzo Davanzati, a 15th century residence. In Arte Firenze for Families children and their parents explore the Uffizi Gallery with one of Context's art historians. Further afield, in Siena, the Palio-Siena traces the history of Siena, using the city's age-old Palio horse race as a thread.
Context's family walks are led by docents from the Context scholars network who have experience in the educational departments of museums and who have been trained in VTS (Visual Thinking Strategies), a cutting-edge approach to teaching children how to think critically about art. Walks often include didactic techniques such as flashcards, treasure hunts, or drawing exercises.
Founded by National Geographic writer Paul Bennett and designer Lani Bevacqua, Context is a network of English-speaking scholars and professionals—including art historians, writers, architects, and gastronomes—who organize and lead didactic walking seminars across seven cities: Rome, Florence, Naples, Venice, Paris, London, and New York. In May 2006, Travel + Leisure named Context one of the top European tour companies for its innovative approach to travel and the depth of its programs.  A leader in sustainable tourism, learn more about Context by visiting its website at: www.contexttravel.com
---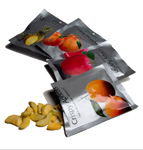 CRISPY FRUIT

A perfect choice for Halloween Trick or Treat callers!!
visit: www.crispyfruit.com

---
---
---