NEWS: LA CHOCOLATE SALON joined by 1st LA FRAGRANCE Salon - 9/23
A TREAT FOR THE SENSES OF TASTE AND SMELL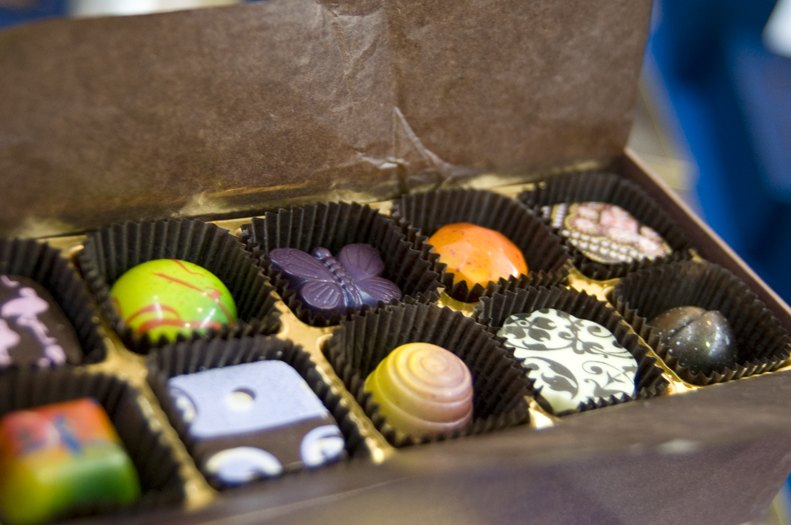 TasteTV is pleased to announce that for the first time the 6th Annual Los Angeles CHOCOLATE SALON will be joined by the 1st Annual Los Angeles Artisan FRAGRANCE SALON at the Santa Monica Civic Auditorium.

In addition, tickets for either event will allow entry into the other. The Chocolate Salon will take place on 9/23 in the Main Hall of the Civic Auditorium, while the Fragrance Salon takes place in the separate East Wing.

At the LA Chocolate Salon, chocolate aficionados, fanatics, lovers and addicts can taste & experience the finest in artisan, gourmet & premium chocolate in one of the world's great culinary metropolitan areas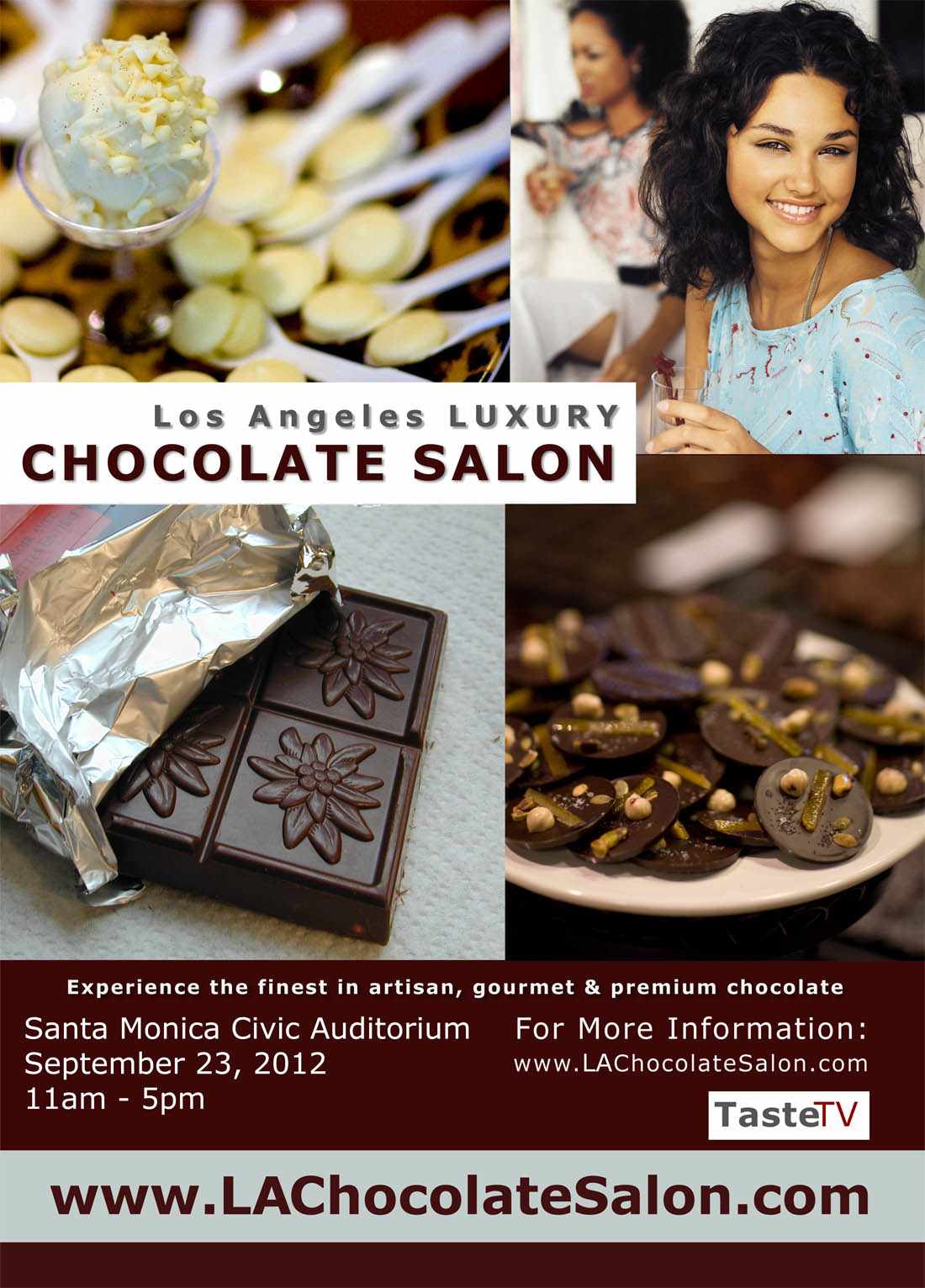 LOS ANGELES CHOCOLATE SALON

The premier major chocolate show in the Los Angeles area this millenium.

The 2012 Sixth Annual Los Angeles CHOCOLATE SALON participants include chocolatiers, confectioners, and other culinary artisans, such as Amano Artisan Chocolate, Mignon Chocolate, Amella, Butterfly Brittle, The TeaRoom Chocolate Company, Marti Chocolatt, Marco Paolo Chocolates, DEUVO Gourmet Sweets, Plumeria Flours, Gourmet Blends, Farm Fresh To You, TasteTV, and more.

New Location: Early Bird Tickets are now on sale. No Tickets at the Door. Limited Quantity Available.

www.LAChocolateSalon.com





LOS ANGELES ARTISAN FRAGRANCE SALON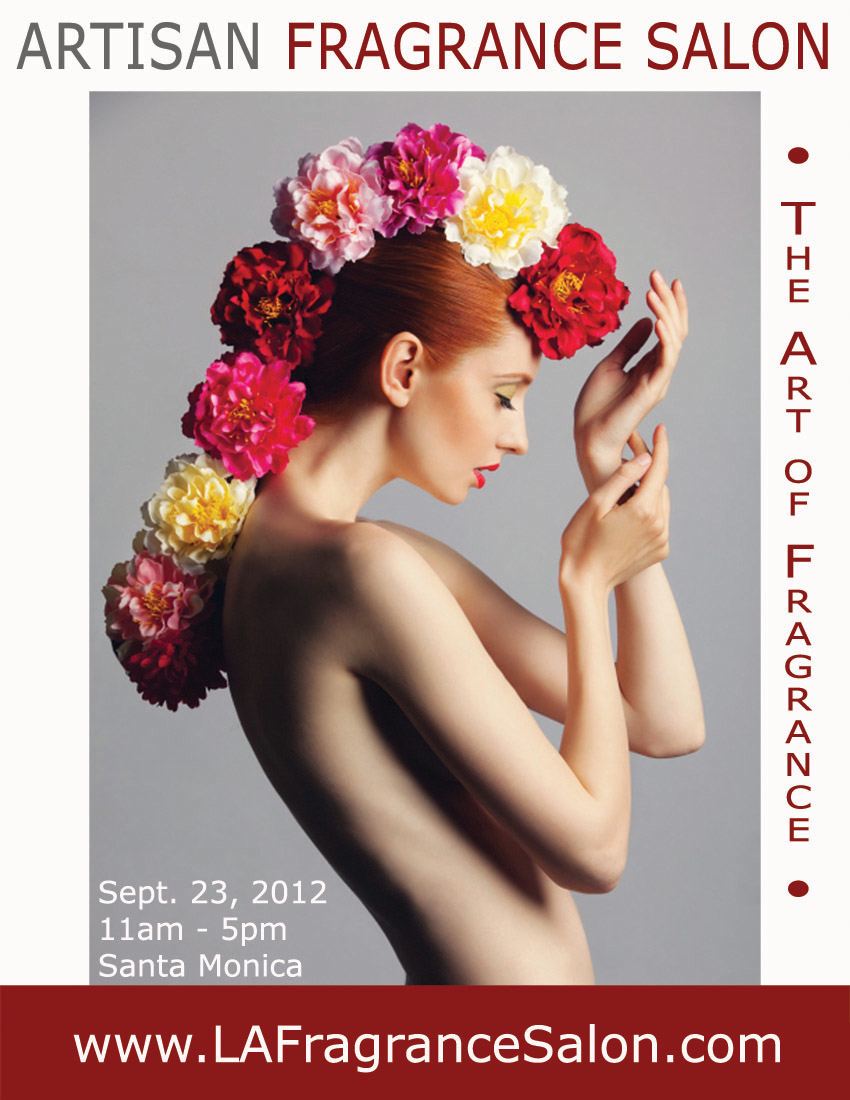 The premier artisan and luxury fragrance show in Southern California featuring olfactory tastings, panels and demonstrations, new product launches, author talks, and book signings.

Participants of the Los Angeles ARTISAN FRAGRANCE SALON include Velvet & Sweet Pea's Purrfumery, smell bent, COGNOSCENTI, Roxana Illuminated Perfume, Artemisia Natural Perfume, Parfums Lalun, 40notes Perfume, Sarah Horowitz Parfums, Sebastian Signs, Olympic Orchids Artisan Perfumes, House of Matriarch, Luckyscent, Opus Oils, A Perfume Organic, PK Perfumes, JoAnne Bassett, Ayala Moriel Parfums, SANAE Intoxicants, and Imaginary Authors.

See a recent article about the July San Francisco Fragrance Salon in the San Francisco Chronicle Style section here.

Early Bird Tickets are now on sale. No Tickets at the Door. Limited Quantity Available.

www.LAFragranceSalon.com

  54ND ANNUAL PASADENA GREEK FEST
RETURNS TO SANTA ANITA PARK IN ARCADIA, CA
"Celebrate… Eat… Live… Greek"
With Something For The Entire Family
Visit Greece without ever leaving Los Angeles and join the endless summer fun with Los Angeles' Greek community at the 54rd Annual Pasadena Greek Fest which will be held Friday-Sunday, September 14, 15 and 16, 2012 at Santa Anita Park in Arcadia, California, located at 285 W. Huntington Drive in Arcadia, CA  91107.
Fest hours are from 5 p.m. to 10 p.m. on Friday, September 14, 2012; noon to 10 p.m. on Saturday, September 15, 2012; and on Sunday, September 16, 2012 from noon to 10 p.m.
The event, one of the oldest and largest of its kind in Los Angeles, costs $5 and children under 12 years free. Parking is $4 per car at the main entrance of Holly and Huntington Drive at Santa Anita Park.
            "Pasadena GreekFest, one of Los Angeles oldest and largest culturally diverse festivals, brings together the community in celebration of Fall with a multitude of fun activities for the entire family, including Greek cuisine, cooking demonstration, a sports bar and cigar lounge, art, culture, Greek lectures, wine tasting, shopping, live entertainment and Kid's Fun Zone," says Co-Chairman of the event Louie Kades.

            Highlights of the weekend festivities will include live Greek entertainment from the Olympians and other live performers. Planned are many exciting exhibits, including cooking demonstrations, live wine chat with wine makers from Greece, lectures about Greek history and culture, as well as the very popular Olympic Taverna Sports Bar & Cigar Lounge, authentic homemade Greek cuisine and pastries, Greek folk dancing by several award winning youth groups and an expanded Kid's Fun Zone with rock climbing, carnival games, rides and prizes.
A special grand prize dream travel certificate valued at $2,500 will be given away. Raffle prizes awarded throughout the weekend include a 51" 3D HD TV, apple iPads, cash and gift certificates all totaling over $10,000.
            The Pasadena Greek Fest is an annual event which brings together thousands of visitors from the Greater Los Angeles area to a weekend pageantry celebrating all things Greek. Proceeds from the event benefit cultural, educational, and community outreach programs run by Saint Anthony Greek Orthodox Church in Pasadena, CA. Event sponsors include Methodist Hospital, Mountain View Tires, AAA Auto Club, Santa Anita Park, Pasadena Star News, and NRS Media Group
For ticket information or to obtain additional information regarding the event, call 626-600-1OPA/626-600-10PA/626-6991672 or visit the official website of the festival at www.pasadenagreekfest.org
_____________________________________________________________
                     KOSHER FEST IS COMING    
Kosherfest, the largest kosher food, wine and spirits trade show will present some of the newest kosher certified products for 2012.  Open to buyers, caterers, foodservice and food industry professionals, this year's 2-day show at the Meadowlands will feature an array of educational programs and events addressing topics on the cutting edge of the kosher industry.  Kosherfest (www.kosherfest.com) will be held in Secaucus, NJ at the Meadowlands Expo Center, November 13-14, 2012.  Here's the schedule to date:
TUESDAY, NOVEMBER 13, 2012
9:00am - 9:45am
Keynote Address: Competing for a New Age Kosher Consumer in a Changed Environment
Front of Exhibit Hall, Room C/D
The kosher consumer is blessed with many choices, in product, shopping venue, and even in price. The key challenge in 2013 and beyond is winning market share. How will marketing factor in reaching out to younger consumers? What changes in merchandising will be necessary to keep kosher consumers loyal? What changes lie on the horizon that anyone associated with the kosher industry should be aware of?
Presented by: Menachem Lubinsky, Kosherfest Founder and President & CEO of LUBICOM Marketing

Admission is included with your registration to Kosherfest
11:00am - 11:45am
Meeting the Special Needs of the Kosher Consumer
Front of Exhibit Hall, Room C/D
Kosher consumers are not monolithic and have diverse needs in terms of diet and palate. An increasing number of kosher consumers are seeking out such specialty foods as gluten-free, organic, and low-fat. How can the industry best meet those special needs? What are some of the merchandising ideas that help flag these products for those consumers who are looking for them?
12:00pm - 12:45pm
The Authors Corner
Front of Exhibit Hall along the front of Room C/D
Meet your favorite kosher cookbook author and pick up a signed copy of their latest book!
1:00pm - 1:45pm
Building Your Brand's Online Presence Via Social Media
Front of Exhibit Hall, Room C/D
How does Pinterest, YouTube, Google+, Facebook, Twitter and SEO fit into the equation?  Hear from our panel of experts on how they have worked with different brands and amplified the brand's name via these social media platforms.  The end results are: more fans, more engagement and more loyal customers.
Panelists:
Esti Berkowitz, Blog Ambassador & Kosher Traveling Mom
Menachem Lubinsky, Kosherfest Founder and President & CEO of LUBICOM Marketing
Beth Rosen, Social Media Strategist & Brand Ambassador
2:00pm - 2:45pm
Branding: The Most Critical Element for Long-Term "Mainstream" Success!
Front of Exhibit Hall, Room C/D
Why is Branding so critical for success in today's competitive "mainstream" marketplace? What are the key elements required for a successful mainstream brand positioning? How do product and consumer insights: functional, psychological, emotional lead to establishing a long term brand success?  Hear how Sabra, a $10 million "kosher" brand, became a $300 Million "mainstream"  brand in only 3 years.
Panelists:
John McGuckin , Executive Vice President, Sabra Dipping Company
Milt Weinstock, President, Kosher Media Network
11:00am - 12:30pm
Kosherfest Culinary Competition
Front of the Exhibit Hall 
Join us as top kosher chefs from the New York metropolitan area face off in the Kosherfest Culinary Competition.  This fast paced heated mystery-ingredient battle has kosher chefs vying for bragging rights and a cash prize.  Produced in partnership with The Center for Kosher Culinary Arts.
Kosherfest is co-produced by Diversified Business Communications and LUBICOM, Inc. Press may register to attend at the website: www.kosherfest.com/press-room/press-registration.  Follow us on FB at https://www.facebook.com/Kosherfest  and TWITTER at http://twitter.com/kosherfest.
 ___________________________________________________________________
Santa Barbara Rescue Mission
Announces their 11th annual event
Downfield on the Bayou
Fundraiser to honor Bob Bryant
____________________________________________________________________________________________
The Rescue Mission's eleventh annual fundraiser will be held at the Rancho Dos Pueblos estate on Saturday, October 6 at 2:00 p.m.  This year's football theme Downfield on the Bayou features a casual outdoor afternoon event.  Guests will select gifts from Santa Barbara's finest silent auction boutique, enjoy the foot-tappin' music of the Dixie Daddies band, and an All-American BBQ presented by Lorraine Lim Catering. 
This year, Bob Bryant will be honored with the Léni Fé Bland award.  He will be recognized for his committed partnership in the work of recovery through his service on the Fighting Back Steering Committee and as the founder of the Daniel Bryant Youth and Family Treatment Center.
The funds raised at this event make it possible for the Mission to offer a successful 12-month residential recovery program, as well as provide for homeless guests.  Last year, the Bayou event raised over $320,000 to assist people seeking recovery from drug and alcohol addiction.  The Mission has helped over 500 people achieve recovery over the last fourteen years.
Rolf Geyling, the Rescue Mission President, said "While only 21% of those completing treatment programs nationally maintain their sobriety beyond five years, we are proud that 56% of our graduates remain in recovery over this same time period."
For more information or to buy tickets ($150), please call the Rescue Mission at (805) 966-1316 ext. 105.
About Santa Barbara Rescue Mission
Established in 1965, this 501(c)(3) organization brings physical, emotional, educational and spiritual resources to individuals and families in need.  It is the only organization between Oxnard and Santa Maria that provides hot meals and overnight accommodations to homeless guests 365 days of the year.  The Rescue Mission offers men's and women's 12-month residential recovery, outpatient treatment, family support, relapse prevention, men's sober living, academic instruction and job skills training.  Its residential drug and alcohol program has won regional and national recognition for its extraordinary effectiveness.  The Mission receives no government funding.
________________________________________________________________
Brazil confirms its participation at the annual Carnaval International de Victoria in Seychelles
August 28, 2012
Rosas de Ouro, or the Golden Rose Samba School, will be traveling to Seychelles in February 2013 to take part in the island's annual Carnaval International de Victoria. This Samba School was founded since 1971 and is today one of the largest and well-structured samba schools of Sao Paulo in Brazil.
At a meeting, which was followed by a press conference, Minister Alain St.Ange from the Seychelles and Mr. David Germain, the Seychelles Tourism Board Director for Africa and the Americas, came to an agreement with Daniel Okamoto, the Executive Director responsible for the Samba School, to take a group of 20 dancers and drummers to the Seychelles for the 2013 carnival in the Indian Ocean.
The Brazil Samba Group will be made up of mostly drummers and dancers, and some of the dancing girls and drummers were present when the Seychelles and Brazil delegations agreed that Brazil would be represented by the Rosas de Ouro at the 2013 carnival.
"It will be great to have a group of twenty performers directly from Brazil for the Indian Ocean Vanilla Islands Carnival that is staged annually in Seychelles. We are thankful that Brazil's Rosas de Ouro, or the Golden Rose Samba School, has accepted to be part of the 'Carnival of Carnivals' that is held in Seychelles. We have today seen the Samba School performers, and we are sure that they will be well received in the carnival on the equator staged in Seychelles," Minister Alain St.Ange of the Seychelles said.
On his part, Daniel Okamoto said that the Rosas de Ouro will be coming with a decorated carnival float as they are used to in Brazil. "We will travel to Seychelles and bring a taste of Brazil's known carnival to the Seychelles, and we intend to do Brazil proud with our participation," Mr. Okamoto said.
The rise of the Golden Rose Samba School was impressive. Paraded for the first time in 1973 and the following year, the school won the competition and went up to the main samba group. In their first appearance among the major samba schools, Rosas de Ouro took the runner-up title. In 1983 came the greatest joy for the components of "Rosewell," the affectionate nickname of the school, in the form of the championship with the plot, Nostalgia.
The Golden Rose Society is a favorite of city schools and attended by a variety of people: families, youth, students, children, and foreigners. In more than 30 years in the Special Group parade, they hardly fell below sixth place. Without losing the essence of the samba school, the Rosas de Ouro professionalized its segment and has offered to large companies, festivals, and events, the show, Rosas de Ouro, presented throughout the country and other countries.
In 2010, Rosas de Ouro again took first place in the Special Carnaval Group with the plot, Cacau is Show! The Rosas de Ouro has continued to attract massive numbers of spontaneous media coverage everywhere they go. Rosas de Ouro's web site is:
www.sociedaderosasdeouro.com.br
.
The Carnaval International de Victoria remains the only carnival that is today known as the "Carnival of Carnivals," because all the best and the most known carnivals of the world parade side by side and are followed by cultural groups from the Community of Nations. "The carnival in Seychelles co-hosted this year with La Reunion island has been listed amongst the best and most colorful carnivals in the world, and this recommendation we intend to keep, because year after year the carnival in Seychelles will not only get bigger but also better," Minister Alain St.Ange said.
Top Trends Spotted at the Summer Fancy Food Show
Foodies from across the country, as well as foreign lands descended on our nation's capitol for the 59th annual Summer Fancy Food Show staged by the National Association for the Specialty Food Trade (NASFT). Next summer the show will return to its original home at the Javits Center in New York City.
An illustrious panel of food writers from media outlets such as The New York Times, In Style magazine, Better Homes & Gardens and others were asked to be on the lookout for the key trends spotted at this year's gathering in DC.
At the conclusion of the show, the group came up with a top five, listed in no particular order.
Small Batch Mixers. The group made note of two fabulous syrups: a ginger syrup from Morris Kitchen and a simple syrup from Royal Rose. Others getting a mention were a Cherry Drinking Balsamic from Ritrovo Italian Regional Foods and Gingras Extra Old Apple Cider Vinegar.
Local Global. The combination of near & far foods was much in evidence. The panel singled out Sofrito from Chulita's Famous, Misir (spicy red lentils) from Taste of Ethiopia, a Moroccan BBQ sauce from Wild Thymes Farms, and a Korean Hot Sauce from KimKim Sauces.
Cookie Catcher Crunch. Cookie meeting cracker was a common occurrence at the show, with such products as All Natural Cookie Chips from HannaMax Baking, Slims Dessert Crackers from Trump's Food Interest, Sea Salt and Lavender Crackers from Effie's Homemade, and Brownie Brittle by Shelia G's.
The New South. Food products evoking a southern tradition were a big hit. Among the standouts were Rodger's Banana Pudding Sauce from RR Enterprises, Pimiento Cheese from Callie's Charleston Biscuits, Bourbon Pecan Pie from Steve's Ice Cream, and Carolina Creole from Luquire Family Foods.
Chocolate Change-Ups. Well, chocolate could almost always be counted as a hot trending commodity, but several products took things to a new level. The panel made special mention of the Chocolate Jam from Stonewall Kitchen, Coconut Chocolate Truffle Tea from Tea Forté, Chocolate Fleur de Sel from Sea Salt Superstore, and Put Your Money on Honey Caramels from Droga Confections.
___________________________________________________________________
FRANCE WELCOMES 2ND FOOD FESTIVAL
On the first day of autumn, France devotes an entire day to celebrate gastronomy. La Fête de la Gastronomie marks its second year on September 22, 2012, celebrating terroirs, highlighting the traditions and creativity infused into French gastronomy through exceptional events all around the country.
The now annual fest was initiated for the first time in 2011 by former Secretary of State for Tourism Frédéric Lefebvre, who created the event as a way to showcase the great diversity of French cuisine within the nation. The festival follows UNESCO's addition of the French gastronomic meal to their prestigious list of World Intangible Heritages, honoring the conviviality surrounding customary French meals. Inspired by the format of the successful Fête de la Musique, when open-air music fills streets all around France, la Fête de la Gastronomie aims to create a convivial and warm atmosphere that brings people together through the culinary arts.
This year's events include free food samples at stores all around France, exceptional markets, live cooking demonstrations, and special discounts at restaurants. In Burgundy and Paris, lavish picnics will be held in various locations ranging from vineyards to open-air cafes, serving food prepared by famous chefs and wine by local growers. New this year is the launch of an amateur cooking competition, bringing together hundreds of chefs to showcase their creativity. Regional competitions will be held at various Relais & Chateaux properties as well as cooking schools around the country, where contestants will prepare dishes using a predetermined selection of local produce. The final will be held in the city of Dax in the Basque Country on September 22.
From September 17 to 23, France will also play host to Tous au Restaurant, the country's version of restaurant week, launched by renowned chef Alain Ducasse. The event, now in its third year, brings together special two-for-one deals at hundreds of participating restaurants throughout France. You can search the restaurants by region, city, type of food and price here. In Paris, a gourmet food truck will stop in different areas around the city, serving lunch and dinner made by various celebrated chefs, including Thierry Marx.
Find more foodie news on the Fête and more on their site.
---