Greetings from the Napa Valley Mustard Festival ~

Napa Valley Mustard Festival
SEVENTEENTH ANNUAL NAPA VALLEY MUSTARD FESTIVAL
A SENSATIONAL SEASON OF FOOD WINE AND ART EVENTS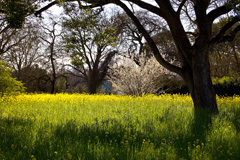 Celebrate Napa Valley's unique agricultural and cultural bounty during the 17th annual Napa Valley Mustard Festival, slated to burst into bloom in January of 2010. The Festival's line up of stellar events, January 30 through March 27, takes place when wild mustard carpets vineyards with gold, celebrating Napa Valley's agricultural and cultural bounty.

The Festival offers visitors from far and wide immersion in the legendary wine region's good life. Vineyards vibrant with wild mustard provide a breathtaking backdrop and share center stage with mustard the condiment during the two-month marathon of food, wine and art events. An impressive collection ~ the who's who of Napa Valley restaurants, caterers and wineries; mustard and gourmet companies from around the world; regional artists and national sponsors ~ present their finest throughout The Season of Events.

YOUR HOSTS
Meet Napa Valley Mustard Festival Host Chef Anne Gingrass, Executive Chef, Brix, Host Winemaker Julianne Laks of Cakebread Cellars and Host Artist Thomas Monaghan at the events. The Grand Dinner on Friday, February 19 at Brix is limited to 100 and provides an excellent opportunity to mingle with Napa Valley Mustard Festival Hosts, as well as notable guest chefs and winemakers.

MUSTARD SEASON MID-WEEK OFFERS
Plan to extend your stay when you attend events or simply take a mid-week respite to enjoy special mid-week Mustard Season offers. Visit mustardfestival.org to view restaurant, hotel, winery and retail offers and packages. The mid-week promotion is sponsored by The County of Napa.

THE EVENTS

THE UNVEILING ~ LET THE BIDDING BEGIN!
The official unveiling of the season's artwork, Reverie by Thomas Monaghan, will take place at Hall Wines on Sunday, January 10. The silent bidding for Reverie begins! Call 707-938-1133 for an invitation to this intimate preview event.

MUSTARD MAGIC ~ THE GRAND OPENING EVENT
Mustard Magic, the opulent grand opening event, will launch the season on Saturday, January 30, 7 pm at The Culinary Institute of America at Greystone in St. Helena. The historic three-story stone building sets the stage for dramatic tableaux vivants. Reverie and paintings by European masters will come to life. Entertainment at its finest will complement the living art.

As you stroll through art-filled, candlelit spaces tantalizing tastes of food and wine will entice you at every turn. Take a turn on the dance floor in the Barrel Room where the Visual Art Competition Exhibit and Silent Auction is surrounded by chefs and winemakers. Visit the Teaching Kitchen on the third floor for a gourmet buffet and raise your paddle high at the live auction to win food and wine experiences you could not otherwise buy. Luxurious trips, art, wine and more will also go to the highest bidders.

Tickets are $125 in advance through January 15; $150 in advance through January 29; $175 at the door. Tickets may be purchased on line at mustardfestival.org, by calling 707-938-1133, or at local ticket outlets: Antique Fair in Yountville, Art on Main in St. Helena, and Embassy Suites in Napa.

MUSTARD MAGIC ART AUCTION AND A WEEKEND OF FINE ART
Add to your art collection at the Mustard Magic Visual Art Competition and Silent Auction in the Barrel Room at the Culinary Institute of America on January 30; then meet the artists at a reception at St. Supéry Winery on Saturday evening, February 6 during A Weekend of Fine Art. The exhibit will be displayed and offered at retail through March 30. Galleries throughout Napa Valley will feature special exhibits and receptions on February 6 and 7 during A Weekend of Fine Art. Don't miss Reverie by Thomas Monaghan at HALL Wines in St. Helena. There is no admission charge to these open house events.

THE GRAND DINNER ~ THE GOURMET DINING EXTRAVAGANZA
Indulge in Napa Valley's most extravagant dining experience of the year at Brix in Yountville on Friday, February 19 at 6 pm. Anne Gingrass, Executive Chef Brix, Napa Valley Mustard Festival Host Chef, and Julianne Laks, Winemaker Cakebread Cellars, Host Winemaker, will head The Dinner's stellar lineup of chefs and winemakers. Each chef will combine his or her course with a wine presented by the winemaker or a winery principle. Their practiced palettes will insure a perfect marriage of tastes. Ken Frank, La Toque, Host Chef 2009, will be among the guest chefs to join Chef Gingrass and Winemaker Laks to produce the evening's magnificent mustard influenced menu. The event will include a silent auction of exceptional wines and experiences. Seating is limited to 100 at $225 per person.

THE AWARDS ~ A SPICY SOIRÉE!
Don jewels and black tie for a glitzy evening of food, wine, music and dancing at The Awards ~ A Spicy Soirée! on Friday, March 12, 7 pm, at the beautiful Black Stallion Winery on Silverado Trail in Napa.

As you taste your way through the most creative mustard recipes of the year, while sipping Napa Valley's finest vintages, the critic's choice recipe judging, headed by Gene Burns of KGO Newstalk AM810, will take place behind closed doors. You'll then have the chance to compare your taste buds with those of the professionals as you cast your ballot for People's Choice Chef of the Year.

Raise your glass to World Champion Mustard Makers who've come to Napa Valley from around the world to walk the red carpet and receive their Napa Valley Mustard Festival World-Wide Mustard Competition Awards. Tickets are $100 in advance; $150 at the door.

NAPA RIVERWALK MARKETPLACE ~ THE SIGNATURE EVENT
Celebrate the mustard season and taste mustards from around the world at
Napa Riverwalk Marketplace ~ The Signature Event ~ on Saturday and Sunday, March 13 and 14, 11 am to 5 pm in downtown Napa at Riverfront, Historic Napa Mill, Veteran's Memorial Park and other downtown Napa locations. Highlights of this rain or shine food, wine and arts festival include: celebrity chef cooking demonstrations, live remote broadcasts of KGOAM810's Dining Around with Gene Burns and Martha Stewart Living radio shows, and the ever popular Sunset Magazine pavilion. Artful activities include fine arts and crafts presented by juried artists and artisans, and live performances of jazz, world, and classical music.

Adult admission to The Marketplace at $35 in advance, $40 at the door, includes
8 food and 5 wine tasting tickets (value $1 each), plus a wine glass. Student admission, ages 13 to 20, at $10 includes 5 food-tasting tickets. Admission for children ages 6 to 12 is $5. Children under the age of 6 are admitted for free. Visit participating Raley's, Nob Hill Foods and Bel Aire Markets to purchase adult tickets in advance, which include a voucher for 5 additional tasting tickets.

Purchase a weekend package in advance at mustardfestival.org, which includes both The Awards and The Marketplace at $125 per person. Park and walk to the event. Downtown Napa features several parking garages within walking distance of event locations.

THE PHOTO FINISH ~ THE GRAND FINALE EVENT
View the season's beauty captured by photographers from far and wide at The Photo Finish, the inevitably "sold out" and wildly exuberant Napa Valley Mustard Festival Grand Finale Event, at Rubicon Estate in Rutherford on Saturday, March 27 at 7 pm. Taste a heady array of Napa Valley wines along with sweets and savories, view the Napa Valley Mustard Festival Photography Contest Exhibit of photographs, available for purchase, and revel in the party until the last dance. Rubicon Estate provides an exciting new location for this inevitably sold out event. Relevé Unlimited, a new Napa Valley Mustard Festival sponsor, will join Rubicon Estate to sponsor the photography contest and exhibit. Tickets to the event are $95 in advance; $125 at the door.

COMMUNITY EVENTS
Don't miss the community and non-profit events that further enrich the Mustard Season calendar. Mustard, Mud & Music – A Calistoga Jazz Festival will take place on Saturday and Sunday, March 6 and 7 in downtown Calistoga; and A Taste of Yountville on Saturday, March 20 in downtown Yountville.

BENEFACTOR'S PACKAGE
Treat yourself to a Benefactor's Package and take advantage of the full spectrum of Napa Valley Mustard Festival events. Offered at $500 per person, the package includes one ticket to each of the following events: Mustard Magic, The Grand Dinner, The Awards, The Marketplace, and The Photo Finish – plus a 2010 Napa Valley Mustard Festival poster signed by Thomas Monaghan. Tickets are transferable and may be given as gifts.

COMPETITIONS
Napa Valley Mustard Festival activities include Fine Art and Photography Competitions, The World-Wide Mustard Competition, overseen by Barry and Patti Levenson of the National Mustard Museum in Madison, Wisconsin, and a Napa Valley Chef's Mustard Recipe Competition. For information and guidelines visit mustardfestival.org.

ARTWORK ~ THE ORIGINAL AND COLLECTOR'S POSTERS
Silent bidding will open on Reverie, Thomas Monaghan's bucolic 48" by 60" oil painting inspired by Napa's Carneros appellation, on January 10, 5 to7 pm at HALL Wines. View the artwork at mustardfestival.org. The painting is destined to go to the highest bidder at The Photo Finish, The Season's Grand Finale Event, at Rubicon Estate, on Saturday, March 27 at 10 pm. Those who cannot visit Napa Valley but would like to place a bid on the painting may call Pat Summers of Summers-McCann Pubic Relations, Napa Valley Mustard Festival Producer, at 707-938-1133 ext 106. Posters are offered at $30 or $40 signed by the artist. Order at mustardfestival.org or call 707-938-1133.

WHERE TO BUY TICKETS
The Napa Valley Mustard Festival is a non-profit community service organization. For information call 707-938-1133. For tickets and information visit The Festival website at mustardfestival.org.
---

                     Recipe Courtesy of the Millennium Alaskan Hotel Anchorage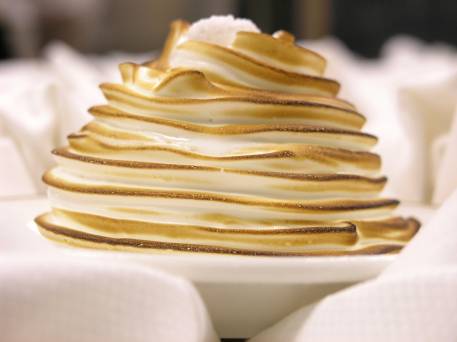 BAKED ALASKA RECIPE FOR HOLIDAY ENJOYMENT
 Ingredients:
 Cake
Nonstick vegetable oil spray
4 large eggs
1/2 cup sugar
1 1/2 teaspoons vanilla extract
3/4 cup sifted cake flour (sifted, then measured)
1 tablespoon poppy seeds
6 tablespoons (3/4 stick) unsalted butter, melted, cooled
Filling
2 quarts ice cream, softened (flavor of your choice)
1 quart sorbet, softened (flavor of your choice)

Meringue
6 large egg whites
3/4 cup sugar
1/2 teaspoon vanilla extract
Preparation:
For Cake:
Preheat oven to 325°F. Spray 9-inch-diameter springform pan with nonstick spray. Whisk eggs, sugar, and vanilla in large metal bowl to blend. Set bowl over saucepan of simmering water (do not allow bowl to touch water); whisk constantly just until mixture is warm, about 2 minutes. Remove bowl from over water. Using electric mixer, beat mixture until very thick and ribbons form when beaters are lifted, about 7 minutes. Add flour in 3 additions, gently folding just to combine after each. Fold in poppy seeds, then quickly fold in butter in 2 additions (do not overfold). Pour batter into prepared pan.
Bake cake until top is golden and tester inserted into center comes out clean, about 28 minutes. Cool completely in pan on rack. Remove pan sides.
For Filling:
Line 4-quart 10-inch-diameter bowl with plastic wrap, leaving 8-inch overhang. Spread sorbet in even layer over bottom (not sides) of bowl. Spread ice cream over sorbet. Place cake atop ice cream, pressing slightly to compact. Cover with plastic wrap overhang; freeze at least 4 hours or overnight.
For Meringue:
Using electric mixer, beat egg whites in large bowl until soft peaks form. Gradually beat in sugar, 1 tablespoon at a time; beat until thick and glossy. Beat in vanilla.
Unfold plastic wrap from over cake at top of bowl. Invert dessert onto 9-inch-diameter tart pan bottom; remove plastic wrap. Working quickly, spread meringue over dessert, swirling to form peaks and covering completely. Freeze at least 30 minutes. (Can be made 1 day ahead; keep frozen.)
 Preheat oven to 500°F. Place dessert on its tart pan bottom on heavy large baking sheet. Bake just until meringue is light golden, about 5 minutes. Transfer to platter. Serve immediately.
yield: 12 servings
---
SUZANNE GOIN, RICK BAYLESS WILL BE
TOP HONOREES AT 'COOKING FOR SOLUTIONS 2010'
The Food Network's Guy Fieri joins as guest emcee
   Great Chefs, culinary gala, tours Shine Light on Sustainable Cuisine
Renowned chefs from across North America, including James Beard Award-winners Suzanne Goin of Lucques in Los Angeles and Rick Bayless of Topolobampo/Frontera Grill in Chicago will share their passion for fine dining and environmentally sustainable living when they're honored at the Monterey Bay Aquarium's "Cooking for Solutions 2010" on May 21-22, 2010.
The Food Network's Guy Fieri, host of four shows including Diners, Drive-ins and Dives, will participate for the first time as a special guest emcee for the Sustainable Seafood Challenge that concludes the two-day celebration.
At Cooking for Solutions, celebrity chefs – selected and recognized by the Monterey Bay Aquarium for their leadership in promoting food practices that protect the health of the ocean and the soil – will create gourmet dishes, host food and wine adventures, and offer cooking demonstrations that feature sustainable seafood and organic ingredients.
All proceeds support the nonprofit aquarium's Seafood Watch program, which has worked for the past decade to transform the seafood market in ways that preserve healthy ecosystems and sustain ocean wildlife.
Title sponsors of Cooking for Solutions 2010 are Bon Appétit Management Company, an award-winning food service company recognized internationally as a leader in promoting sustainable cuisine; and Coastal Living, a national magazine that celebrates life along the coast and serves as the source of inspiration and information for people who live or dream of living a coastal lifestyle.
Suzanne Goin, the influential founder of Lucques and two other acclaimed restaurants, will be recognized as Chef of the Year at the ninth annual "Cooking for Solutions" celebration.
Rick Bayless, the renowned chef, author and proponent of sustainable seafood and environmentally sound farming practices, will be honored as Educator of the Year – recognition that follows his earlier selection as a Cooking for Solutions Chef of the Year in 2006.
Seventeen other noted chefs from across the United States and Canada will also receive honors as Celebrity Chef Ambassadors.
New honorees include: François Blais (Panache Restaurant, Quebec City, Canada), Joanne Chang (Myers + Chang/Flour Bakery + Café, Boston), John Critchley (Area 31, Miami, Florida), Mark Dommen (One Market Restaurant, San Francisco), Anthony Fusco (formerly of Harbour, New York City), Kevin Gillespie (Woodfire Grill, Atlanta), Brandon Hill (Bamboo Sushi, Portland, Oregon), Gerald Hirgoyen (Piperade/Bocadillo, San Francisco), Brandon McGlamery (Luma on Park, Winter Park, Florida), Tim McKee (Sea Change/Solera/La Bell Vie, Minneapolis), Bruce Sherman (North Pond, Chicago) and Jason Wilson (Crush, Seattle).
They'll be joined by five renowned chefs who have been honored at past celebrations: John Ash (cookbook author/culinary educator, Fetzer Vineyards, Hopland, California), Sam Choy (Sam Choy's Breakfast, Lunch & Crab, and Big Aloha Brewery, Honolulu), Jesse Ziff Cool (Cool Eatz Restaurant and Catering/Flea St. Café, Menlo Park, California), Jim Dodge (Bon Appétit Management Company, Palo Alto) and Rick Moonen (Rick Moonen's rm seafood at Mandalay Bay, Las Vegas, Nevada).
The Friday gala on May 21 – the signature celebration at Cooking for Solutions and a sell-out event every year – offers gourmet dishes from appetizers to desserts, created by the celebrity chefs, notable presenting chefs who host them for the events, and 75 exceptional regional restaurants. In addition, 60 premium vintners from California and the western U.S. will pour organic and sustainable wines. Organic juices, coffee and tea will also be available.
The gala will be preceded by a wine and hors d'oeuvres reception with Suzanne Goin and Rick Bayless. Noted chefs will sign their cookbooks during the gala, which also features a sustainable sushi lounge and a Premium Access Lounge for aquarium members.
Saturday's lineup of Food and Wine Adventures includes culinary outings with several Cooking for Solutions chefs, including Suzanne Goin. Several chefs will also present morning cooking demonstrations at the aquarium featuring sustainable seafood and other ingredients.
Saturday evening brings the fifth Sustainable Seafood Challenge, an "Iron Chef"-like event in which four Cooking for Solutions chefs prepare tasty seafood dishes from the same sustainable ingredients in a tournament-style kitchen set-up. Guy Fieri and Sam Choy will provide lively commentary, before a judging panel recognizes the chefs in four fun categories.
The aquarium's Seafood Watch program, which inspired creation of Cooking for Solutions, gives consumers, chefs and major seafood buyers the tools and information they need to make seafood choices that help assure a future with abundant ocean wildlife.
In 2009, the aquarium published Turning the Tide: The State of Seafood, a benchmark research report documenting progress toward securing a sustainable seafood supply for the future.
At year's end, sustainable seafood – and sustainable dining in general – was identified as a top national culinary trend by influential publications and observers, including Nation's Restaurant News.
Seafood Watch creates regional and national pocket guides to sustainable seafood that consumers can use to guide their seafood buying decisions at the restaurant or market – including an iPhone app that debuted in 2009 and that has been downloaded by more than 175,000 people.
Since 1999, Seafood Watch has distributed more than 32 million pocket guides, all featuring seafood items popular in different regions of the United States. It also partners with zoos, aquarium, conservation organizations, national retailers, restaurateurs and seafood distributors – all to shift the seafood market in directions that reward fishing practices that protect ocean ecosystems and the marine animals that depend on them.
Seafood Watch recommendations are also available for internet-enabled mobile devices.
Tickets for Cooking for Solutions 2010 are available by calling the Monterey Bay Aquarium toll-free at 866-963-9645, beginning January 4 for aquarium members and January 18 for the general public.
Details are available online at www.cookingforsolutions.org. You can request event brochures by sending an email to events@mbayaq.org.  
The mission of the nonprofit Monterey Bay Aquarium is to inspire conservation of the oceans. To learn more, visit www.montereybayaquarium.org.
---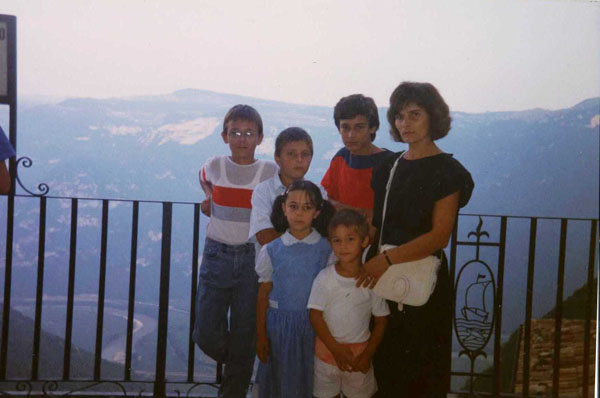 February is Mamma Mia Month at Four Seasons Hotel Prague
Michelin-Star Chef invites his mother to share traditional Italian recipes at Allegro.
During the month of February, Michelin Star awarded Allegro will be offering a special menu full of traditional Italian delicacies from the Veneto region created by Executive Chef Andrea Accordi and his mother, Teresa Accordi.
"I have three brothers and two sisters and I remember my mother spent a lot of time in the kitchen cooking for the whole family.  Most of all I loved her risotto," says Chef Accordi.  "Even today when I return home she prepares it for me and it still remains my favourite.  My colleagues and friends always ask about this special dish, so I decided to invite Mamma to cook for them and from there we decided to let her share her specialties with our guests in Allegro.  I truly believe they will love it as much as I do."
Mamma, Teresa Accordi, will visit Allegro during the first week of February and present her menu to restaurant guests on the evenings of February 3, 4, 5, and 6, 2010.  Mamma's special menu will be available for the entire month of February, with the possibility that dishes may become permanent menu choices.
"It will be the first time my mother and I will be cooking in one kitchen.  I am very much looking forward to this experience and I am a little nervous - maybe I will learn something new from her," added Chef Accordi.
Here, Chef Accordi shares his memories of his mother's cuisine from his childhood in Verona, Italy:
Starters
Calf liver, Venetian style: "To be honest, I didn't like this dish as a child and my mother pushed me so hard to eat it.  Only now, I realize how delicious the combination of flavours really is."
Tigelle and deep fried gnocco, with Culatello ham, salame, rolled pancetta and mountain lard:  "Tigelle and gnocco fritto are cooked a-la-minute and must be eaten immediately.  The best thing is that you can't stop eating them.  My mother had to cook for 2 hours without a break because the plate was always empty."
Stewed stock fish in milk, sautéed bitter herbs: "In the past Baccala alla vicentina was a dish of the poor, but very, very tasty.  Now it has become one of the most symbolic dishes of Vicenza.  You need to be an expert to choose the best quality fish stock in the market.  When I asked my mother for the recipe she said, 'take all the ingredients, put them in a pot, cover it and then place the pot in the oven for 4 to 6 hours.'  If only it was that easy!
Primi piati
Potato gnocchi with tomato, red onion confit and guanciale:  "I can't forget the wonderful homemade gnocchi that was waiting on the dining table when I came home from school - I could smell it at the front door.  She knew how to get us to come straight home from school."
Risotto with tasta sal:  "This was the wish of all the Accordi brothers and sisters every Sunday.  I cannot remember a Sunday without risotto in my family.  We are from an area near the town of Verona where one of the most beautiful varieties of  rice is grown and my mother is very famous not only in our family but also in our village for her perfect risotto.  I promise you, it is the best!"
Tortellini in brood:  "Tedious to make.  While the chicken stock is simmering in a corner of the stove for several hours, my mother folds each cappelletti and shapes it passionately.  This kitchen ritual happened in silence and nobody was allowed to disturb her."
Main dishes
Porchetta rolled suckling pig stuffed with herbs, sautéed beans with mountain lard:  "During late summer, when family and friends are invited to our house, porchetta is the perfect selection to make everyone happy.   It requires long preparation for 2 days followed by 7 hours of cooking on the spit in our garden.  I can still smell it!  This dish was unique in a sense that everybody in the family had a part in its preparation."
Pigeon confit, stewed vegetables in salmi sauce, Trevisan radicchio compote:  "Few ingredients, but a very long preparation time.   Pigeon is very popular in my region.  During autumn season the farmers would come to our house to offer this game and my mother always checked the quality and said, 'Make sure the pigeons are not too skinny, I have a big hungry family!'
Bollito misto, slowly poached beef, chicken, veal head, veal tongue and cotechino, served with Castelluccio lentils, bread and bone marrow sauce:  "Another traditional dish from my region and very much appreciated by my family.  When my mother prepares this dish she starts very early in the morning.  Most of the meat parts are cooked separately, lots of flavours are added, and the stove is full of steaming pots in the kitchen.  The sauce is prepared at the end with beef stock, bone marrow and bread crumbs."
Dessert
Mamma Teresa's sweets, including tiramisu, "rofioi" with amaretti and chocolate, raisin fritters with rum sabayon, bignolata, clementine panna cotta, Vanilla rice and fior di latte ice cream:  "My mother's sweets instantly return me to my childhood"
---
NANDANA PRIVATE RESORT OPENS IN BAHAMAS
Exclusive Estate Pairs Luxury Hotel Services
With Privacy and Security

Nandana, a private resort on the west end of Grand Bahama, is challenging the traditional notion of an exclusive island retreat.  
At the center of Nandana is the Great Hall - a soaring main house with living and dining areas and a 40-foot-high ceiling.  A wall of sliding-glass doors opens to an expansive veranda which leads to a glimmering 120-foot-long infinity pool overlooking the sea.  Surrounding the main house are five one-bedroom suites, including two 1,000-square-foot beachfront pavilions, two garden Bangalas (bungalows), and a 2,000-square-foot luxury "safari-style" canopy suite.
Design details include Burmese teak wood floors, and walls of Balinese limestone and Italian marble fittings.  More than 300 palm trees and tropical plants surround the property which is set directly on the Atlantic Ocean with spectacular 180-degree views.
A private gated estate, with 24-hour security and comprehensive surveillance systems, Nandana is the ultimate hideaway for today's global jet set.  There is a 5,100-foot landing strip allowing guests to arrive by private jet (only one hour from Miami) and a deep-water canal leading to two sheltered on-site docks able to harbor a pair of 100-foot yachts. 
Balancing the discreet nature of the property is the world-class guest service.  On-property staff provide the services of an estate manager, concierge, chef, masseuse, personal housekeeper, butler, chauffeur and boat captain.  Every detail, from pillow-top beds enshrouded in fine Italian linens to gourmet menus tailor-made to guest preferences, has been designed for a totally relaxing and completely private vacation. 
Additional amenities include:
A 43-foot deep-sea fishing yacht, and luxury 20-foot tender

Private guided charters for deep-sea fishing and world-class bonefishing

Custom Land Rover Defender SW SE

Suzuki all-terrain vehicles and on-property golf carts

Yamaha Wave Runners

A 120-foot-long infinity pool overlooking the ocean with separate Jacuzzi

Fully equipped in-home gym

In-house spa with private masseuse and custom treatment program

Teak paneled library and game room

400-bottle wine cellar and top shelf bar

Home-office with global connectivity and high-speed Wi-Fi throughout the property

Flat-screen satellite and cable TV, iPod docking stations, and one-touch electronics control
For more information and to arrange for accommodations, call 212-621-0350 or visit www.nandanaresort.com.
Designed in the style of a Thai beach mansion, Nandana (paradise in Sanskrit) comprises more than 18,000 square feet of living space and offers guests the luxe trappings of a five-star hotel with the discerning service and intimate environs of an opulent private home. 
Lugano Celebrates Ten Years of Awarded Regional, Rustic Italian Fare
focused on Local, Sustainable, Organic and Imported Italian Ingredients 
TEN YEAR ANNIVERSARY ITALIAN DINNER SERIES KICKS OFF CELEBRATION CULINARY CALENDAR ON JANUARY 20 WITH PRODUTTORI BARBARESCO
Over the past ten years, Lugano's owner and chef Greg Neville's attention to regional, rustic Italian fare focused on local, sustainable, organic and imported Italian ingredients has led to numerous awards, media highlights and more importantly,  a loyal clientele.  Neville's hands-on style is seen regularly as he greets guests, oversees food preparation and personally delivers meals.  His deep love for Italy reflects in his seasonal menu and hand selected wines, many from vineyards he personally knows.
"Over the past ten years, one of my greatest loves has been to visit the amazing wineries along the West Coast and Italy.  It has become quite a passion for me to meet the proprietors and experience the diverse hills and valleys of vineyard after vineyard with specialized grapes, growing techniques and climates," said Neville.  "As my understanding has expanded each year and I learn from the true talent - the winemakers - the wine list at Lugano has become more and more personal.  Some of the wines we carry come from the grapes that I witnessed growing, saw being picked or going into the wine press.  I feel very fortunate to have had many opportunities to taste the wines as the winemakers told me about the season of their growth."
Each year, Neville invites winemakers to showcase their work at Lugano in his annual Italian Dinner Series.  The Ten Year Anniversary Italian Dinner Series kicks off with the Third Annual Piemonte Dinner with Aldo Vacca of Produttori Barbaresco & Guest Chef Maurizio Albarello of Trattoria Antica Torre.   The public is invited to enjoy a six-course chef's menu inspired by the cuisines of Piemonte for $59 per person with an optional Produttori del Barbaresco wine pairing for an additional $45 per person.  Reservations for the Lugano dinners can be made by calling 801.412.9994.
During the dinner, winemaker Aldo Vacca will share how the Piemonte district in Italy offers all of the critical elements to produce the magic of Barbaresco wine, made from 100 percent Nebbiolo grapes.  These late maturing grapes are very sensitive to different soil and climate and have been growing in this Northwest Italian region since the 13th century.  These unusual grapes produce complex and fascinating flavors that are used in Vacca's Produttori del Barbaresco.  Traditionally, Barbareco matches well with game, meat, fowl, polenta, fonduta and white truffle dishes of the Piemonte.   More information can be found on the company's website at www.produttori-barbaresco.it.
Lugano's 2010 Celebration Culinary Calendar
Ten Year Anniversary Italian Dinner Series
January 20, 2010        
Annual Piemonte Dinner with Aldo Vacca of Produttori Barbaresco
& Guest Chef Maurizio Albarello of Trattoria Antica Torre
February 10, 2010      
Castello Banfi of Montalcino, Tuscany
March 24, 2010
"World of Napa Valley" Special Guests Allison Steltzner and Janet Viader
April, 2010
Date and Special guest winery TBA
May, 2010
Casual Italian Antipasti & Small Plates Dinner focusing on the kitchen of Piemonte & the Northern Lake Country Date and guest winery TBA
Ten Year "Two Continent" Anniversary Celebration
June 9, 2010               
Ten Year/Ten-Course "Two Continent" Anniversary Celebration
Special Guests Countess Noemi Cinzano, proprietor of Argiano, Montalcino & Bodega Noemia, Patagonia & Celebrity Winemaker Hans Vinding-Diers
Lugano Cooking Class Series
March 20, 2010
Pre-spring Tuscan Fair 
Featuring fave beans, pecorino toscano, ribolita, young lamb & pappardelle
April 17, 2010
Lugano's Pantry
Featuring olive oil, dried beans, preserves, grains & dried pasta
May 15, 2010
From Lugano with Love
Focusing on regional Piemonte and Lombardia specialties
June 19, 2010
Let Summer Begin
Featuring picnic ideas and BBQ techniques
Special Holiday Offerings
February 12-14, 2010 
Festa di San Valentino  Special Venetian semi-prefixed 5 course tasting menu
April 4, 2010              
Easter Sunday Supper  Featuring oven roasted lamb, sole with baby artichokes, cauliflower flan with fave beans & pecorino "tartufato"
May 9, 2010               
Mother's Day Supper  Lugano favorites paired with specialty fare from Barbaresco to Asti
Month-long Celebration Offerings
May: Lugano "In Maggio"   
Lugano highlights the height of spring cooking from Piemonte and the Lake Country surrounding Lugano including weekly wine flights and signature Lugano cocktails.
June: Ten Year Anniversary Month   
Lugano will focus on four different regions throughout the month: Abruzzo, Liguria, Veneto, Sicilia. Wine flights will be featured weekly along with signature Lugano cocktails and specialty wine flights
---