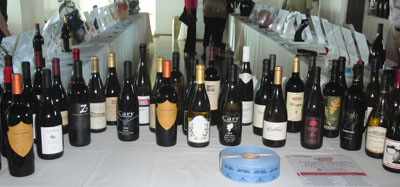 1ST ANNUAL SANTA BARBARA CHOWDER FEST CHARITY COOKOFF
Great Chowder, Wine & Beer, Appetizers and Desserts Made the Day at Food & Home Event
by Bonnie Carroll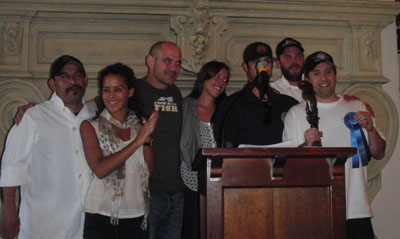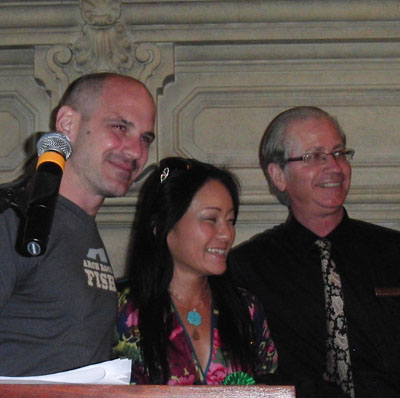 Chowder Champions "The Fishouse"          Opal "People's Choice Winners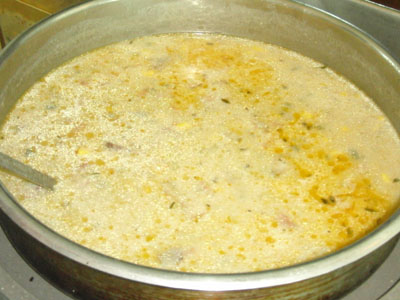 The Montecito Country Club proved to be the ideal venue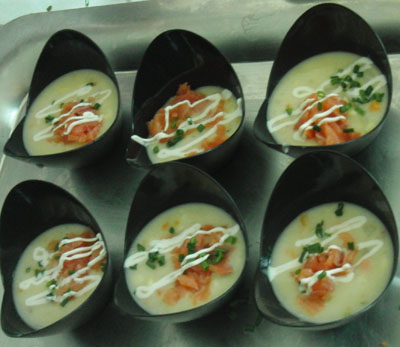 for the Food & Home Magazine 1st Legal Aid Foundation of Santa Barbara Cookoff to raise charity dollars for the organization. People filled the rooms to enjoy delicious samples of chowder from the best chefs in town, as well as fine wine and brew from area purveyors.
Desserts and appetizers were plentiful, and everyone was having a delightful afternoon supporting the charity which began in 1959. They provide legal access to the civil justice system for low-income people and seniors—ensuring safe shelter, adequate income, and protection from domestic violence and elder abuse.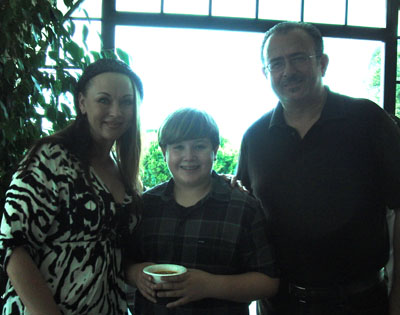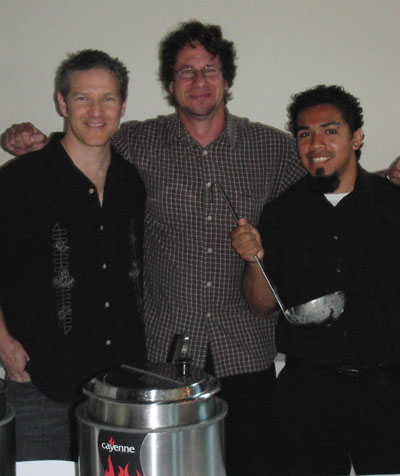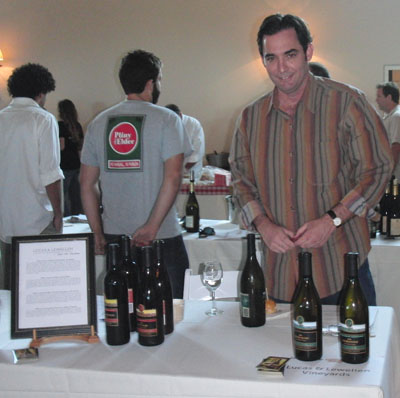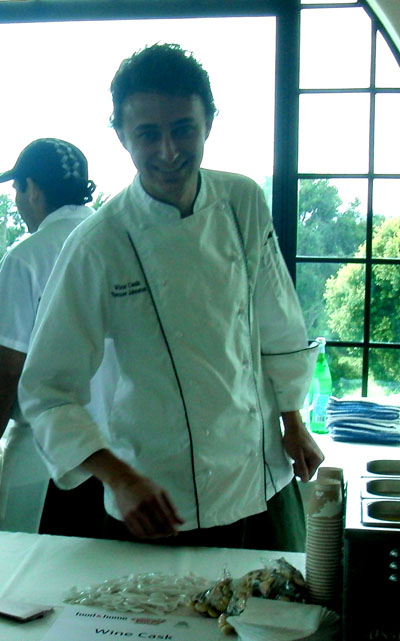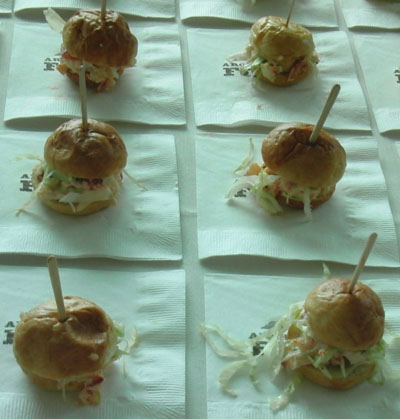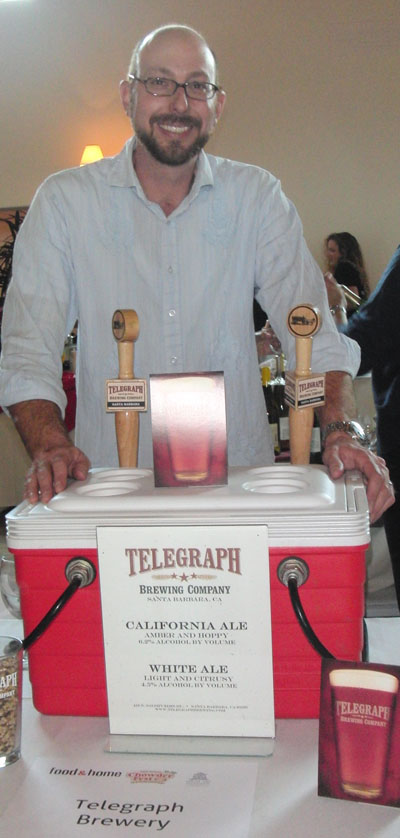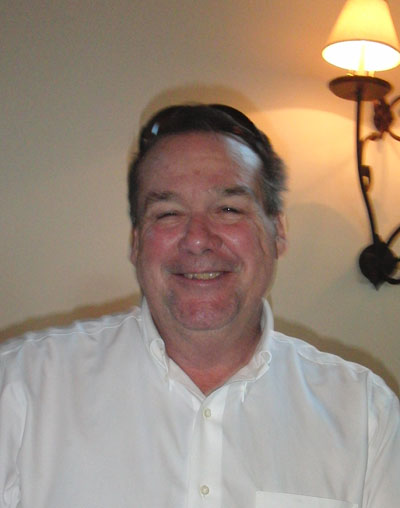 Participating business included chowder from Aldo's Italian
Restaurant, Arch Rock Fish, Bay Roadhouse, Boathouse, Brophy Brothers, Enterprise Fish Co. The Faculty Club, UCSB, Fishouse, Greek House Café, harbor Restaurant, Joe's Café, Louis's California, Max's Restaurant, New West Catering, Olio e Limone, Opal Restaurant & Bar, Roy's Restaurant, Santa Barbara Catering Co., SBCC Culinary Department, Santa Barbara Premiere Catering, Santa Barbara Shellfish Co., Useless Bay Seafood Co., Whole Foods Market, Willows Restaurant, and Wine Cask.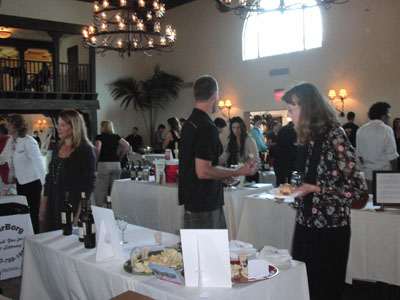 Wineries included Brander Vineyard, Cambria Winery,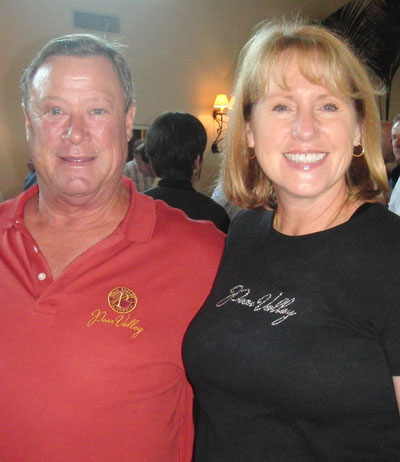 Daniel Gehr Wines, Giessinger Winery, Kalyra Winery, Lucas & Lewellen Vineyards, Millesime Cellars, Pear Valley Vineyards, Sunstone Vineyards & Winery, Whitcraft Winery, and Breweries included The Brewhouse, Firestone Walker Brewing Company, and Telegraph Brewing. Other participants included artist Janet Amiri of Bronze Art who created with winning rotating trophy for the event, Cabot Creamery Cooperative, Greenstar Coffee, Il Fustino, Sugar Girl Cookies and Westminster Cracker Company.
Sponsors for the event included Reicker, Pfau, Pyle & MdRoy LLP,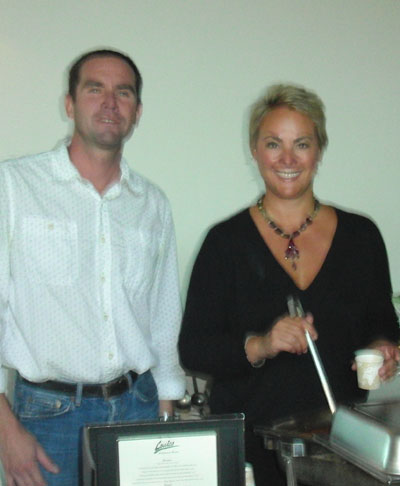 Brownstein/Hyatt Farber/Schreck, Marborg Industries, Ehlers & Fairbanks, LLP, Cumulus Media, Santa Barbara Independent, Barbara Tsur, President Legal Aid Foundation, Lori Lewis & Ron Perry, Chris & Pam Haskell, Amy & Garry Tetalman, Law Office off Marc Chytilo, Rogers, Sheffield & Campbell, Betty & Stan Hatch and SB Epicure.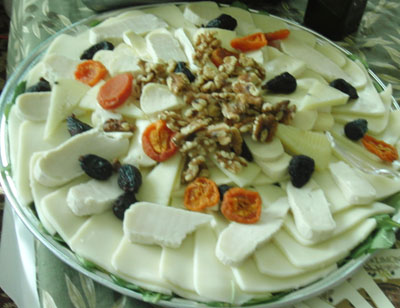 The auctions items were many and wonderful. Guests perused the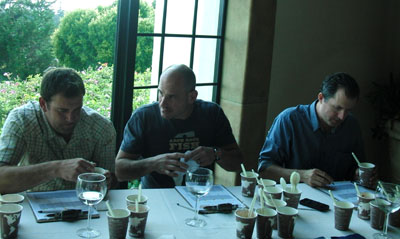 tables sipping fine wine and delicious brews. A 52 bottle of wine raffle attracted many interested participants, and the great views of the golf course offered an experience for chowder lovers to pick their favorite chowders and enjoy the ocean view. With the exception of the peoples' choice award, winners were selected by judges Scott Leibried from Fox Networks Hell's Kitchen, John Pettitt, Sea Grass Executive Chef and Restaurant blogger "The Restaurant Guy".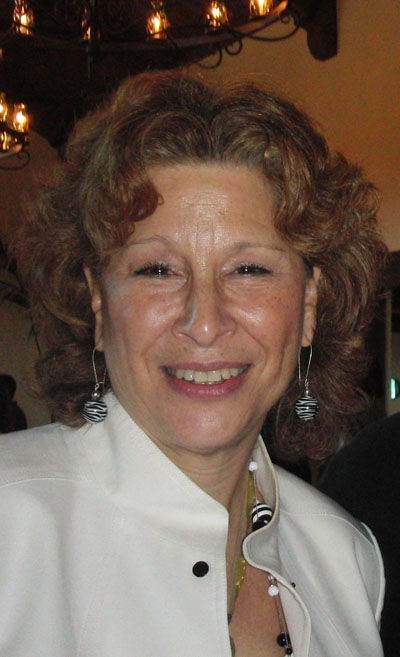 During and interview with Richard Mineards, society writer for the Montecito Journal, Executive Director Ellen Goodstein said "we are very pleased with the turnout for this first time event, and we appreciate everyone who has participated to assist us with this charity cookoff and we look forward to another chowder Fest in 2011."
The People's Choice Award went to Opal Restaurant & Bar. The Overall Chowder Champ Award went to The Boat House. Winners of the Chowder Category were 1st The Faculty Club UCSB, 2nd Joe's Café, and 3rd place Marmalade Café, whose chowder recipe was created by Marmalade twenty-three year career executive chef Romeo Garcia. The Creative Category winners were 1st place The Boathouse, 2nd place Willows Restaurant – Chumash Casino Resort, and 3rd SBCC Culinary Department. For information on Legal Aid Foundation of Santa Barbara visit: lafsbc.org or call 805-963-6754.
---
HONG KONG'S MAGICAL SETTING TO WOW FOODIES AT
"WINE & DINE" FESTIVAL OCT. 28-31 ON KOWLOON WATERFRONT
Acclaimed Chefs, Vintners & More than 160 Wine Exhibitors from 15 Countries
Including France (Bordeaux), Australia, Spain, U.S. and Others
The newest star on the international food festival circuit has added a fourth day and more in year two – as Hong Kong's International "Wine & Dine" Festival will again be held outdoors on the West Kowloon waterfront, kicking off Oct. 28 and concluding Oct. 31. 
As enchanting as Hong Kong's celebrated crossroads cuisine, inventive cooking by world-renowned chefs and newfound passion for wine is the magical spell cast by its physically beautiful setting – the spectacular festival backdrop of Victoria Harbour ringed by towering mountains and iconic skyscrapers.
Last year's inaugural event drew more than 150 exhibitors and 70,000 visitors, including 12,000 from around the world – and the festival already looks like it will top the bill as the annual Asian culinary event. This year it will be an even bigger extravaganza, showcasing the finest international wines, local award-winning cuisine and classic gourmet fare. With 162 wine exhibitors from the world's top wine-producing countries including France, Australia, Spain, the U.S. and others on hand, 2010 promises no shortage of enticing pours for lucky wine lovers.  New this year is a Grand Tasting Pavilion that will feature rare wines from some of the world's most acclaimed winemakers.
Drawing dozens of the world's finest exhibitors to the waterfront, the "Wine & Dine" Festival will serve up an extraordinary array of culinary delights. Along with the vintages to savor in "urban wine country," festival-goers can nosh on Chinese seafood and barbecue galore, plus appetizing plates of Sichuan foods and other Asian specialties including Thai, Indian, Singaporean, Korean and Japanese.  Western fare will also be on offer, including creative twists on universally loved pizza and burgers. 
Fun and informative wine and food pairing demonstrations, cooking classes and wine appreciation classes with masterful chefs and master sommeliers will deepen appreciation and educate the palate.  Also enlivening the scene along one of the world's most photographed waterfronts will be a rich sonic tapestry of live musical entertainment, from jazz to international singers and bands. 
"Like everything else Hong Kong does, we're pulling out all the stops for the 'Wine and Dine' Festival," said Bill Flora, Director, USA, of the Hong Kong Tourism Board.  "It's generating enormous buzz in the epicurean community as one of the pre-eminent food festivals in what is surely one of the world's greatest settings in which to celebrate and enjoy the best in food and wine."
The "Wine & Dine" Festival segues into November Wine & Dine month with a "festival of restaurants" at the high end, themed tours, hotel promotions, special merchant offers, weekly promotions in key food districts and a "Big Roast" party late in the month.
Visit www.FestiveHongKong2010.com for more information. 
____________________________________________________________________
HOTEL HASSLER ROMA ANNOUNCES CHRISTMAS
AND NEW YEAR'S HOLIDAY PACKAGES
 


Whether taking a stroll through the world-famous Piazza Navona Christmas festival, or attending midnight Mass at the Vatican, the winter holiday season in Rome creates a special atmosphere unlike anywhere else. This year, the prestigious Hotel Hassler Roma invites guests to experience the holidays in the Eternal City with a selection of special Christmas and New Year's Holiday Packages. The packages, which can be viewed in full on the Hassler Roma's website, include:
C
hristmas Celebration Package at Il Palazzetto Restaurant & Wine Bar
Three nights' luxury accommodations
Daily breakfast at the Hassler's Salone Eva
Christmas day lunch at Il Palazzetto Restaurant & Wine Bar
Afternoon Christmas tea at Salone Eva with live harp music performance, 5PM-7PM
Priced from €1,170 (approximately US$1,620), the package is valid for arrivals from December 23-25.

New Year's Celebration Package at Imágo

Three-night stay in a Deluxe or Grand Deluxe room at the Hotel Hassler Roma
Daily breakfast at the Hassler's Salone Eva
Afternoon tea at Salone Eva

New Year's Eve dinner at

Im

á

go

Dancing at Salone Medici
Priced from €3,270-3,570 (approximately US$4,497-US$4,900), the package is valid for arrivals from December 29-31. Additional nights are also available on request.

For more information on the Hotel Hassler Roma, visit www.hotelhasslerroma.com.

ABOUT HOTEL HASSLER ROMA:
Set atop the Spanish Steps and featuring a panoramic view of the entire city, Hotel Hassler Roma, owned and managed by Roberto E. Wirth, has been Rome's five-star lodging of choice for the world's elite for more than a century. Each of the 82 rooms and 13 suites are individually designed and adorned in authentic Italian accents. Highlights include the Michelin-starred panoramic restaurant, Imàgo, and the neighboring, Hassler-owned Il Palazzetto (www.ilpalazzettoroma.com), a charming 16-century, five-story palazzo that offers a restaurant and wine bar with panoramic terraces, four rooms, and the International Wine Academy of Roma on the ground floor with various wine-tasting classes led by world-renowned sommeliers.
___________________________________________________________________
MAGNOLIA BAKERY OPENS IN LA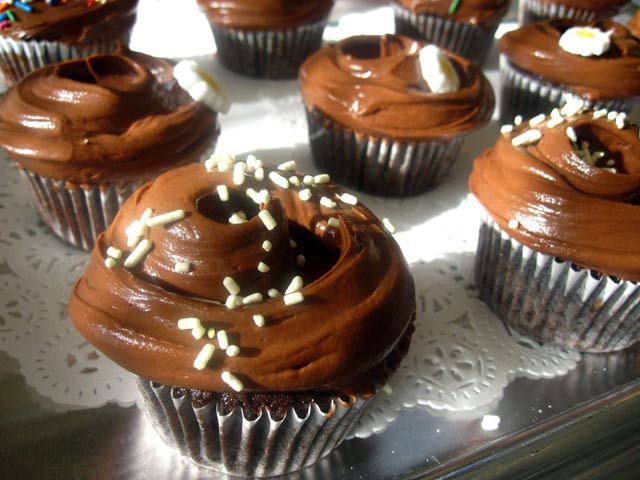 After months of anticipation New York's Magnolia Bakery is ready to open its doors today here in Los Angeles.
It's widely accepted that Magnolia started the international cupcake craze, thanks to pop culturally iconic cameos in Sex and the City and SNL's "Lazy Sunday." Their cupcakes are amazing--but before you queue the eye roll and bemoan the continued popularity of a persistent food trend, know that the sign outside says "Bakery" and that means there are a world of goodies inside for you to explore.
At a preview event held last night, Magnolia, and owner Steve Abrams we sharing with their new community a taste of what they can do. Having produced a quartet of popular cookbooks, and welcomed hundreds of thousands of people to their NYC (and Dubai!) locations, sage devotees know that they make an unbelievably fluffy banana pudding, chunky chocolate cookies, divine brownies, cheesecake, layer cakes, and something called a Magic Cookie Bar (it's out of this world).
Inside the new shop at 3rd and Orlando it's a pastel time machine to an old fashioned bakery, with huge windows to let in the SoCal sunshine. The decor was a very hands-on labor of love for co-owner Tyra Abrams, who worked in thoughtful vintage touches to the Art Deco-style building.
Something uniquely "L.A." about the bakery: They'll have curbside pick-up for customers on the go.
Magnolia Bakery
8389 West 3rd St., Los Angeles, 90048
(323) 951-0636
_________________________________________________________________
---