COLLABORATION OF ARTISTS AND VINTNERS TURN WINE BARRELS INTO FINE ART FOR CHARITY FUNDRAISER
by Bonnie Carroll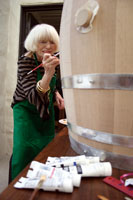 In celebration of 25 years of Auction Napa Valley success, 25 wineries have paired with 25 artists for a promotion that will pull 25 oak wine barrels out of the cellar and plunge them into the spotlight. Generously donated by Tonnellerie Quintessence, these 60-gallon wine barrels will be transformed into works of art through the Valley-wide Barrel Art Napa Valley exhibition and later auctioned off to raise funds for area beneficiaries. Created in a variety of mediums, the works will be on public display free of charge and open to the public from May 20 to September 30 at wineries throughout Napa Valley.

The 25 barrel art pieces have been created by such renowned artists as William Wiley, Gordon Huether, photographer Kevin Lynn and Margrit Biever Mondavi to give the barrel its due for its important role in creating Napa's wines. More information on the pieces is included in exhibition guides which, along with downloadable Barrel Art maps, will be available online at www.napavintners.com. Maps and guides will also be available at a variety of Napa locations by mid-May.

Upon the exhibition's conclusion, the barrels will be auctioned off with all proceeds benefiting area health, youth development and affordable farm worker housing nonprofit organizations. Bidding on the barrel artwork will be accessible in person or online.

Tour Offers New Element of Interest for Visitors The summer and fall seasons in the Napa Valley offer an unparalleled get-a-way, and creating your own driving tour to view barrel art provides yet another good reason to visit. From biking and hot air balloon rides for the family, to local farmers market, gardens and historic landmarks, Napa offers something for everyone.

About Auction Napa Valley
Since its inception in 1981, Auction Napa Valley has contributed more than $52 million to local organizations. It has become one of the most impressive and influential wine charity fundraisers in the world by staying true to its original mission - to utilize the reputation of Napa Valley wines to enhance the well being of the community. In honor of the 25th anniversary of the Auction, all previous event chairs (23 families in all) have returned to make Auction Napa Valley 25 the most memorable event in its history. For more information about Napa Valley Vintners or Auction Napa Valley, please visit www.napavintners.com.