CELEBRITY CHEF CHARLIE TROTTER
JOINS LOCAL CHARLESTON CHEFS IN
A FUNDRAISING "EXTRAVAGANZA"
The Sanctuary at Kiawah Island Golf Resort
– Benefiting the MUSC Hollings Cancer Center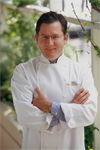 Kiawah Island Golf Resort today announced that famed celebrity chef, Charlie Trotter, will host the opening event of its March 13-15, 2009 "Gourmet & Grapes" fine food and wine event to benefit the Medical University of South Carolina Hollings Cancer Center.  The exclusive Black Tie Wine Dinner will be held the evening of March 13th in the fine-dining restaurant at the resort's AAA Five Diamond/Mobil Five Star-rated oceanfront hotel and spa, The Sanctuary at Kiawah Island Golf Resort. 
Chef Charlie Trotter is best known for his nationally aired, award winning PBS cooking series, "The Kitchen Sessions with Charlie Trotter."  Charlie Trotter's restaurant in Chicago, which opened in 1987, was named as the 30th-best restaurant in the world, and 5th-best in the United States in 2007 by the well-respected "Restaurant Magazine". It has also made the prestigious Gayot's Top 40 US Restaurants list every year since 2004.  Chef Trotter is the author of 14 cookbooks and three management books, and has received awards at the White House from both President Bush and Colin Powell for his work with his Culinary Foundation and was named one of only five 'heroes' to be honored by Colin Powell's charity, Americas Promise. In 2005, Chef Trotter was awarded the Humanitarian of the Year award by the International Association of Culinary Professionals for his overall service to the community.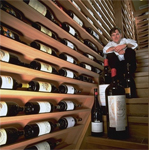 The inaugural Gourmet & Grapes at The Sanctuary at Kiawah Island Golf Resort will allow guests to indulge in a five star culinary experience paired with some of the world's most prestigious wines – all while raising money and awareness for world-wide cancer research.  Guests are invited to test their palates with distinguished wines from around the world, and experience delicious cuisine from Sanctuary chefs, chefs from various Charleston restaurants as well as Chef Trotter. Proceeds from this event, including a live and silent auction, will benefit the Medical University of South Carolina Hollings Cancer Center – a National Cancer Institute designated cancer center.
 
visit www.kiawahresort.com or call 800-654-2924.
Visit www.kiawahmoments.com to experience special Kiawah Island moments through guests' stories, pictures and video.
---
WORLD-RENOWNED CHEFS AND 15 CELEBRITY
WINEMAKERS UNITE FOR CELEBRITY CHEF
LUNCHEON & AIWF BIG BOTTLE LIVE AUCTION
DURING THE WEEK-LONG SAN DIEGO BAY
WINE & FOOD FESTIVAL
Proceeds from the Event's Auction Benefit The American Institute of Wine & Food Culinary and Enology Scholarship Program
San Diego, CA (October 10, 2008) - Serious foodies and wine collectors will raise a few highly coveted glasses of wine during the Celebrity Chef Luncheon & AIWF Big Bottle Live Auction held November 14 - part of the week-long lineup of events in store during the annual San Diego Bay Wine & Food Festival.  The exclusive luncheon pairs chef with winemaker, master sommelier with artist and auctioneer in a three-hour star-studded event, said Michelle Metter, the Festival's co-producer. 
"The talent and artistry coming together for this event is truly remarkable," added Metter. "In one afternoon a select few will have a once in a lifetime opportunity to dine with a winemaker of their choice while eating a meal prepared by chefs at the very top of their craft.  The luncheon is a who's who of the culinary and wine world and something very unique to San Diego."
The star power at the luncheon is name-dropping at its best.  The afternoon is hosted by celebrated artist Thomas Arvid and features four world-renowned celebrity chefs, with numerous awards and accolades to their credit. Celebrity chefs lending their talents to this event include former Food & Wine Magazine Best New Chef, Chef Gavin Kaysen of Café Boulud in NYC; Author/Owner Sondra Bernstein and Executive Chef John Toulve of Girl & A Fig in Sonoma; Author and Chef Jimmy Schmidt of Rattlesnake in Palm Desert and Detroit; and local celebrity Chef and Author Bernard Guillas of the Marine Room.
While the menu created by these chefs is sure to satisfy guests' appetites, their palate will be quenched by one of the event's highly coveted wineries, each hosting one of 15 available tables.  Wineries include Ferrari Carano Vineyard and Winery, Healdsburg; John Tyler Wines by Bacigalupi, Healdsburg; Joseph Phelps Vineyards, Napa; Justin Vineyards and Winery, Paso Robles; Laird Family Estate, Napa; Quintessa, Napa; Silver Oak, Napa; Silverado Vineyards, Napa; Spring Mountain Vineyard, St. Helena; Stag's Leap Wine Cellars, Napa; Tandem Wines, Sebastopol; and Trinchero Napa Valley, St. Helena.
The luncheon is only open to 150 guests, dining at tables of 11, each table hosted by one winemaker or winery representative with wines poured from their portfolio.
The luncheon and tasting will culminate in an exciting live auction with many one-of- a kind items ideal for a serious wine and food enthusiast such as large format bottles and luxurious culinary vacation packages. Proceeds raised through the auction will benefit the American Institute of Wine and Food Culinary and Enology Scholarship program. Each year, thousands of dollars are awarded to students and professionals in San Diego to further their careers in culinary and enology arts. There has been over $100,000 granted to AIWF in the past.
The Celebrity Chef Luncheon & AIWF Big Bottle Live Auction will take place on November 14, 2008 from 11:30 a.m.- 2:30 p.m. at the San Diego Marriott Hotel and Marina. Prices start at $150, which includes a reception, four-course luncheon and wine pairing.   Sponsored tables are $2,500 and include 10 seats and choice of winemaker table.  Tickets may be purchased online at www.worldofwineevents.com or, table sponsorships may be reserved by calling 619-342-7337.
The San Diego Bay Wine & Food Festival is held November 12 - 16, 2008.  A complete schedule of events is available online at
www.worldofwineevents.com.
---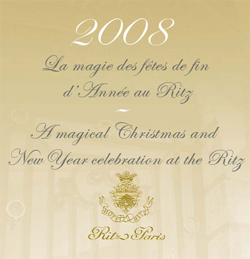 CELEBRATIONS
AT THE RITZ PARIS
To celebrate the end of year festivities, the Ritz has created a magical atmosphere. Decorated with stunning flower arrangements, the Ritz is the perfect place to celebrate the magic of Christmas and New Year's Eve.
Discover our amazing program by clicking on:
A Christmas and New Year celebrations at the Ritz Paris
---
VEAL SECRETS AND RECIPES FROM THE PROS
Forty (and counting) Pro Grain-fed Veal Recipes
from traditional Osso Bucco to Vanilla Scented Veal Cheeks
 
In a quest to win a trip to Montreal, chefs have submitted some inspiring veal recipes in the Le Quebecois Grain-fed Veal contest.
 
Le Quebecois Grain-fed Veal put out a call for professional chefs and culinary students to enter their best veal recipes for a chance to win a trip for two to Montreal including airfare and stay at the Hotel de la Montagne for 4 days and 3 nights, plus $1000 in cash.
 
The contest isn't over yet. Recipes can be submitted online at www.grainveal.com/contest through Friday, October 31 and the winner will be announced November 14. Read the contest rules.
Asian Style Veal Shank with Cilantro-Miso Gremolata
and Macadamia Nut Polenta
Chef Ryan Luckey from the Pineapple Grill in Kapalua, Maui 
Ingredients:
 

4 pc 12-14 oz veal shanks

1 cup AP flour

1 tbl Chinese five spice

6 pc star anise

1 tbl coriander seed

3 stalk lemongrass, bruised

8 pc lime leaf

10 clove garlic, bruised

1 carrot, rough chop

1 onion, rough chop

4 ribs celery, rough chop

1 finger fresh ginger, rough chop

salt and pepper

8 quarts veal stock or beef stock

2-4 oz olive oil

 
Method:
Combine flour and Chinese five spice. Lightly dust shanks in flour mixture and salt and pepper. In a medium size, medium heat braising pot, add olive oil, place flour dusted shank in oil, and sear all sides to a golden brown, add chopped carrot, onion, celery, ginger, garlic, lemongrass, lime leaf, anise and coriander seed, sauté a few minutes more, deglaze with stock, and cover meat by about 1″ (may not need all the stock. Bring to a simmer, cover and place in 350 degree oven for 2.5-3 hours, until meat is fork tender. Remove from heat and let cool in liquid for about 30 minutes. Remove shank, strain liquid and use for finishing sauce.
 
Cilantro-Miso Gremolata

1 cup chopped parsley

1/2 cup white miso paste

zest of 1 lemon

1/4 cup blended olive oil

1 tbl minced garlic

Chop cilantro and combine with garlic and lemon zest. Whisk in olive oil and miso paste, to form a wet style of gremolata.

Macadamia Nut Polenta


1 1/2 cups polenta

4 cups milk

1 cup heavy cream

1 onion diced

1 tbl garlic

1 cup toasted macadamia nuts

1 tbl chopped parsley

1 tbl parmesan cheese

1 tbl whole butter

salt and pepper

1 oz olive oil
Sauté onions and garlic in olive oil, until translucent in medium sauce pot, add milk and cream to a boil, whisk in polenta, and turn to low, whisking constantly, until it starts to simmer, cover and cook on very low for 20-30 minutes, stirring every few minutes. Fold in parsley, macadamia nuts, parmesan cheese, and butter, season with salt and pepper.
Plate: place a few spoonfuls of polenta in center of bowl or plate, place shank on top, and drizzle with gremolata and cooking jus from shank, garnish with cilantro sprig or fresh cherry tomatoes.
---

NEW CHEF, WINE EXPERT ADDED TO BEDFORD
SPRINGS RESORT TO AUTUMN WINE/FOOD
EXTRAVAGANZA WITH BON APPETIT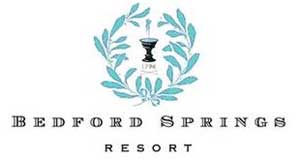 BEDFORD, Pa., October 28, 2008 — Bedford Springs Resort has added a second guest chef, wine expert and several new vendors to the already impressive line-up of the inaugural Autumn Wine and Food Extravaganza. The culinary event, featuring Bon Appétit and signature recipes from the popular culinary magazine's chef de cuisine Jonathan Lindenauer, will take place Friday, November 7 through Sunday, November 9 at this luxurious central Pennsylvania resort.
 
Peter M. Carl, executive chef for Naples Bay Resort of Naples, Florida and Brian D. Henderson, wine program consultant for such prestigious properties as Marco Island Beach Resort on Marco Island, Florida and Yellowstone Club in Montana, will join Bedford Springs Resort's Executive Chef Konrad Meier and David Everett of Williamsburg's Blue Talon Bistro for the weekend's festivities. The epicurean event features food and wine seminars, informational sessions, and a five-course Bon Appétit dinner on Saturday evening.
 
In addition, guests can experience Sunday's Bedford Springs Farmers Market offering a variety of food, home, and health items. Vendors and products include Blueberry Hill Treenware's traditional-style wooden kitchen utensils made from locally grown hardwoods, Laurel Vista Farm produce, Cinco de Mayo Salsa, French table linens by Janice Table, as well as novelty rockers, dog dish holders and children's wooden puzzles created by The Wood Shoppe. The Market is open to the public free of charge.
 
Priced at $595 per person and based on double occupancy, the Autumn Wine and Food Extravaganza package includes all overnight accommodations, event meals and programs.
 
For reservations or additional information, access the web site at
www.bedfordspringsresort.com or call 866-623-8719.
---