Lake Champlain Chocolates Offers
Handcrafted Valentine's Day Gifts for 2008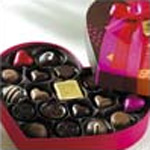 Lake Champlain Chocolates (LCC), a gourmet Vermont chocolate maker, has introduced its Valentine's Day line of chocolate gifts for 2008. The new chocolate gifts evoke playful romantic gestures and pair well with flowers and champagne.

"Valentine's Day is about luxury, sophistication, and indulgence," said Allyson Myers, Director of Sales. "Consumers wanting to impress their sweethearts consider taste and style more important than price."
New for 2008 – today's gourmet experience combined with old-fashioned charm

Old World Truffles (6-piece gift box) pairs contemporary imagery with flavors from around the world

Be Mine Heart crafted of solid dark chocolate with milk chocolate accents -- perfect as a party favor or for a secret Valentine
"Kiss Me" Frogis molded milk chocolate with hand-painted white and dark chocolate accents

Tower of Treasures' tiered gift boxes overflow with chocolate caramels, toffee, nuts, and coins

Heart Shaped Boxes
The luxurious assortment of twenty-two gourmet chocolates in the Grand Heart includes milk and dark chocolate truffles, raspberry creams, and caramels, all in a keepsake heart-shaped box. The Sweetheart's Assortment tucks eighteen sumptuous chocolates in two decadent, stacked layers. Traditional Heart Truffles holds eight chocolate truffles. Six chocolates are nestled in the Small Heart Box. The Hearts Gift Box is an 8-ounce assortment of colorful foil-wrapped dark chocolate raspberry cream and milk chocolate caramel hearts.

Additional Gifts
Five truffles fill the Valentine Truffles box. The delectable dark chocolate Raspberry Truffle Heart Throb is completely handcrafted. Additional products include Valentine Conversation Squares, Hearts Bags, Heart Pops, and Raspberry Cream Hearts.

Lake Champlain Chocolates offers sweet indulgences that capture the essence of Vermont, the tradition of making fine chocolate, and the pride that goes into each bite. Preservative-free and Kosher-certified, Lake Champlain Chocolates are crafted in small batches from the finest quality Belgian chocolate and select natural ingredients including local Vermont cream, sweet butter, maple syrup, and honey. Lake Champlain Chocolates are available online at www.lakechamplainchocolates.com.
---
MICHELLE FRANCIS APPOINTED EXECUTIVE CHEF
AT CAFÉ RODEO AT LUXE HOTEL RODEO DRIVE


Luxe Hotel, Rodeo Drive, the only hotel on the most glamorous shopping block in the world, announces the appointment of Angeleno Michelle Francis as executive chef for the hotel's acclaimed restaurant, the intimate Café Rodeo. Francis is also responsible for the complete culinary operation of the Luxe Hotel, Rodeo Drive, including menu development for private events, banquets, group events and in-room dining.
As executive chef, Michelle Francis brings her distinctive California Mediterranean cuisine with a healthy twist to this Beverly Hills landmark urban oasis. Her ability to find the freshest foods from the market translates into an engaging menu with such signature dishes as white fish picatta with roasted shallots and capers on a bed of cous cous, grilled seafood salad, and housemade lobster ravoli with garlic sage sauce.
In addition to Café Rodeo's new breakfast, lunch and dinner menus, Chef Francis has fashioned a new bar bite menu for the popular 360 Happy Hour which include light, healthy interpretations of Guacamole with Salsa and Chips, Spicy Tuna Tartare and Shrimp Cocktail on a Stick