REDONDO BEACH LOBSTER FESTIVAL
12,000 Lobster Lovers Enjoy Music, Food & Fun
by Bonnie Carroll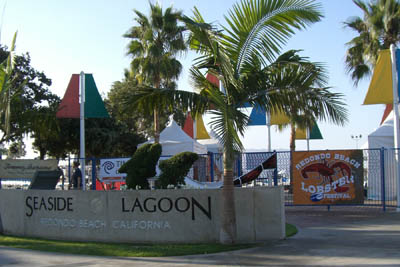 The 14th Annual Dive N' Surf Redondo Beach Lobster Festival was one fantastic experience for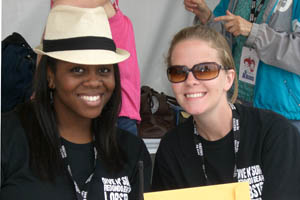 visitors who love lobster, great bands, spectacular exhibitions and the friendliness of the members of the Redondo Beach Chamber of Commerce & Visitors Bureau, who produced the event that attracted 12,000 people from around the country.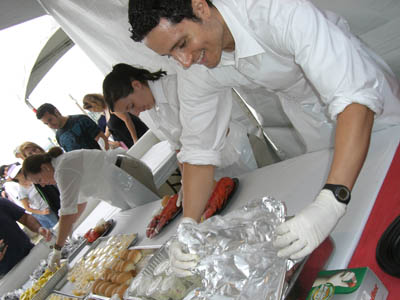 10,000 lobsters flown in from Maine were enjoyed by all,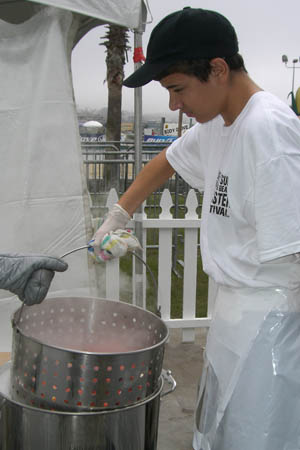 and a "Barefoot" Casino provided games and prizes. Several local and tribute bands, including David Garfield and his band provided outstanding entertainment during the three day festivities. A show was given by the Body Glove team of pro wake boarders who performed on an obstacle course and slide. The finale was a stunning performance by a fire-dancing troupe.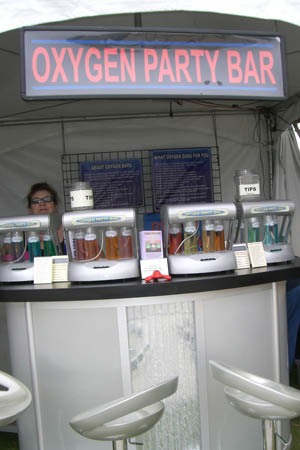 Aside from the lobster dinners, there were countless foods on hand including clam chowder, fish tacos, BBQ and numerous beverage vendors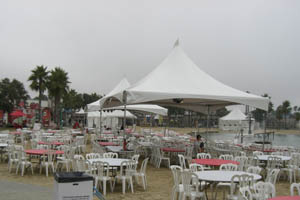 including sponsor Anheuser-Busch, Inc. Other included Laughing Cow cheese, gift booths, even an oxygen bar with flavored oxygen. This was a really fun experience. The dining area was set up to allow diners an opportunity to view the water shows, as well as a bikini contest.
Redondo is a great place for a weekend get-a-way trip. The Marina has so many options including a variety of boat trips, fishing, shopping, great restaurants like Ruby's, Delzano's, Joe's Crab Shack and the very chic yacht side restaurant Bellen.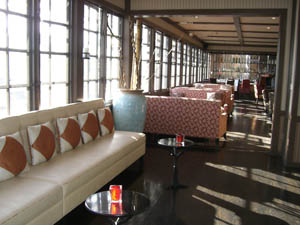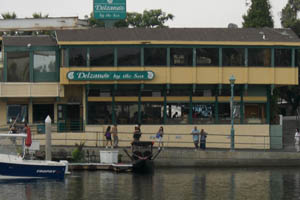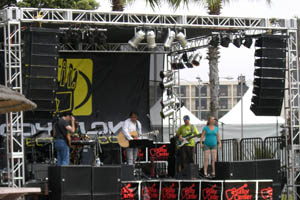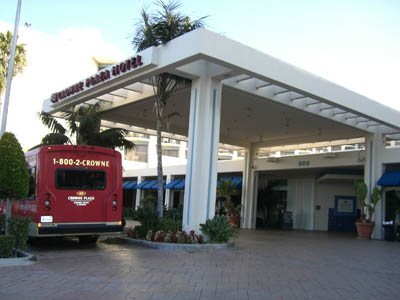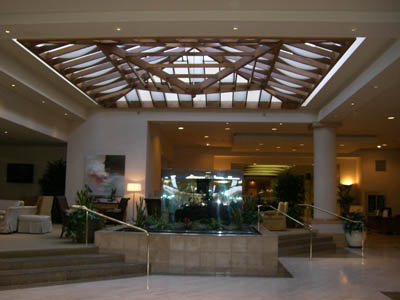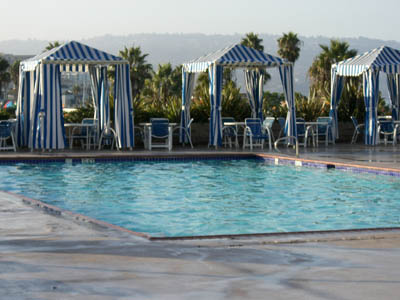 Located across the street from the Crowne Plaza Hotel, the harbor offers not only an endless variety of things to do, but the convenience and comfort of a star hotel property, with excellent amenities and accomodations to please families on vacation and business guests on the go. It would seem likely that yachter's also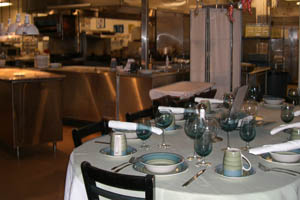 enjoy spending their land time at this convenient venue. The rooftop pool and tennis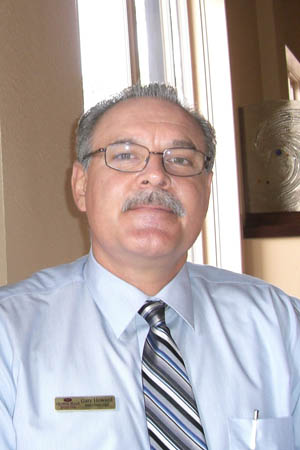 courts are great for guests, along with the hotel spa. Dining at the Splash Restaurant in the hotel is very traveler friendly, but the chef's kitchen provides guests an opportunity to design their own omelets and watch the chef prepare them. The hotel chef, and food manager has been with the hotel for many years, and loves his job. The chef's staff also have been with him for many years. "We don't turnover employees. They stay because they love working here," he said.
Redondo Beach has an 'old town' section with streets named after jewels. It is very charming, and offers some unique boutique shopping for visitors. Getting to Redondo is a snap due to the easy access to freeways. For additional information go to www.lobsterfestival.com.
---
 Wake up traditional cranberry relish  with fresh blueberry boost

Treat your family to a fabulous new twist on a classic holiday favorite. Give traditional cranberry relish a taste upgrade and nutrient boost by adding fragrant fresh blueberries to the mix.

The holidays are a time to be grateful for abundance and thanks to a fresh supply of high quality blueberries from Chile, Americans now can enjoy this luscious antioxidant-rich super berry all winter long.

Make sure to make enough of this delectable tangy relish to transform your leftover turkey and ham sandwiches from mundane to marvelous. And while you're at it, spoon some relish into pretty glass jelly jars, tie a ribbon around the lids and take them around to the neighbors as a healthy homemade holiday gift.
Fresh Blueberry and Cranberry Relish
1 cup fresh blueberries
1 cup fresh orange juice
8 oz. fresh cranberries
1 tablespoon orange zest
3/4 cup sugar
1 tsp. vanillaCombine all ingredients in a medium saucepan over medium heat.  Cook until the sugar dissolves and the berries soften, for about 15 minutes.  Remove from heat, cover and chill.  Best made in advance to let flavors blend.

Makes 12 1/4 cup servings

Nutrients per serving:
Calories 76, fat 0, cholesterol 0, sodium 0, dietary fiber 0, protein 0

Serving suggestions:
As a side on traditional holiday dinner plates.
Poured over turkey, pork or ham.
Over vanilla ice cream, sorbet, or frozen yogurt.
Added to a turkey and cream cheese sandwich to freshen up leftovers.
---
MARMALADE CAFÉ OPENS PRIVATE DINING ROOM
ON TIME FOR HOLIDAY PARTIES & FAMILY CELEBRATIONS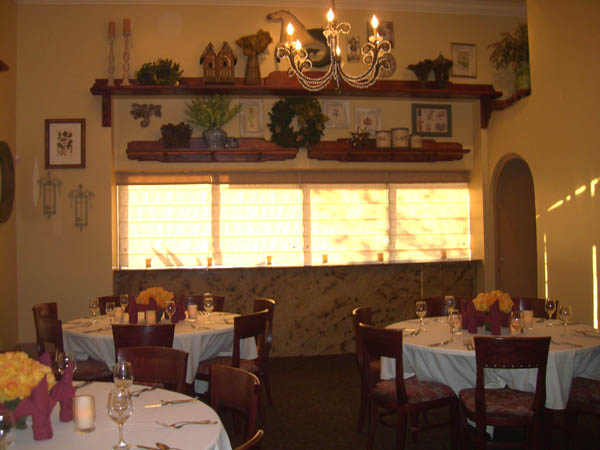 State-of-the-Art Equipment will Enhance Business & Board Meetings
Marmalade Café, an Innovative California restaurant located in the La Cumbre Plaza, opened their new private dining room November 18th, just in time for the holiday season. An overflow crowed showed up for the preview, and to celebrate the Holiday Season with the Marmalade staff.
According to restaurant general manager Warren Butler, "The new private dining room will provide local business owners, corporations, nonprofit or private organizations, as well as families and social groups the perfect private room to celebrate the holidays, and book monthly business or board meetings. State-of-the-art equipment has been included in the room design for use at breakfast, lunch or dinner meetings, and will ensure the needed video and sound enhancements required by our guests for successful communication during their gatherings."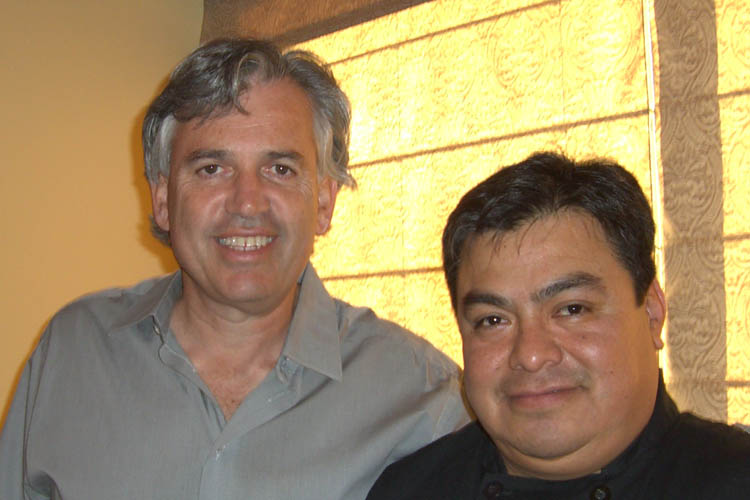 Executive Chef Romeo Garcia, known for his outstanding catering skills, which were fine-tuned when he began working with the Burns family, both at the Bob Burns Restaurants and Marmalade Café in the early 80s and 90s, was on hand to greet guests and speak to the press in attendance.. "Working with the Burns family and Selwyn Yosslowitz, partners in this restaurant, has been a great career opportunity for me, and I enjoy my work", said Garcia.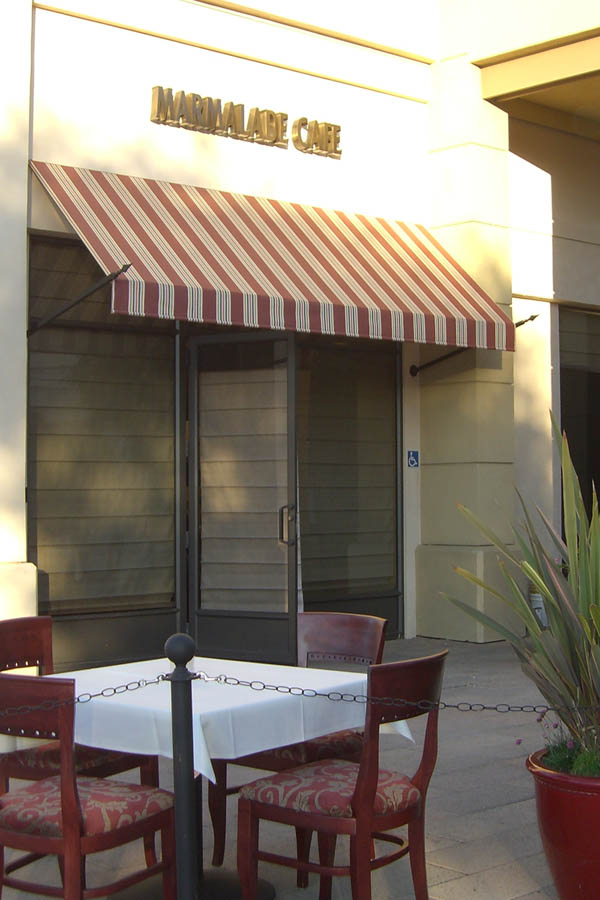 The design for the new dining room is a group effort, and includes brand decorating touches from co-founder and partner Bonnie Burns, who has incorporated the comfortable style enjoyed in all Marmalade locations. In keeping with the decorating theme, the room is elegant, warm and functional. Two massive chandeliers grace the ceiling, and seats of cherry wood with rich brocade welcome guests to sit down. A private entrance offers convenience to business or party guests, and all technical requirements for perfect presentations or introductions are ready to go, including an impressive podium.
Marmalade Cafe was the brain child of Bobbie and Bonnie Burns, along with partner Selwyn Yosslowitz. The family founded business began in the early 90s and now has restaurants in Santa Barbara, El Segundo, Rolling Hills Estates, Santa Monica, Malibu, Los Angeles (Farmer's Market), Calabasas, Sherman Oaks, Westlake Village, and Tustin California.
The dedicated staff at Marmalade Café will serve breakfast, lunch or dinner requests in the new room, offering food and beverage options for every taste at affordable prices. La Cumber Plaza provides easy parking for patrons, and Marmalade is open from 7:00 a.m. till 10:00 p.m. M-F; 7:00 a.m. till 11:00 p.m. S-S. For dining or private room reservations please call 805-682-5246. For additional information please visit: www.marmaladecafe.com.
---
---