ALOHA SPIRIT SOARS AT BEVERLY HILLS FARMER'S MARKET CELEBRATION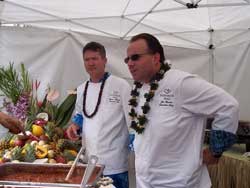 The 1 st Place Beverly Hills "Best Chili" Prize, a trip to Maui compliments of Hawaiian Airlines, the Hyatt Regency Maui Resort & Spa and the Kaanapali Beach Resort Association went to Bindu Kundamal. The award was presented by Councilperson Steve Webb, who was also one of the distinguished judges for the competitive chili event. Chef Bill Bracken, Executive Chef, Peninsula Hotel, Bryan Ashlock, Sheraton Maui Resort and Russ Parsons, LA Times food editor and author also sat on the 2004 "Best Chili" judging panel.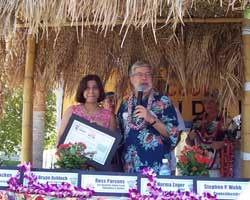 The Chili Cook Off & Hawaiian Festival, a true cultural event, featured live Hawaiian musicians, a family dance group, and Lei making classes. Signature Maui chili samples were served to over 1500 attendees by the visitng Maui chefs, Bryan Ashlock, Maui Sheraton Resort and Jon Benson, Hyatt Regency Maui Resort & Spa. Beverly Hills Councilperson Jimmy Delshad, and Shelley Kekuna, Executive Director of the KBRA were interviewed live from the 10 th Anniversary Farmer's Market celebration on the premiere Cable Radio Network show "Life Bites" with Bonnie Carroll, a food/health/travel news show.
CHEFS SHARE SECRETS ATLOEWS ON THE BEACH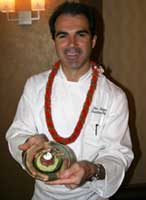 Yves Bainier, Executive Chef of Loews Santa Monica Beach Hotel, hosted chefs Jon Benson, Hyatt Regency Maui Resort & Spa and Bryan Ashlock, Sheraton Maui Resort during a Signature Seafood Cooking Demonstration, where each chef prepared and presented a favorite dish from their individual PHOTO CHEF YVES BAINIER hotels to be enjoyed by a select group of food aficionados in Lavande Restaurant. The divine seafood recipes: Chef Bainier's Ahi Tuna with Avocado Soup; Chef Benson's, and Chef Bryan Ashlock's Lau Lau are available at:
www.kaanapalibeachresort.com and sharper@loewshotels.com.

BEST CHILI WINNER WELCOMED BY MAUI MAYOR AT
"MAUI CHEFS PRESENTS"
Alan Arakawa, Mayor of Maui County, Mrs. Ann Arakawa, Bonnie Carroll, Bindu Kundamal the 1 st Place Beverly Hills Chili Cook Off Winner, and event host Barry Lewin, General Manager of the Hyatt Regency Maui Resort & Spa were all smiles following their national radio interview on Cable Radio Network "Life Bites" with Bonnie Carroll, broadcast live from Kaanapali Beach. As the "Best Chili" winner, Ms. Kundamal won a trip to Maui, and tickets to the annual "Maui Chefs Presents" "Broadway on the Beach – An Evening of Show Stopping Cuisine" charity dinner gala, which featured musical menu inspirations from twelve of Maui's finest chefs, and attracted over 900 enthusiastic guests. "I am thrilled to be on Kaanapali Beach in Maui, and I just wish everyone could have the opportunity to visit this beautiful place," said Kundamal during her interview.